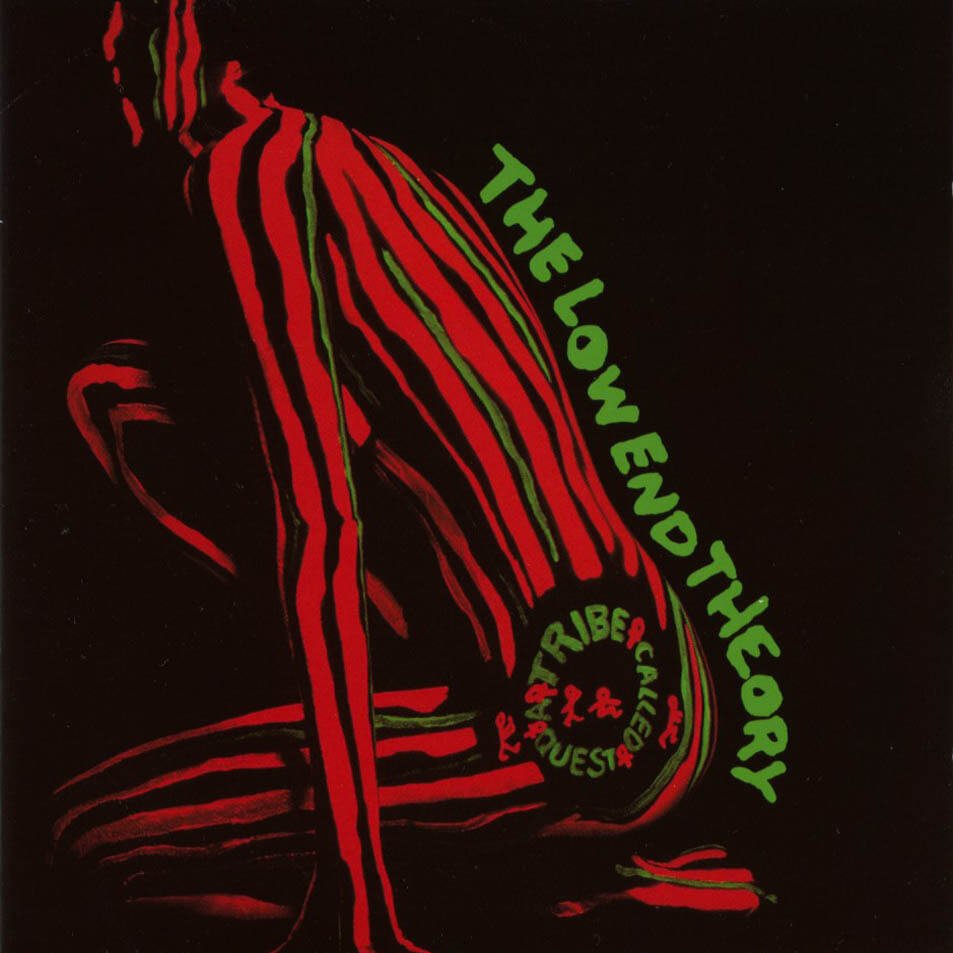 The Low End Theory stands as an indisputable testament to the boundless power of creativity, innovation, and raw talent. With their sophomore effort, A Tribe Called Quest not only built upon the solid foundation of their debut album but also reached unprecedented heights of musical brilliance. This iconic release showcases the group's mastery in seamlessly blending jazzy influences with bass-heavy Hip Hop beats, setting a new standard for the genre.
From start to finish, The Low End Theory exudes a remarkable cohesiveness and consistency that is awe-inspiring. The album flows seamlessly, almost feeling like one continuous song, creating an immersive musical experience that captivates the listener from the very first note. This unity of sound and purpose is a testament to Tribe's unparalleled artistic vision and attention to detail. Noticeable is the undeniable growth and development of Phife Dawg as an emcee. While he played a smaller role on their debut album, where he was still finding his voice, Phife's presence on this record is elevated, showcasing his sharpened skills and undeniable charisma. His interplay with the always exceptional Q-Tip is nothing short of perfection, as their chemistry and dynamic flows create a captivating lyrical dance.
Within the rich tapestry of The Low End Theory, several standout tracks contribute to its enduring legacy. "Check the Rhime" stands as a quintessential example of the album's seamless fusion of jazz and Hip Hop. The song's laid-back groove and melodic samples create a soothing backdrop for Q-Tip and Phife to trade verses, effortlessly showcasing their lyrical chemistry while paying homage to their roots.
Another unforgetable track on the album is "Scenario", featuring a memorable guest appearance from Leaders of the New School emcees Dinco D, Charlie Brown, and of course Busta Rhymes. This high-energy collaboration showcases Tribe's ability to create infectious and uplifting anthems, and the song's infectious chorus has become an iconic moment in Hip Hop history. The track's energetic production, coupled with dope verses from each artist, especially Busta Rhymes's iconic bars, creates an explosive synergy that demands attention and leaves a lasting impression. "Scenario" captures the raw energy and creativity that defines the album as a whole, further solidifying its status as a classic.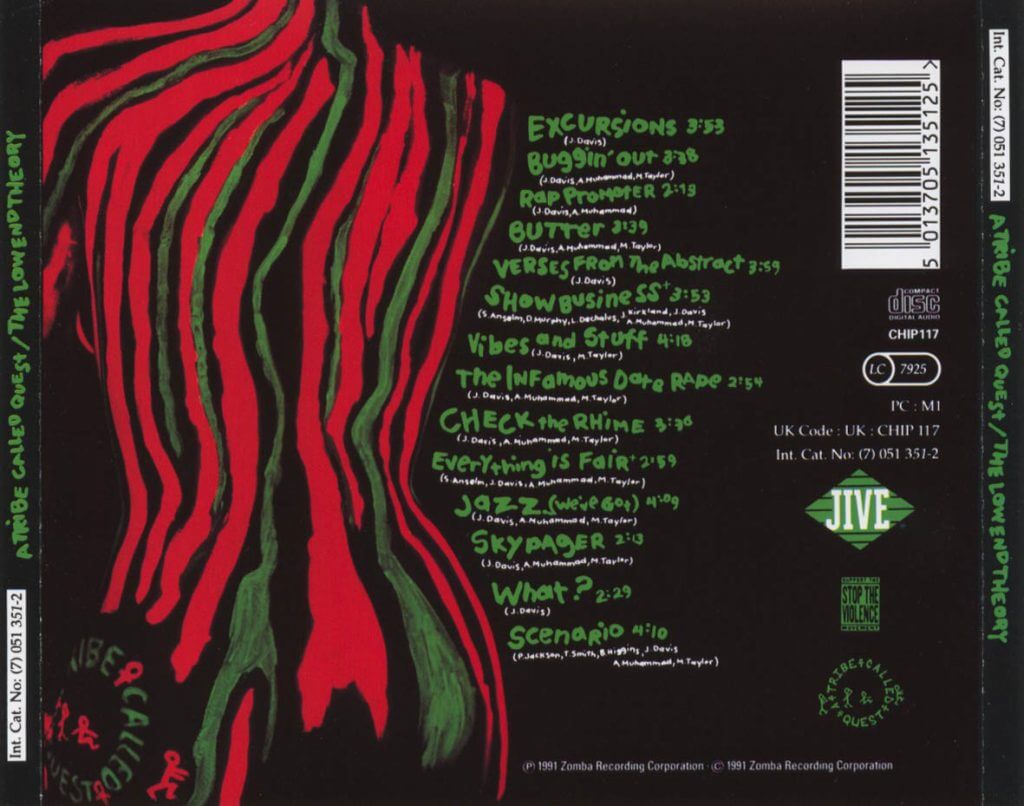 The musicality of The Low End Theory is a tapestry of sonic brilliance. Tracks like "Excursions", "Buggin Out", "Butter", "Verses from the Abstract", and "Jazz (We've Got)" all perfectly exemplify the album's fusion of jazzy samples, bass-heavy beats, and intricate melodies. "Excursions" sets the tone with its infectious bassline and jazz-infused samples, immediately immersing listeners in Tribe's world of sonic exploration. "Buggin Out" showcases the group's lyrical prowess, with razor-sharp verses over a head-nodding beat and an epic bassline. "Butter" transports listeners to a realm of smooth and soulful grooves, crafting a hypnotic and infectious aura with Phife taking center stage, while Q-Tip shines on his own solo track "Verses from the Abstract", with a jazzy bassline laid down by legendary bass player Ron Carter as the musical backdrop. And "Jazz (We've Got)" pays homage to the genre that heavily influences their sound, seamlessly blending jazz with Hip Hop.
Decades after its release, the album remains a timeless masterpiece, resonating with both dedicated fans and new listeners alike. In every aspect, The Low End Theory stands as a testament to the power of artistic expression and the ability to create a cohesive and captivating body of work. The album's fusion of jazzy samples, bass-heavy beats, and intricate melodies creates a sonic landscape that is both timeless and innovative.
The profound impact of The Low End Theory extends far beyond its initial release. It has influenced countless artists and shaped the direction of Hip Hop as a genre. Its seamless blending of jazz and Hip Hop, its thought-provoking lyrics, and its impeccable production has set a new standard for artistic excellence. The album serves as a reflection of the times in which it was created. It captures the spirit of the early 1990s, a time of social and cultural change, and addresses important issues with depth and introspection. The introspective yet playful approach of A Tribe Called Quest resonates with listeners, inviting them to contemplate not only the state of Hip Hop but also the world around them.
The Low End Theory is not merely an album; it is a journey—an immersive experience that transports listeners to a realm where creativity knows no bounds. It stands as a testament to the boundless power of creativity, innovation, and raw talent, showcasing A Tribe Called Quest's ability to create music that transcends time and continues to inspire generations. The Low End Theory remains an enduring masterpiece that solidifies A Tribe Called Quest's place in the annals of Hip Hop history. It is a testament to the group's artistic vision, their ability to evolve, and their dedication to pushing the boundaries of their craft. From its cohesive flow and musical brilliance to its profound impact on the genre, The Low End Theory still is a shining example of the limitless possibilities that arise when talent, vision, and passion converge. It is a timeless work of art that will continue to captivate and inspire listeners for generations to come, and one of the best Hip Hop albums of all time.