February 23rd, 1999 is a big day in Hip Hop history, with three releases that would become classics.
The Roots "Things Fall Apart"
Things Fall Apart (also referred to as When Things Fall Apart) is the fourth studio album by The Roots, released February 23, 1999 on Geffen Records. According to Spin magazine, the album is a landmark moment for The Roots and the collective, as it "swelled the Roots clique into a movement-style posse". (Wikipedia)
Eminem "The Slim Shady LP"
The Slim Shady LP is the second studio album by Eminem, and his first on a major label. It was released on February 23, 1999, under Interscope Records and Dr. Dre's Aftermath Entertainment. Recorded in Ferndale, Michigan following Eminem's recruitment by Dr. Dre and Jimmy Iovine, the album features production from Dr. Dre, the Bass Brothers, and Eminem himself. The majority of the record's lyrical content is written from the perspective of the rapper's alter ego Slim Shady, whom the rapper created on Slim Shady EP (1997). The lyrics are noted for their over-the-top depictions of violence and heavy use of profanity.
The album was met with both critical and commercial success; critics praised Eminem for his unique lyrical style, and the record debuted at number two on the US Billboard 200 chart behind TLC's FanMail with 283,000 copies sold in its opening week. The Slim Shady LP turned Eminem from an unknown rapper into a high-profile celebrity. He also became a highly controversial figure due to his lyrical content, which some perceived to be misogynistic and a negative influence on American youth. (Wikipedia)
Prince Paul "Prince Of Thieves"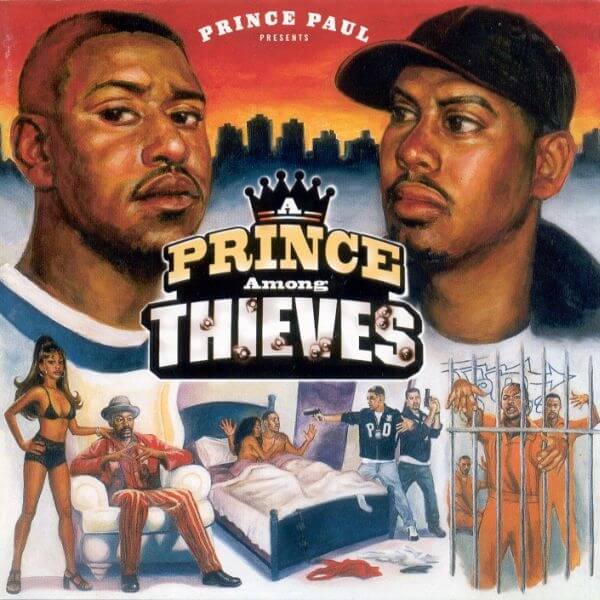 A Prince Among Thieves is the second studio album by Prince Paul. It is considered an apex in the Hip Hop world and was one of the most acclaimed concept albums of its time.
The concept follows the story of an aspiring young emcee named Tariq, played by emcee Breezly Brewin, who needs to collect money to record a demo tape before a meeting with Wu-Tang Clan leader RZA. The story follows a desperate Tariq, who quits his low-paying job and turns to his friend True, played by emcee Big Sha, who plugs him into the world of drug dealing. The two make their way through the drug world, a police ambush, jail, and, finally, a deadly showdown.
The album features cameos by Kool Keith, Big Daddy Kane, Chubb Rock, Biz Markie, De La Soul, Everlast, Sadat X, Xzibit, Kid Creole, Special Ed, Chris Rock, RZA and Buckshot. (Wikipedia)