Released in 1992, Pete Rock & CL Smooth's debut album Mecca And The Soul Brother is a timeless classic that showcases the duo's undeniable chemistry and musicianship. This album is a perfect blend of soulful samples, funky basslines, and impeccable lyricism that firmly cemented their place in the pantheon of golden-age Hip Hop.
Pete Rock, born Peter O. Phillips, hails from Mount Vernon, New York. Starting his career as a DJ and producer, he crafted beats for his cousin, rapper Heavy D. It was during high school that he first met CL Smooth, born Corey Penn, and the two soon formed a duo. In 1990, the duo signed with Elektra Records and released their debut EP, All Souled Out. However, it was Mecca And The Soul Brother that truly put them on the map and earned them critical acclaim (without great commercial success, though).
Mecca And The Soul Brother takes the listener on an expansive 80-minute journey that seamlessly flows from one track to another. The opening track, "Return of the Mecca," sets the tone with Pete Rock's signature horn samples and CL Smooth's smooth flow. From there, the album showcases various moods and themes, from the introspective "Lots of Lovin" to the socially conscious "Anger in the Nation" to the playful posse cut "The Basement."
One of the standout tracks on the album is "They Reminisce Over You (T.R.O.Y.)", a tribute to their fallen friend Troy Dixon, who was a member of Heavy D's crew. The track features a sample from Tom Scott's "Today," which Pete Rock skillfully chops and rearranges into a soulful, melancholic beat that perfectly complements CL Smooth's heartfelt lyrics. "T.R.O.Y." is widely regarded as one of the greatest Hip Hop songs of all time and remains a fan favorite to this day.
Mecca And The Soul Brother is a well-thought-out album that reflects the experiences and perspectives of its creators. Pete Rock and CL Smooth were able to craft a work of art that speaks to the struggles and triumphs of the Black experience in America, while also showcasing their own unique talents and personalities. With its soulful beats, thoughtful lyrics, and impeccable flow, Mecca And The Soul Brother continues to influence and inspire, serving as a timeless masterpiece that captures the essence of Hip Hop at its finest.
One of the defining features of Mecca And The Soul Brother is Pete Rock's exceptional production style. Pete Rock's production on the album showcases his mastery of sampling and his ability to create soulful, richly layered beats that bring out the best in CL Smooth's lyricism. Pete Rock has always been revered for his skillful use of samples, and this album is a testament to his artistry. He flawlessly incorporates samples from various genres, including soul, jazz, and R&B, weaving them together to create a cohesive and vibrant sonic landscape. His choice of samples adds depth and texture to the tracks, giving them a timeless quality that resonates with listeners.
Throughout the album, Pete Rock's beats are characterized by smooth, head-nodding rhythms, crisp drums, and intricate arrangements. He has an impeccable ear for finding the perfect loop or melody, often digging deep into crates to unearth hidden gems. His production creates a perfect backdrop for CL Smooth's lyrics, providing a solid foundation for his intricate flows and thought-provoking storytelling. Pete Rock's attention to detail is evident in every track. He carefully layers and sequences the samples, adding additional instrumentation and vocal snippets to enhance the overall sound. His use of drum breaks and subtle nuances in the production adds a distinct flavor to each song.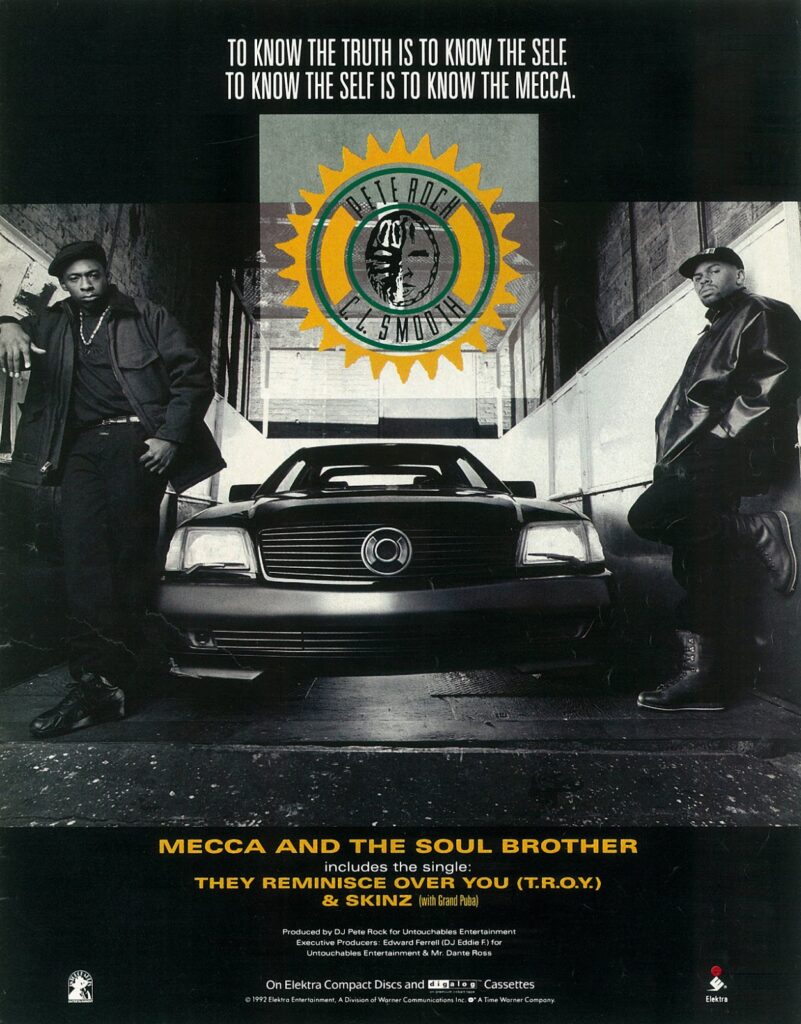 In addition to Pete Rock's exceptional sampling techniques, one of the standout elements of his production on Mecca And The Soul Brother is his masterful use of horns. Pete Rock incorporates horn samples in most tracks, adding a distinctive and vibrant element to the album's overall sound. Pete Rock's skillful implementation of horn samples on this album demonstrates his understanding of their power to elevate a track. He carefully selects and manipulates horn samples, often taken from jazz or soul records, to create captivating hooks, melodic lines, and infectious motifs.
The horns in Pete Rock's production provide a rich and soulful layer to the tracks, infusing them with a sense of grandeur and sophistication. The timbre of the horns adds warmth and depth to the arrangements, while their melodies and harmonies create a sense of musicality and emotion. Whether they are driving the main melody or serving as complementary accents, the horns contribute to the overall sonic tapestry of the album, adding a layer of sophistication, soulfulness, and musicality to the tracks, further enhancing the album's timeless appeal.
Tracks like "Return of the Mecca" and "The Basement" exemplify Pete Rock's skilled use of horns. In "Return of the Mecca," he incorporates a triumphant horn sample that instantly grabs the listener's attention and sets the tone for the album. The horn section adds a dynamic and powerful element to the track, enhancing its impact and creating a memorable hook. In "The Basement," Pete Rock employs horn samples to create a lively and energetic atmosphere. The horns blend seamlessly with the infectious drum pattern, driving the track forward and infusing it with vibrant energy. The interplay between the horns and other elements of the production showcases Pete Rock's meticulous attention to detail and his ability to craft intricate and captivating arrangements.
Regrettably, the musical odyssey of Pete Rock and CL Smooth would end too soon. They followed up Mecca And The Soul Brother with the equally strong The Main Ingredient in 1994, splitting up soon after. Their individual paths diverged from that point onward, while the reasons behind their disbandment remain shrouded in mystery. Where Pete Rock continued to bask in accolades as one of Hip Hop's foremost producers, CL Smooth gradually receded into relative obscurity. A fleeting reunion in the late '90s and early '00s yielded a few loose releases, only to culminate in yet another acrimonious split.
The brevity of Pete Rock and CL Smooth's brilliance is lamentable, for few musical collaborations in Hip Hop manage to attain their level of greatness. The collaborative efforts of Pete Rock and CL Smooth on this album stand as an enduring testament to their talent and synergy, their artistic ingenuity, and the indelible mark they left on the golden age of Hip Hop. Overall, Pete Rock's production style, coupled with CL Smooth's lyrical prowess, makes Mecca And The Soul Brother a true masterpiece that continues to captivate and inspire listeners.