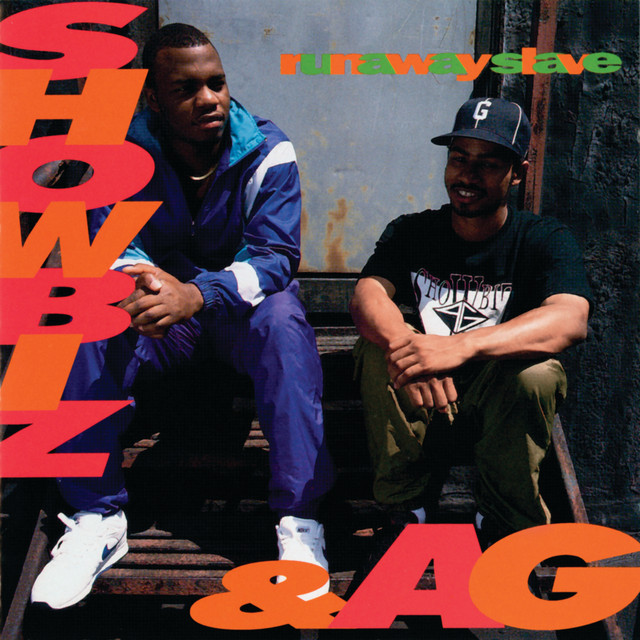 Showbiz and A.G., also known as Show and AG, are a duo hailing from The Bronx borough of New York City. The duo consists of Rodney "Showbiz" Lemay, who serves as the record producer, and Andre "A.G." Barnes, who is the rapper of the duo. The two first met in the late 1980s while attending the High School of Art and Design in New York City, and they quickly bonded over their shared love of Hip Hop. They first gained recognition after their contributions to the track "Back to Back Rhyming" from Lord Finesse's album "Funky Technician" (1990) and went on to join the Hip Hop collective D.I.T.C. alongside Lord Finesse, Diamond D, Fat Joe, O.C., Buckwild, and Big L.
Their debut album Runaway Slave, released in 1992, is a classic example of early 90s East Coast Hip Hop at its finest. The album, produced entirely by Showbiz with additional production by Diamond D, showcases AG's versatile lyricism and storytelling abilities over gritty, sample-heavy beats.
The album opens with "Still Diggin," an uptempo track that sets the tone for the rest of the project. Showbiz's production on this track, and throughout the album, is characterized by its use of obscure samples and heavy drums. AG's flow on "Still Diggin'" is smooth and effortless, and his rhymes are full of clever wordplay and internal rhyme schemes. One of the standout party tracks on Runaway Slave is "Soul Clap," a soulful, horn-driven track that features a catchy hook and some of AG's most memorable verses. The track's upbeat tempo and infectious energy make it a fan favorite to this day. the duo's first single "Party Groove" is another standout track on the album, with its funky bassline and upbeat vibe.
The title track, "Runaway Slave," is a haunting and introspective look at the struggles of being a black man in America, with AG reflecting on the history of slavery and racism in America, and the ongoing struggle for freedom and equality. "40 Acres and My Props" and "More Than One Way Out of the Ghetto" are equally thought-provoking tracks, showing another side of the album.
Another highlight on the album is the posse cut "Represent," which features an iconic guest verse from the legendary Big L. The track is a showcase for all involved MCs' lyrical prowess, with each rapper (Lord Finesse and Deshawn are also taking part) delivering intricate rhymes and clever wordplay over Showbiz's hard-hitting production.
Throughout the album, Showbiz's production is consistently strong, with his use of obscure samples and hard-hitting drums creating a gritty and raw soundscape that perfectly complements AG's lyrical style. The album's sequencing is also well-done, with each track flowing seamlessly into the next and creating a cohesive listening experience. One of the album's strengths is AG's storytelling ability. Tracks like "Silence of the Lambs", "He Say, She Say", and "Hard to Kill" showcase his ability to create vivid and compelling narratives.
In terms of influence, Runaway Slave has had a lasting impact on Hip Hop, particularly on the East Coast. The album's production style, which relied heavily on obscure samples and hard-hitting drums, would go on to become a staple of East Coast Hip Hop in the years to come. Although not talked about as often as other early 90s NYC classics, Runaway Slave definitely is part of the top-tier recordings of the time, and it deserves its props.
Overall, Runaway Slave is a classic album that deserves its place in the pantheon of great Hip Hop records. Showbiz's production is consistently strong, AG's lyricism is on point throughout, and the album's sequencing creates a cohesive and engaging listening experience. The album has aged incredibly well, too. Runaway Slave is a cultural artifact that has stood the test of time, and it remains a shining example of what Hip Hop can be when it is at its best.