This week marked the 18th anniversary of the Prince Paul's Prince Among Thieves album, which was one of the most bugged out concept albums of its era. At the time of this album's release, Paul was famous for his contributions to Hip Hop as a producer, most notably his projects with De La Soul, Gravediggaz, and Stetasonic.
I'm embarrassed to admit that I knew none of this back in 1999. Although I was abstractly aware of acts out of the east and west coast, I was only exposed to whatever my older cousins listened to. New York and California may as well have been Mars to me back then. I grew up in Texas, I didn't know much about acts outside of major artists like NWA, Ice T, and Public Enemy, my teeth were mostly cut on regional acts like UGK, Geto Boyz, 2 Live Crew, and Master P (you laugh but he was an underground sensation before hit really hit big in the late 90's. Everyone I knew was bumping that Mr. Ice Cream Man cassette when I was in high school).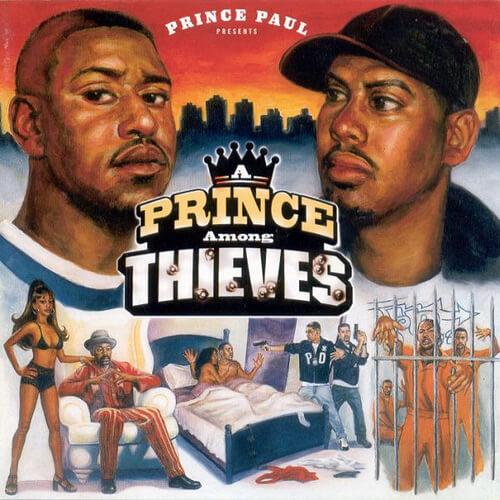 Prince Among Thieves the Hip Hop equivalent of The Who's Tommy. Although Hip Hop producers were mad respected, they weren't quite at the forefront as they are today (maybe we can thank Puffy for that). The promotional video was a direct contrast to the stuff I was used to seeing on Rap City (this was about the time that the Hot Boyz were taking over the airwaves) and it blew my mind.
The project has some of the most eclectic and intriguing cameos you'll see on a Hip Hop album. Kool Keith, Everlast, Chubb Rock, and Big Daddy Kane all jump on some of the most banging of tracks. But the purest gem, hidden in plain sight is "More Than U Know" with De La Soul. This under the radar classic cut may quite possibly may be the most perfect song ever written.
The backbone of the beat is a sample of the Extra T's "I Like It (Corn Flakes)" with a Liberace sample interlaced with Afrika Bambaata at the beginning of the track. For the chorus, a sample of Busy Bee At The Ampitheatre is laid atop the beat and Prince Paul creates a call and response dialogue with the chorus with the Busy Bee and Extra T's vocals.
The stage is set immediately with the first verse, as Posdnuos takes a drug transaction on the corner and dresses it up in the same manner as someone booking a flight at the airline terminal or with a travel agency. Allusions to getting high, being in the sky. Travel agency, airport counter metaphor for being on the corner.
Yo, yo, excuse me

I heard the word from word of mouth

That you were into booking flights

My, travel agent took a trip up north

And I need to book a flight tonight

I, enjoyed a getting away from day-

To-day stress so I need to leave

Soon. (If that's a case, I have no space

But for later I'd be sore to (leave?))

Nah, nah, that's not gonna do, I know that you

Can find another flight leavin the same

Time. I need to get aboard. I can't afford

Any penalties to sit in the main cabin

(yo, that didn't rhyme) It doesn't matter (What does? The money

Show the cash and the ticket is yours)

Cool. Here's your green. Now I'm up outta the scene

But I'll be back to purchase some more

Jewels
He returns on the second verse with more airplane metaphors, this time comparing the feeling of being "in the clouds" versus being grounded. As exhilarating as the flying sensation is, coming back to earth has its own set of lows. The narrator's desperation to fly again leads him to rob for the money to cover the "flight." Posdnuos even manages to throw in a baseball metaphor to end the verse.
Now I'm comin down outta the clouds

And I'm runnin into turbulence

Need to get up, up higher again

Feelin like my soul's on fire again

Don't need to bail for safety, show me where the safe be

So I can take me another trip

To the agency, cause the travel unravel my woes

But now the craving grows

So, I need to get a ticket cause man, oh I

Need to get aboard a plane again

Some, say I'll crash, but It's my life and cash

Gonna ride it out until the end

Numb, to the lift of the whiff, (grow?), when I vacate frequently

And I got, frequent flyer when I retire to death

Tell 'em that the big C sent me

And a lot, of brothers man. I'm not the only brother

At the airport, needin a lift

Off. Was a agent til I was caught and brought

To an unfair court, pleadin the fifth

Soft, ground I prefer upon the mound

When I pitched a rock for a fee

Now others say standin at the bat isn't where it's at

But takin hits is where I'd rather be.
Dave brings up the rear with the third verse; a beautiful blend of literary allusion and double entendres. Dave takes the "love is a drug" metaphor and creates a full-on allegory (It took me approximately 193 listens before I realized this song wasn't about a woman).
Now I bagged this chick but she got me wide

Made me lose my friends and my pride

Had me cashing my checks for her

Lost all my self-respect for her

When I was broke she'd go solicit other guys

And if we made love you could see it in my eyes

My fantasy was one day to be a millionaire

So I could reassure that my baby girl was there

I could feel her love, son, I taste it in her lips

Mentally she was a trip, had a n**** whipped

A lot of other cats got strung out in the past

But I'mma get the love last, then I make a dash

That's what I thought but Miss Thing was too appealing

When I had no dough for her, she had a n**** stealing

(Hands hot) Now I'm incarcerated, honey ain't around

Into withdrawal from her, while I'm locked down

Two years down I hear she's still a thick dime

Controllin n***** pockets and even ladies' minds

(Here she come) ? with a temptin proposition

(Approaching me) But when she said "Hi" I had to listen

I'm sweatin beans cause I know I'm gonna bait her

Better do it now cause you're bound to do it later

I can't refuse her, my denial's a wish

Fell into her arm when I gave her a kiss

Cause I like it
This song is a Mixing 101 example of the difference between a DJ/Producer and someone just sampling a track into one big loop. Prince Paul's astute musical knowledge is on display with his various nods to the artists before him (much like jazz musicians used to quote each other in their solos). The lightness and bounce of the track make a terrific counterpoint to the clever and heady lyrics provided by De La Soul. It is a song that is so flawless that you can slip into your playlist at a house party and know that the right people will get it.