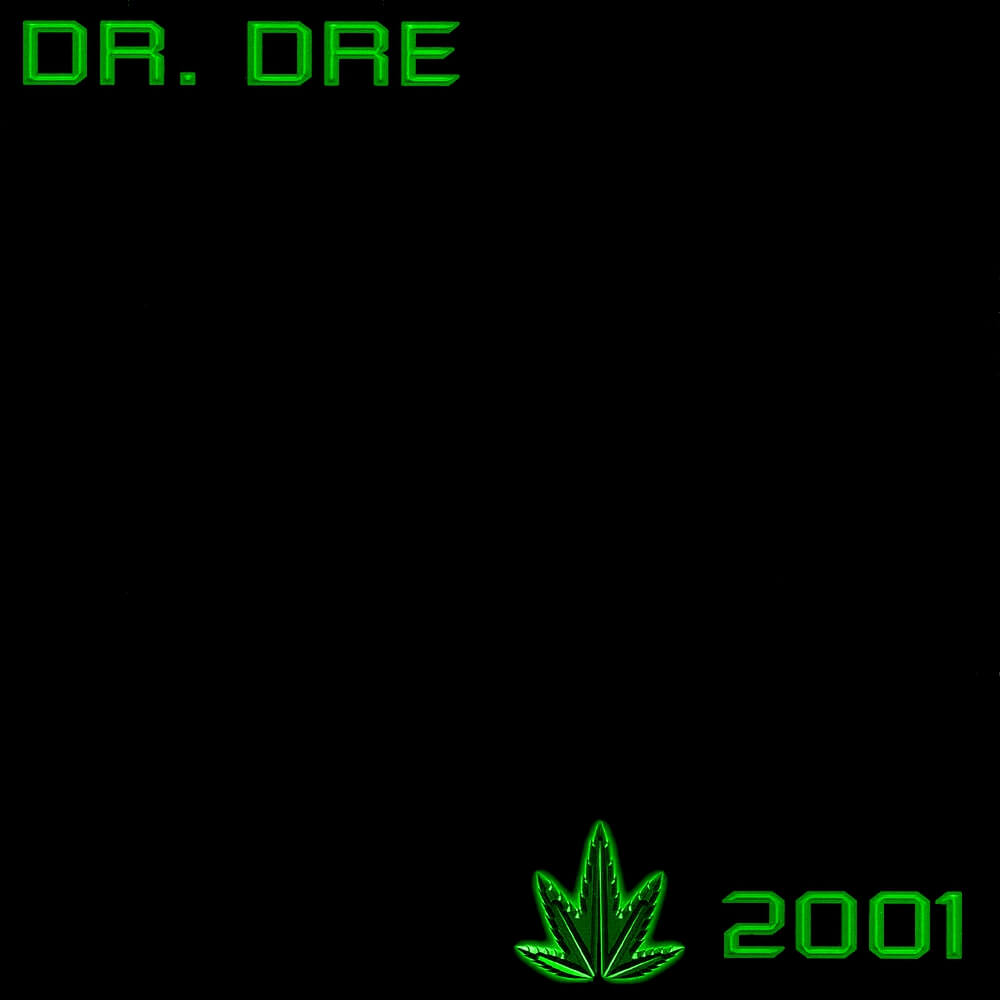 Dr Dre – 2001: One of THE most classic Hip Hop albums – and for me, probably the one that really started my journey. You could say that makes it life changing! Does anybody not have this album??
Hearing amazing verses from Kurupt, Nate Dogg, and Xzibit – especially Xzibit just opend me up to a completely new musical style. Hearing Xzibits voice and delivery blew my mind and I couldn't get enough of his two verses here and one on Eminem's album. As soon as I saw he had a new album out I went and bought Restless off the back of his verses here – that's how we did it once upon a time! How many albums have you got that you've gone straight out to get based off a verse? For me there's a lot and I know there will be a whole generation of rap fans who got Illmatic without a second thought after Nas' verse on Live At The BBQ.
But I digress..
This album's rhyming is pretty much spot on throughout 2001, the braggiest of brag raps, over the top gangsta posturing, women being disrespected left-right-and-centre yet still Ms Roq shows up with a couple of the sickest verses on the album, and not enough can be said about the production – every single song on here has a classic beat and could stand on it's own. No filler here. Hittman is a strong rhymer, with this album really being a showcase for him as an MC. It's a bit of a shame that nothing else really came from him but I imagine his solo album would have been just a lot more of this and wouldn't have lived up to the heights he hits here.
Side note: Back when it came out and we were all trying to get this album, one of my friends got bought 2001 for his birthday by his girlfriend at the time. Unfortunately it was the censored version. I'm sure she had good intentions but that it still probably one of the funniest things I've seen happen and listening to the censored version of this album is the biggest waste of time you could ever find.
So the problem with the album: 'Pause 4 Porno'
Obviously.
About a minute and a half of listening to loud over the top fake sex, just ridiculous nonsense being yelled.
2001 has a few other skits, including a really really pointless bunch of mumbling before the song The Car Bomb, a monologue from Eddie Griffin (Ahh Eddie Griffin, nobody's favourite comedian), and whatever the f*** Bar One is aiming to be. These each are a waste of time and album space on their own, but what they at least DO have going for them, is that if you just leave the album running you can sort of ignore them, let them pass or whatever before the next song starts and you can just move on. There's no diving to skip the track with these, probably an eye roll and a casual skip, not a desperate high-speed movement as soon as your hear "y'all ready to get nasty?". Good one.
This skit, apart from being as obnoxious as it is, doesn't even have a point, or a punchline. It's obviously there to lead in to Housewife with one of the women in the skit going on about getting back to her husband, but then it just ends and we're all worse off as a result.
I think I read once that Dre was trying to make 2001 like a movie experience, hence the THX sounds on the intro and semi-regular breaks which lead into related songs and of course that means a sex scene is included. My response to that, however, is this: that's bullshit. 2001 doesn't have an overarching story, it's not a concept album and there's no real link between any songs. At least the skits do lead into the following songs, but for f***'s sake Pause 4 Porno is just pointless. I guess it was designed to shock and probably bring this kind of reaction out of people – so well done, I guess it might have been funny the first time hearing it, I don't remember – I only ever remember cringing, even when I was young and immature enough to find s*** like this funny.
Also Still DRE is a boring as f*** song so there's that too.
Republished from: The Rap Blog