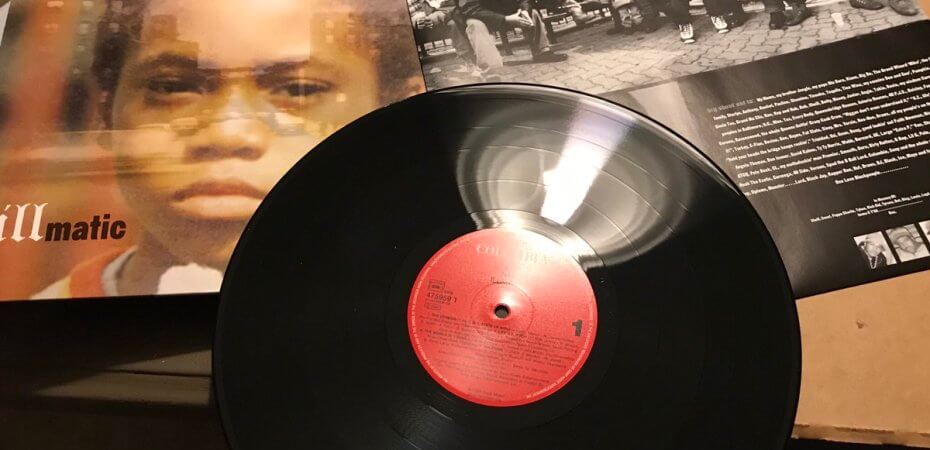 I am on a one-woman mission to collect as many 90's Hip Hop albums as possible – in the form of vinyl, CD's, or my new obsession, cassettes. I try my best to buy original pressings, but these can be taxing (to put it lightly.) When I can't afford the OG copies, I reluctantly purchase re-pressings.
It took $15, and 19 years to grab the first "classic" Hip Hop album I had ever fallen in love with. I bought an OG copy of Illmatic on CD at the tender age of 13, as I had just started researching the genre – finding Illmatic on the top of "best of" Hip Hop lists. As I slid the CD into my Mac computer, I wasn't prepared for what I was about to hear. I wasn't prepared to find my favorite Hip Hop song of all time, NY State of Mind, nor was I ready for the beauty that is Nas' 1994 debut album.
Fresh out of high school at the age of 19, I transferred to an art school in Chicago, ready to work hard for a music business degree. Just a few blocks away was a record store called Reckless Records. The 4 store Chicago chain (starting in London) is easily the most well known in the city. One day, after a string of classes, I decided to explore my new surroundings. I walked down South Michigan Avenue for a few minutes and took a left on Madison Street.
I passed a small bank, a Dunkin Donuts, and then a storefront called Reckless Records. I opened the double doors (which rang once I pushed through) and was greeted with a few rows of CD's, vinyl, DVD's, a checkout counter with a few employees, and collector's items, posters, books, and the like all around the store. It was a spiritual experience for me, as the Hip Hop bug had hit me 11 years before, and I immediately saw the genre singled out in the physical mediums. I gravitated to the CD section and saw what Best Buy and Borders would never have in stock. I wasn't familiar with vinyl, but as soon as I flipped through the massive 12-inch artwork, I was hooked.
I flipped through the Hip Hop selection, noticing familiar titles and the prices that trumped CD's Soon, Nas' adolescent face hit me square in the eyes. I decided at that very moment I had to have it. Three crumpled $5 bills later, the re-pressed record was in a white, playlist bag with my hands clutching the handles as though I had just found buried treasure. I heard about Crosley's (forgive me, I was young) took the train to my local Urban Outfitters,' and bought a green and black "model" for a small sum. I had never felt this type of anticipation as I power walked back to my apartment, hand still clutching the Reckless Records bag, along with a much large Urban Outfitter bag.
I broke open the box containing the Crosley, plugged it into the first outlet I saw, and placed the record on the turntable. Although the internal speakers were God-awful, at the time I didn't know any better. The black vinyl was mirror clear and spun effortlessly. My favorite tracks on the LP (NY State of Mind, The World Is Yours, and Represent) took on new meaning. My connection to music changed that day. Alone in my apartment, playing Illmatic over and over again, I had no idea that 4 years later I would spend tens of thousands of dollars on physical music. Can't stop, won't stop.
*NOTE: Nas' Live from The Kennedy Center double LP just dropped via Record Store day. The record was limited to 5,000 copies, but I was thankfully able to snag one. It's a double LP with a gatefold, glossy posters and a mini photo book explaining the history of the album and the show backed by the National Symphony Orchestra.
I would like to think anyone who bought the record would not own a Crosley, but that might be unrealistic. The album is meant to be played on at least a decent turntable and external speakers. I may sound like a vinyl snob, but this is essential to get the best audio experience. You can still stream the album on Apple Music and Spotify which I highly recommend. There are still some left on Mass Appeal (as of the time of writing) which you can cop here. Photos of the packaging are below.