(Republished from DefineARevolution.com, By @TrueGodImmortal)
Tracklist Nas – Illmatic
The Genesis
N.Y. State Of Mind
Life's A B****
The World Is Yours
Halftime
Memory Lane (Sittin' In Da Park)
One Love
One Time 4 Ya Mind
Represent
It Ain't Hard To Tell
I know. I'm late. The 23rd anniversary of this classic album came back on April 19th, and despite this being one of my favorite albums ever, I did NOT take the time to revisit it on that day. My reasoning is obvious, but in case you're unaware, I usually do not like to talk about an album on the exact anniversary. For one, most of the albums we've covered here are mostly due to the fact that we just flat out enjoy the music and the content. I tend to avoid the anniversaries of those albums because it's the cliche thing to do, and with all honesty, it's just not really my thing.
However, I've never done a stand-alone article on this album and it would be criminal to not do so on Hip Hop Wednesday. With that being said, I wanted to look back on the classic Illmatic and relive what makes it one of the greatest albums in the history of the genre. With themes that could encompass gangsta rap, desolation in our community, along with poverty and the inner city narrative, Nas would craft a timeless piece of music on Illmatic.
They say you have your whole life to make that first album and that's what Nas put into this project: his whole life. From the young experiences of the intelligent kid from QB watching violence and drug sales from his window and up close, Nas told his story through a street poet's tales with precise clarity and a reflective mindset.
With 10 tracks full of poise, street poetics, and dense lyricism, Nas would give the world Illmatic on April 19, 1994. At a time when artists were completing their tasks and making albums at their highest level, Nas would take the culture by storm with this initially under-appreciated album (commercially at least). Today, we wanted to go back to 1994, take a look at Illmatic and the components that made it a classic. Let's get into it.
Production
When we look back at the producers involved in Illmatic now, in retrospect it reads like a list of the greatest Hip Hop producers of all time. The beauty of that? A majority of them were still trying to get their legacies built. The boom bap sound was the law of the land in the Hip Hop universe at the time, and sure enough, Nas would utilize the best of the best at that sound.
Whether it was the scratching and sample sound that DJ Premier brought to the table, or the sampled jazz vibe that Pete Rock could bring, or even the gritty sound of Large Professor, Nas would work with some of the most storied producers in the game on his debut, shaping his Hip Hop career sonically and making it nearly impossible to duplicate such a flawlessly produced album.
Although I wouldn't consider L.E.S. or Q-Tip to be two of the best producers in Hip Hop, there is definitely much to be stated about their contributions to the album on the production front. For L.E.S., who wasn't a very well-known producer at the time, we got to witness his sampling ability as he would turn a Gap Band classic into one of the most iconic Nas songs ever. For Q-Tip, his contribution was very vital and important, as the bouncy drums and jazzy sample he provided Nas with on "One Love" is still one of my favorite beats that Nas has used. At this period in Hip Hop, multiple samples being utilized were hugely popular in style, and Illmatic would definitely exhibit that in some of the top tier productions on the album.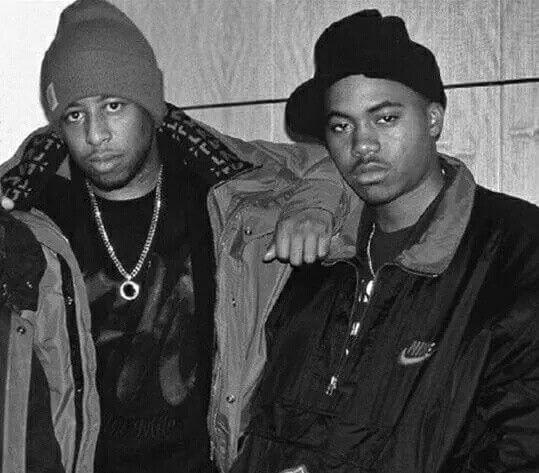 For DJ Premier, his ability to scratch always aided his multiple sample usage and on his work via "N.Y. State Of Mind", he manages to take samples from Kool And The Gang, Donald Byrd, Joe Chambers, and of Eric B & Rakim to create the perfect backdrop for some of the greatest verses from Nas.
On another Premo produced classic "Memory Lane (Sittin In Da Park)", which is one of my favorites on the entire album, he utilizes some really fine samples from Reuben Wilson, Allen Toussiant, along with small clips scratched in from Biz Markie and Marley Marl & Craig G. Premo was the king of the scratch sample in the music with the smooth arrangement and melody, and "Memory Lane" definitely doesn't disappoint.
"Represent" is one of my least favorite productions on the album, and although Premo slightly missed the mark here, he still manages to bring some dope samples from Lee Erwin and the Godfather of psychedelic funk, George Clinton. For Premo, his production output on this album was among some of his greatest work (minus "Represent", which is still a decent production), but he wasn't the only producer putting in the work with multiple samples.
In a way, Large Professor is one of the MVPs for Nas on production. While in later years, they seemingly drifted away from each other, everything Nas needed some good production or to stage a comeback, Large P was right there to supply him with his soulful boom bap. The genesis of that producer-rapper relationship starts on Illmatic with the great sound on "Halftime". Backed by samples of Japanese Hair Cast, Average White Band (underrated group), and Gary Byrd, Large Pro provides the perfect instrumental for Nas to kick his legendary flow over.
Large P returns with another jazzy style production on "One Time 4 Ya Mind", which features a sample from Jimmy Gordon and the JazznPops band, but the most infamous production on this entire album comes courtesy of Large P on the amazing beat for "It Ain't Hard To Tell". The production for "It Ain't Hard To Tell" is driven by an amazing Michael Jackson sample of "Human Nature", which was surprisingly enough a popular same at the time and still remains one (word to SWV and eventually Chris Brown) in a way. Regardless, the backdrop utilizing an instantly recognizable sample from Michael Jackson was a great way to draw in listeners, and Large P layered the sample with more lush samples from Stanley Clarke and Mountain. Is "It Ain't Hard To Tell" the best production on the entire album? I'll revisit that in a minute, but make no mistake about it, Large Professor did his job and then some on the album.
For the contributions of Pete Rock and Q-Tip to the album, with only singular production credits for each man, they still made the most out of their one shot on the album. For Pete Rock, he would have the production on "The World Is Yours" with an iconic vocal sample placed in from T La Rock behind the Ahmad Jamal sample that gave the track a jazzy and smooth feel. For Q-Tip, working on the beat for "One Love" had to be fun. The rapper/producer would sample The Heath Brothers and Parliament to create the jazzy background for Nas to spit his amazing QB stories and declarations of one love to his brothers and sisters locked in the jails. With the producers laying the foundation for Nas, Illmatic had the defining sound covered. For a classic album, the production matters just as much, if not more than the lyrics, and with Nas having the greats in tow, Illmatic was certainly in good hands.
Track By Track Rating
I won't speak too much on each track in general, but I do want to rank every track on this album. While many of these tracks are pure hip hop perfection, surely there are one or two that miss the mark right? Well, let's take a look at each track on the album one by one (minus "The Genesis"), and rate them on a scale of 1 to 10. Let's get into it.
*N.Y. State Of Mind -There aren't many songs in Hip Hop history that start of an album better than this one. With some of his most direct and aggressive lyrics, amidst a profound yet poetic delivery, Nas delivers over the DJ Premier produced knocker, as the drums and the sinister melody provides him with the perfect beat to spit two extended verses over.
This is one of the best songs in the entire Nas catalog, and it's certainly one of the most iconic "introductory" tracks in Hip Hop history. 10/10
*Life's A B**** – When Nas and AZ get together on a song, as we've seen, they go all out lyrically. While they aren't the same in style lyrically, they tend to complement each other well on every track they do together.
AZ kicks off the song with one of the most legendary guest verses ever, and for good measure, he delivers the most simple yet classic hook in 90's Hip Hop IMO. Nas doesn't disappoint either, as his verse is a bit more reflective in essence, but lyrically sound. I think this is one of the best collaborative songs in Hip Hop history personally. 10/10
*The World Is Yours – Pete Rock and Nas, a classic tandem that we didn't hear enough work together from. The jazz arrangement of the melodic sample combined with the "It's mine, it's mine, whose world is this" vocal sample is perfection, along with flawless verses from Nas. It would go on to be one of the most infamous Nas songs in his catalog, with the message being clear: get yours and live your life.
We know that this song would go on to be powerful in essence in for other artists as well, as Jay-Z would sample it, and many others would rap over the instrumental in the future (Elzhi and Jay Electronica did it the best). This was a sign that Pete and Nas needed to work together and while they didn't work together too much after this album, this song will always be a classic and one of the most important in the Nas journey. 10/10
*Halftime – Aside from featuring a line that made me scratch my head ("that's like Malcolm X catching the Jungle Fever"), this is yet another track that I felt was flawless on the album. Lyrically, Nas is spitting some of his best, and this is the song his label felt was the strongest to go with as a single.
"Halftime" was essentially the first song released from the album and while it didn't take off to be a hit (and shouldn't have been expected to), it does showcase the lyrical strength of Nas and introduced you to who he is as an MC. It also served as the midway point of the album, which made the title more than fitting and enhances the vibe of the song itself. 9.5/10
*Memory Lane (Sittin In Da Park) – The reflective vibe of this one is what makes it my personal favorite on the album. For me, it's the greatest marriage between production and lyricism on the album, which says a lot. With the smooth "oooh oooh oooh" sample in the background between the drum hits and jazzy melody, Nas takes us to Queensbridge and paints a picture as only he can.
He goes back to the days when he was young as he was on the album cover, along with some of his favorite memories in his life and time, making this an easy listen all the way through. When I look back at the entire album, this song is always my first go to track (even though I usually listen all the through, when I don't want to, I always play "Memory Lane" first), and the track I've played the most. 10/10
*One Love – Anytime Nas and Q-Tip work together, it's bound to be amazing. Honestly, it's a shame they haven't worked together more, but that aside, this track is a testament to their chemistry. While Tip is only present on the hook and production (I'd have loved to hear a Q-Tip verse on Illmatic), it allows for Nas to paint his picture poetically with ease.
Centered around letters to incarcerated friends, Nas gets reflective once again, speaking on the good and the bad times they had before. It's a poignant song and a nice concept to present after the reflective "Memory Lane". 10/10
*One Time 4 Ya Mind – I love this song, but I can admit it is not perfect. Now don't get me wrong, from a lyrical standpoint, it's as close to perfect as a song can get, but if I'm being honest, it's one of my least favorite songs on the album (which isn't saying much because I love every song on here), and it's still great regardless. I mean, Nas essentially could do no wrong on this album, but like I said, nothing is perfect.
Now, the first verse of this song is a classic. The second verse is dope as well but just not as classic as the first. The beat is laid back and essentially this is the closest thing to a filler track on the album. It has very little substance in a way, but it still all flows nicely, making this a great song, just not as perfect as the others on the album. 9.5/10
*Represent – I always thought this song was the one that was the sore thumb of the album. It's not a bad song at all, and as a standalone track, it's great, but for some reason, it nearly messes up the cohesion of the album. Nearly.
The DJ Premier production is almost a by the numbers beat in a way, and while that takes a little away from the song, the lyrics are once again top notch, showcasing Nas controlling the boom bap pace throughout. 9/10
*It Ain't Hard To Tell – Anytime you sample Michael Jackson, you've got a lot to live up to. Luckily for Nas and Large Professor, they knew how go execute and get the job done. The "Human Nature" sample combined with the accompanying samples in the background to give it a slight jazz twist allow Nas to coast over the instrumental. Much like the other perfect songs here, this track is as flawless as they come in Hip Hop. 10/10
Best Verses
The lyrical composite of Illmatic is what makes it one of the most influential albums of all time. At the time, we were used to hearing the lyrical dexterity of Kool G Rap, Rakim, and Big  Daddy Kane, but Nas was unlike anything we had seen at the time. He was essentially a mix of those three combined with his own style and flow. Heavily inspired by all three men, Nas managed to write his lyrics with such a precision, taking his rhyme patterns, intense imagery, and multi-syllabic lyricism and making one classic verse after another. Nas is almost like a Queensbridge news reporter in the way he delivers his verses, with poetic devices used in each line he writes. He would paint poured with his words and tell the stories he experienced and witnessed growing up in Queensbridge.
With only guest appearance on the entire album, we got to hear Nas in all of his glory on every track alone minus one. The beauty of that one guest spot? It might actually be the best verse on the entire album, or at least a top 5 verse on it, which not only proves the quality of that particular verse, but also the precision with which Nas crafted this album. That lone guest appearance, coming courtesy of future Brooklyn legend AZ, on the L.E.S. produced "Life's A B****" is so flawless that it almost makes you forget the iconic verse that Nas delivers himself. On other tracks, Nas comes with poignant lyricism in every verse, making it very hard to decide on what the absolute best verses are on the album, but I tried to narrow it down and pick 7 of the best verses on Illmatic. Let's take a look.
*N.Y. State Of Mind (Verse 1) – In what could quite possibly be the greatest and most iconic verse in his career, Nas paints a picture with the first lyrics you hear on the album. The track boasts two amazing long verses, but I didn't want to include both. Verse 2 of this song is nearly just as amazing, but the first verse of this track is unparalleled to anything else in the Nas catalog. It served as the introduction to not only him and his persona, but the introduction to the album and his lyrical power. The opening verse to "N.Y. State Of Mind" is just classic and legendary, and those first few lines are undefeated. Plus, without this verse, we would never have known that sleep is the cousin of death. This verse MUST BE included. It's one of the most important verses ever in Hip Hop. Simple.
"Rappers I monkey flip em / With the funky rhythm I be kicking / Musician, inflicting composition / Of pain / I'm like Scarface sniffin cocaine / Holdin a M-16 / See with the pen I'm extreme / Bulletholes left in my peepholes / I'm suited up in street clothes / Hand me a nine and I'll defeat foes / Y'all know my steelo, with or without the airplay / I keep some E&J, sitting bent up in the stairway / Or either on the corner betting Grants / With the cee-lo champs / Laughin at baseheads, trying to sell some broken amps / G-Packs get off quick, forever n***** talk s*** /Remeniscing about the last time the Task Force flipped / N***** be runnin through the block shooting / Time to start the revolution / Catch a body, head for Houston / Once they caught us off guard, the Mac-10 was in the grass and / I ran like a cheetah with thoughts of an assassin / Pick the Mac up, told brothers back up, the Mac spit / Lead was hittin n*****, one ran, I made him backflip / Heard a few chicks scream my arm shook / Couldn't look / Gave another squeeze heard it click yo, my s*** is stuck / Try to c*** it, it wouldn't shoot now I'm in danger / Finally pulled it back and saw three bullets caught up in the chamber / So now I'm jetting to the building lobby / And it was filled with children probably / Couldn't see as high as I be / (So whatchu sayin?) It's like the game ain't the same / Got younger n***** pullin the triggers bringing fame to they name / And claim some corners / Crews without guns are goners / In broad daylight, stickup kids, they run up on us / Fo'-fives and gauges, Macs in fact / Same n*****'ll catch a back to back / Snatchin yo' cracks in black / There was a snitch on the block / Getting n***** knocked / So hold your stash until the coke price drop / I know this crackhead, who said she gotta smoke nice rock / And if it's good she'll bring ya customers in measuring pots / But yo, you gotta slide on a vacation / Inside information / Keeps large n***** erasing and they wives basing / It drops deep as it does in my breath / I never sleep, cause sleep is the cousin of death / Beyond the walls of intelligence, life is defined / I think of crime when I'm in a New York state of mind"
*AZ's Guest Verse (Life's A B****, Verse 1) – What makes this verse so special is the never ending flow of lyrics that just stack upon each other. AZ was relatively unknown to most of us and this was essentially our introduction to the MC. His verse is still looked at as one of the greatest in Hip Hop history and for good reason.
"Visualizing the realism of life and actuality / F*** who's the baddest, a person's status depends on salary / And my mentality is, money orientated / I'm destined to live the dream for all my peeps who never made it / Cause yeah, we were beginners/ In the hood as Five Percenters / But somethin must of got in us/ Cause all of us turned to sinners / Now some, resting in peace and some are sitting in San Quentin / Others such as myself are trying to carry on tradition / Keeping this Schweppervescent, street ghetto essence inside us / Cause it provides us, with the proper insight to guide us / Even though, we know somehow we all gotta go / But as long as we leaving, thieving, we'll be leaving with some kind of dough / So, and to that day we expire and turn to vapors / Me and my capers'll be somewhere stackin plenty papers / Keepin it real, packin steel, gettin high / Cause life's a b**** and then you die"
*Life's A B**** (Verse 2) – Don't be surprised or alarmed. Nas doesn't get murdered on his own song despite the love for AZ and his amazing verse. Instead, he provides us with a slightly more concise verse but one that is less dizzying in flow and delivery, which is why many lean towards the verse from AZ more. However, Nas kills it on this one from the amazing lines about the buck that could've struck the lotto, to the opening 4 bars, as well as the "Time Is Illmatic" reference that would stay relevant 20 years later, Nas delivered more than enough on this verse for it to be considered amongst the best in his entire catalog, let alone Illmatic.
"I woke up early on my born day, I'm twenty years, a blessing / The essence of adolescent/ Leaves my body now I'm fresh in / My physical frame is celebrated cause I made it / One quarter through life some God-ly like thing created / Got rhymes 365 days annual, plus some / Load up the mic and bust one / Cuss while I pus from / My skull cause it's pain in my brain vein / Money maintain / Don't go against the grain / Simple and plain / When I was young at this, I used to do my thing hard / Robbing foreigners take they wallets, they jewels, and rip they green cards / Dipped to the projects, flashin my quick cash / And got my first piece of a** / Smoking blunts with hash / Now it's all about cash in abundance / N***** I used to run with / Is rich or doing years in the hundreds / I switched my motto / Instead of saying f*** tomorrow / That buck that bought a bottle / Could've struck the lotto / Once I stood on the block, loose cracks / Produce stacks / I cooked up and cut small pieces to get my loot back / Time is Illmatic / Keep static like wool fabric / Pack a four-matic that crack your whole cabbage"
*The World Is Yours (Verse 1) – In many ways, less is always more. There's so many lines in the Nas catalog that are classic and this might be something that remains a theme with Nas forever: he has a gift to know how to start off a song. When looking at the other verses from this song, he brings it lyrically on those other two, but the most quotable verse on this song is easily the finest. From the Gandhi reference to the writing beyond the margin line, Nas delivers. You'd think a line like "mechanical movement, understandable smooth s*** that murderers move with, the thief's theme" wouldn't have such impact, but 23 years later, that line is one of the most important lines in his entire career and would come back in a future track. Of course, the most memorable lines from this verse would be sampled by Jay-Z two years later on his track "Dead Presidents", which only solidifies the fact that this verse is one of the 7 best on the album. Hands down.
"I sip the Dom P, watchin Gandhi til I'm charged then / Writing in my book of rhymes, all the words pass the margin / To hold the mic I'm throbbing / Mechanical movement / Understandable smooth s*** / That murderers move with / The thief's theme, play me at night, they won't act right / The fiend of hip-hop has got me stuck like a crack pipe / The mind activation / React like I'm facing time like 'Pappy' Mason / With pens I'm embracing / Wipe the sweat off my dome, spit the phlegm on the streets / Suede Timb's on my feets / Makes my cypher, complete / Whether cruising in a six-cab, or Montero Jeep / I can't call it, the beats make me falling asleep / I keep falling, but never falling six feet deep / I'm out for presidents to represent me (say what?) / I'm out for presidents to represent me, (say what?) / I'm out for dead presidents to represent me"
*Memory Lane (Verse 1) – Yet another example of Nas starting off a song perfectly. It's honestly one of my favorites in his career, which is no surprise considering many of his greatest and most iconic verse come from Illmatic. Lyrically, it's probably the smoothest verse on the entire album, which is why it's here.
"I rap for listeners / Blunt heads, fly ladies and prisoners / Henessey holders and old school n*****, then I be dissing a / Unofficial that smoke woolie thai / I dropped out of Cooley High / Gassed up by a cokehead cutie pie / Jungle survivor / F*** who's the liver / My man put the battery in my back, a difference from Energizer / Sentence begins indented with formality / My duration's infinite, moneywise or physiology / Poetry, that's a part of me, retardedly bop / I drop the ancient manifested hip-hop / Straight off the block / I reminisce on park jams, my man was shot for his sheep coat / Chocolate blunts make me see him drop in my weed smoke / It's real, grew up in trife life, did times or white lines / The hype vice, murderous nighttimes / And knife fights invite crimes / Chill on the block with Cognac / Hold strap / With my peeps that's into drug money, market interact / No sign of the beast in the blue Chrysler / I guess that means peace / For n***** no sheisty vice to just snipe ya / Start off the dice-rolling mats for craps to cee-lo /With side bets, I roll a deuce, nothing below / Peace God — now the s*** is explained / I'm taking n***** on a trip straight through memory lane"

*One Time 4 Ya Mind (Verse 1) – Opting not to put any verse from "One Love" on the list due to the whole song being on equal level like "Halftime", and because of two major lines in the verse, I had to pick the opening verse of "One Time 4 Ya Mind". For one, a line in this song was a basis for my "Root For The Villain" album. The line "I shot my way out my Mom Dukes" is also one of his most memorable lines as well and would be important later on in his career, making this verse a landmark one for Nas.

"Check it out, when I'm chillin / I grab the buddha, get my crew to buy beers and watch a flick, illin/ And root for the villain / Plus every morning, I go out and love it, sort of chilly / Then I send a shorty from my block to the store for Phillies / After being blessed by the herb's essence / I'm back to my rest, ten minutes, some odd seconds / That's where I got the honey at, spends the night for sexing / Cheap lubrication, Lifestyle protection / Picking up my stereo's remote control quickly / Ron G's in the cassette deck, rockin the s***, G / I try to stay mellow / Rock, well acapella / Rhymes'll make me richer than a slipper made Cinderella fella / Go get your crew, Hobbes, I'm prepared to bomb troops / Got n***** who's born, I shot my way out my Mom Dukes / When I was ten, I was a hip-hoppin shorty wop / Known for rocking microphones and twisting off a 40 top"
*It Ain't Hard To Tell (Verse 1) – Continuing his run of amazing opening verses, the short first verse of this track is one of the more straight to the point ones on the album. However, when Nas decided to get intricate, he would craft a line that seemingly has never lost its luster with his "half man, half amazing" bar near the end of the verse. The rest of the song is amazing and lyrically sound, but it's that first verse that really sets the tone for the final song on the album.
"It ain't hard to tell / I excel, then prevail / The mic is contacted, I attract clientele / My mic check is life or death breathin a sniper's breath / I exhale the yellow smoke of buddha through righteous steps / Deep like The Shining / Sparkle like a diamond / Sneak a uzi on the island in my army jacket lining / Hit the Earth like a comet, invasion / Nas is like the Afrocentric Asian / Half-man, half-amazing / Cause in my physical, I can express through song / Delete stress like Motrin, then extend strong / I drank Moet with Medusa, give her shotguns in hell / From the spliff that I lift and inhale, it ain't hard to tell"
Legacy
There are many albums that are remembered as classics in Hip Hop. There are very few remembered with the legacy of Illmatic. It's revered as a template for the quintessential Hip Hop album, and rightfully so. At only 10 tracks (really 9 if you don't include the intro), it took the less is more approach, utilized 5 of the best producers during the era, and focused less on making a hit, but instead was just a huge display of Nas and his skills at their best and most hungry.
It's in many ways the quintessential Hip Hop album, from length to execution. What Nas accomplished on his debut, only a select few have and that's Hip Hop perfection. That perfection has turned Illmatic into a one of a kind classic that has yet to be topped in terms of impact on the culture in many ways.
Speaking of impact, the overall impact of Illmatic had been felt in the aftermath. Numerous MCs and artists have gone on record to explain how Nas impacted their lives as an artist. Even this writer, a talented Hip Hop artist myself, was influenced immensely by Nas and his first two albums. Illmatic came at a time that the West Coast was seemingly dominating Hip Hop and alongside the Wu Tang Clan, Nas helped to bring an East Coast renaissance of sorts to the genre.
When you ask a fan what's one of the greatest albums in Hip Hop history, chances are this album comes up more often than not. When you come into the game and debut with a true classic, along with putting yourself in the running to be the best rapper, you've accomplished an immeasurable feat. Nas is certainly one of the greatest ever, but that legacy and story doesn't exist without Illmatic. It's the greatest piece in the legacy of the man I consider the greatest rapper ever.
Overall Rating: 10/10
– True