Think of Illmatic as a docile takeover.
Viewing gangster rap's fatalism as a dead-end street, greenhorn MC Nasir Jones saw his vocal precision and lucid perspective as an antithesis to the myth of the invincible outlaw. His crime fiction is one of fear, not cowardice, voicing the tension of those caught in death's snare with a pragmatic candor and a positive mental attitude. The viewpoint proved to be unique, particularly due to the conduit with which it was carried, an articulate and lightning-tongued slew of syllables, flowing over with a prodigy's photographic memory and capacity for free association.
Confident as jester and philosopher, Nas is a utility player, capable of amusing and inspiring in equal measure. His hobbies lean towards the genre's propensity for hedonism, grafting on to the chronic, cognac and clothing, but abandoning the nihilistic hatred and capacity for violence. In his own words, "I switched my motto; instead of saying 'f*** tomorrow' that buck that bought a bottle could have struck the lotto." It's far too evocative a couplet to cut short, perfectly articulating the viewpoint of the author and his advanced grasp of internal rhyme and metaphor. His confidence even extends to advances in narrative, seeing street crime through the eye of a keen observer instead of perpetrator, perfectly captured in "One Love," which details the neighborhood melodrama in a letter to an imprisoned friend. Its poignancy reflects an innovator eclipsing his forebearers, capably exercising idiom and symbol within the constraints of epistolary poetry.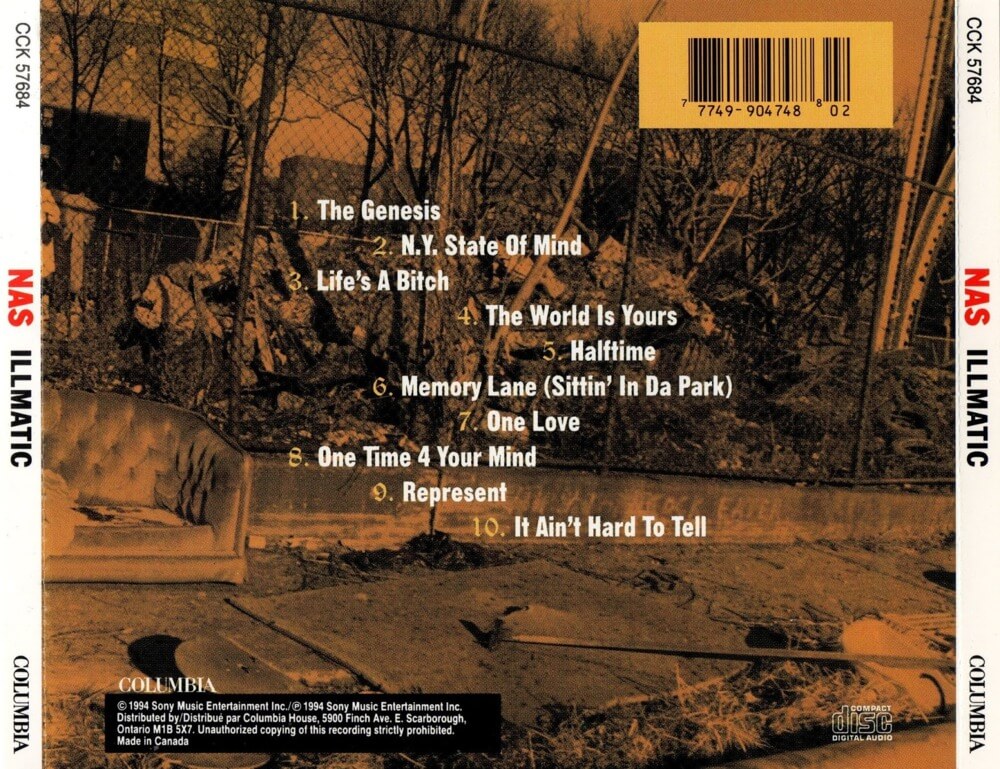 An ingredient this fresh only needs a pinch of salt when served and the committee behind Illmatic's production understand that less is more, especially with a wunderkind behind the microphone. Large Professor lets Nas' words marinate alongside swirling jazz sax and indistinct "Human Nature" sample, allowing the chaos to unfold quietly beneath the rousing vocal track. Gang Starr's DJ Premier doesn't jump through hoops, sticking to a metropolitan melange of bass, playful sample and rapid-fire scratching that caters well to a young artist adapting to compositional structure. Naysayers might be inclined to hear it as the masters resting on their laurels, but don't fool simplicity for complacency, as the formulaic work present here reflects the nexus of the formula instead of a tired retread. All a "Golden Age" revivalist needs to hear are the Hammond organ and sampled soul croon on Premier's "Memory Lane…" to crack a grin of sentimental satisfaction.
"Halftime" carries on the air of nostalgia, pairing Motown samples with fond remembrances of CHiPs episodes and youthful bouts of stage fright. Large Professor strips down his sound, giving the lyricist free reign over infectious live bass and the hypnotic sway of sleigh bells, awakening only for the rare burst of horn over the chorus. Free to flex his "mad fat fluid" on the microphone, "Nasty" Nas careens at top speed through content-rich verses, making the obvious profound through eloquently woven tales of weed smoke and vocal dominance. Mastery of the figurative and literal ("I drop jewels, wear jewels…") and bookish references to Marcus Garvey glaze over moments of blatant homophobia, but the real attraction is the effortlessly poetic intonation of Nas' voice. Stringing 4 to 6 rhymes together in a cohesive narrative at high speeds without choking would be a feat, but doing it for nearly 4 minutes straight is superhuman, especially on your first attempt at making the majors.
Time saw Nas' infamy grow and his expanded catalog allowed him to develop arguments and concepts only touched upon in this pithy anthology, but rarely does increased notoriety capture youth's intrepid spirit. Illmatic streams with the unbridled enthusiasm of an author just finding his voice, relishing every syntactic innovation, off-the-cuff neologism and oddball pairing of historical footnote and modern colloquialism. It thrives by going the extra mile, masterfully described in the argotic title, which roughly translates to "a willingness to be ill."
Nas – Illmatic was ranked #10 on Matt Deapo's Hip Hop Top 50, a ranking of 50 of the best Hip Hop albums recorded between 1978 and 2006, based on this consideration and these rules.