He was a battle rapper that also rapped ballads. He introduced styles and phrases to the culture. He was Hip Hop's first major superstar. So almost 35 years after his first album, why isn't Uncle L more appreciated?
Ladies Love Cool James was always the coolest dude in the room.
And ladies weren't the only ones that loved him. Fellas did too. To borrow a line usually attributed to James Bond: men wanted to be him; women wanted to be with him.
It may seem ludicrous now, as an entire generation knows him mostly as an actor and host, but there was a time when LL was the most feared rapper on the planet. Then he became the most desirable. And, for a short time, he was the best.
"LL Cool J is hard as hell"
November 18 marks the 34th anniversary of the release of LL's Rick Rubin-helmed debut album, Radio, the first full-length album released by Def Jam Recordings. In 1985, LL Cool J was a 17-year-old high school dropout rap phenom with a powerful voice and a raw but devastating flow. The biggest annual hip-hop festival is named after one his songs. A 45-second cameo turned him into a star. He was hard as hell. And he was the best rapper alive.
Two years later, LL switched up his sound, hooking up with the L.A. Posse (a collective that included Bobcat and DJ Pooh) and crafting B.A.D. (Bigger And Deffer), an album that merged the sounds of New York and Los Angeles three years before Ice Cube would work with The Bomb Squad. While not as influential or innovative as its predecessor, "B.A.D. was the album that catapulted Cool J to superstar status," thanks to its singles "I'm Bad" and "I Need Love," the latter of which was a landmark moment in both LL's career and Hip Hop as a whole. Considered to be the first rap ballad, it showed L's softer side, providing a balance to the battle-hungry cat with the rapid-fire delivery. In an era when few hip-hop songs made the charts at all, it peaked at #14 on the Billboard Hot 100 — and was the first rap song to reach the top of the Hot R&B chart — and has been cited as a pivotal moment in Hip Hop's growth.
It was more than the music. LL had charisma and style that appealed to both sexes, eschewing gaudy stage outfits for relaxed sweatsuits, adorned with a fat rope chain and his signature fuzzy Kangol: "Other artists favored bucket hats as well…but it was LL Cool J who brought the Kangol to massive mainstream heights — and decades later, the hat represents an era in rap history."
"Uncle L, future of the funk"
Following the success of "I Need Love," LL tried to catch lightning in a bottle again on 1989's Walking with a Panther, but it did not go so well: "there are in fact three ballads here, all of them pretty saccharine (and, tellingly, none of them singles)." While today no one would bat an eye, at the time he was heavily criticized as being both lazy and a sellout. Plus, when compared to Public Enemy and other artists that were conveying messages in their music, "LL was left looking super out of touch in Hip Hop's new conscious climate."
The artist himself admits as much in his autobiography, I Make My Own Rules: "My style had been getting a little tired, and I knew I wasn't feeling the people anymore." For the first, but certainly not the last, time the baddest rapper on the planet had fallen off.
"Don't call it a comeback"
Although he already had three albums under his belt, Cool J was still only 22-years-old the first time he had to resurrect his career in 1990. After the mess that was Walking with a Panther, he moved away from Rick Rubin and Cut Creator and hooked up with Marley Marl to get back to his roots and, as his grandmother insisted, "knock them all out."
The title track had a banging bassline, an easy, catchy hook, and a vicious LL on the mic. It was a huge hit on MTV, first its official video, then as part of an ensemble performance of MTV Unplugged, in which he stole the show: "And LL Cool J was extraordinary, turning his 'Mama Said Knock You Out' into a new kind of vocal music that had the emotionalism of the blues and the relentless catchiness of rock." It climbed to number 17 on the Billboard Hot 100 and won him his first Grammy.
The album was much more than one song, however, as LL once again found his sweet spot, crafting songs for both the ladies ("Around the Way Girl") and the fellas ("The Boomin' System") that could crossover between the two. It also included one of the better — and more underrated — diss songs in rap history, "To Da Break of Dawn." With a verse each directed at Kool Moe Dee, Ice-T, and MC Hammer, L was in full attack mode and, while he was not the only cause, none of the three would ever be the same again.
He had traded the Kangol for a leather top hat and was back on top. He warned, "Don't call it a comeback!" but that's exactly what it was.
Unfortunately, it was unsustainable. After once again proving that the only path he should follow is his own, LL yet again tried following the trends. He saw the rise of G-Funk and "tried to remain relevant in a post-Chronic world by adopting a faux West Coast sound and a faux gangsta personality" on 1993's 14 Shots to the Dome. He even began dressing like Dr. Dre and had song titles like "Funkadelic Relic" over beats that sounded like they were meant for Ice Cube. It was a disaster. Even the only hint of vintage L on the whole record, "Back Seat (of My Jeep)" — the album's lead single — came off as forced.
For the second time in four years, fans and critics alike were eulogizing the career of James Todd Smith.
"Hollis to Hollywood, but is he good?"
By1995, no one believed he could do it again. His debut had come a decade earlier, an eternity in rap music at the time. He was transitioning into acting full-time with In the House, a Fresh Prince-like NBC sitcom and, besides, Hip Hop was now dominated by the likes of The Notorious B.I.G., Snoop Doggy Dogg, Wu-Tang Clan, and 2Pac.
The '80s were long gone and beefs were getting dangerous. Where would LL possibly fit in? He had won battles, but beating Moe Dee and Hammer was easy. Besides, he already tried to present himself as a G and had failed miserably. His time was over. He may as well just become an actor.
It was in this climate, around the time of the 1995 Source Awards, that he fully cemented his legacy.
Beginning with the remix to "Flava in Ya Ear," where he had rhetorically asked, "Hollis to Hollywood, but is he good?" it appeared that L finally knew what he was and what he was not. Rather than try to act like Biggie or Busta Rhymes, he was himself, a relaxed and confident veteran that had seen it all before and the result was a great performance that was only overshadowed by B.I.G.'s classic opening verse.
His sixth album, Mr. Smith, came near the end of the year and, as he had done on Mama Said Knock You Out, he bridged the gap between the soft and hard. Largely produced by Trackmasters, he went back to the rap ballad well for his singles, resulting in three top ten Billboard Hot 100 hits — the Grammy-winning, Boyz II Men-featured "Hey Lover," "Doin' It" (which was originally meant for The Notorious B.I.G.), and "Loungin'." For the second time that year, he also proved his skills hadn't eroded on a posse cut remix, this time it was his own cut, "I Shot Ya," when he proclaimed: "What the f***, I thought I conquered the world/Crushed Moe Dee, Hammer, and Ice-T's curl."
The following year, he released All World, one of the first official Hip Hop greatest hits albums, closing out the first decade of his career.
His star was as bright as ever.
His style had evolved yet again too. He ditched the vest and leather top hat for a jersey and sweats with sunglasses and a visor. And the pant leg pulled up. He certainly wasn't the first to do it, but he set the trend, bringing the look into the mainstream and becoming so identified with it that even as late as 2011, Currensy said in a song, "I keep one rolled up like LL's pants leg."
Over the next few years, he would be instrumental in the rise of one brand, in particular. He wore a FUBU hat in a commercial for The Gap and, shortly thereafter, "FUBU became the original monolithic rapper-endorsed streetwear brand, with revenues totaling somewhere around the $300 million mark in 1998…FUBU went on to inspire Sean Jean, Roc-a-Wear, et al."
"You wanna try me? First you better learn how to rhyme"
L's penchant for following a strong release with a weak one continued with 1997's Phenomenon. Executive produced by Puff Daddy, it tried to replicate the formula of its predecessor but was not nearly as successful. Every song had a glossy sheen and LL's attempt to sound cool often came off as aloof and lackadaisical.
The album is best known for the controversy caused by one song in particular. "4, 3, 2, 1" was a posse cut produced by Erick Sermon that featured two veterans — Redman and Method Man — and two upstarts that many in the mainstream had not yet heard, DMX and Canibus (with an additional verse by Master P for the video version).
Upon its release, many speculated whom LL's verse, which was lauded and named The Source's Hip-Hop Quotable of the month and ended with him calling himself the "greatest of all time," was directed at. It quickly became known that it was aimed squarely at Canibus, whom L had believed had taken shots at him in his own rhyme, even after changing his verse. At the time, Canibus was known for his lyrical ferocity and he attacked back with the vicious "2nd Round K.O.," on which he said that 99% of LL's fans wear high heels and took issue with his claim because "the greatest rapper of all time died on March 9th." To hammer home the boxing metaphor, the song featured Mike Tyson.
Yet again, it appeared as if Uncle L's long career was done.
He responded with "The Ripper Strikes Back," a scathing diss full of intensity, comparing his accomplishments to those of Canibus and retorting that "99% of his fans don't exist." (In a weird twist, Canibus for some reason believed the track had been ghostwritten by Eminem, thus beginning their own feud.) Even more devastating than L's track, though, was the failure of Canibus's album and, ultimately, his career.
It would also turn out to be one of the last highlights of LL's own musical legacy.
"I wrote so ill that I sold ten mil "
It took eight albums and fifteen years, but LL Cool J finally had a #1 album.
Building on his last line on "4, 3, 2, 1," LL named his album G.O.A.T. (Greatest Of All Time). The acronym has since fully entered the lexicon, changing the meaning of the term, which used to signify something being "monumentally bad," which is ironic considering that that album's title has aged much better than its music.
Aside from a few bright spots, the album was subpar in all aspects, an unforgivable occurrence considering the loftiness of the title. When compared to the memories of 2Pac and B.I.G. or the impact of Eminem and Jay-Z, LL's boast came off as ridiculous and out of touch.
It did go platinum though, his seventh (and final) album to do so.
"This is hard on me, I don't wanna leave"
Over the next eight years came four albums — 10, The DEFinition, Todd Smith, and Exit 13. All reached the Billboard top ten and the first three reached gold status, but they all felt the same, a collection of songs with other artists, half aimed for the radio with singers like Amerie, Jennifer Lopez, and Lil' Mo, the other half tough-guy bravado raps featuring the likes of Juelz Santana, Freeway, and Fat Joe.
Although his earlier musical departures like Walking with a Panther and 14 Shots to the Dome did not work, at least he had tried something. Even if he had been following trends or trying to catch the popular wave, he experimented outside of his comfort zone. For years, one of the biggest knocks on L had been that he had a formula and from 2002–2008, he proved them right, making virtually the same album over and over with just different personnel. Even superproducers like Timbaland and The Neptunes could only do so much. During this time, his biggest hit was actually as a guest on Jennifer Lopez's "All I Have," which spent four weeks atop the charts in 2002. In 2006, the two would reconnect on LL's "Control Myself," but it was not nearly as successful.
As his influence began to wane, LL resorted to gimmicks like flexing and taking off his shirt on his album covers as well as blaming Def Jam, specifically then-president Jay-Z, for not properly promoting his album. His final Def Jam album, Exit 13, was his first that failed to go either gold or platinum.
After twenty-three years and thirteen albums, he left the label that he had been instrumental in helping to build.
It was truly the end of an era.
"Giving all but my soul to have another smash"
Recently, it's been sad to watch LL try to remain relevant musically. He's still a star, even if the majority of the public doesn't know or remember him as an MC.
He's been in numerous films, has starred on NCIS: Los Angeles for seven seasons, and hosts Lip Sync Battle and various awards shows — when he's not breaking the nose and jaw of a guy that's breaking into his house.
In 2013, he released his first post-Def Jam project, Authentic, a weird album that tried to merge multiple genres — featuring a slew of eclectic guests, including Eddie Van Halen, Snoop, Chuck D, Seal, and Earth, Wind & Fire — and failed. The harder he tries, it seems, the worse it becomes. "He doesn't need to do this. His legacy is secure."
While Authentic does feature Brad Paisley, it is not the famous song the two did together, "Accidental Racist." An attempt to start a conversation about race, it was so bad that it became the talk of the internet for a few days.
LL is better than this. He deserves better than this.
"I'm an idol-slash-icon"
His first twelve albums all went gold or better, with seven of the first eight going platinum. He's had nine albums reach the top ten of the Billboard 200. He's had four platinum and six gold singles with six top ten hits on the Billboard Hot 100 and two more as a featured artist. His albums have been in the top 25 on the Billboard 200 chart in four different decades and have gone platinum in three different decades. He's been nominated for nine Grammy awards, of which he won two, and also received the MTV Video Vanguard Award.
He's a legend.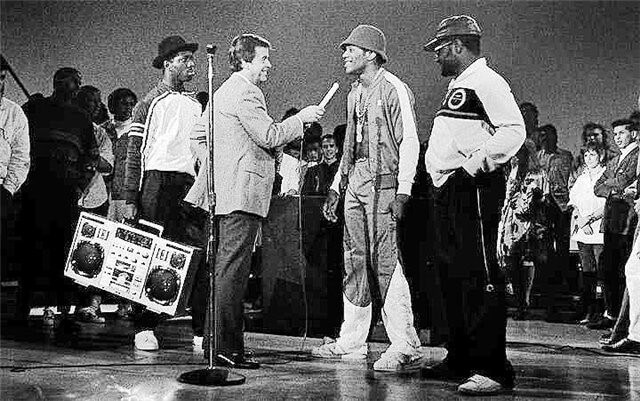 He helped to not only build Def Jam, but also Hip Hop, helping to bring it into the mainstream. He was one of the first solo Hip Hop artists to get regular airplay on MTV and even appeared on American Bandstand. He was the first superstar solo Hip Hop artist, one of the first rapper-turned-actors, and has been a household name for thirty years.
He was the total package, a monster on the microphone that could beat you lyrically and then sweet talk your girl into his arms. He won battle after battle and made hit after hit. He fell off and came back several times, changing and influencing styles every few years, and proving that, until recently, he could still compete with the best.
After a thirty-year career full of setting trends and blazing trails, it's time for us to finally give LL Cool J the credit and respect he deserves.
Republished from THE PASSION OF CHRISTOPHER PIERZNIK
Christopher Pierznik is the author of nine books, including The Hip Hop 10 and Hip Hop Scholar, all of which are available in paperback and Kindle. In addition to his own site, his work has appeared on XXL, Cuepoint, Business Insider, The Cauldron, and many more. Follow him on Facebook or Twitter.