The Greatest Year in Hip Hop History: a 16-slot bracket tournament to determine the best
This has been updated since its original publication in 2014
Of all the conversations and debates surrounding the best of the best in Hip Hop — MC's, groups, producers, labels — perhaps the most difficult to ascertain is what is the greatest year in Hip Hop history.
This is not a new question, of course, but I thought I'd bring a new angle to it by determining the best through a 16-slot bracket tournament.
Before we get to the matchups, a few notes on the seedings and inclusion of years:
The impact of the year goes beyond the music released. It also includes cultural impact as well and historical importance. Important strides like mainstream media acknowledgment, television presence, and inclusion in awards shows matter, but the music carries the most weight by far. The general consensus is that Hip Hop started in 1973, but no one owns an album from that year, so it was not included.
Nothing is a classic overnight and perspective needs time. That's why an athlete must be retired for five years before being included on a Hall of Fame ballot. The same is true here but because of the ever-changing nature of the genre, I expanded it to a full decade so that nothing after 2008 is eligible.
The tournament is slotted the same way as NCAA March Madness, with the highest seeds facing off against the lowest seeds in the first round, then the winners moving on to the next round. Teams are not re-seeded in each round, so a George Mason-esque Cinderella run is possible.
---
The impact of the year goes beyond the music released. It also includes cultural impact as well and historical importance.
---
Here are the first round matchups:
(1) 1993 vs. (16) 1984
(2) 1988 vs. (15) 1985
(3) 1994 vs. (14) 2001
(4) 1996 vs. (13) 1992
(5) 2000 vs. (12) 1986
(6) 2003 vs. (11) 1999
(7) 1995 vs. (10) 1987
(8) 1998 vs. (9) 1997
Last Four Out: 1989, 1991, 2004, 1990
To be fair, this should probably have been a 24-slot tournament, but at what point does it end? An important year was bound to be snubbed and 1989 should have probably made the cut. Maybe it'll be just the motivation needed to win the NIT.
On to the games…
Sweet 16 [First Round]
Matchup
(1) 1993 vs. (16) 1984
Analysis
1984 is important to the growth of the culture. It was the year of the first hip-hop tour, the "Fresh Fest," it introduced the concept of diss records with UTFO's "Roxanne Roxanne" and Roxanne Shanté's reply "Roxanne's Revenge," and, most importantly, it was the year Russell Simmons and Rick Rubin formed the greatest label in Hip Hop history, Def Jam Records. However, '84 is like the mid-major that had a great run in the conference tourney and is just happy to be in the Big Dance.
1993 is a team from a major conference that is loaded with future pros and nearly went undefeated. '93 is the team that can attack from any angle. East Coast hardcore: Enter the Wu-Tang (36 Chambers), Enta Da Stage, Bacdafucup. West Coast hardcore: Doggystyle, It's On (Dr. Dre) 187um Killa, Strictly 4 My N.I.*.*.A.Z. Southern hardcore: Till Death Do Us Part. Smooth: Midnight Marauders, Reachin' (A New Refutation of Time and Space), Buhloone Mindstate. High-energy from the East: Here Come the Lords and the West: 93 'til Infinity. Even the soundtracks were dope: Judgment Night, Menace II Society. And we haven't even mentioned Black Sunday, Return of the Boom Bap, 21 & Over, Slaughtahouse, or the monster 19 Naughty III.
Result
The founding of Def Jam does all it can to keep '84 in the game, but there's a reason '93 is the number one overall seed. It's a rout by halftime and bench players like Del the Funkee Homosapien even get some playing time.
Final score: 1993: 111 – 1984: 67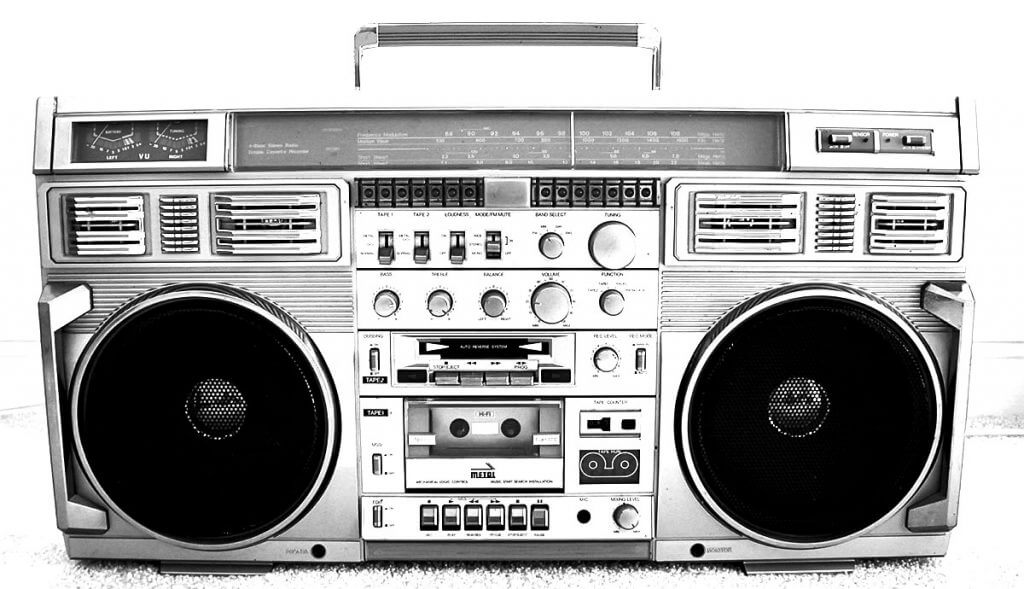 Matchup
(2) 1988 vs. (15) 1985
Analysis
The second overall seed, 1988 brought diversity to the genre through a combination of "gangsta rap," conscious rhymes, sociopolitical themes, complex lyricism and empowered females. It is a lethal combination of groups releasing groundbreaking albums — N.W.A's Straight Outta Compton, Public Enemy's It Takes a Nation of Millions to Hold Us Back, Jungle Brothers's Straight Out the Jungle, EPMD's Strictly Business, Boogie Down Productions's By Any Means Necessary, Eric B. & Rakim's Follow the Leader, Run-DMC's Tougher Than Leather — and classic LPs from solo artists — Slick Rick's The Great Adventures of Slick Rick, Big Daddy Kane's Long Live the Kane, Eazy-E's Eazy Duz It, Ice-T's Power, MC Lyte's Lyte as a Rock. Even more importantly, the music continued to make inroads within pop culture, most notably with the birth of Yo! MTV Raps.
Conversely, 1985 is like the inexperienced version of the '88 team with plenty of raw talent and promise, but still a few years away. The bankruptcy of Sugarhill Records, the first viable Hip Hop record label, hurt the team, but the music was entering a new age with LL Cool J's debut Radio, Too $hort's sophomore album Players, and Run-DMC's record-breaking second album King of Rock.
Result
Freshman phenom LL and future Hall of Famers Run-DMC keep it respectable, but '88 is an all-time great team with a deep bench and their ferocious full court press is too much for the young team to handle.
Final score: 1988: 93 – 1985: 74
Matchup
(3) 1994 vs. (14) 2001
Analysis
At first, it appears that the (3) vs. (14) matchup is one that could result in an upset. 2001's low seed is due to its lack of depth, but it still boasts Jay-Z's The Blueprint, Nas's Stillmatic and the battle in which the two engaged at the end of the year. D12's Devil's Night, Cormega's underground gem The Realness, and two soundtracks — The Wash and Training Day — help, and while big names like Ludacris (Word of Mouf), Ja Rule (Pain is Love), and even Wu-Tang Clan (Iron Flag) didn't supply their best projects, they still have memorable moments.
On the other side, 1994, stacked with young talent from all over the map, was the year that Hip Hop was reborn. There were groundbreaking albums from New York — Nas's Illmatic, The Notorious B.I.G.'s Ready to Die, Method Man's Tical, and Jeru the Damaja's The Sun Rises in the East, O.C.'s Word…Life — California — Warren G's Regulate…G Funk Era, 2Pac's group Thug Life Volume 1 — Chicago — Common Sense's Resurrection — and Atlanta — Outkast's Southernplayalisticadillacmuzik — as well as strong sophomore efforts from Redman (Dare Iz a Darkside) and Pete Rock & CL Smooth (The Main Ingredient) — and anchored by veterans Beastie Boys (Ill Communication) and Gang Starr (Hard to Earn). With the decline of grunge rock, '94 was also the year that Hip Hop emerged as the genre of the future, making Hip Hop artists platinum-selling superstars.
Result
While Jay-Z was making some of the best music of his life and Nas was returning to his roots in '01, they are no match for a squad made up of the raw talent of B.I.G., Common, André 3000, Redman, and a younger Nas. 1994 runs the 2001 veterans off the floor in a game that wasn't as close as the final score makes it appear.
Final score: 1994: 99 – 2001: 87
Matchup
(4) 1996 vs. (13) 1992
Analysis
All Eyez on Me. It Was Written. The Score. Reasonable Doubt. ATLiens. Ill Na Na. Hard Core. Hell on Earth. Muddy Waters. Da Storm. Illadelph Halflife. The Coming. Ironman. Nocturnal. Endtroducing. Legal Drug Money. Through the first half of the year, 1996 was undefeated and appeared to be a lock to become the number one overall seed. Then, one night in September, it all crumbled. 2Pac's death changed everything overnight and, though not related, lackluster releases by Snoop Doggy Dogg (Tha Doggfather), Dr. Dre (Dr. Dre Presents…The Aftermath), and Chuck D (Autobiography of Mistachuck) saw '96 limping into the New Year. Still, the year saw classic debuts from Jay-Z, Busta Rhymes, Foxy Brown, Ghostface Killah, and Lil' Kim, spectacular follow-ups by Mobb Deep, The Roots, Redman, and blockbuster releases by Fugees, Nas and 'Pac himself (twice). While it faded towards the end, '96 still has a nearly impeccable résumé.
Meanwhile, 1992 was a transitional year between two classic mini-eras. Dr. Dre's The Chronic changed the music and Pete Rock & CL Smooth's Mecca & the Soul Brother was a classic, but they were alone. Redman (Whut? Thee Album), UGK (Too Hard to Swallow), and Common Sense (Can I Borrow a Dollar?) unveiled their promising, yet uneven, debuts, while '80s legends Eric B. & Rakim (Don't Sweat the Technique) and EPMD (Business Never Personal), as well as Ice Cube (The Predator) dropped albums that were strong, but a notch below their previous works. It was also the year that Hip Hop in various forms became ubiquitous on radio, so it was the first time that sounds like G-Funk and hardcore hip-hop were played alongside more commercial acts like Arrested Development and Kris Kross.
Result
While Dre and Pete Rock, along with Diamond D off the bench, do their best to keep it close, 1992's lack of direction is magnified by a roster that is a mixture of too old and too young, especially when compared to the way 1996's talent coalesced at the perfect time, even in spite of 2Pac's departure.
Final score: 1996: 84 – 1992: 70
Matchup
(5) 2000 vs. (12) 1986
Analysis
A clash of two completely contrasting styles, 1986 is a traditional, New York-centric squad, while 2000 incorporates the South and the Midwest into their game plan. Neither team has much depth, but '00 is a higher seed thanks largely to a career year by Eminem (The Marshall Mathers LP), an almost perfect output by Ghostface Killah (Supreme Clientele), and strong showings by Outkast (Stankonia), Slum Village (Fantastic, Vol. 2), Wu-Tang Clan (The W), Jay-Z (The Dynasty: Roc La Familia), as well as the innovative stylings of Nelly (Country Grammar). 
On the other side, Run-DMC and Aerosmith form a combination never seen before ("Walk This Way" off Raising Hell) the Beastie Boys (Licensed to Ill) bring both boundless energy and funky originality, and Schoolly D (Schoolly D) influenced an entire generation of gangster rap, but the rest of the year is outdated and forgettable, and though the future is bright with superstar recruit Rakim, it would be another year until he would unleash an album on the world.
Result
Run-DMC is at the top of its game, giving '86 a chance to win, but '00's versatility proves to be too much.
Final score: 2000: 69 – 1986: 65
Matchup
(6) 2003 vs. (11) 1999
Analysis
An argument could be made that 2003 is the most intriguing year in Hip Hop history, at least in terms of albums released. The game's biggest name, Jay-Z, was (supposedly) retiring, 50 Cent was the most anticipated new artist since Snoop, and Outkast crafted a genre-bending double album that won a Grammy for Album of the Year. In addition to The Black Album, Get Rich or Die Tryin', and Speakerboxxx/The Love Below, there were gems courtesy of newer artists like T.I., Freeway and Obie Trice, veterans such as Gang Starr, and less commercial acts including Brother Ali, Immortal Technique, Jaylib, and Little Brother. The most recent year in the tournament, 2003 was the final year of Hip Hop the way it had been. Beginning in 2004, those that had dominated in recent years — Jay-Z, Eminem, Dr. Dre — took a step back and new artists — Kanye West, Lil' Wayne — and different regions — Houston, Memphis — became the focal point.
In contrast, 1999 was only four years earlier but in many ways feels as if it's a different era. It was the year Dr. Dre made his triumphant return (2001), Eminem introduced himself (The Slim Shady LP), The Roots gained massive exposure (Things Fall Apart), Mos Def made a classic (Black on Both Sides), Nas confronted hatred (I Am…), Rawkus became a household name (Soundbombing II), and Jay-Z (Vol. 3…Life and Times of S. Carter) continued his meteoric rise. It was also the year of Prince Paul's brilliant concept album (A Prince Among Thieves), Method Man & Redman's stellar collaboration (Blackout!), Mobb Deep's strong return (Murda Muzik), Kurupt's ode to G-Funk (Tha Streetz iz a Mutha), as well as the only worthwhile posthumous project by The Notorious B.I.G. (Born Again). More importantly, 1999 was also the year that Hip Hop was confronted with the future. Though they would do battle in two years, Nas and Jay-Z shared a common enemy in '99: bootleggers. For Jay, it was a friend and business partner who leaked his album to the street vendors and was stabbed as a result (Jay pleaded guilty and received three years probation). Nas, on the other hand, became the first major Hip Hop artist to become a victim of next generation of bootlegging in the form of mp3 file sharing. While this is now expected and it's almost shocking when an album doesn't leak, this was viewed as a crisis at the time, so much so that Nas decided to scrap the original project (a double album entitled I Am…The Autobiography), record several new songs and release one single album. While I Am… was good (and the original is great), the long-lasting impact is that this was the first salvo in the music industry's war on piracy, a war that it kept losing until it completely changed its way of doing business. Much of it began in 1999.
Result
In the first upset of the tournament, 1999 knocks off 2003 in convincing fashion. The stars carried each team, with '03 Jay-Z outplaying his younger self, Dr. Dre overpowering Outkast, and 50 Cent and Eminem playing to a near draw, but it was '99's bench play, as well as its varied styles and its impact on the music that proved to be the difference.
Final score: 1999: 83 – 2003: 73
Matchup
(7) 1995 vs. (10) 1987
Analysis
1987 was the year that Hip Hop started to mature. Up to that point, lyrics had been secondary as DJ's were often the focal point while MC's yelled basic, monosyllabic rhymes that were often call-and-response interactions with the crowd. Then, a new class of freshmen walked on campus and changed everything. Ice-T brought the lavish life of a California gangster (Rhyme Pays), Chuck D and his sidekick Flavor Flav brought an intriguing mixture of fiery sociopolitical rhymes and goofy fun (Yo! Bum Rush the Show), KRS-One brought stories from the streets of the Bronx (Criminal Minded), and Rakim brought a sophistication to lyrics that had never been seen or even imagined before (Paid in Full). They, along with DJ Jazzy Jeff & The Fresh Prince (Rock the House), an evolving LL Cool J (Bigger & Deffer), and even an unpolished N.W.A (N.W.A and the Posse), ushered in a new era of the music almost immediately, creating a clear distinction between what came before and what came after.
Hip Hop may have matured in '87, but it exploded in the 1990's and 1995 was not only the midpoint of the decade, it was also the year in which the culture started down a path that would end in violence and confusion. While there had been rumblings about discord between artists from the two coasts, it was on full display at The 1995 Source Awards in New York. Dr. Dre and Snoop were booed upon accepting an award, Puff Daddy announced "I live in the East and I'm gonna die in the East," and Suge Knight took not-so-veiled shot at Puff when appealing to young artists. It began a two-year standoff that would lead to the deaths of two of the culture's biggest stars. Outside of the drama, though, there was some great music from all over the map. From California came 2Pac's Me Against the World, Tha Dogg Pound's Dogg Food, Tha Pharcyde's Labcabincalifornia, Tha Alkaholiks' Coast II Coast and Cypress Hill's III: Temples of Boom. Atlanta, Philly, and Cleveland received some long overdue shine thanks respectively to Goodie Mob's Soul Food, The Roots' Do You Want More?!!!??!, and Bone Thugs-n-Harmony's E. 1999 Eternal. And a slew of New York artists released quality material. Three Wu-Tang members released classics — Raekwon's Only Built 4 Cuban Linx…, Ol' Dirty Bastard's Return to the 36 Chambers: The Dirty Version, and GZA's Liquid Swords — Mobb Deep shook everyone with The Infamous, and The Notorious B.I.G. oversaw his protégés, Junior M.A.F.I.A., and their Conspiracy. AZ (Doe or Die), Smif-n-Wessun (Dah Shinin'), Big L (Lifestylez ov da Poor & Dangerous), Kool G Rap (4, 5, 6), and Showbiz & A.G. (Goodfellas) also kept speakers blasting.
Result
The game was tight throughout. Rakim was sensational, the best player on the floor, but 1995's collective talent, aggression, and assorted styles finally won out, carried down the stretch by The 1995 Source Awards, one of the most influential moments in Hip Hop history.
Final score: 1995: 87 – 1987: 82
Matchup
(8) 1998 vs. (9) 1997
Analysis
It stands to reason that the two most evenly matched teams of the first round are the eighth and ninth seeds. These two years may have occurred consecutively and they may be matched almost equally, but that does not mean that they are the same. Not even close. The Hip Hop landscape of early 1997 was vastly different than that of late 1998. The murder of The Notorious B.I.G. in March, merely six months after the killing of 2Pac, cast a pall over the entire culture, but the music endured. Bad Boy dominated the year with a trifecta of classics — B.I.G.'s Life After Death, Puff Daddy's No Way Out, and Mase's Harlem World. Wu-Tang also returned in full with their own double album, Wu-Tang Forever, that broke sales records. Jay-Z (In My Lifetime, vol. 1) and Nas (The Firm group album) released albums that had both strong and weak moments, but new artists like Capone-n-Noreaga (The War Report), Company Flow (Funcrusher Plus), and Missy Elliott (Supa Dupa Fly) introduced new styles, Will Smith returned to the mic (Big Willie Style), Master P broke through to the mainstream (Ghetto D), and the world saw its first of seemingly countless projects of old 2Pac songs (R U Still Down? [Remember Me]). 
The following year, there was a void within Hip Hop. Two figures that had taken up so much space and attention were gone and there was plenty of room for others to take some of the spotlight. Much like 1987, 1998 was a year in which new and previously overlooked artists took the opportunity to shape and mold hip-hop in their own image. DMX took Hip Hop by storm, releasing two number one albums (It's Dark and Hell Is Hot and Flesh of My Flesh, Blood of My Blood) in the same year and his peers, including Big Punisher (Capital Punishment), Mos Def & Talib Kweli (Black Star), Noreaga (N.O.R.E.), and The LOX (Money, Power & Respect) were not far behind. It was also the year Jay-Z became a superstar (Vol. 2…Hard Knock Life), Snoop became a No Limit Soldier (Da Game Is to Be Sold, Not to Be Told), Outkast released another gem (Aquemini), and Lauryn Hill crafted a masterpiece (The Miseducation of Lauryn Hill).
Result
Undoubtedly the best game of the first round, it was full of momentum swings and lead changes as the teams went back-and-forth. '98 Jay-Z outplayed his '97 self, but the reverse was true of Master P, effectively canceling one another out. Ultimately, 1997 prevailed, thanks to Bad Boy and Wu-Tang, as well as the overall impact of B.I.G.'s murder.
Final score: 1997: 94 – 1998: 92
---
Sweet 16 [First Round] Analysis
Not too many surprises as the top five seeds advance, but 1999's upset creates an interesting second-round matchup against 1994. The heavy favorites have been 1993 and 1988 and nothing in the Sweet 16 did anything to change that.
---

Elite Eight [Second Round]
Matchup
(1) 1993 vs. (9) 1997
Result
Even the emotional boost of losing their captain and a virtually unstoppable performance by Puff Daddy isn't enough for 1997. 1993 is better at every turn, with classics from both coasts and star-making turns by numerous members.
Final score: 1993: 104 – 1997: 95
Matchup
(2) 1988 vs. (7) 1995
Result
1995 is a year that is difficult to top, but 1988 managed to do so in convincing fashion, as the fab five of Chuck D, Ice Cube, KRS-One, Slick Rick, and Rakim frustrated the youngsters. Two interesting game notes: (1) 1995's aggression and frustration combined to set a record for technical fouls and (2) the game was delayed twice after players slipped on Eazy-E's jheri curl that had dripped onto the floor.
Final score: 1988: 88 – 1995: 73
Matchup
(3) 1994 vs. (11) 1999
Result
1999 surprised many by their first-round victory, but Cinderella's shoe suddenly became very tight when it came time to face off against 1994. '99's various styles were all helpless as Nas and B.I.G. played like vintage Jordan and Pippen, their combined production speaking for itself and their legacies hounding 1999 the whole time.
Final score: 1994: 91 – 1999: 70
Matchup
(4) 1996 vs. (5) 2000
Result
2000 was never in contention. Eminem and Ghostface did all they could, but it wasn't nearly enough as 1996's distinct talent advantage was too much to overcome.
Final score: 1996: 104 – 2000: 87
---
Elite Eight [Second Round] Analysis
All chalk as the top four seeds march on to the Final Four.
---

Final Four
Matchup
(1) 1993 vs. (4) 1996
Result
Two teams loaded with stars and influence, they were virtually equal throughout. In the end, the combination of Wu-Tang, Snoop, and Tribe overcame 2Pac and Fugees.
Final score: 1993 94 – 1996 89
Matchup
(2) 1988 vs. (3) 1994
Result
A contest of two disparate styles, this was also a great matchup. Down the stretch, though, the combination of Chuck D and Ice Cube proved to be unstoppable.
Final score: 1988 82 – 1994 76
---
Final 4 Analysis
The two best years advance to meet for the title. As it should be.
---

Championship
Matchup
(1) 1993 vs. (2) 1988
Result
An instant classic between the two golden ages of Hip Hop, with each team matching the other. Every Straight Outta Compton or The Great Adventures of Slick Rick was met with an Enter the Wu-Tang (36 Chambers) and Doggystyle. The albums of 1988 have a bit more of a lasting impact, but there are more great albums in 1993, thus canceling each other out. In terms of just music, '93 had the advantage and thus appeared to be on its way to the crown, but the impact and influence beyond the music, such as the premier of Yo! MTV Raps and the emergence of other regions and styles, pushes 1988 over the top in overtime.
Final score: 1988 95– 1993 93
After being awarded the trophy and cutting down the nets, the entire team, including Jerry Heller and Rick Rubin, all broke into the Ed Lover Dance to celebrate.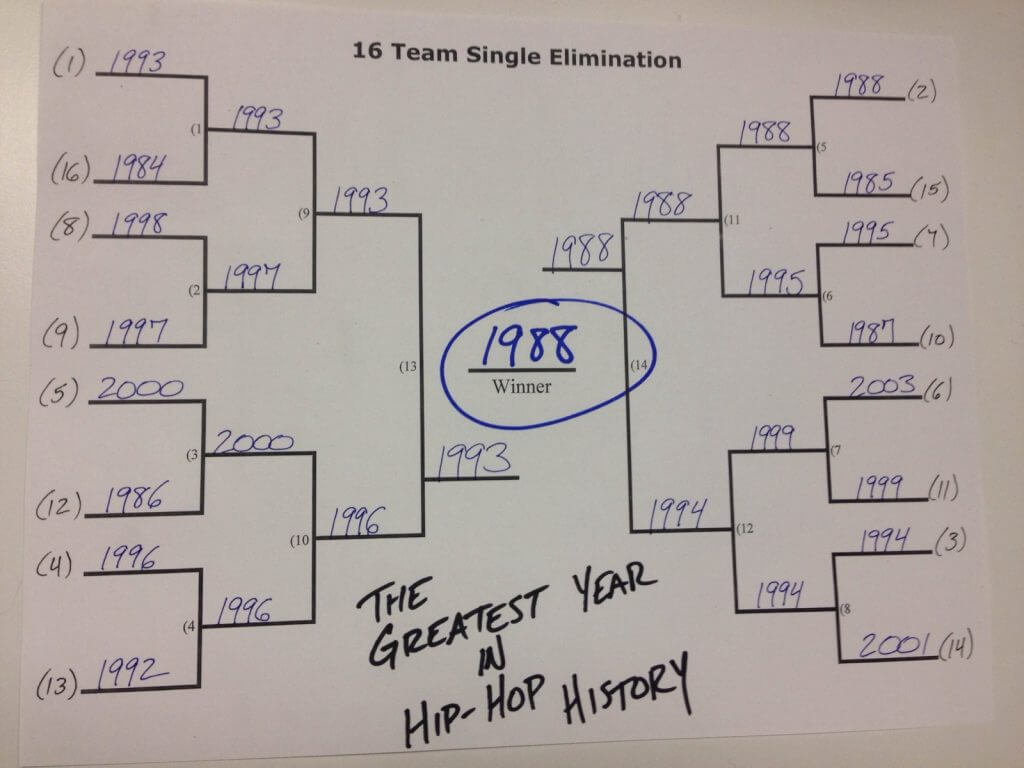 1988 IS THE GREATEST YEAR IN HIP HOP HISTORY!
---
Christopher Pierznik is the author of nine books, including The Hip Hop 10 and Hip Hop Scholar, all of which are available in paperback and Kindle. In addition to his own site, his work has appeared on XXL, Cuepoint, Business Insider, The Cauldron, and many more. Follow him on Facebook or Twitter.