(Republished from DefineARevolution.com, By @TrueGodImmortal)
Now, I know. You might have read the title and stopped for a second. It might confuse you just a little bit, right? Legendary rappers and their underrated albums? What does this mean? Well, it's simple. For artists like Jay-Z, Nas, Ghostface Killah, Common, Busta Rhymes, AZ, and many others, their extensive catalogs have so many legendary projects that we often overlook some of their most underrated work.
Today, I decided to pick 10 legendary Hip Hop artists and choose their most underrated album in their catalog. Who are the artists? Well let's take a look:
Nas
Jay-Z
Rakim
Ghostface Killah
AZ
Snoop Dogg
LL Cool J
Scarface
Busta Rhymes
Common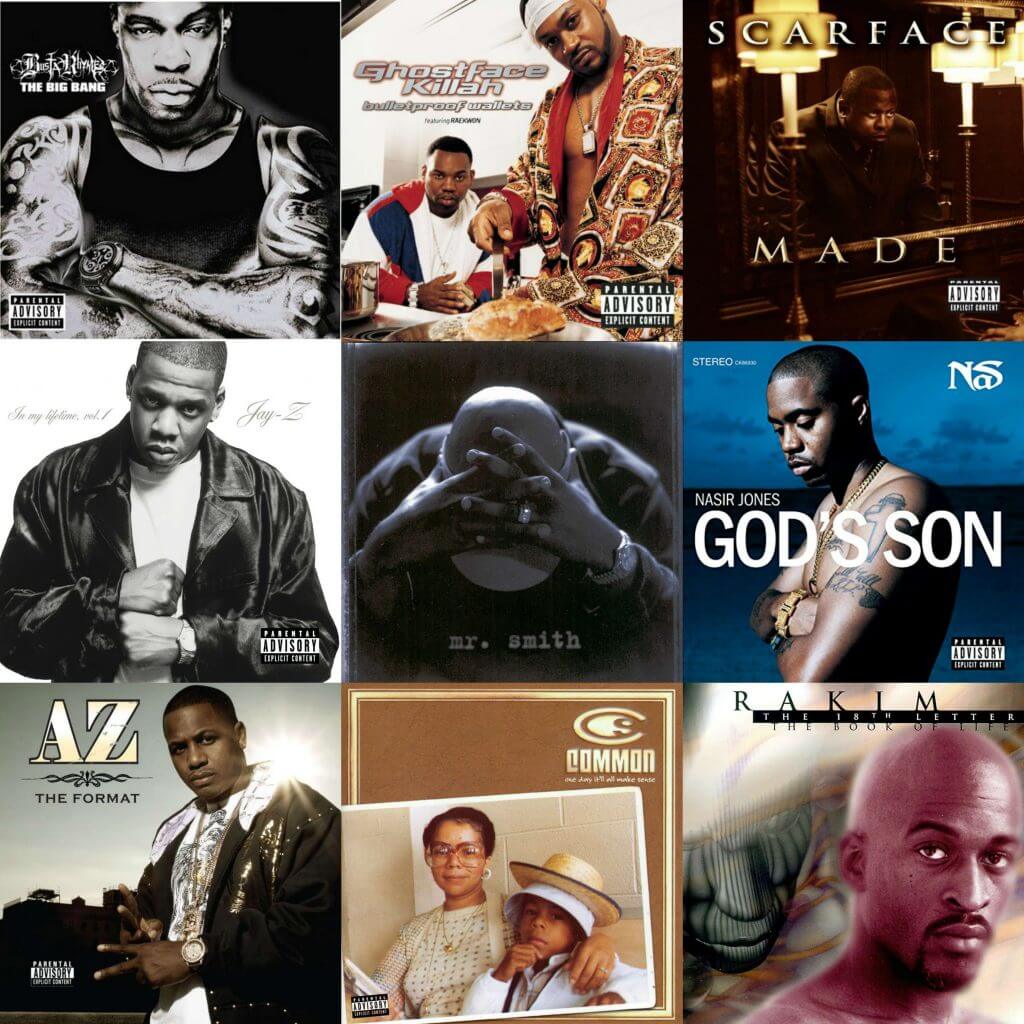 Why those ten artists? I felt they provided a blend and mixture of differing styles and ability as artists and all are legends.
For Nas, we know about Illmatic and It Was Written, but what album in his catalog goes the most slept on? For Jay, we know Reasonable Doubt and The Blueprint, but is there an album in his catalog that doesn't get enough credit honestly? What about Common, the man known for Like Water For Chocolate and BE? He has a large catalog that could have an album that goes under the radar a bit by his standards. How about Busta? His first three albums are huge sellers and popular, but as his career progressed, was there any album that fans may have appreciated but didn't give it enough love?
This is what makes this a very fun article to do, as we get to look at the slept on parts of legends and their careers, and the albums that should be mentioned with their best. Let's get into it.
Nas - God's Son (2002)
The truth be told, a lot of albums from Nas' catalog are underrated. Most people have said I Am is slept on, and one could even argue Street's Disciple being underrated (because it is to fans), but this is the one that deserves much more credit.
It's a near classic with only a few missteps (the Bravehearts are horrible on "Zone Out" and no one ever needs to listen to "Hey Nas"), and there is much more vulnerability and personal elements due to the loss of his mother. Nas is seemingly on a personal soul searching journey on this album, as we hear him go from aggressive Hip Hop on "Made You Look" and The Alchemist produced "Mastermind" to reflective storytelling on "Last Real Nigga Alive" and "Get Down" to somber yet introspective on "Heaven", and Nas does it seamlessly.
There's a bit of a somber vibe plaguing the entire album for obvious reasons, but make no mistake about it, God's Son is a great Nas album, and is without question his most underrated project.
Top 3 Songs
"Made You Look"
"Last Real Nigga Alive"
"Get Down"
Jay-Z - In My Lifetime Vol. 1 (1997)
For the illustrious career that Jay-Z has had, he does have a few underrated projects. I debated over putting The Dynasty album here, but truth be told, there is no Jay album that is underrated quite like this one.
Vol. 1 catches flack for some of the commercial attempts on the album, and for the most part, every blatant commercial attempt is horrible without question ("I Know What Girls Like" and "Sunshine"), but when he succeeds, he strikes gold. Tracks like "Lucky Me", a rare sign of vulnerability within Jay, or even "You Must Love Me", where Jay speaks directly to his family about how much they've been there for him, all show that Jay had more dimensions as an artist. Still, when Jay is talking his shit, there aren't too many artists better than him in the Hip Hop genre and he does it better than he ever has on "Imaginary Player". Truth be told, if I had to give a list of the greatest Jay songs, "Imaginary Player" is pretty high on the list. The same could be said for the gritty "Where I'm From", where Jay spits some of his best lyrics of the entire album.
Vol. 1 isn't his absolute best album, but it is the best of the Volume albums and should be recognized as one of the best Jay albums overall.
Top 3 Songs
"Imaginary Player"
"Where I'm From"
"You Must Love Me"
Rakim - The 18th Letter (1997)
For Rakim, breaking away from the iconic duo that was himself and Eric B. would prove to be a slight challenge, and while his albums with him in their epic duo are certified Hip Hop classics, the debut solo project from one of the premier lyricists in the game is extremely well put together, and full of great production from legends like DJ Premier, Clark Kent, and Pete Rock. Ra manages to lyrically weave through every track with a poise that wasn't heard IMO on his last two Eric B. and Rakim albums, and he sounds extremely comfortable on every track.
When people mention Rakim, they usually go to Paid In Full or Follow The Leader, but to me, this is yet another album that deserves a huge mention in his legacy. It's a near classic as well with very little filler.
Top 3 Songs
"The Saga Begins"
"Remember That"
"When I'm Flowin"
Ghostface Killah - Bulletproof Wallets (2001)
Sure, for all the praise for Ironman and Supreme Clientele, the most slept on Ghostface album remains this one. One could argue that this was a let down considering the level Supreme Clientele was at, but on its own, Bulletproof Wallets is a really good album regardless.
With Raekwon on the cover, invoking those OB4CL vibes, the music is solid overall, from the brutally honest Carl Thomas assisted track from Rae and Ghost titled "Never Be The Same Again", to the Rae and Method Man-assisted "Flowers", this album has a lot of great tracks on the tracklist.
You could choose a few Ghostface albums for this choice like The Pretty Toney album or The Big Doe Rehab, but I don't hear this album brought up enough when we talk Ghostface, thus the inclusion onto this list.
Top 3 Songs
"Never Be The Same Again"
"The Hilton"
"Strawberry"
AZ - The Format (2006)
It might be a hard sell to put the most underrated rapper in the history of rap on this list, but one look at AZ's career and you'll see that his classics Doe or Die and Aziatic both made a significant impact in the genre.
However, when it comes to his lesser discussed albums, The Format is one of the most slept on albums of the 2000s. AZ swung for the fences and connected, bringing solid production and great features from M.O.P. and Little Brother, keeping a cohesion throughout the 13 tracks on the regular edition.
AZ might not be a legendary rapper to some, but to me, he's definitely one of the best to do it from a lyrical standpoint, and with two debatable classics under his belt, it's time for his slept on projects to get more shine as well. If you want an album to get familiar with AZ that's not Doe or Die and not Aziatic, this is the one to start with.
Top 3 Songs
"Rise And Fall"
"Sit Em Back Slow"
"The Format"
Snoop Dogg - Tha Last Meal (2000)
While many probably would be surprised to see this considered an underrated album, it doesn't get enough mainstream attention when talking Snoop. I've heard people mention his near classic R&G, Tha Doggfather, even Paid Tha Cost To Be Tha Boss, but if there's one album that could give his debut Doggystyle a run for its money, it is Tha Last Meal.
It's extremely West Coast, feeling like a throwback with a new twist, as Snoop enlists Dr. Dre, Ice Cube, Kokane, Nate Dogg, MC Ren, Kurupt, The Lady Of Rage, and more West Coast veterans to help give it that unstoppable sound that we love Snoop for. Tha Last Meal is honestly the 2nd best Snoop album ever, but it just doesn't get the credit it truly deserves.
Top 3 Songs
"Lay Low"
"Wrong Idea"
"Brake Fluid"
LL Cool J - Mr. Smith (1995)
You might be surprised to see this listed as an underrated album, as it was commercially successful and has a bunch of hits, but it isn't regarded in his legacy like his infamous albums Mama Said Knock You Out or Radio.
This is probably one of his top 3-5 albums in his catalog, and while it is more so geared towards the anthems for ladies that made him even more popular, it still has some solid tracks for the hardcore fans like the Keith Murray assisted "I Shot Ya" and the Trackmasters produced "Hip Hop". Another solid song is the Easy Mo Bee-produced "Life As…", and who could forget the superb "I Shot Ya (Remix)" with features from Foxy Brown, Prodigy, Fat Joe, and Keith Murray.
Still, the biggest songs from the album like the Boyz II Men featured "Hey Lover" and the breezy "Loungin" stand as two of the best, helping to balance out a surprisingly well-rounded project to bring LL back from the failure of his lackluster 14 Shots To The Dome album.
Top 3 Songs
"Hey Lover"
"I Shot Ya"
"Loungin"
Scarface - M.A.D.E. (2007)
Face was a certified legend when he dropped this 2007 album, but it's not as heralded as the other classics in his arsenal like The Diary or The Fix.
This album sees Face returning after a mini hiatus with N.O. Joe by his side once again on production with Mike Dean assisting on a number of tracks on this album. Nottz, the slept on VA producer also provides some soulful boom bap, and Face does what he does best lyrically on every track. The best songs on the album are once again the tracks where Face gets introspective like "Who Do You Believe In", "Suicide Note", and the opening track "Never".
Though M.A.D.E. isn't the best Face album ever, it's high up on the list and showcases the depth within Face's lyricism almost like never before.
Top 3 Songs
"Never"
"Who Do You Believe In"
"Girl You Know"
Busta Rhymes - The Big Bang (2006)
Some are sleeping on Busta in general, and while this was a successful album, it is probably even more underrated than his first projects, all of which were top sellers and big hits.
However, after some slightly less than well-received albums in Genesis and It Ain't Safe No More, Busta took a hiatus to sign with Interscope and Aftermath. Under Dr. Dre's guidance, Busta came with what I feel is possibly his best album, but I don't hear it in conversations like The Coming, When Disaster Strikes, Extinction Level Event, or even Anarchy to an extent. It was a successful album sales wise, going gold in a down sales era, but the thing that really makes it so special is the blend between lyricism and production.
Production from Will I. Am, DJ Scratch, J. Dilla, Swizz Beatz, Timbaland, and of course Dr. Dre helped the sound of this project and it is nearly flawless from that aspect. Busta gives you hits from "Touch It" and "I Love My Bitch" to great thought provoking tracks like "Been Through The Storm" and "In The Ghetto" and boom bap classics like "Goldmine" and "You Can't Hold The Torch", making this a very well rounded album and personally, my favorite Busta album of all.
The Big Bang should get more credit as it one of the better albums to be released in 2006 and it showed an even more serious side to Busta.
Top 3 Songs
"Been Through The Storm"
"You Can't Hold The Torch"
"Goldmine"
Common - One Day It'll All Make Sense (1997)
After dropping the Sense from his name, Common came back with his most introspective album thus far in his career, especially for that time.
This album is one of the most underrated Hip Hop albums of the 90's to me, and Common sequenced this just right. With the cohesion of more No I.D. production, the album flows almost perfectly throughout, and it's a shock that this album isn't mentioned with classic Common albums like Resurrection, BE, or Like Water For Chocolate, because it isn't that far behind.
With great features from Erykah Badu, Canibus, Q-Tip, De La Soul, Black Thought, and more, Common delivers an album that might have been a top 3 album in 1997 but was just overshadowed by the shiny suit era at the time.
Top 3 Songs
"Invocation"
"Retrospect For Life"
"Hungry"
These legends are all solidified, and there are more legends I could discuss and their most underrated albums, but I feel these 10 will suffice.
Do you agree on the most underrated album of each of these legends? Whether you do or you don't, feel free to voice your opinion in the comments below.