Ice T is one of the true icons of Hip Hop. Active in the game since 1980, he became one of the pioneers of gangsta rap. The difference between Ice T and most of the countless gangsta poseurs that would follow in his wake is that Ice T always had an air of authenticity AND that he not just glorified the gangsta lifestyle. He always had that extra layer of humor and intelligence to set him apart from the rest – with the ultimate message that a gangsta life will most likely end badly (exactly the reason he got out early and went into music). He built an impressive career with some excellent records by just being hard and real, without having to try to be.
Despite his mainstream acting career and celebrity status, he effortlessly retains full Hip Hop credibility – precisely by always being authentic, true to himself and to the game. His excellent Hip Hop documentary "The Art Of Rap" and initiation of the annually returning "Art Of Rap" Hip Hop Festivals only cements his status as one of the most respected elder statesmen of Hip Hop.
This list mostly focuses on his earlier work simply because most of Ice T's classic tracks were released between 1987 and 1991. It has to be said though that especially his seventh album Seventh Deadly Sin (1999) is supremely underrated and slept on, and probably should have had one or two tracks on this list too. Anyway: 15 tracks are just not enough to do justice to Ice T's catalog – so if you feel some essential tracks are missing, please weigh in in the comments!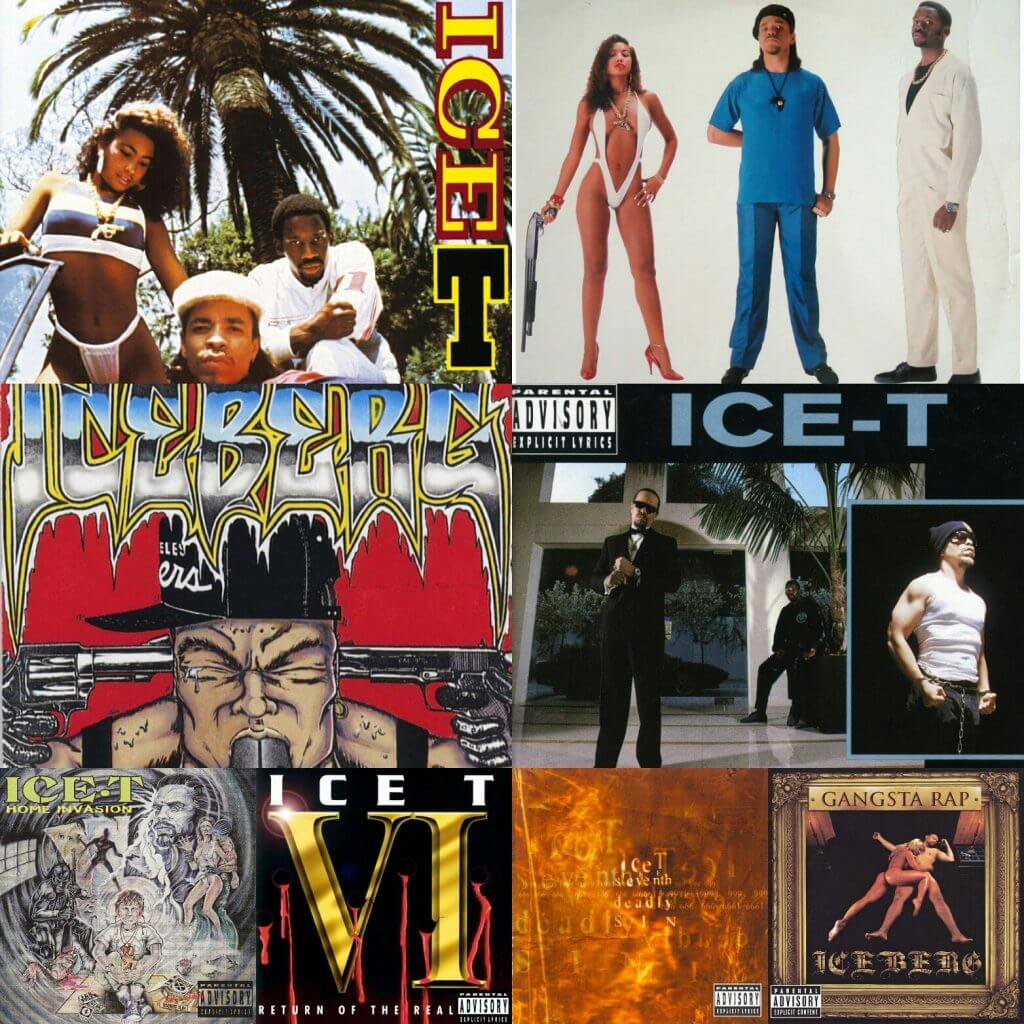 15. B*tches 2 (1991)
"I once knew this brother / Who I thought was cool with me / Chilled out together / Even went to school with me / Fly n****, my ace boon c**n / Used to low ride together / Shot dice in the bathroom…" 
This track has Ice T giving four examples that not only women can be 'b*tches'. Smooth storytelling and with a beat that is simply off the hook, this is just one of the many excellent tracks from Ice T's best album: O.G. Original Gangster.
14. The Hunted Child (1989)
"No jokin', I'm sleepin' with my eyes open / Wanted for a homicide ride, the gun's still smokin' / Didn't know what I was doin' but did it anyway / Now the posse's on my trail, they say I'm gonna pay (Run!)…" 
Sounding much like a Public Enemy track because of the 'noisy' instrumental and the Chuck D samples, The Hunted Child is an uptempo track that was always sure to get a crowd hyped. Classic song from Ice T's third album The Iceberg: Freedom Of Speech (Just Watch What You Say).
13. I'm Your Pusher (1988)
"For this drug deal, I'm the big wheel / The dope I'm sellin', you don't smoke, you feel / Out on the dance floor, on my world tour I'm sellin' dope in each and every record store / I'm the kingpin when the wax spins / Crack or smack will take you to a sure end / You don't need it, just throw that stuff away / You wanna get high? Let the record play…"
From Ice T's second album Power, this classic track with the famous Curtis Mayfield hook cleverly uses drugs as a metaphor for music – and sends a clear message which of the two is better to be addicted on.
12. New Jack Hustler (1991)
"Here I come, so you better break North / As I stride, my gold chains glide back and forth / I care nothing bout you, and that's evident / All I love's my dope and dead presidents" 
Another one of the many stand-out tracks from O.G. Original Gangster, it was also the lead song from the New Jack City movie soundtrack. An all-time fan favorite.
11. Gotta Lotta Love (1993)
"Woke up the other mornin, I heard a rumor / They said the gang wars was over / I told em they was bullsh**tin, they said it's real as hell / Can't explain the way I felt / Too many years I seen my brothers die / And I can't say that sh** was really that fly / But I used to gangbang when I was younger / So it's really hard to tell a kid that he's goin under…" 
From Home Invasion, the underrated follow-up to the classic O.G. Original Gangster. Of course, Home Invasion was not as tight as the O.G. masterpiece, but there was still plenty to enjoy. One of the highlights on Home Invasion is this heartfelt song about the famous gang truce in L.A., a celebration of peace and unity.
10. Pulse Of The Rhyme (1991)
"Just checkin' my microphone once / As I check your audio / Increase the bass response / Hopin' the speakers blow / I got no time to sit and flip / And pop bullsh** / Turn up your stereo hops / Insert the rhyme clip…" 
Over a seductively dope beat and funky bassline Ice recounts some extremely violent fantasies – a clever way of showing that a lot of the stories told in his music are just that: stories, and not necessarily real. "Is this real or fiction? You'll never know – while you're locked to the pulse of the rhyme flow…"
9. Drama (1988)
"Cruisin' for a bruisin', I'm takin' no crap / Pipe bomb in my trunk, got a nine in my lap / I'm layin' for a sprayin', tonight there's no playin' / My posse's most strapped, tonight the crew's weighin'…" 
Where Ice T's first album Rhyme Pays established his name, his second album Power was his real breakthrough album. This is one of the highlights of Power, a story of street crime that ends as street crime usually does: badly.
8. The Tower (1991)
"I'm rollin' up in a big gray bus / And I'm shackled down / Myself that's who I trust / The minute I arrived / Some sucker got hit / Shanked ten times / Behind some bullsh**…" 
This thoughtful and atmospheric reflection of the US penitentiary system and life in prison is the perfect closing track to a monumental album. Powerful.
7. High Rollers (1988)
"Speed of life, fast / It's like walking barefoot over broken glass / It's like, jumping rope on a razor blade / All lightning-quick decisions are made…" 
"High Rollers" is the highlight of the all-around excellent Power album. Not just glamorizing the hustlers' life of crime, but also addressing the risks involved in such a lifestyle. Dope track.
6. Squeeze The Trigger (1987)
"Cops hate kids, kids hate cops, cops kill kids with warnin' shots / What is crime and what in not? What is justice? I think I forgot / We buy weapons to keep us strong / Reagan sends guns where they don't belong / The controversy is thick and the drag is strong / But no matter the lies we all know who's wrong…" 
Great beat and a lot of lyrical depth in this second-best track from Ice T's debut Rhyme Pays. Listen to these lyrics, people.
5. Midnight (1991)
"Midnight chillin' at A.M P.M / Coolin' drinkin' apple juice in Evil's BM / The sound's up loud to attract attention / Armor All-ed tires on a lowered suspension…" 
One of the centerpieces of the awesome O.G. Original Gangster album. The sampling of Black Sabbath and the use of the drumbeat from Led Zeppelin's "When the Levee Breaks" gives a special atmosphere to this track that adds to the cinematic feel of the story told. It's a prequel of sorts to Ice T's break out classic "6 N The Morning", as the story of "Midnight" ends right where "6 N The Morning" starts. Brilliant!
4. You Played Yourself (1989)
"This is it, dope from the fly kid / The Ice mic is back with the high bid / Suckers you've lost cos players you're not, gangstas you ain't / You're faintin', punk if you ever heard a gunshot…" 
The lead single from Ice T's third album. An essential cautionary tale in which Ice gives a few examples of people who get in trouble by 'playing themselves'. A harsh message over a butter-smooth beat.
3. Original Gangster (1991)
"Ten years ago / I used to listen to rappers flow / Talkin' bout the way they rocked the mic at the disco / I liked how that sh** was goin' down / Dreamt about ripping the mic with my own sound…" 
This DJ Aladdin produced title track of Ice T's magnum opus is just one more dope track from that brilliant album. Over a dope beat, Ice tells us why he makes the music that he does.
2. Colors (1988)
"I am a nightmare walking, psychopath talking / King of my jungle just a gangster stalking…"
The powerful title track of the classic 1988 movie "Colors", will forever be one of Ice T's most recognizable tracks.
1. 6 N The Morning (1986)
"6 in the morning, police at my door / Fresh Adidas squeak across the bathroom floor / Out my back window I make my escape / Didn't even get a chance to grab my old school tape…"
Inspired by arguably the first 'gangsta rap' song – 1985's "PSK What Does It Mean" by Philly rapper Schoolly D, Ice T's "6 N The Morning" is one of the most influential songs in Hip Hop (for better or worse…), as it more or less started gangsta rap. Where most gangsta rappers accomplish nothing but making themselves look like tough-guy posturing, gun-toting idiots, Ice T did it RIGHT. He always combined authenticity with humor, displaying calm confidence without the need to prove anything. Even if most so-called gangsta rap ultimately didn't do any favors to Hip Hop as a culture, Ice T is one of the few representatives of that particular form of Hip Hop who belongs in the Hip Hop Hall Of Fame without a doubt.
Ice T: O.G.