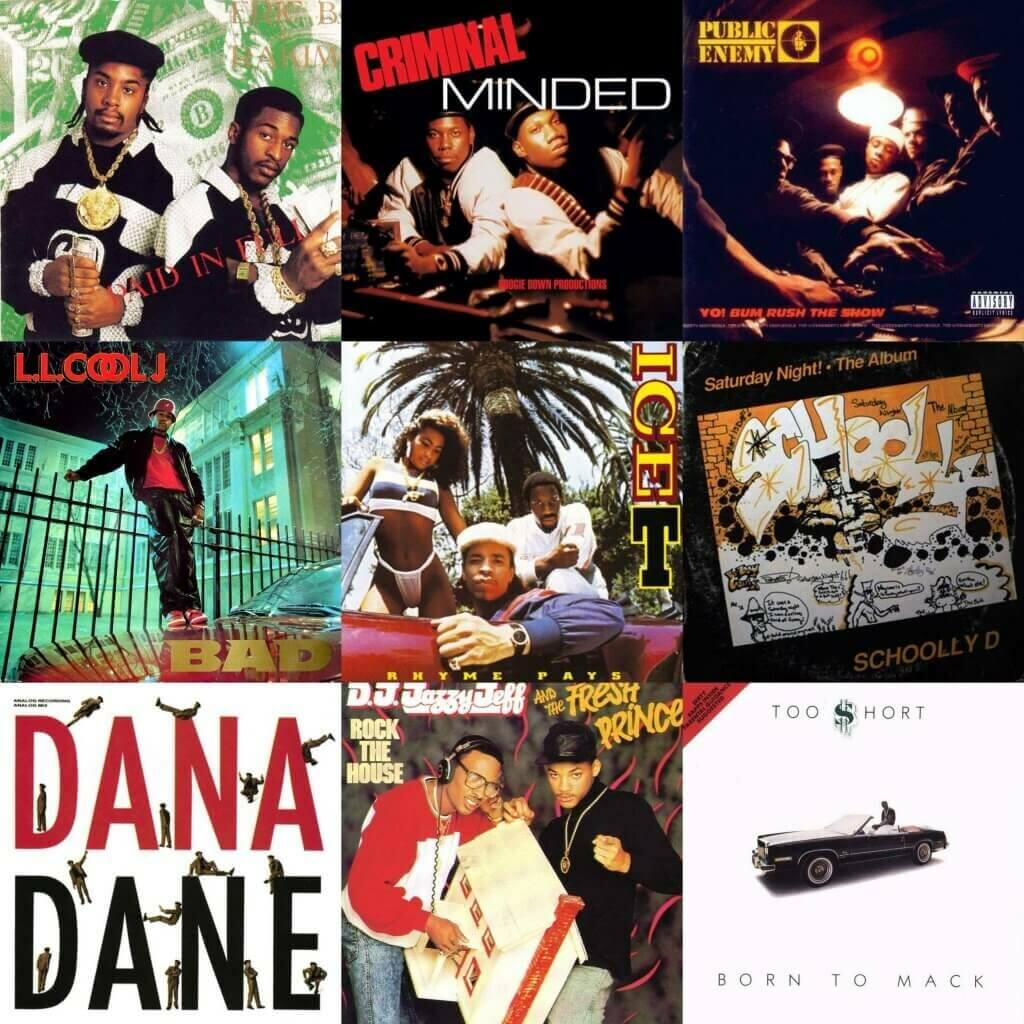 1987 was the lead-up year to what would turn out to be Hip Hop's real break-out year: 1988. For Hip Hop, 1984, 1985 and 1986 were defining years, leaving behind the Old School and slowly but surely ushering in Hip Hop's Golden Age. The disco- and electro days of Old School Hip Hop were over, and under the influence of Def Jam and producers like Marley Marl, Hip Hop started to sound sparser and harder. The increasing use of sampling created more diversity and more room for innovation and creativity.
There were a few landmark albums in 1987 – Eric B & Rakim's Paid In Full, Public Enemy's Yo! Bum Rush The Show, Boogie Down Production's Criminal Minded, LL Cool J's Bigger And Deffer and Ice-T's Rhyme Pays most noteworthy among them – that would help steer Hip Hop in new directions and to great heights.
For this important year in Hip Hop, we have selected its 15 best albums. Are you missing any? Let us know in the comments!
Also read: Top 100 Hip Hop Albums Of The 1980s
1. Eric B & Rakim - Paid In Full
"This is how It should be done. This style is identical to none…" (I Know You Got Soul)
In a music genre still in its infancy, this Eric B & Rakim masterpiece was a game-changer. Seductive, smooth yet hard beats laced with Rakim's innovative and intricate rhyme style, make for this groundbreaking and seminal work.
This is one of the albums that can be seen as a precursor to 1988, Hip Hop's break-out year. An album that established Hip Hop as a musical genre that was there to stay. Paid In Full will forever be recognized as one of Hip Hop's ultimate classics. Filled with unforgettable tracks and Hip Hop anthems this album is a must-have. If you don't own this album, your Hip Hop collection is incomplete.
Top tracks: I Ain't No Joke | My Melody | Eric B Is President | Move The Crowd
2. Boogie Down Productions - Criminal Minded
"We're not promoting violence, we're just having some fun – he's Scott La Rock, I'm KRS One" (Criminal Minded)
After making a name for themselves in the NYC Hip Hop underground, former social worker Scott La Rock and one of his clients, KRS One, formed Boogie Down Productions and came out in 1987 with Criminal Minded.
The sparse production by the artists (and the at the time uncredited Ced Gee of the Ultramagnetic MCs) combined with KRS One's lyrical content and distinctive delivery make this album a definitive Hip Hop classic, that without a doubt is up there with the greatest Hip Hop albums of all time. Together with other groundbreaking 1987 debuts of Eric B & Rakim and Public Enemy, this album set the standard for Golden Age of Hip Hop.
Top Tracks: The Bridge Is Over | South Bronx | Criminal Minded | Poetry
3. Public Enemy - Yo! Bum Rush The Show
"Well I'm all in / put it up on the board / another rapper shot down from the mouth that roared / 1-2-3 down for the count / the result of my lyrics, oh yes, no doubt" (Public Enemy No. 1) 
The classic debut of one of Hip Hop's greatest and most important groups of all time. This album truly was a game-changer, production- and content-wise. Rough, hard-hitting beats and turntablism, complemented by Chuck D's booming voice and Flavor Flav's antics – Yo! Bum Rush The Show was revolutionary in many ways. Hugely influential and the stepping stone to Public Enemy's follow up and Hip Hop's ultimate classic album: It Takes A Nation Of Millions To Hold Us Back.
Top Tracks: You're Gonna Get Yours | Miuzi Weighs A Ton |  Timebomb | Public Enemy No. 1
4. LL Cool J - Bigger And Deffer
"No rapper can rap quite like I can – I'll take a musclebound man and put his face in the sand" (I'm Bad) 
Still early days in Hip Hop, but LL Cool J already comes out with his sophomore album. One of the first mega-sellers in Hip Hop (together with 1986 albums Raising Hell from Run DMC & Licensed To Ill from the Beastie Boys). LL Cool J at the top of his game.
Top tracks: I'm Bad | The Do Wop | Go Cut Creator Go | The Breakthrough
5. Ice T - Rhyme Pays
"6 in the morning, police at my door, fresh Adidas squeak across the bathroom floor" (6 N The Morning)
Even with a sometimes uneven production and an Ice T who hasn't quite reached the peaks of his lyrical skills yet – this album is an undeniable classic. Very influential (for good or for bad), it was one of the very first albums with 'gangsta rap' themes (although with limited profanity). In 1987 the gangsta theme still had originality and authenticity, which makes Ice T a true O.G. & a bonafide Hip Hop icon.
Top tracks: 6 N The Morning | Pain | Squeeze The Trigger | Rhyme Pays
6. Schoolly D - Saturday Night The Album
"It was Saturday night and I was feeling kinda funny, gold around my neck, pockets full of money" (Saturday Night)
Attitude. Philadelphia rapper Schoolly D was all about attitude. Though not the best rapper ever to spit rhymes, he dropped some important albums in the mid-'80s and carried them with his personality. This second album shows Schoolly D in top form – hardcore lyrics over minimalist, hard-hitting beats. The first two Schoolly D albums belong in any Hip Hop fans music collection.
Top Tracks: Saturday Night | B-Boy & Rhyme Riddle | Dis Groove Is Bad | Parkside 5-2
7. Dana Dane - Dana Dane With The Fame
"Once upon a time, Brooklyn was the scene, in the project that they called Fort Greene – there lived a young man, Cinderfella's his name, to make it interesting it's me, Dana Dane" (Cinderfella Dana Dane) 
Dana Dane was once one half of the 'Kangol Crew' with an emcee originally from Britain named Slick Rick. After they split up and before Slick Rick released his classic Great Adventures in 1988, Dana Dane came out with this debut album.
This is a fine and unjustly forgotten album (even if it sounds more dated today than some of the other albums on this list), where Dana Dane showcases his undeniable skills as an emcee, adopting an English accent like his former crew member. A lot of classic joints on this one and worth checking out if you somehow missed it up to now.
Top tracks: Nightmares | Cinderfella Dana Dane | This Be The Def Beat | Dana Dane With Fame
8. DJ Jazzy Jeff & The Fresh Prince - Rock The House
"Well, it's true that I'm the reigning king of the throne / But with all my strength, I couldn't do it alone / I need a deejay like (Jazzy) to back me up / So when I'm rockin on the mic he's on the crossfade cut" (The Magnificent Jazzy Jeff) 
Two kids from Philly – a dope emcee with great flow and storytelling abilities and an awesome DJ. Their talents were already obvious on this debut record. The Fresh Prince would grow up to be an international (movie) star, and Jazzy Jeff into one of the most hailed DJs in Hip Hop ever. This is a great debut, with some classic tracks, in an era when it was OK for Hip Hop to be fun.
Top Tracks: The Magnificent Jazzy Jeff | Rock The House | Just One Of Those Days | Girls Are Nothing But Trouble
9. Too Short - Born To Mack
"These are the tales, the freaky tales / These are the tales that I tell so well…" 
Active in the Hip Hop game since the early 1980s, this is Too Short's first official album, establishing the formula that would keep him on top of the West Coast rap scene for the decades to come.
Top tracks: Freaky Tales | Dope Fiend Beat | Little Girls | Mack Attack
10. MC Shan - Down By The Law
"Hip Hop was set out in the dark, they used to do it out in the park" (The Bridge)
A very solid debut by MC Shan. Of course you can't go wrong with Marley Marl on the boards. Tracks like 'The Bridge' & 'Kill That Noise' sparked the bridge wars between the Juice Crew and Boogie Down Productions, and although BDP emerged victorious, MC Shan more than held his own & The Juice Crew's honor.
Top tracks: The Bridge | Kill That Noise | Down By Law | Living In The World Of Hip Hop
11. Just Ice - Kool And Deadly
"Going way way back to the early days…" (Going Way Back)
Raw, rugged & rough: that pretty much sums up Just Ice and his rhyme style. This KRS One produced album is straight-up Hip Hop and a classic if only because it contains the epic track 'Going Way Back'. Just Ice should have had greater recognition.
Top tracks: Going Way Back | The Original Gangster Of Hip Hop | Kool & Deadly | On The Strength
12. Kool Moe Dee - How Ya Like Me Know
"Sucker MC's in the place that said I could only rock rhymes, only rock crowds, but never rock records – how ya like me now" (How Ya Like Me Now) 
Old School pioneer and most prominent member of the Treacherous Three Kool Moe Dee's second album has the characteristics as most of his other work: tight rhymes spit with superior skill over somewhat weak production and not so strong beats.
Top Tracks: How Ya Like Me Now | Wild Wild West | Don't Dance | Suckers
13. T La Rock - Lyrical King
"Strong lyrics, no gimmicks, no yes, yes, ya'll" (Lyrical King) 
T La Rock's single 'It's Yours' was the first released on the Def Jam label in 1984. It took T La Rock 3 years to get this debut album out. It contains a few absolute bangers and classic Hip Hop tracks, but also a little bit too much filler material to be called a classic.
Top  tracks: Lyrical King | Back To Burn | Bust These Lyrics | This Beat Kicks
14. Skinny Boys - Skinny & Proud
"Rip The Cut" ("Rip The Cut Pt. 2) 
The Skinny Boys were a crew that gained some fame in the late '80s – mostly because of their name & beatboxing style, which both were reminiscent of The Fat Boys. The Fat Boys were much better known, but The Skinny Boys put out a series of better albums. Their debut and this one (their second album) were probably their best efforts.
Top tracks: Rip The Cut Pt. 2 | I Wanna Be Like | This Record Is Hell | Cool Johnny
15. NWA & The Posse - NWA & The Posse
"Woke up quick at about noon, just thought that I had to be in Compton soon…" (Boyz-N-The-Hood) 
Somewhat rough around the edges and by no means a classic album – this release is significant nevertheless, if only because it contains the first versions of 'Dopeman' and 'Boyz-N-The-Hood'. Quality of appearing artists besides N.W.A. & The D.O.C. varies though, so this album is a must-have only if you are a die-hard N.W.A. fan.
Top tracks: Dopeman | Boyz N The Hood | Panic Zone | Three The Hard Way
Honorable Mentions
Tuff Crew – Phanjam
UTFO – Legal
Steady B – What's My Name?
Heavy D & The Boyz – Living Large
Fat Boys – Crushin'
Kaos' – Court's In Session