Also read: Top 100 Hip Hop Albums Of The 1980s
1. Run DMC - Raising Hell
"Kings from Queens, from Queens come Kings / We're raising hell like a class when the school bell rings…" (Raising Hell)
One of the first mega-sellers in Hip Hop and the album that would cement the status of Run DMC as most important Hip Hop act of the time. A brilliant album, with perfect interplay between Jam Master Jay – one of the first great all round DJ's in the game – and the back-and-forth rhyming of DMC and Run.
This album, together with Beastie Boys' debut Licensed To Ill from this same year, was responsible for opening Hip Hop to all kinds of audiences all over the world.
Run DMC "took the beat from the street and put it on TV".
Top tracks: Peter Piper | Raising Hell | My Adidas | It's Tricky
2. Beastie Boys - Licensed To Ill
"Now here's a little story I've got to tell / About three bad brothers you know so well / It started way back in history / With Ad-Rock, M.C.A. (and me) Mike D…" (Paul Revere)
A timeless classic. Licensed To Ill is pure energy and great fun. The Beastie Boys were the first white act in Hip Hop to make it big, and maintain credibility and respect in the Hip Hop world throughout their career.
This album is another one of the big, early successes of Def Jam – the dominating and most innovating record label at the time, extremely important for the exposure of Hip Hop to larger audiences worldwide.
Top tracks: Paul Revere | The New Style | Rhymin And Stealin | Hold It Now, Hit It
3. Stetsasonic - On Fire
"When we're coolin' on the block we carry our big box / Playin L.L.'s 'Rock the Bells' or Run's 'Rock Box' / Wearin some high-top Cons or some Fila socks / And the newest Benetton sweatshirt in stock…" (On Fire)
The first Hip Hop band: Stetsasonic came out with a bang with this album in 1986. Fine work from a young Prince Paul on the boards and great synergy between Stet's emcees – this is an underrated but essential 80's Hip Hop album.
Top tracks: On Fire | My Rhyme | 4 Ever My Beat | Just Say Stet
4. Schoolly D – Schoolly D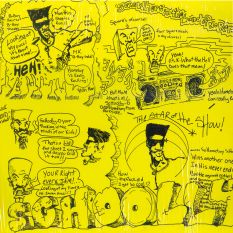 5. Just Ice – Back To The Old School
6. Salt N Pepa – Hot Cool & Vicious
7. Doug E Fresh – Oh My God
8. Skinny Boys – Weightless
9. Afrika Bambaataa - Planet Rock The Album
10. 2 Live Crew – 2 Live Is What We Are
11. Mantronix - Music Madness
12. Steady B - Bring The Beat Back
13. Kool Moe Dee - Kool Moe Dee
14. Whodini - Back in Black
15. Fat Boys - Big & Beautiful