Common without a doubt is one of the best-loved and most respected personalities in the Hip Hop game – while at the same time being strangely underappreciated as an emcee. He would not be out of place in anyone's best-ever-emcees list, however. Common's trademark Chicago street swagger and superstar charisma, combined with his undeniable mic skills and his intelligent lyrics with clever wordplay and witty punchlines, ensure his A-list status.
With 25 years in the game and over 10 albums dropped, it's hard to make a selection of no more than 15 of his best songs. With a catalog as deep and rich as that of Common, inevitably a lot of quality tracks will be left out. These are our top 15 Common songs, if you miss your personal favorites, don't worry – just share your opinion in the comments!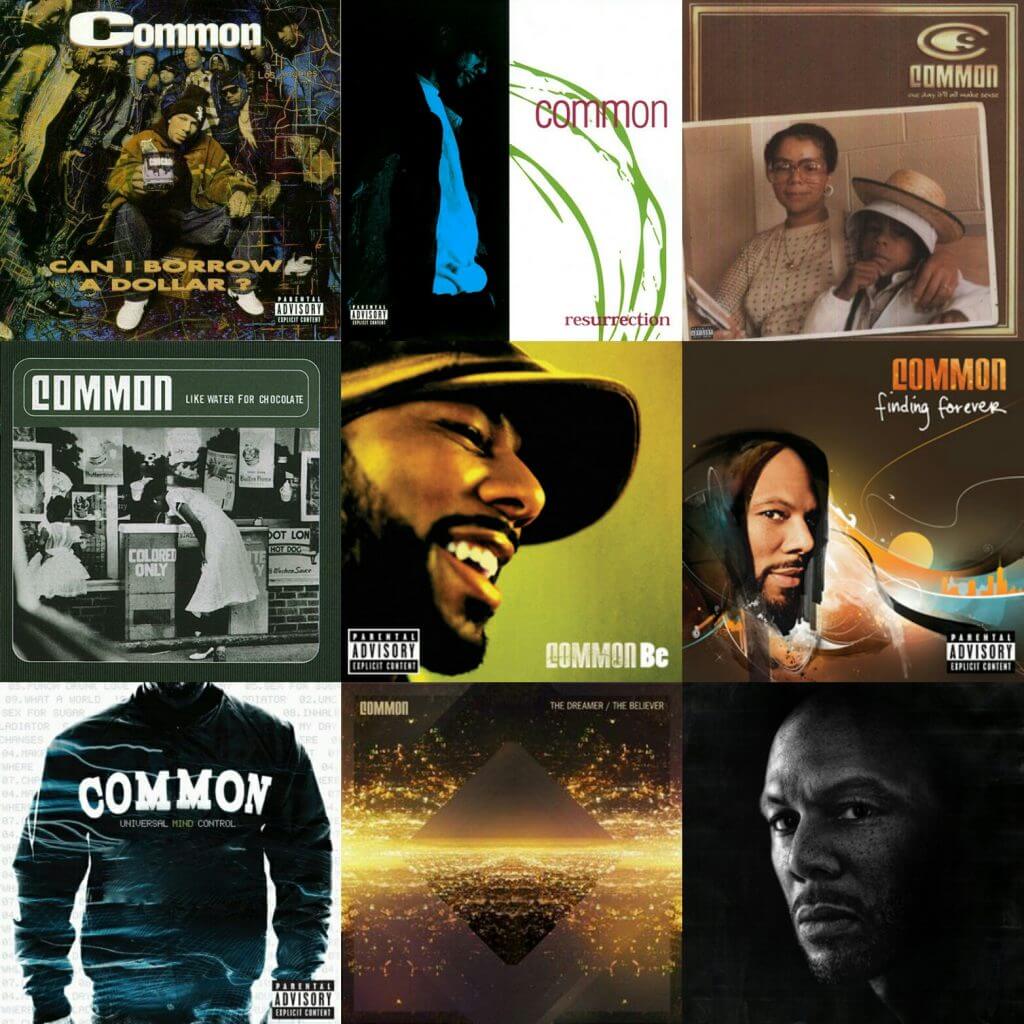 15. The People (2007)
"And the struggles of the brothas and the folks / With lovers under dope, experiment to discover hopes / Scuffle for notes, the rougher I wrote, times was harder / Went from rocky starter to a voice of a martyr…" 
This Kanye West-produced track is typical Common: smooth Hip Hop, with substance. It's a tale of the unsung heroes over a smooth instrumental, the perfect lead single from Common's seventh album, Finding Forever.
14. Making A Name For Ourselves ft Canibus (1997)
"I make my living off of singles like Latifah / In between sheets like reefer with blunted senses / You couldn't make a statement if you was from a sentence / I'm cold with numb intentions…" 
"Making A Name For Ourselves" has Common and guest Canibus spitting some hard-ass lyrics over a dope beat. One of the many stand-out tracks from Common's excellent third album, One Day It'll All Make Sense.
13. Sweet (2011)
"How can I say this, f*** it I'm the greatest / I am the A-list for all these great debaters…" 
The third single from Common's The Dreamer, The Believer, "Sweet" has Common viciously attacking rappers he considers wack. A great braggadocious track where Common established himself as the best, taking out 'singing rappers' (Drake?). Whoever thought Common was soft, think again. 
12. The Game (2007)
"Punchlines are like jab hits to rappers / Whose careers now ashes it's too many slashes / In his name, came in the game these gun-clappers / From weak lines to clothing lines to an actress / I seen em dashing smash hits / I yell run n**** run while I cook up classics…" 
"The Game" is a banging old-school boom bap cut, produced by Kanye West and with DJ Premier scratching the hook. Pure Hip Hop, from Common's somewhat underrated Finding Forever album. Like its predecessor BE, Finding Forever is a masterfully produced album with no filler tracks and Common on top of his game lyrically.
11. Take It EZ (1992)
"Hustler, I tried to scheme for a sec / But the record got wreck, tried to write a bad check / So I checked myself, before self got buck / Wild, tried to live how I had to fluctuate / To a state, and matriculate, yo I had to elevate…" 
Common's first single from his debut album Can I Borrow a Dollar? While Can I Borrow A Dollar? wasn't exactly a landmark debut, there was still plenty to enjoy. The subject matter of the album never went further than battling wack emcees, chasing skirts and drinking 40's – but the skills of the young Chicago emcee were already in evidence, as well as his style and charisma.
It would take some maturing to get to the intelligent, conscious Common the world would soon meet, but Can I Borrow A Dollar? – from which this track is one of the highlights – is simply a fun, boom bap Hip Hop album, that would prove to be the prelude to an epic career.
10. The Light (2000)
"I never knew a luh, luh-luh, a love like this / Gotta be something for me to write this / Queen, I ain't seen you in a minute / Wrote this letter, and finally decide to send it / Signed sealed delivered for us to grow together / Love has no limit, let's spend it slow forever…" 
"The Light" is the second single from Common's album Like Water For Chocolate. The song is a love letter devoted to Erykah Badu, his girlfriend at that time. Produced by legendary J-Dilla, this is one of Common's biggest hits and most recognizable songs.
9. Gettin' Down In The Ampitheater" ft De La Soul (1997)
"Thoughts fermented, I rode rhythms and words tinted / Many lips profess, I'm verb centered…"
Real Hip Hop. From One Day It'll All Make Sense, this song has Common and guests De La Soul kicking it old school style. 1997 wasn't a great year for Hip Hop, but this album shined – and still does. Easily one of the best – if not the best – Hip Hop albums of 1997, One Day It'll All Make Sense sees Common reaching full maturity. An album that should have a place in any and all Hip Hop heads' collections.
8. Sum Sh** I Wrote (1994)
"When I'm alone in my room sometimes I stare at the wall / And in the back of my mind I hear a wack-ass rhyme / And I catch Alz-rhymers, then forget it, I get charged / Like a n**** in position with a stolen card of credit…" 
Common's second album – the monumental, career-making Resurrection – was filled with dope tracks. In My Own World, Orange Pine Apple Juice, Book Of Life, Maintaining, Thisism, etc. – all should be included in a best of Common's list.
We chose to include this track, however. The last song of the album, and not often mentioned when it comes to Common's best cuts. Why is a mystery, because it has everything: bad-ass battle rhymes, clever wordplay and punchlines over a banging beat. Hip Hop at its finest.
7. Retrospect For Life ft Lauryn Hill (1997)
"I wouldn't choose any other to mother my understanding / But I want our parenthood to come from planning / It's so much in my life that's undone / We gotta see eye to eye, about family, before we can become one…" 
Insightful and profound, "Retrospect For Life" has Common speaking on the consequences of an (unwanted) pregnancy, what it means to consider abortion and his fears and hopes of becoming a father for the first time. With Lauryn Hill on the hook, how can it turn out anything but classic?
6. Ghetto Dreams ft Nas (2011)
"I want a bitch that look good and cook good / Cinderella fancy, but she still look hood…" 
Straight up lyricism from two of the best in the game. Common and Nas both kill it on one of the best tracks from 2011's The Dreamer, The Believer – an album that saw Common reuniting with long-time producer No I.D.
Their reunion was a good thing, after the somewhat disappointing Neptunes-produced Universal Mind Control album, arguably Common's weakest album (together with the experimental Electric Circus). The Dreamer, The Believer was a definite return to form however, and a solid part of Common's catalog.
5. Resurrection (1994)
"I stagger in the gatherin' possessed by a patter-in / That be scatterin' / Over the global, my vocals be travelin', unravelin' my abdomen / It's slime that's babblin' grammatics that are masculine…" 
The title track of Common's break-out album, the epic Resurrection. The track opens with scratches proclaiming the song and album title after which Common just seamlessly flows over the beat. A perfect album-opening song for one of Hip Hop's most loved albums.
4. Rewind That (2014)
"This one's for my man J Dilla / As I say these words, my eyes fill up / Cuz wasn't non realer than James Dewitt Yancey / So I'mma dedicate this to Dilla and his family / In Q-Tip's basement, I first met Jay Dee / I still remember the first beat he played me / He came to the Chi laid three that was crazy…" 
Produced by long-time friend and collaborator No I.D., this song from Common's tenth album Nobody's Smiling is a heartfelt trip down memory lane and an emotional tribute to J-Dilla. Great song.
3. The 6th Sense ft Bilal (1999)
"The perseverance of a rebel I drop heavier levels / It's unseen or heard, a king with words / Can't knock the hustle, but I've seen street dreams deferred / Dark spots in my mind where the scene occurred…" 
From Common's all around excellent fourth album Like Water For Chocolate, Common raps about music and life over one of the best beats DJ Premier ever crafted. In an era where materialistic, shiny suit rap was getting most of the spotlight, Common returned us all to the true essence of Hip Hop with an intelligent, soulful and funky album. "The 6th Sense" is one of the album's highlights.
2. The Corner ft The Last Poets (2005)
"Memories on the corners with the fo's and the mo's / Walk to the store for the rose, talking straightforward to hoes / Got uncles that smoke, and some put blow up they nose / To cope with the lows, the wind is cold and it blows…" 
Ah, that beat…. Produced by Kanye West when he was at his best, "The Corner" is the centerpiece of the classic BE album. The song's lyrics deal with street corners in poor neighborhoods and will forever stand as one of Common's best tracks ever.
1. I Used To Love H.E.R. (1994)
"I met this girl, when I was ten years old / And what I loved most she had so much soul / She was old school, when I was just a shorty / Never knew throughout my life she would be there for me…
Not just Common's biggest song, but one of the biggest songs in Hip Hop, EVER. In this super classic track, Common cleverly describes what appears to be his changing feelings for a girl, but what turns out to be his ever-evolving relationship with Hip Hop. Truly a landmark recording and the centerpiece of one of the best albums is one of Hip Hop's best years.