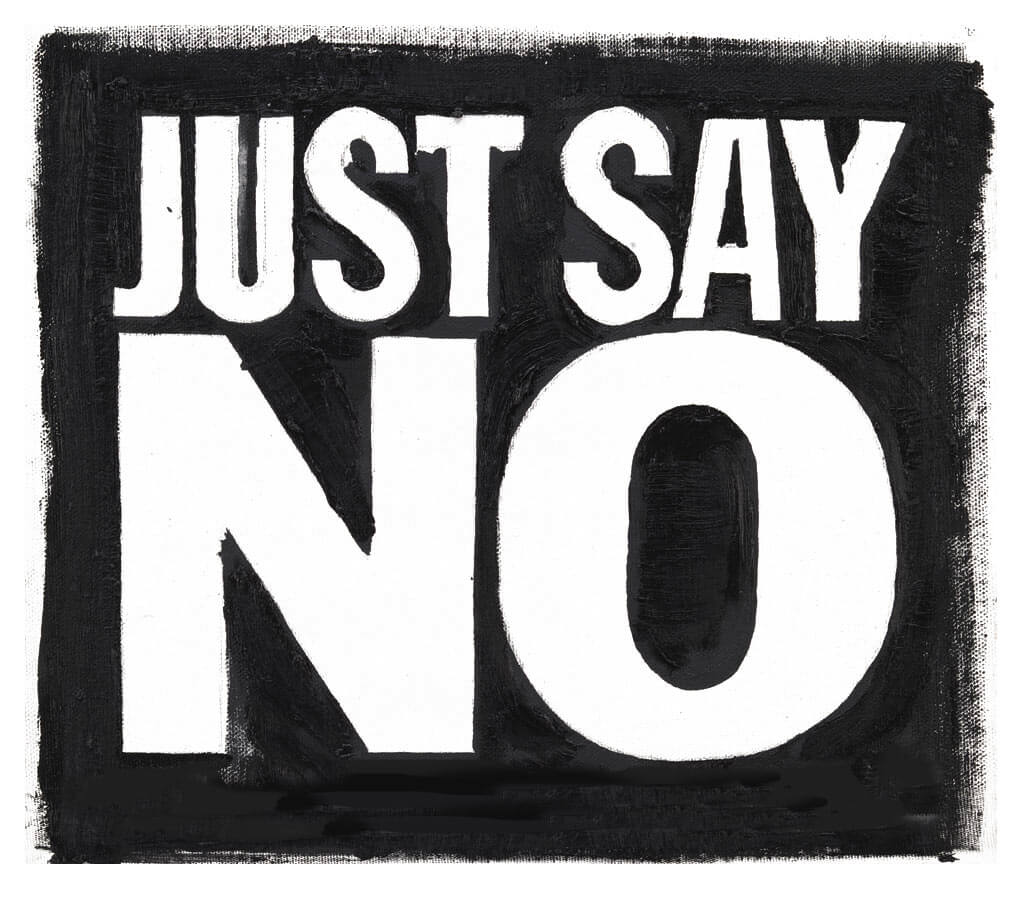 Throughout Hip Hop's history, there have been hundreds (if not thousands) of songs talking about the use or distribution of drugs – from alcohol and weed to 'molly' and 'lean' and everything in between. Fortunately, there have also been plenty of dope Hip Hop tracks doing the opposite: condemning drugs use and warning against the destructive powers of drugs, for individuals and society as a whole. For this list, we have selected 10 classic Hip Hop cuts with strong anti-drugs messages in them. Did we miss any? Hit us up in the comments!
Also, check this unforgiving take from the brilliant Crank Lucas on the evolution of drugs songs in Hip Hop:
10. Young MC - Just Say No (1989)
"Kids O.D. and cause a family grief / Over the marijuana plant and the coca leaf / Or a bunch of pills / To try to get their thrills / Over a drug you shoot / Because you think's it cute / Over something you smoke / Man it ain't no joke / Over something you drink / Homeboy, why don't you think? / Over something you snort like you were playing a sport / One day you'll go too far and then you'll come up short / Some people out there don't seem to get my point / Telling others crack kills while they're smoking a joint / But the point of this song is to tell you the facts / Some people die from smoking reefer like they die from crack / Not a drug in particular, but drugs in general / They're not good for you, like a vitamin or mineral / They come in liquid, leaves, powder, pills and rocks / Can put you six feet under on your back in a box / So say no" 
Young MC never quite got the props he deserved for his debut album Stone Cold Rhymin'. Too easily dismissed as a 'pop-rapper', Young MC definitely had skills. His debut was just an all around fun album, filled with radio friendly but dope tracks. The last track of the album had a more serious message: don't do drugs.
9. MC Shan - Jane, Stop This Crazy Thing (1987)
"She was this girl that I know named Jane / She used to be cool, now the girl's insane / Now all Jane does is walk around all day / Sayin, "Beam me up, Scotty, take me away!"
The opening track off MC Shan's debut album is a sad but all too common example of the path drugs will take you on.
8. Brand Nubian - Slow Down (1990)
"Damn it's a shame you're the mighty queen of vials / With a wide-eyed look and a rotten-toothed smile / Used to walk with a swagger, now you simply stagger…" 
This classic Brand Nubian track may not be intended solely as an anti-drug song, but the strong opening verse by Sadat X, leaves no doubt about his opinion on drug abuse.
7. Ice T - You Played Yourself (1989)
"You got problems, you claim you need a break / But every dollar you get you take / Straight to the Dopeman, try to get a beam up / Your idle time is spent tryna scheme up / Another way to get money for a jumbo / When you go to sleep you count Five-O's / Lyin' and cheatin', everybody you're beatin' / Dirty clothes and you're skinny cos you haven't been eatin' / You ripped off all your family and your friends / Nowhere does your larceny end / And then you get an idea for a big move / An armed robbery… smooth / But everything went wrong, somebody got shot / You couldn't get away, the cops roll, you're popped / And now you're locked, yo, lampin'' on Death Row / Society's fault? No / Nobody put the crack into the pipe / Nobody made you smoke off your life / You thought that you could do dope and still stay cool? Fool / You played yourself…" 
Ice T's classic cautionary tale deals with a number of different ways in which people can 'play themselves'. The last verse is an especially poignant example of where the use of and dependency on drugs might take a person, and who's responsibility it ultimately is.
6. MC Shan - Cocaine (1986)
"Girls like this are one of a kind / She'll free your soul and clear your mind / Stay away from this girl, take my advice / She's as pure as snow, her heart is cold as ice / I was under spell, she had my brain / Don't you know by now that her name was cocaine…" 
A clever track in which MC Shan depicts crack cocaine as a girl he fell in love with, a girl he warns others to stay far away from.
5. Biz Markie - Things Get A Little Easier (1989)
"Subject two, and this one is a doozy / A messed up story about a girl named Suzy / Now when you're on WIC, the problems may seem enough / But you know she had to get Scotty to beam her up / On a crack mission, no type of ambition / Make blunts disappear better than a magician / Her eyes got dim, her body got slim / She said there's nothin in the world like a good ol' stem…" 
From the underrated second album of the clown prince of Hip Hop, this is a great song in which the Biz gives us three examples – in typical Biz Markie fashion – of how drugs will mess up your life.
4. De La Soul - My Brother's A Basehead (1991)
"Brother, brother, stupid brother of mine / Started getting high at the age of nine / Now at twenty-one you're lower than low / Nowhere to turn, nowhere to go…" 
Over a brilliant instrumental De La Soul relate about a (fictional) brother who went from starting to use drugs at a young age to becoming a full-fledged addict later on.
3. MC Jazzy Jeff - King Heroin (1985)
"If you use me once, you'll do it again…"
MC Jazzy Jeff (of The Funky Four +1, not to be confused with DJ Jazzy Jeff) drops this dope track at the height of the crack cocaine epidemic. The message is clear: don't mess with heroin.
2. Public Enemy - Night Of The Living Baseheads (1988)
"Here it is, BAM! / And you say "Goddamn, this is the dope jam" / But let's define the term called dope / And you think it mean funky now, no…" 
The third single released from It Takes a Nation of Millions to Hold Us Back. The lyrics deal with the effects of crack cocaine and the classic video that goes with the song only enhances the strength of the message.
1. Melle Mel - White Lines (Don't Do It) (1983)
"Tell all your friends they can go my way / Pay your toll, sell your soul / Pound for pound costs more than gold / The longer you stay, the more you pay / My white lines go a long way / Either up your nose or through your vein / With nothin' to gain except killin' your brain…" 
One of legendary Melle Mel's biggest hits, this cautionary anti-drugs song (disguised as a party track) is as relevant as ever, even if it was recorded during the height of the crack cocaine epidemic that was destroying whole inner city communities in the early eighties.
Honorable Mentions
Just Ice – Little Bad Johnny
Too Short – Girl (Cocaine)
Too Short – City Of Dope
Doug E Fresh – Nuthin
Boogie Down Productions – Say No Brother (Crack Don't Do It)
Boogie Down Productions – Remix For P Is Free
Kool Moe Dee – Monster Crack
N.W.A – Dopeman
MC Lyte – I Cram To Understand U
Nice & Smooth – Sometimes I Rhyme Slow
A Tribe Called Quest – Description Of A Fool
Run DMC – Pause
The Coup – Last Blunt