Recently we published the first part in a series of articles in which we focus on some of the best boom-bap Hip Hop albums released in 2020. Some of these will end up in our best of 2020 list, some will land in the honorable mention section. Hip Hop has never been as diverse as it is today, with artists taking Hip Hop into all kinds of new, exciting directions. Authentic-sounding Hip Hop will forever be one of our go-to subgenres though, that's why we will keep highlighting great boom-bap albums that are ignored by most major (so-called) Hip Hop outlets.
For this list, we have selected nine fine boom-bap albums released in 2020, presented here in no particular order. Some of these albums are better than others, but all are well worth checking out for heads who can't get enough of traditional Hip Hop.
Eleven & Jason D - Strike Back
Currently residing in Boise, Idaho, Hip Hop veterans Eleven & Jason D bring back that traditional boom-bap sound to the 2020s with Strike Back, their third collaborative project. An album that kicks off with the opening part of the classic "Stoop Rap" from Wild Style sets itself up to be a winner. And no mistake, Eleven & Jason D's Strike Back is dope as hell. To get the only complaint out the way first: at 9 tracks and just over 30 minutes of playing time Strike Back is way too short – this album should have contained 4 or 5 extra cuts to give it the substance a true full-length project needs.
But even if Strike Back is not long enough, the 9 songs we get are FIRE. Eleven (born and raised in San Diego, California) is the emcee, consistently coming with smart and focused lyrics, and with a great throwback flow too. DJ Jason D got his start in the Bay Area of California, learning the DJ craft from Pam the Funkstress, the late great Bay Area DJ from The Coup. True to his start in Hip Hop in the late 80s his music has that raw throwback sound, perfectly suited for Eleven's flow and delivery. Through Eleven's bars and the cuts and samples Jason D worked in his booming beats, it's evident these guys know, love, and respect Hip Hop from the 80s and early 90s. One of the stand-out cuts that perfectly illustrates this point is the posse cut "It's So & So", which interpolates KRS-One's "My Philosophy" to great effect.
In recent years Hip Hop has experienced a resurgence of boom-bap Hip Hop, roughly separable in neo-boom-bap and a more traditional form. Strike Back is an exponent of the latter – this is boom-bap Hip Hop as authentic as it gets. If you can't get enough of 80s Hip Hop, copping Strike Back is a no-brainer.
Blaq Poet - Simon Phoenix
Simon Phoenix is a release by Queensbridge legend Blaq Poet, produced entirely by The Blaq One. The tracklist of Simon Phoenix promises 16 tracks, but that's misleading: this is a short project at 33 minutes and 6 out of the 16 are intro/interludes/outro tracklist fillers. So we get no more than 10 real songs, but thankfully these are all pretty good. The album starts off strong with "Public Enemy", with vocal samples from Chuck D and Flavor Flavor scratched in, and doesn't let up after that.
The DJ Premier produced Tha Blaqprint (2009) will forever stay Blaq Poet's best album, but Simon Phoenix is a fine addition to his catalog. This is a project that will most likely appeal to old heads only, as it is fairly generic in its hard-hitting throwback boom-bap production and its lyrical ("I'm better than these young rappers") content – but those who experience a disconnect with today's mainstream rap will appreciate this Blaq Poet project.
Swave Sevah & Parallel Thought - Hell Up In Harlem
14 years in the making, Hell Up In Harlem is a previously unreleased collaborative album from Jeff Blacker & Adam Calman – better known as the production duo Parallel Thought – and Harlem, NYC battle rapper Swave Sevah, who is known for creating Team Homi, one of the biggest battle rap brands around.
Hell Up In Harlem was mostly recorded over a decade ago. The album was finally deemed ready for public consumption in 2020, with some lyrics and beats having been tweaked and updated to make Hell Up In Harlem sound as timely today as it would have at the end of the 2000s. Dope beats, dope lyrics – Hell Up In Harlem is a project well worth checking out.
Insideus - Black Mesa
Solid throwback boom-bap from Australian producer Insideus. Insideus' debut production album features rhymes and cuts by Lazy Grey, Kings Konekted, Maundz, Ciecmate, Overproof Pete, Bigfoot, Gaz Hazard, Adam Koots, Audacity, P-Link, Helen Earth, Shadz, Prospa, D-Real, Sinks, Rob Shaker, and DJ Rellik – some of the big names of (underground) Australian Hip Hop in that line-up.
Nothing revolutionary on Black Mesa, but it's definitely better than average because Insideus has a good ear for beats and the capability to craft atmospheric instrumentals that are authentic enough to stay interesting. If not for the Australian accents of the vocalists, this album sounds like it time-traveled straight from mid-90s NYC Hip Hop to 2020.
Dueling Experts (Verbal Kent & Recognize Ali) - Dueling Experts
Chicago's Verbal Kent (of Ugly Heroes) joins forces with Ghana emcee Recognize Ali for Dueling Experts, their collaborative self-titled debut album produced by Lord Beatjitzu. This is what Verbal Kent and Recognize Ali themselves have to say about Dueling Experts:
"I had a treasure trove of beats from legendary Lo-Fi beat maker Lord Beatjitzu that I needed to put to use…and sonically me and Ali were right there. The beats sound like they were dropped on the floor, almost beta-like quality while at the same time exemplifying that 90's RZA peak." – Verbal Kent

"Dueling Experts is that raw unadulterated hardcore boom-bap" – Recognize Ali
So that's what to expect – gritty boom-bap beats, and dope rhymes by two real emcees.
Bowery Bruisers - Bowery Bruisers
Cliff Clavin, Hi-Q & Elz Sinatra are Bowery Bruisers. This self-titled full-length LP was created from scraps of other projects that were given new life once the group compiled unfinished songs and concepts. It is also the debut of the production team The DreadKnocks comprised of Cliff Clavin and Hi-Q. All cuts on this album were done by the indelible DJ TMB.
This is another one of those albums that will fall through the cracks and will remain unnoticed by most in today's oversaturated Hip Hop landscape. A shame, because Bowery Bruisers is dope as f. Hard rhymes, hard beats, hard scratches – this is real Hip Hop folks.
Thorough - King Articulate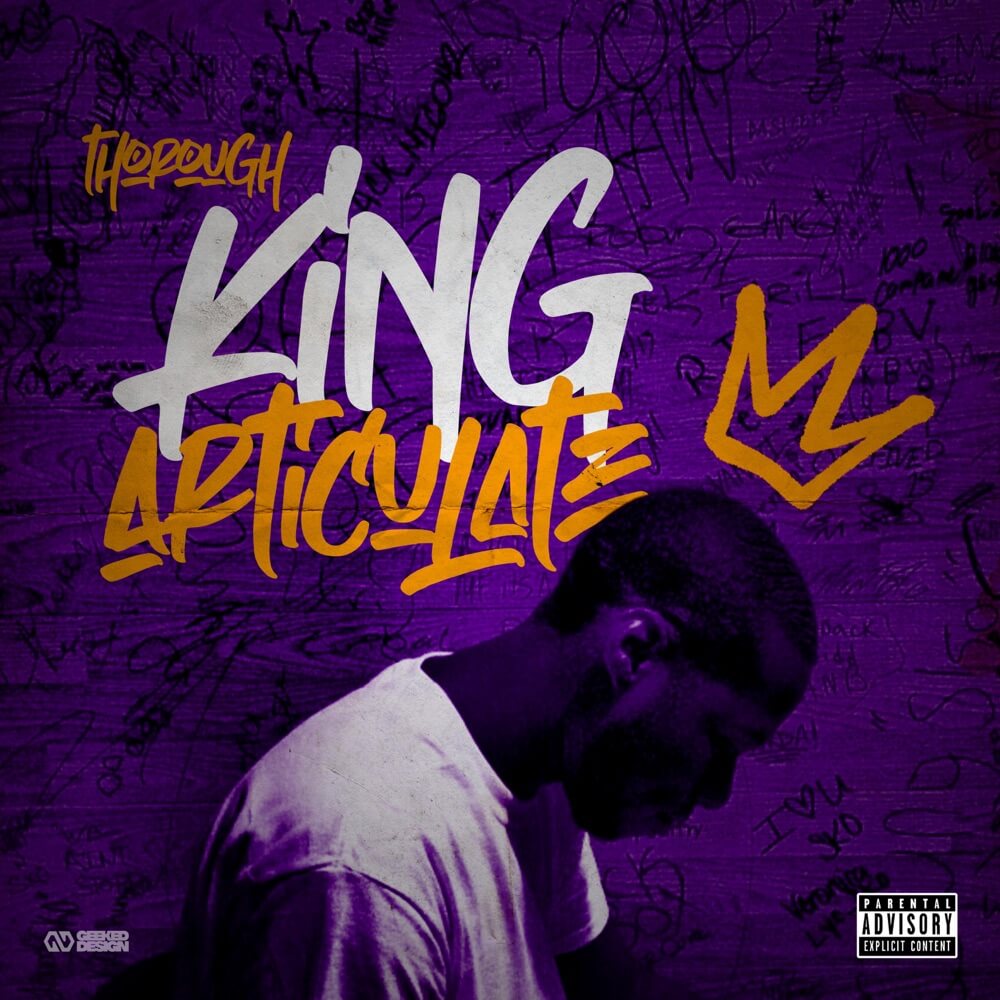 NYC underground artists Thorough continues his rise to wider recognition with this dope little project, following the equally excellent but sadly slept-on Cassette Tape Malfunction (2019). Just like Cassette Tape Malfunction, King Articulate offers a dose of authentic hardcore boom-bap, perfectly suited for the HHGA demographic. The beats are fire, and Thorough has a great throwback flow and delivery – no doubt King Articulate is one that fans of that vintage 90s-sounding East Coast Hip Hop will enjoy.
With features from rising artist Mado and veterans Illa Ghee and Sadat X, and production from regular collaborator Crazy Beats P, as well as from the likes of Jimmy Dukes, DJ Proof, Dee Jay RNS, Architect and legendary producer Pete Rock, King Articulate is quality from start to finish. The only real complaint is that at 32 minutes King Articulate is just too short…
Blak Prophet - Make East Coast Boom Bap Great Again
"Make East Coast Boom Bap Great Again" – the title of Blak Prophet's 2020 album doesn't leave anything to the imagination as to what Blak Prophet is all about. If Make East Coast Boom Bap Great Again will actually help to make East Coast boom-bap great again is unlikely, as everybody will sleep on this project. The fact is that are plenty of fine East Coast boom-bap albums around these days, and this project is one of them. Make East Coast Boom Bap Great Again has echoes of iconic acts like Wu-Tang Clan, Mobb Deep, and Sean Price – the project is well-executed beats-wise and there's nothing wrong with Blak Prophet's rhyming either, it may all be just a bit too generic and forgettable to have real staying power. That said, Make East Coast Boom Bap Great Again is more than a merely decent boom-bap album, and if anything you have to applaud Blak Prophet for his intentions.
Ragnar Vallon - Road To Valhalla
Ragnar Vallon is an emcee/battle rapper and ex muay Thai fighter who specializes in custom walkout songs for professional fighters. This is a surprisingly enjoyable compilation of walkout tracks Ragnar Vallon composed for fellow fighters over the years, well worth checking out for fans of hard-edged boom-bap Hip Hop in the vein of Jedi Mind Tricks / Army Of The Pharaohs.
The Best Boom Bap Hip Hop Albums Of 2020 | Part 1