In this article, I will highlight the unquestionably most acclaimed and commercially successful duo in the history of Hip Hop: Antoine "Big Boi" Patten and Andre "3000" Benjamin – Outkast.
Seen as the duo that officially put Atlanta on the map, Andre and Big Boi started out as two fresh-out-of-high-school graduates and shook up the game of Hip Hop forever. Between '94 to '06, Outkast were the go-to guys for quality brilliance, and each time they put out something it continued to push the envelope of standards in terms of lyricism, concepts, and musicianship.
These are their albums, from worst (if there's such a thing as that with these guys) to first. Trust me, this was NOT an easy list, as the quality of music they deliver has been consistently amazing. With that being said, let's begin.
6. Idlewild (2006)
The soundtrack to their movie Idlewild in 2006 was almost a continuation of their monstrous Speakerboxx/The Love Below, only on one full-length album. The musicality of this album was accurately set to the concept of the movie itself, drenching itself with big band jazz and old time swing blues set to contemporary Hip Hop standards.
The finished product was crazy and definitely innovative. From the marching band stylings of "Morris Brown" to the bluesy "Idlewild Blues" and the southernplayalistic sounds of "The Train", this is Outkast's most underrated album, but for an album that is considered their "worst", imagine the rest of what's considered their best?
5. Speakerboxx/The Love Below (2003)
What else can be said that hasn't already been said about this album? One of the greatest albums of all-time, within any genre, it's also their most commercially successful, selling upwards of twelve million units.
The most innovative double album ever known in Hip Hop, Andre's half was The Love Below, a hybrid of heavy Prince-influenced funk and experimental sounds that catapulted 3000 into being a true star – pushing the boundaries of what a Hip Hop artist is supposed to sound like with cuts like "Roses" and "She Lives In My Lap", as any box one put him in was destroyed.
As for Big Boi, his half, Speakerboxx, was more traditional southern Hip Hop, mixing funk and down south gumbo with cuts like "The Way You Move" and "Bowtie" to come away with a highly impressive disc himself.
If Aquemini or Stankonia didn't already put them into the stratosphere, this album did it, winning multiple Grammy Awards and ensuring that their legacy of being one of the biggest music acts of the past few generations was established.
4. Stankonia (2000)
Talk about a thick-as-molasses, funked out to the heavens Hip Hop album!
As if Outkast couldn't elevate themselves past Aquemini – they made a daring attempt with Stankonia to go back to the formula of being funky-as-skunk-booty and it was profound. As with most of their other projects, they kept it unapologetically southern the whole ride through and they managed to stay with their formula of creating accessibility without compromising their soul and their aura.
Although this is more Southernplayalistic than Aquemini, Stankonia has its own standout identity and was yet another example of Outkast's building historic greatness. Arguably their most fun album to listen to.
3. Southernplayalisticadillacmuzik (1994)
The album that started it all. An undisputed southern classic and the album that officially made the south a major force within Hip Hop.
Influenced lyrically and spirit wise by southern forefathers like UGK, Eightball & MJG, and Gets Boys, two late teen emcees attempted to carry Atlanta on their backs and they did so in enormous fashion.
They won Best New Artist at the now highly controversial '95 Source Hip-Hop Awards, during which Andre stated "The south got something to say". What the south "said" was a platinum album and a new generation for southern emcees. No longer was the south widely associated with bass music left off by 2 Live Crew, nor was it simply bluesy like we had been used to with UGK and Ball & G. We got funk and soul, and Outkast ended up presenting the most important southern album of its time.
The south would never be the same again.
2. ATLiens (1996)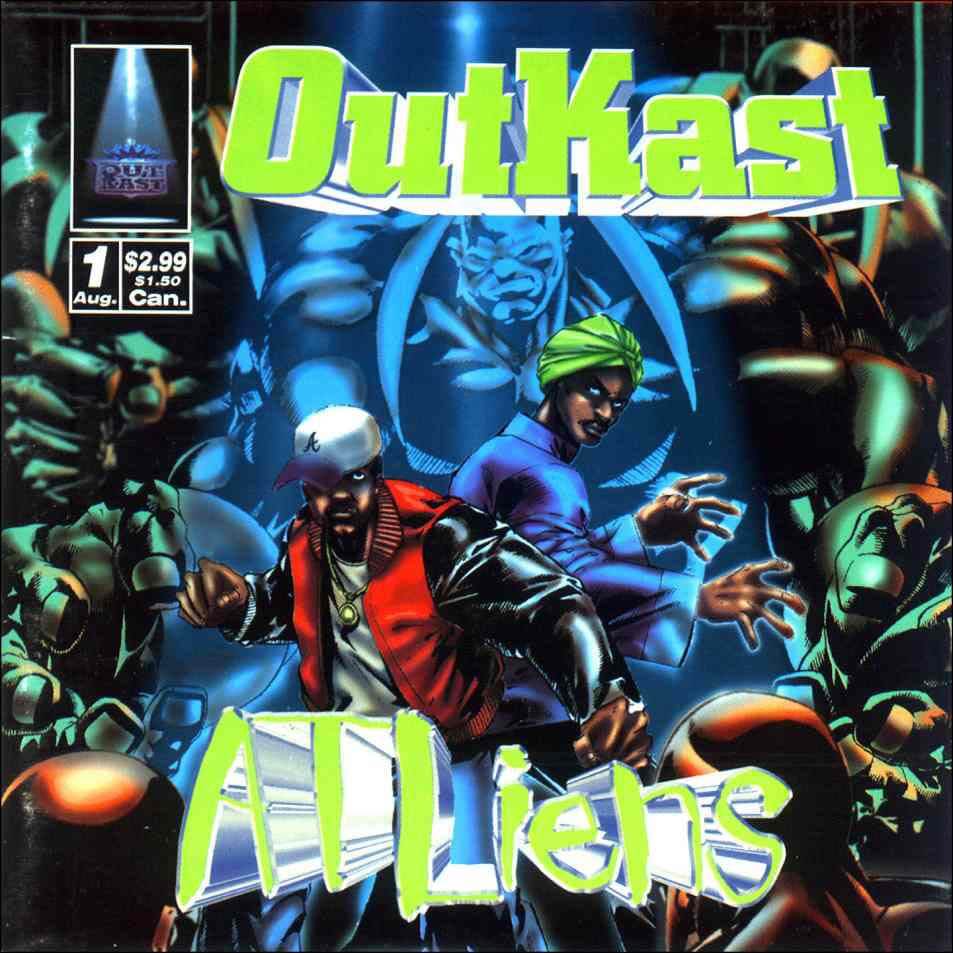 How does one follow-up such a big album like Southernplayalisticadillacmuzik? With an even bigger album. It was an arduous task trying to repeat the success of their epic debut – but they did with ATLiens, which became an instant classic.
Aiming for a futuristic soul sound with Hip Hop standards, this was an album that wasn't quite as carefree as their debut. Andre and Big Boi spoke from their hearts here, and tackled ghetto blues and the abilities of overcoming struggles and pain. This was an album that made you chill and think, as much as it made you two step.
ATLiens is considered by many as OutKast's best album, not just musically, but conceptually, and it is the most cohesive album that they have in their discography. From the beautiful stylings of "Jazzy Belle" to the touching "13th Floor/Growing Old" and the overtly soulful "Mainstream", this album continues to age well like fine wine.
1. Aquemini (1998)
There are albums that are so artistic and left field they sometimes require a few listens for one to actually appreciate the brilliance of them. Titles that come to mind are Pink Floyd's Dark Side Of The Moon, De La Soul's De La Soul Is Dead, and Madvillain's Madvillainy.
Add Outkast's Aquemini to that same list. As eclectic as it is organic and lush, this album is simply spellbinding. Incorporating live instrumentation while exploring social issues and the joys and realities of southern culture.
Seen in a sense as a pre-cursor to Kendrick Lamar's cultural masterwork To Pimp A Butterfly, Aquemini is the ultimate box shattering for this duo, as cuts like "West Savannah", "Da Art Of Storytelling' (Parts 1 & 2)", and the incredibly infectious spoken word classic "SpottieOdiedopalicious" helped define the genius that Outkast had reached. With one of the most acclaimed and influential Hip Hop albums to ever exist, Outkast had officially arrived.
In much the same breath we consider acts like A Tribe Called Quest, De La Soul, and Run-DMC national treasures, Outkast is very easily in that list, maybe even eclipsing them all. While we all wait with immeasurable anticipation for another Outkast album, or at least the long awaited Andre 3000 solo album, we can rest assured that Outkast's legacy is firmly secured and will likely be untouched by any duo or group in Hip Hop for a long time to come, if ever.