This list salutes one of the best duos Hip Hop has ever offered: Havoc & Prodigy of Mobb Deep. The Queensbridge duo smacked the game on its head with a lethal dose of gritty rhymes and a macabre aura, these were ever two guys you just didn't wanna f*** with.
Hav's inescapable, boneyard production mixed with P's insightful and vivid rhymes (not that Havoc was a slouch on the mic, mind you) made them one of the most in-demand duos of the nineties and the early millennium. During their peak period, they delivered some of the most ominous and incredible Hip Hop ever. With that being said, here's a ranking of their albums, from worst to first.
8. Juvenile Hell (1993)
When they were just in their mid-teens, Havoc & Prodigy were two sickle-welding tykes coming out at a time where kids were as thugged out as their grown counterparts. Acts such as Illegal, Da Youngstas, and Shyheim were young adolescents talking tough guy talk, and the former Poetical Prophets were every bit as hard.
On their debut, Juvenile Hell, we get a glimpse of what was to come two years later with The Infamous… (see later) with cuts like "Locked In Spofford", "Stomp 'Em Out", and "Peer Pressure". Known for their very adult-centered cut "Hit It From The Back", they caught a little buzz, plus working with Large Pro and Premo was a big deal. The label they were signed to at the time dropped them (idiots) and from then on it was on to bigger and better things.
7. Infamy (2001)
Released just after Jay-Z ANNIHILATED Prodigy on "The Takeover" at the now (ahem) infamous Hot 97 Summer Jam of 2001, it threw the Mobb – more specifically P – of course and thus a sub-par effort, Infamy, was released.
While it's not a wack album, it's also not anywhere near the quality of their three previous efforts The Infamous…, Hell On Earth, and Murda Muzik. For the most part they still brought dark production and high levels of intimidating rhymes on cuts like "Get Away", "Clap", and "My Gat's Spittin", even though many accused them of going the R&B route with the Ron Isley-assisted "Here I Go Again" and especially the thug love-esque cut "Hey Luv". Although not their worst, this was far from their best work.
6. Blood Money (2006)
Their first and only album on G-Unit Records was Blood Money. It received mixed reviews and rightfully so. Where it was hard-hitting, it was classic Mobb. Cuts like the insane "Put 'Em In Their Place", the highly controversial, yet FLAMES "Pearly Gates", and "In Love With The Moula" were as cold as any cut they've ever done. However, on the flip side, cuts like "Capital P, Capital H", "Backstage Pass", and "Have A Party" weigh the album down from being the stellar album it was supposed to be.
5. Amerika'z Nightmare (2004)
After fulfilling their obligation to Loud Records, they jumped ship to Jive Records for their sixth album, Amerika'z Nightmare. While it was a step up from their prior effort Infamy, they were still missing consistent blistering production they were known for at their peak and there were missteps with cuts like "Hammers" and "Shorty Wop". All wasn't lost, however, as cuts like "We Up", "When Your Hear Dat" and "Win Or Lose" were just sick, stellar standouts that had potential to make this album rank among their truly best albums. Even tracks with Kanye and Lil' John couldn't completely save this album, but the effort was definitely commendable.
4. The Infamous Mobb Deep (2014)
Their most recent album isn't to be confused with their breakout album The Infamous…, however the flavor brought with here could almost rival it. After a few mediocre to sub-par albums, Hav and Bandana P finally got it right again with a hell of an album to commemorate twenty years in the game.
Standout tracks like "Dirt", "My Block", and "Waterboarding" are exemplary tracks that proved to critics that they were back and better than they had been in years. Putting aside beefs and miscommunication, they reminded people with The Infamous Mobb Deep that they still were Queensbridge's original stick-up kids.
3. Murda Muzik (1999)
After delivering two certified classics, the question in '99 was "can they do it again?" The answer was a profound "yes", when they presented Murda Muzik.
This album was not only every bit as insane as Hell On Earth and The Infamous…, but it got them over the platinum hump as well, selling upwards of three million units, a figure they haven't been able to reach since.
The scary part is, as crazy as the retail version was, the original version of the album was even crazier, but due to heavy bootlegging, they cut out cuts like "Nobody Likes Me" and "Power Rap". However, other cuts like "Adrenaline", "Allustrious", and their mega-smash "Quiet Storm" (especially the remix with Lil' Kim) made them household stars if they weren't already. It would be years before we would even see this type of greatness from them again even remotely.
2. Hell On Earth (1996)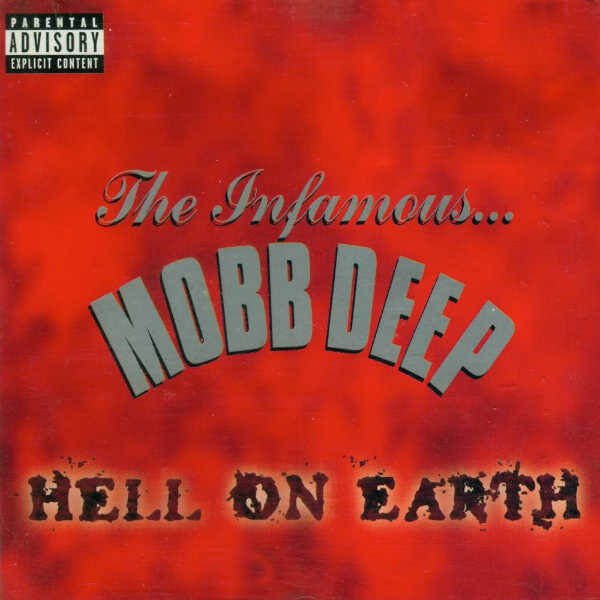 How does one possibly follow The Infamous…?  Easy, deliver an epic gem of an album like Hell On Earth. Easily rivaling The Infamous…, to this day many fans debate which one is the better album.
Even darker and more chilling than The Infamous…, Hell On Earth was also lyrically more vicious, especially from Prodigy, who went at people from 2Pac ("Drop A Gem On 'Em") to Keith Murray ("In The Long Run").
Sounding like something from an urban horror movie, the soundscapes from this album were unparalleled and made Havoc one of the most in-demand producers during that time, and P officially became one of the most checked for emcees in the business. Whether this one is better than The Infamous… or not remains up for discussion, but nobody can deny this is a classic on any scale, which once and for all made the Mobb a certified threat within the rap game.
1. The Infamous... (1995)
When you mention NYC classics in the nineties, albums such as Illmatic, Ready To Die, Reasonable Doubt, and Enter the Wu-Tang (36 Chambers) immediately come up.
Another album that gets mentioned often is Mobb Deep's second album, The Infamous…, and rightfully so. One of the most defining albums New York Hip Hop has ever delivered, this was the soundtrack to wylin' out goons and troublemaking tough guys that feel like acting up. A lot of people forget this was in fact Mobb Deep's sophomore album, as this album was so monstrous it made Juvenile Hell practically obsolete.
This masterwork delivered one of Hip Hop's all-time greatest anthems in the ominous "Shook Ones Pt. 2", which was followed up with the equally brooding and riotous "Survival Of The Fittest". Other standouts such as the vivid "Cradle To The Grave", "Up North Trip", and "Give Up The Goods", tracks that perfectly characterize one of the game's all-time brutally realistic albums to ever grace our ears and our speakers.
As you can see, the Mobb is a much-celebrated duo and although they've released plenty of dope material on their own – such as Prodigy's underrated H.N.I.C. and Havoc's most recent collaborative pairing with The Alchemist The Silent Partner – they're at their best when they're together, as at most times the results were great and in a couple cases even incredible. All hail QB's most infamous!