Ice-T is one of the biggest icons of Hip Hop. Active in the game since 1980, he became one of the pioneers of gangsta rap. The difference between Ice T and most of the countless gangsta poseurs that would follow in his wake is that Ice-T always had an air of authenticity AND that he not just glorified the gangsta lifestyle. He always had that extra layer of humor and intelligence to set him apart from the rest – with an ultimate message that a gangsta life will most likely end badly (exactly the reason he got out early and went into music). He built an impressive career with some excellent records by just being hard and real, without having to try to be.
Despite his mainstream acting career and celebrity status, he effortlessly retains full Hip Hop credibility – precisely by always being authentic, true to himself and to the game. His excellent Hip Hop documentary "The Art Of Rap" and initiation of the annually returning "Art Of Rap" Hip Hop Festivals only cements his status as one of the most respected elder statesmen of Hip Hop.
On this list, I ranked Ice-T's eight solo Hip Hop albums – not considering the albums he released with Body Count, nor the collaboration and compilation albums he put out in his 4 decades in the game.
What do you think about this ranking? Agree? Disagree? Disqus!
8. VI: Return of the Real (1996)
For me, this is the least of Ice-T's eight solo albums. "Syndicate 4 Ever", "They Want Me Back In", "Make The Loot Loop", "Return Of The Real", "The 5th", and "Cramp Your Style" are all dope enough tracks, but in overall vibe this album fell a bit short.
Ice-T's power and energy level seem lower than before, the beats fall flat and don't fit the lyrics at times  – the album as a whole just feels less inspired than what we were used to with Ice's previous efforts. You may disagree, but I was never feeling IV, Return Of The Real. 6/10
7. Gangsta Rap (2006)
This was a pleasant surprise. In between Ice-T's all other activities he manages to drop an album that is much better than anyone might have expected.
From the banging opening track "Gangsta Rap", where he takes a trip down memory lane and name-drops fellow West Coast gangsta rappers, to the dope album closer "Twice The Game" – this album hits more than it misses and is a worthy part of Ice-T's catalog. 7/10
6. Home Invasion (1993)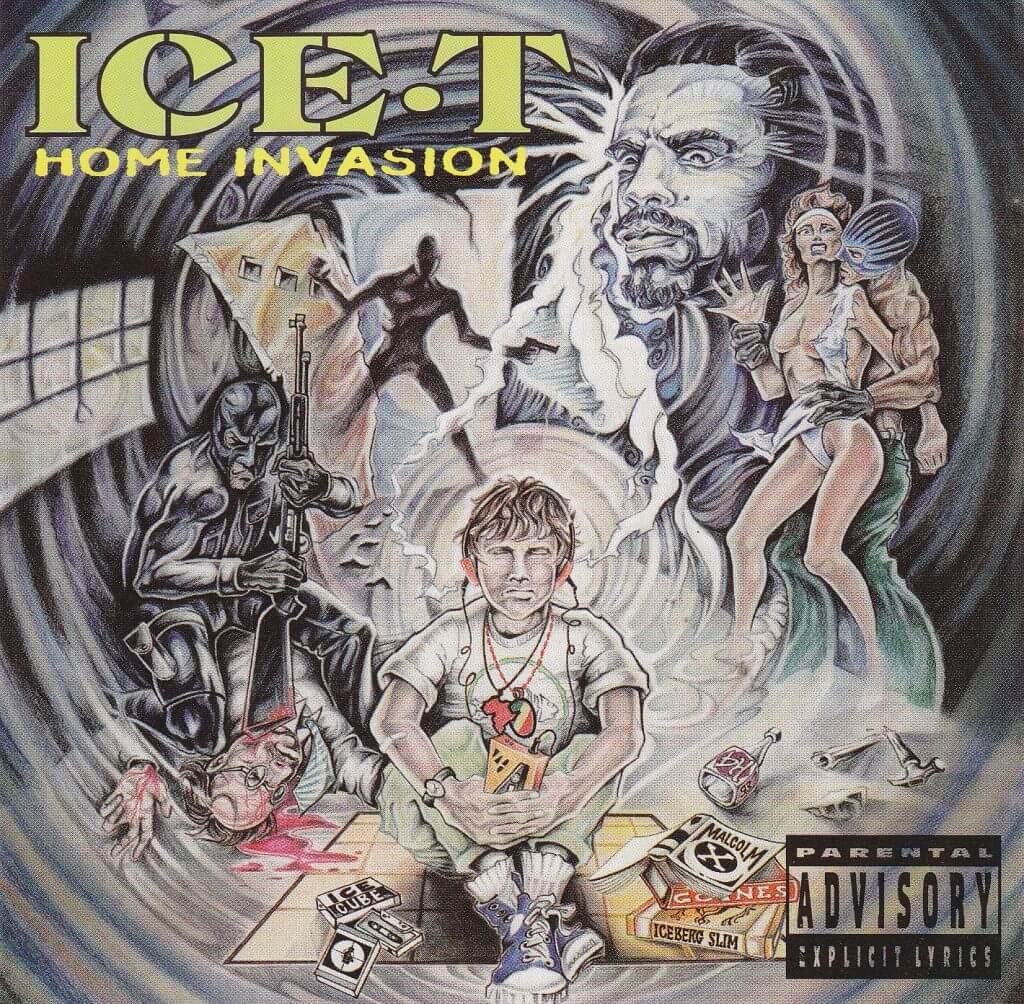 Opinions are divided on this one. Lots of people feel that Ice T's heart wasn't really in it (or following the "Cop Killer" controversy, he was too pissed off at the time of the recording of this album) and it is almost universally recognized that Home Invasion can't compare to its classic predecessor Original Gangster.
Home Invasion may lack the fun, the energy, the consistency and the overall quality of Original Gangster, but there's still plenty to enjoy here. Tracks like "It's On", "Gotta Lot Of Love", "99 Problems", "That's How I'm Livin'", "Pimp Behind The Wheels", "Depths Of Hell" and "Race War" are all solid enough. Not (close to) his best album, but a must have for Ice-T fans at least. 7/10
5. 7th Deadly Sin (1999)
Although it didn't get te recognition it deserved, this Ice-T album actually is pretty good – not better than his first four albums, but for me his best album since his magnum opus Original Gangster (1991).
7th Deadly Sin was slammed by most critics back when it was released, but I think it was judged too harshly. For me, on this album Ice-T shows more heart and focus than he did on his previous two efforts. Lyrically Ice is as sharp as ever and musically 7th Deadly Sin offers enough to intrigue and entertain.
It could have been even better with a little fewer guests, but there are enough strong tracks – like "Retaliation", "Common Sense ", "Check Your Game", "Always Wanted Ta Be A Hoe", "Exodus" and "Don't Hate The Playa" and just a few misses (most notably the ill-conceived slow jam "Valuable Game") – all in all, this is a better album than most would have you believe. 7/10
4. Rhyme Pays (1987)
Very influential, for good or for bad, Rhyme Pays was one of the very first albums with 'gangsta rap' themes (although with limited profanity). In 1987 the gangsta theme still had originality and a feel of authenticity, and "6 N The Morning" has become one of Hip Hop's most iconic songs. Tracks like "Pain", "Rhyme Pays" and especially the excellent "Squeeze The Trigger" are also noteworthy.
Some of you will rate Rhyme Pays lower, but those who got this album when it came out – like me – will always have a special appreciation for it, as it was our real introduction to Ice-T (even if we'd already heard some of his earlier electro-fused singles).
Although the production is a bit spotty at times and Ice-T hasn't quite reached the peak of his lyrical skills yet, things like the attitude and fun the album projects, its influence, even the album cover all make Rhyme Pays an undeniable Hip Hop classic. 8/10
3. The Iceberg (1989)
Ice-T's grittiest album, but one with great variation lyrically as well as sonically. From the epic, ominous intro "Shut Up, Be Happy" (featuring Jello Biafra and brilliantly interpolating Black Sabbath's classic "Black Sabbath") to the all-out fun "My Word Is Bond" – this album has something for everybody.
The chilled-out album opener "The Iceberg", the dope 9-minute posse cut "What Ya Wanna Do", the personal "This One's For Me", the gangster tale "Peel Their Caps Back", the thought-provoking "You Played Yourself", the multi-layered noise on "The Hunted Child" and "Lethal Weapon" – this album is packed with dope tracks.
The album's most important theme – as evidenced in the album's subtitle and the song "Freedom Of Speech" – is the PMRC censorship that was being imposed on Hip Hop artists at the time.
The Iceberg/Freedom of Speech… Just Watch What You Say! is a tight album, one of Ice T's best and the one that established Ice-T as one of Hip Hop's most prominent personalities. 8.5/10
2. Power (1988)
Power, Ice-T's second studio album, is an excellent follow up to his 1987 debut Rhyme Pays. Standouts include "Drama", "High Rollers", "Power", "Personal" and of course the classic Curtis Mayfield adaption "I'm Your Pusher" – but there's not a weak track on the album.
Dope beats & lyrics all around, and carried by Ice-T's personality – this is a classic album that has definitely stood the test of time. And that album cover… 8.5/10
1. Original Gangster (1991)
Ice-T's masterpiece. Original Gangster is a long album, but it is put together PERFECTLY. It feels and flows JUST RIGHT. You can just feel the love and the energy that went into the making of Original Gangster.
The cinematic gangsta tale "Midnight" (which brilliantly samples Black Sabbath and uses the epic drumbeat from Led Zeppelin's "When the Levee Breaks"), the powerful and atmospheric prison cut "The Tower" and other bangers such as "Bitches 2", "Orginal Gangster", "New Jack Hustler", "Mind Over Matter", "Pulse Of The Rhyme", "Fly By" – this album is filled with Ice-T hits.
It is one of those albums that feels as fresh today as it did when it was released, an album you can keep in constant rotation because it never gets old. A true classic. 9.5/10