KRS-One is THE personification of Hip Hop. His own words "Rap is something you do, Hip Hop is something you live" adequately sum up the man and his philosophy. Always ready to drop knowledge, he is the self-proclaimed 'teacha' – a well-deserved moniker. In addition to being one of Hip Hop's premier and most consistent conscious voices, KRS-One also is one of Hip Hop's best live performers, one of its best freestyle- and battle rappers and one of its most powerful personalities. If Hip Hop were politics, KRS-One would be President.
KRS-One is a monument to longevity within the Hip Hop game, and he is living proof that as long as artists stay true to themselves, they can make amazing music for decades rather than years. Unwavering authenticity gives KRS-One credibility and maximum respect of real Hip Hop heads, whatever critics say and haters may throw at him. His legacy is untouchable and there can be no debate about the most influential or the best-ever emcee without including KRS-One in that conversation – and putting him at the top spot when all talking is done.
In his 30+ years in the business, KRS has put out an incredible amount of great albums, before and also after the turn of the millennium. In this piece, I will try to rank them. Not considered for this ranking are the EP's and bootlegs KRS-One dropped, nor his compilation albums (including Live Hardcore Worldwide – probably the best live Hip Hop record ever released).
That leaves enough albums to make a hell of an impressive list – there is literally no one in the Hip Hop game who can boast a catalog like this. Thirty years of releasing albums with astonishing regularity, and no real misses in the whole bunch.
What do you think? What is YOUR favorite KRS-One album? Disqus in the comments!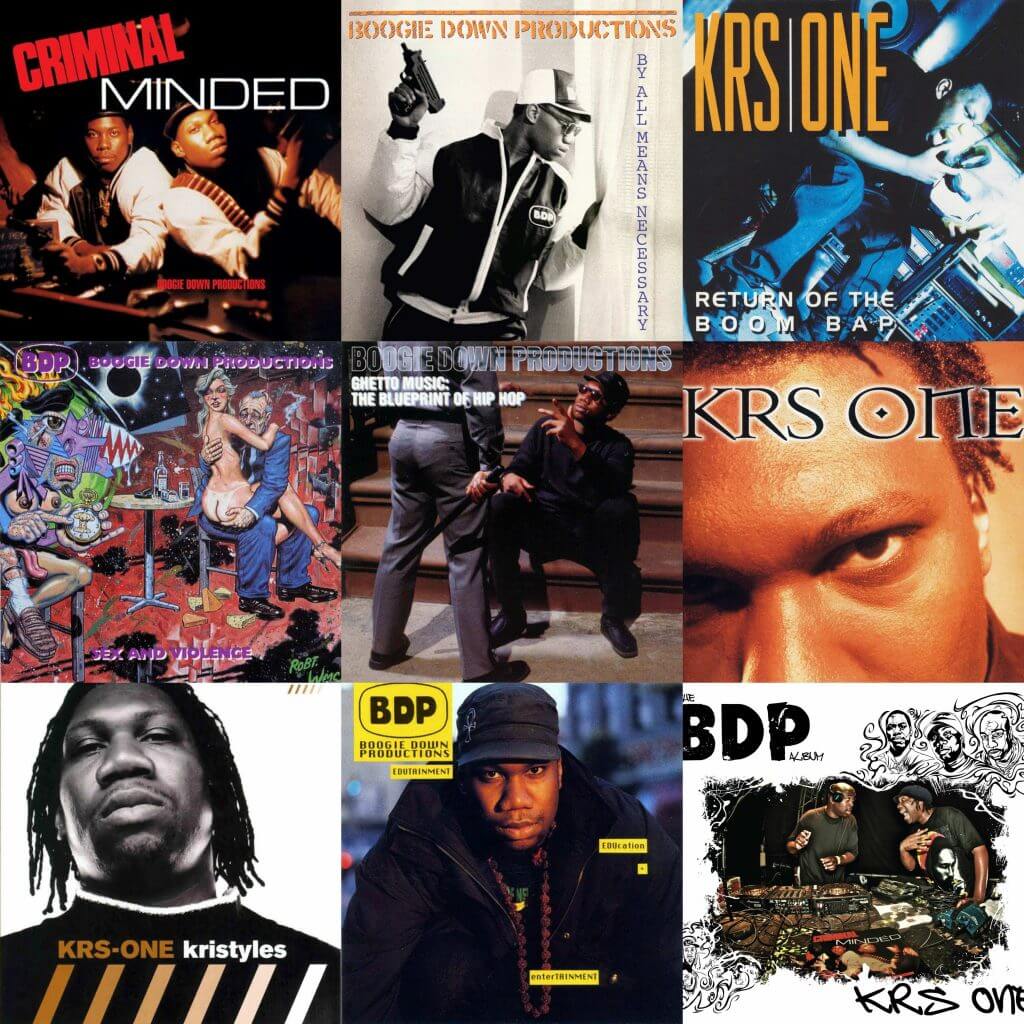 23. Spiritual Minded (2002)
A lot of people hate this album because they doubt what kind of God KRS-One believes in exactly, or whatever. There are also a lot of people who love this album – personally I could never really get into it, the subject matter can get tiring if you're not much interested in religious and spiritual matters.
The beats are kind of bland too and there are some gospel-type hooks that don't work – but KRS drops lyrics to think about as always. Tracks like "South Bronx 2002", "Hip Hop Knowledge", "The Conscious Rapper" and "Take Your Tyme" (especially relevant if you have daughters) are all vintage KRS-One.
If you dig the subject matter and don't care so much about the quality of the musical backdrop, you would likely rate this album higher. 5.5/10
22. Maximum Strength (2008)
In 1998, a year after KRS' best-selling album I Got Next, the intended follow-up called Maximum Strenght was shelved (by KRS himself or his then-label Jive). Ten years later this album appeared, using the shelved 1998 cover with 'two thousand eight' added to the title. Upon release it was said to contain all new tracks, so the reason for re-using the mothballed name and cover are not really clear.
Whatever the case, Maximum Strenght is a solid KRS-One effort. Tight lyrics, good beats and that expected KRS flow and philosophical teachings – nothing wrong with this album other than that it is too short – a little over 30 minutes in length make Maximum Strength feel more like an EP than a 'complete' album.
"Beware", "Pick it Up", "Hip Hop", "New York", "The Heat" – enough dope tracks here, if no real standouts like on most of his other albums. 6/10
21. Godsville (w/Showbiz) (2011)
Oftentimes KRS-One's lyrical power and content overmatch the beats he's been given to work with, in this case it is the other way around. Show's beats are top notch, somehow KRS' lyrics sound less creative and inspired as usual.
There's nothing really wrong with this album, but it could have been better if KRS had been in his usual form. The chemistry Showbiz and KRS had on the classic "Sound Of The Police" track is lacking here for some reason. That said, Godsville is a fine and pure Hip Hop album no matter how you look at it, it's just not great. 6.5/10
20. Now Hear This (2015)
After six albums as leading man of Boogie Down Productions, eleven solo releases and a bunch of collaborative albums, Now Hear This is KRS One's twelfth solo album. It went incredibly unnoticed, never even mentioned in any best-of-2015 lists or discussions. While it isn't THAT good, there's nothing wrong with Now Hear This either. In fact, it is grossly slept on.
Even if the production by the likes of Mad Lion, DJ Predator Prime, DJ Static and Da Beatminerz is not always up to par, KRS' lyrics are as passionate and politically charged as ever. Tracks like "Biterz", "Drugs Won", "Invaders", "You A Millionaire", "The Lingo", "From The Beginning Again" and "More Love" are all memorable KRS-One songs.
If for some reason you missed out on Now Hear This – you can stream it from KRS' Bandcamp. 6.5/10
19. Meta-Historical (w/True Master) (2010)
KRS One meets Wu-Tang Clan. With production from Wu-Tang affiliated producer True Master and guest appearances by the same True Master, Cappadonna, and RZA, this is the closest KRS ever came with collaborating with the Wu-Tang Clan. It works for the most part, but not completely.
For me, what lets the album down a bit is the fact that there is a skit between almost every song. I never understood why artists feel the need to kill the flow of an album by dumping a bunch of useless skits on the track list, but there you go. In between the skits there are enough entertaining and knowledgeable songs though – "Palm & Fist", "Murder Ya", "Street Rhymer" (with Cappadonna) and especially  "Old School Hip Hop" are all dope tracks with KRS lyrically as good as ever. 6.5/10
18. Life (2006)
Life is another dope KRS release. Not too long and not too short, not too much interludes to break the flow of the album and all the ingredients we can expect from the Blastmaster: mostly good (if not great) beats and clever lyrics with a message to be found everywhere.
Standout tracks include "I Am There", "Woke Up", "Gimme Da Gun", "Freedom", "F-cked Up", "Still Slippin'", "I Ain't Leavin'" and "I'm On The Mic". The best song is the album's closer, "My Life", where KRS details his life and longevity in Hip Hop.
Life is just another testament to KRS One's longevity and continued relevance in the Hip Hop game. 7/10
17. Survival Skills (w/Buckshot) (2009)
With guests ranging from Mary J. Blige, Slug Of Atmosphere, K'Naan, Talib Kweli, Pharoahe Monch, Immortal Technique, Melanie Fiona, Naledge of Kidz In The Hall, Sean Price, Geo of Blue Scholars and Smif N Wessun, and production from Havoc of Mobb Deep, 9th Wonder, Black Milk, Ill Mind, Coptic, Moss, Nottz, Marco Polo Survival Skills incredibly manages to maintain of cohesive sound throughout.
But because of the overabundance of guests, it feels more like a compilation album, not like a KRS-One – Buckshot collaboration. As good as all the guests are, this is a clear case of less is more: KRS and Buckshot are two excellent emcees, and the album would have benefitted from more interplay between the two main characters and less clutter by guests – as good as they are. That said, the album contains enough dope and memorable tracks to deserve a place in the record collection of those who appreciate real Hip Hop. 7/10
16. Keep Right (2004)
When critics slam KRS-One's later albums the argument most heard is that he didn't change. But I consider that to be a good thing. With Hip Hop being very different in 2004 than it was in 1994 (let alone in 1984), KRS-One pretty much still does the same thing he always did – dropping knowledge over straightforward boom-bap beats. Why change that?
Just a year after the excellent Kristyles, KRS returns with Keep Right, another album filled with bangers. At 23 tracks (with 8 interludes), Keep Right could have been tighter – and better for it. As it is, the album is just a bit too long to be ranked higher, but there is a lot to enjoy anyway.
The updated version of the By All Means Necessary classic "Illegal Business", the old-school anthem "Feel This" and tracks like "Still Spittin", "Are You Ready For This", "Let Em Have It" and the high-powered "Phucked" are all great. Another solid entry in KRS-One's catalog. 7/10
15. Hip Hop Lives (w/Marley Marl) (2007)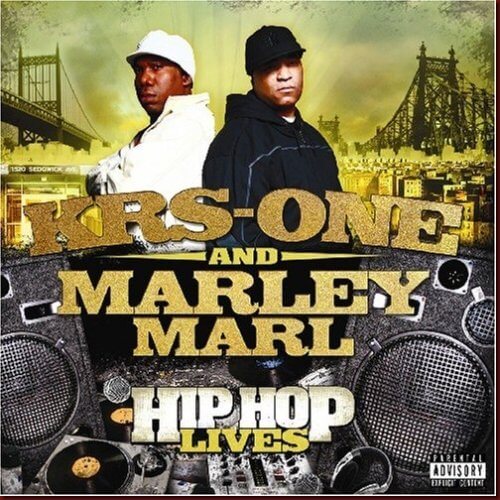 20 years after The Bridge Wars, former rivals KRS-One and Marley Marl team up to drop a nice and tight album. "All Skool", "Kill A Rapper", "Over 30", "I Was There" (a nice barb at self-proclaimed Hip Hop historians – like myself, ouch) and especially "Hip Hop Lives" – dope tracks aplenty. A solid and thoroughly enjoyable album. 7.5/10
14. Adventures in Emceein (2008)
Feeling like more of a mixtape than a regular album Adventures in Emceein was one of two releases by KRS in 2008 – completely overlooked by everybody, not in the last place due to a total lack of promotion.
As always, KRS is lyrically on point, calling for the culture to embody what Hip Hop is and should be – culturally, politically, and musically – ripping against pop rappers, fake DJs, and the industry that is helping to destroy Hip Hop – while at the same time covering more current societal issues.
On this album, he gets help from icons such as MC Lyte who does a full guest verse on the song "Money", and Chuck D, Rakim, and Nas who do some work on song intros. The album loses steam towards the end, with a couple of weaker tracks with beats that do not fit, but all in all Adventures in Emceein is a pretty dope album. 7.5/10
13. Royalty Check (w/Bumpy Knuckles) (2011)
Freddie Foxxx a.k.a. Bumpy Knuckles and KRS-One taking Hip Hop back to the essence. After their great collaboration on "Ruff Ruff" – one of the many standout tracks on the underrated 1992 Sex & Violence album – they finally do a complete album together.
In my opinion, this is KRS-One's best collaboration album. Even though he has to share his time on the mic with Bumpy Knuckles, the album does not suffer from it. In fact, Bumpy Knuckles and KRS have great chemistry together (better than KRS and Buckshot imho) – resulting in an album that combines raw street Hip Hop and clever consciousness in a great way.
Sure, the beats could have been better here and there, but the album's vibe is great and there are plenty of banging tracks –  "Just You", "Never", "Who Is It, "Street Poison" and "Fight To Love" just a few of them.
Another overlooked album, better than most other albums released in 2011. If not an essential album for every Hip Hop fan, it's a must-have for fans of KRS-One and/or Bumpy Knuckles at least. 7.5/10
12. The Sneak Attack (2001)
This is another one that had opinions divided. A lot of haters say this is where KRS started falling off. I disagree. While it can be argued his subject matter can get repetitive (the state of Hip Hop, his own importance) and the beats are basic a.f. – that's what we've come to expect from KRS and there is really nothing wrong with it.
When you would have to listen to his 20+ albums in a row – that would be tiring, no doubt. But taken at face value and as an individual listen, The Sneak Attacks delivers like most of KRS' albums do.
"Hot", "Hip Hop Knowledge", "Krush Them", "I Will Make It", "Why", "The Mind", "The Lessin", "Get Yourself Up", "Raptizm", "Hush" – all perfect counterweights to the generic and dumb 'guns, drugs, money and bitches' content that was already infecting mainstream Hip Hop at that time.
If not for that terrible cover art, I bet this album would be better known and rated higher. As it is, The Sneak Attack is a more than solid part of KRS' catalog. 7.5/10
11. I Got Next (1997)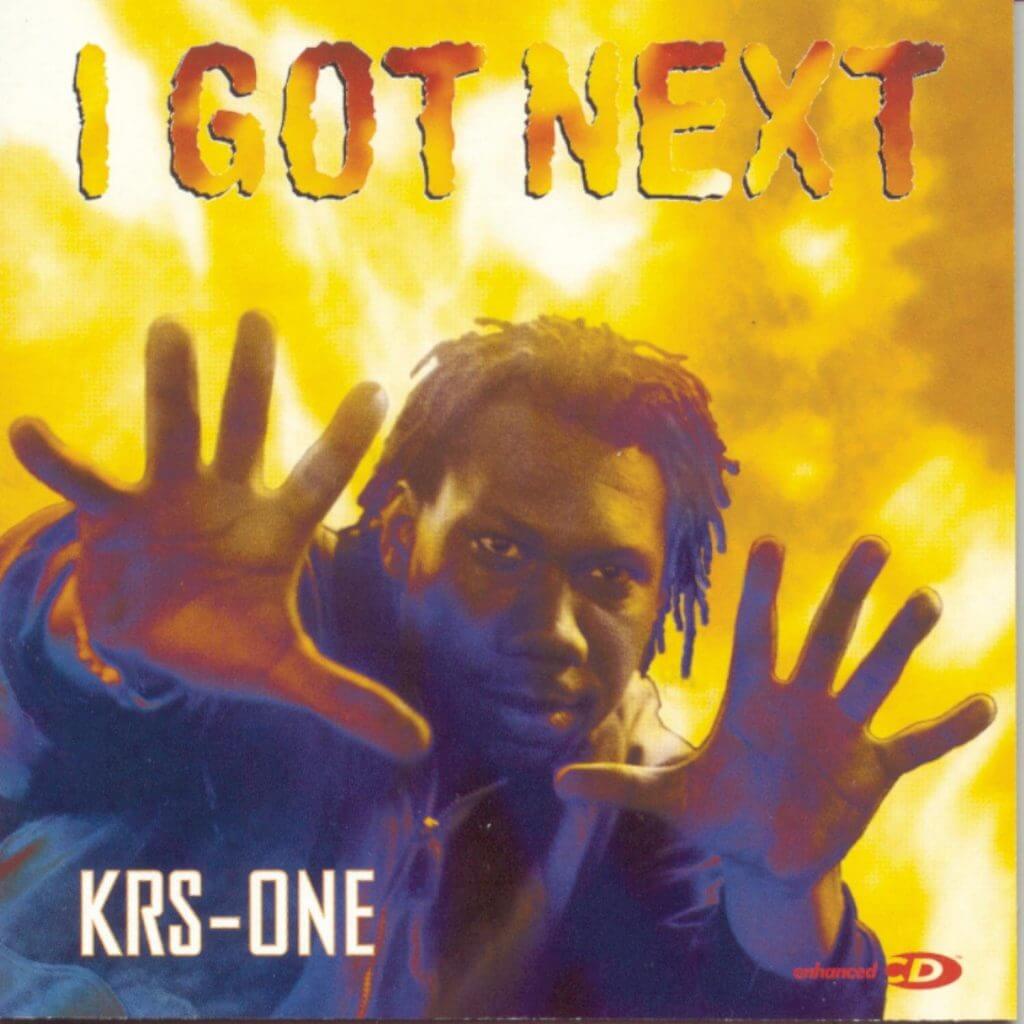 KRS-One's best-selling and highest-charting album, but not his best album. I think that all his albums preceding this one (including all BDP albums) are better, but even so – this album is not as bad as some KRS haters would make you believe. I Got Next even contains some of the Blastmasters' best tracks with "Neva Hadda Gun", "A Friend" and most notably the epic "Step Into A World".
Problem is that overall I Got Next is a bit too inconsistent (mainly because of the overabundance of interludes, a failed experiment with a metal crossover track and an ill-conceived track with Puff Daddy) and feels too disjointed to be rated higher. When it's good, it's great though – as per usual with KRS-One. 7.5/10
10. The World Is Mind (2017)
KRS One has been keeping it real for decades, and this outing – solo album number thirteen – is yet  another strong KRS effort. 30 years in the game and never letting up, who can say the same? The World Is Mind has KRS doing what he always did – dropping knowledge about the world we live in and the state of the Hip Hop game – and is part of the better half of KRS One's catalog if you ask me. Go check it out if you haven't already. 7.5/10
9. The BDP Album (2012)
With The BDP Album KRS-One once again effortlessly proves that he still is way ahead of most other rappers in the game, even after 25+ years as a recording artist.
Musically, The BDP Album is somewhat of a return to KRS' early days, with vintage boom bap beats provided by KRS-One himself and his brother Kenny Parker. Lyrically, The BDP Album is on point too. Just listen to "Tote Gunz", "All Day", "Forever", "The Solution" and "Cypher Remix" to know in 2012 KRS-One was as strong as he ever was. 8/10
8. Edutainment (w/Boogie Down Productions) (1990)
This is a difficult album to rate. The highs on Edutainment are really high, but there are some lows too. I was never a fan of interludes or skits on Hip Hop albums, and here they distract more than they add value. Also, maybe out of all KRS-One albums, this one feels the most 'preachy' (and that's saying something…).
But.
"Ya Know The Rules", "Blackman In Effect", "Original Lyrics", "Beef", "The Racist" and especially the monumental "Love's Gonna Getcha" are all classic cuts, cuts that make this album a must-have. And with his fourth album in four years, KRS-One was leaving no room for doubt as to who was Hip Hop's intellectual and spiritual leader at that time. Despite its flaws, Edutainment is still classic BDP and an unmissable part of KRS-One's catalog. 8/10
7. Kristyles (2003)
Many people say that KRS-One fell off after the turn of the millennium. They couldn't be more wrong. While it's true he had long lost the spotlight to other artists (and never was one of Hip Hop highest-selling celebrities anyway), his output has always been remarkably consistent. The shift to uncreative stupidity and negativity as the big marketable thing in Hip Hop relegated intellectual artists like KRS-One out of the public eye, but KRS' work never really suffered from it.
Kristyles is KRS-One's sixth solo album, and almost as good as any of them. Tracks like "9 Elements", "Underground", "Philosophical", "Gunned Em Down" and "What Else Happened" would not be out of place on a 'KRS-One Greatest Hits' album.
There are a few different versions of Kristyles floating around, and although it is said KRS-One did not approve of the version of Kristyles that was eventually released, this still is one of my favorite KRS-One solo-albums. 8/10
6. KRS One (1995)
KRS-One (originally meant to be titled Hip-Hop Vs. Rap) is a great album, but crazy underappreciated. It may lack the spark and fun-factor of its predecessor Return Of The Boom Bap, but it holds at least as many awesome tracks.
The banging album opener "Rappaz R N Dainja", the other DJ Premier-produced classic "MCs Act Like They Don't Know", the clever "Hold", the controversial "The Truth" and tracks like "Represent The Real Hip Hop" and "Ah Yeah" – this album offers true Hip Hop.
In a year when mafioso rap was on the rise and the south was taking over, KRS-One went overlooked a bit – even if it was one of KRS One's better-selling albums. KRS-One is one of the best albums in KRS One's catalog – and that says a lot. 8.5/10
5. Ghetto Music: The Blueprint Of Hip Hop (w/Boogie Down Productions) (1989)
By 1989 Boogie Down Productions had already two very different, but equally classic albums out. This third effort only cemented BDP's and KRS One's prominence in Hip Hop. With this album, KRS-One firmly established himself as Hip Hop's no.1 conscious voice at the time.
Some all-time KRS classics on this one like "Why Is That", "Bo! Bo! Bo!", "Jack Of Spades", "You Must Learn" and "The Style You Haven't Done Yet", but also a few weaker tracks. The strong tracks and KRS' wit, power and energy easily edge out the few forgettable parts of the album though, making this one another KRS-One winner. 8.5/10
4. Sex & Violence ( (w/Boogie Down Productions) (1992)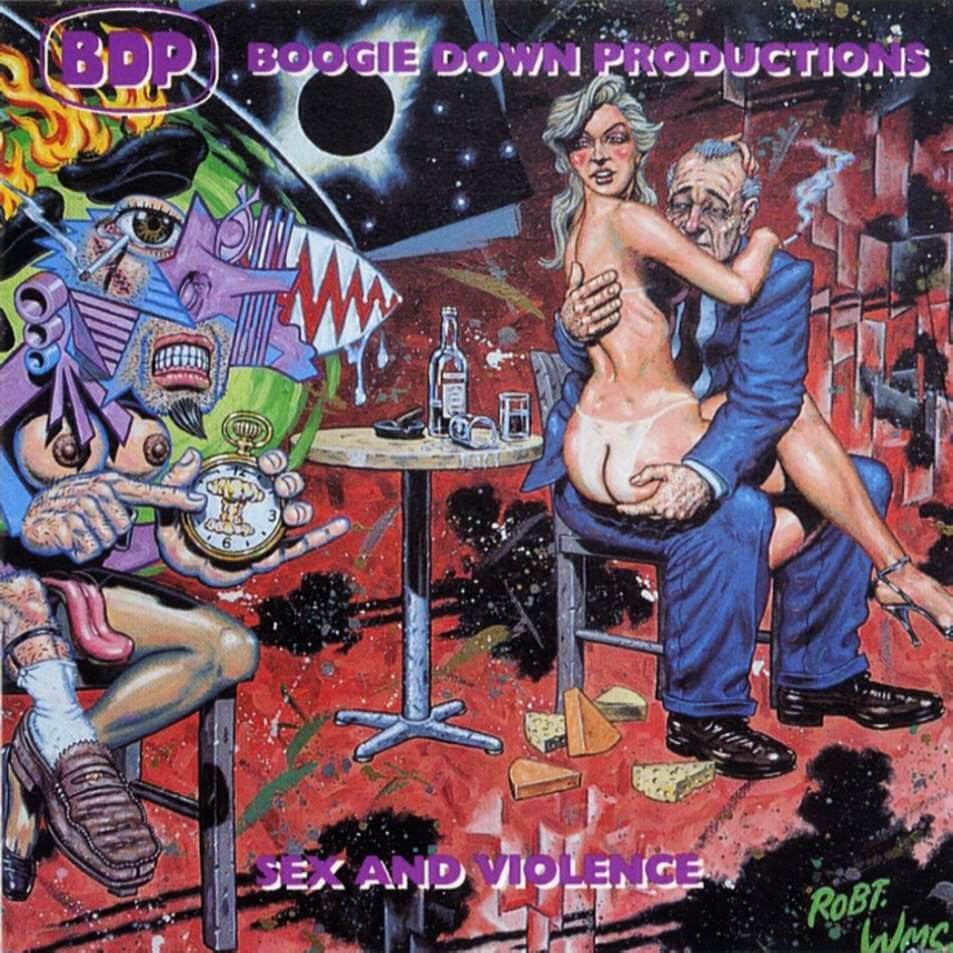 I always felt this album was way underrated in KRS-One's catalog. It failed commercially (selling a 'mere' 250.000 copies) and received mixed reviews. Both wrong if you ask me – Sex & Violence deserved wider recognition both in sales numbers and general acclaim.
After the hit-and-miss effort that was Edutainment, KRS unloaded some members of his BDP Posse and came back with this album where he sounded fresh and reenergized. KRS takes aim at the state of Hip Hop (as always), politics, religion, sexual morality, violence, drug dealers, hypocrisy and more – and manages to sound less preachy than he did on Edutainment. In fact, in rawness and 'street-feel', this album comes closest to the spirit of Criminal Minded of all the BDP albums.
"Duck Down", "Ruff Ruff", "Drug Dealer", "We In There", "Who Are The Pimps", "Build & Destroy", "13 & Good" and "Sex & Violence" are all standouts, but the whole album is dope – it feels tight and cohesive (with production from Prince Paul and KRS' brother Kenny Parker among others) and has no skippable tracks or useless interludes and skits. Classic KRS-One. 8.5/10
3. Return Of The Boom Bap (1993)
After 5 albums as Boogie Down Productions, KRS-One decided to start releasing albums under his own name. In his 30-year career, KRS dropped many classic albums – this one ranks with the best of them.
Lyrics, flow, delivery, message, beats, diversity – this album has everything. "Sound Of Police", "Outta Here", "Mad Crew", "Return Of The Boom Bap", "Uh Oh", "I Can't Wake Up" – you know you can't go wrong with KRS-One. On later albums KRS' lyricism would occasionally be let down by weaker beats, but not here. With the likes of DJ Premier, Showbiz, Kid Capri and KRS himself on the boards the result had to be a classic. 9/10
2. By All Means Necessary (w/Boogie Down Productions) (1988)
Not even one year after Boogie Down Productions' classic debut album Criminal Minded, and shortly after the murder of Scott La Rock, KRS-One drops another classic.
With By All Means Necessary KRS-One quickly establishes himself as the conscious voice of Hip Hop, together with Public Enemy – a role both acts would continue to fill in the decades to follow.
By All Means Necessary holds some all-time classic cuts, "I'm Still No. 1", "Stop The Violence" and especially the monumental "My Philosophy" chief among them. 9/10
1. Criminal Minded (w/Boogie Down Productions) (1987)
After making a name for themselves in the NYC Hip Hop underground, KRS-One together with his former social worker Scott La Rock formed Boogie Down Productions. After a few singles as Scott La Rock & The Celebrity Three, they eventually dropped Criminal Minded as BDP.
The sparse production by the artists (and the at the time uncredited Ced Gee of the Ultramagnetic MCs), combined with KRS One's clever lyrical content and distinctive delivery make this album a definitive Hip Hop classic, an album that without a doubt is up there with the greatest and most important Hip Hop albums of all time – it certainly is one of my personal favorites.
"The Bridge Is Over", "South Bronx", "Criminal Minded",  and "Poetry" are the best tracks, but every track hits. Together with other groundbreaking 1987 debuts of Eric B & Rakim (Paid In Full) and Public Enemy (Yo! Bum Rush The Show), this seminal album set the standard for Golden Age of Hip Hop. 10/10