At HHGA we love lists. Although most lists are largely subjective, and it can be argued compiling lists is a futile exercise, we still love 'em – if only because lists can serve as a perfect starting point for discussions to help keep classic Hip Hop alive.
Now this list is a strictly personal one. These are the albums I actually listen to most, then and now. No consideration is given to popularity, sales figures, historical significance or whatever. 2Pac, Biggie, Jay Z and Dr Dre are the names you see top most Golden Age Hip Hop lists. Even though I've enjoyed enough of their music and I recognize and respect their significance in Hip Hop, I've never been a big fan of most of these artists respective albums. Consequently, they have never been on heavy rotation on my sound systems.
Another album that deservedly tops every list is Nas' Illmatic, one of the most important albums in Hip Hop, an undisputable classic without a doubt and an album I really do love – but it's not one I listen to regularly. The Hip Hop albums that are my true favorites are listed here – in no particular order.
Let's get into it – there's no disagreeing and no need to get mad, because these are MY personal favorites. Feel free to share YOUR personal Top 10 or 15 – so albums you actually listen to all the time – in the comments!
A Tribe Called Quest - The Low End Theory (1991)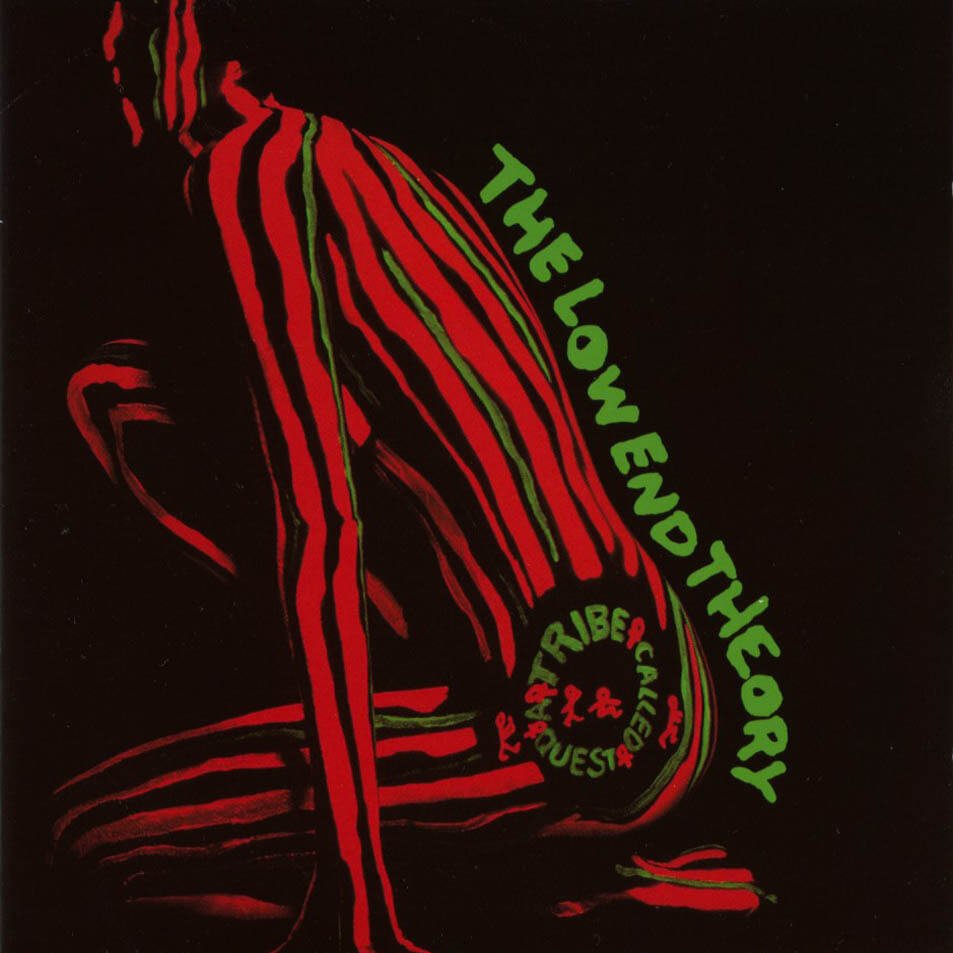 The Low End Theory definitely is one of my all-time favorites. This album provides the definitive statement about what creativity, innovation, artistry, fun and raw talent can produce. Building on the quality work of their debut, Tribe perfected the fusion of jazzy influences and bass heavy Hip Hop beats. The Low End Theory is so coherent and consistent, it almost feels like one long song – in this case a good thing.
Eric B & Rakim - Follow The Leader (1988)
Probably my favorite Eric B & Rakim album, although that's a hard call to make. For me, Follow The Leader edges the others because of the three opening tracks – I think there is NO album in existence with a stronger opening trio of songs than "Follow The Leader", "Microphone Fiend" and "Lyrics Of Fury". If you can think of such an album I sure would love to hear the title.
OutKast - ATLiens (1996)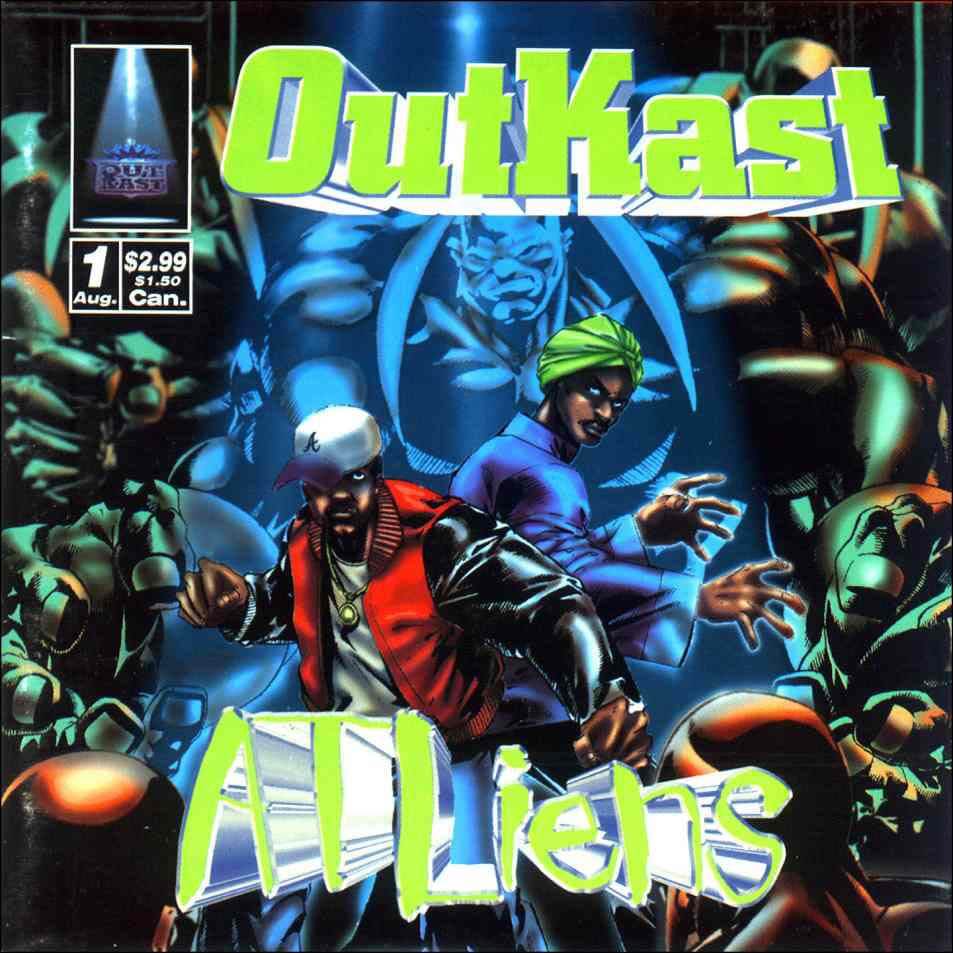 Southern Hip Hop has never really been my thing. I love some of Scarface's and the Geto Boys' work (still listen to that 1990 Geto Boys / Rick Rubin remix album a lot) and have UGK, Eightball & MJG and some others in my collection. Despite not being a Southern Hip Hop fan, OutKast is one of my go-to acts – especially their first four albums are always on hand.
ATLiens is my all-time OutKast favorite and always on rotation. Quality straight through, no skits, no frills – just straight up Hip Hop with that unique OutKast twist. How can you not love this album?
Public Enemy - Yo! Bum Rush The Show (1987)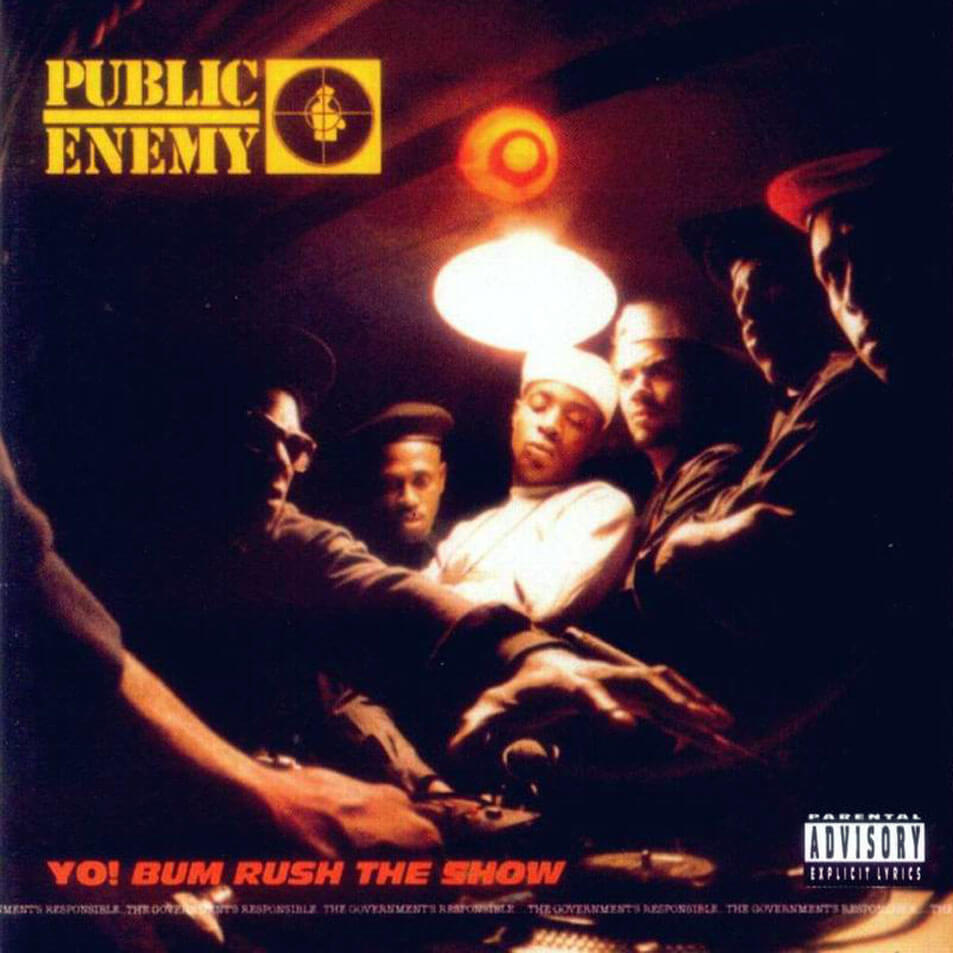 By 1987 I'd been listening to Hip Hop for about four years, buying or taping anything I could get my hands on. It was this album that turned me from a casual fan to a Hip Hop fanatic. I distinctly remember finding Yo! Bum Rush The Show as a new release in the (small) Hip Hop section of my local record store and giving it to the girl behind the counter so she could set me up for a listen. When I heard the opening tunes of "You Gonna Get Yours" I was blown away.
Public Enemy's sophomore album would turn out to be THE ultimate defining Hip Hop classic – a perfect album – but their rough-around-the-edges debut may just be my favorite P.E. album. There is probably not an album in the world I've listened to more often than Yo! Bum Rush The Show.
Paris - The Devil Made Me Do it (1990)
This album is underrated as hell. This is what Hip Hop is all about – intelligent, thought-provoking – sometimes controversial –  lyrics over dope beats. The Devil Made Me Do It is a forgotten classic, but one I keep going back to.
Ultramagnetic MCs - Critical Beatdown (1988)
Critically acclaimed, but at the same time slept on and somehow underappreciated – not by me though. One of my favorites ever since it came out, this album was way ahead of its time in terms of originality and innovativeness. Very consistent too – no weak tracks on Critical Beatdown.
Pete Rock & CL Smooth - Mecca And The Soul Brother (1992)
For me, the mark of a true classic is if it sounds as fresh today as it did the day it was released. This is one of those albums, an album that has aged like a fine wine. Smooth and irresistible, Mecca And The Soul Brother is a timeless masterpiece that can be played on any occasion and that can fit any mood. Certainly one of my favorites.
Boogie Down Productions - Criminal Minded (1987)
Critically important, Criminal Minded (along with other groundbreaking 1987 debuts of Eric B & Rakim (Paid In Full) and Public Enemy (Yo! Bum Rush The Show) is one of the albums that would set the standard for Golden Age of Hip Hop and that provided the foundation for 1988, Hip Hop's real break-out year.
The sparse production by Scott La Rock (with the at the time uncredited Ced Gee of the Ultramagnetic MCs) combined with KRS One's lyrical content and distinctive delivery make this album a definitive Hip Hop classic, that without a doubt is up there with the greatest Hip Hop albums of all time.
Ice T - Original Gangster (1991)
Ice T's best album Original Gangster is a long album, but it is put together PERFECTLY. It feels and flows JUST RIGHT. You can just feel the love and the energy that went into the making of Original Gangster. It is one of those albums that feels as fresh today as it did when it was released, an album I keep on constant rotation because it never gets old.
Public Enemy - It Takes A Nation Of Millions To Hold Us Back (1988)
This is THE ultimate classic. In my opinion, It Takes A Nation Of Millions To Hold Us Back is the best album ever made – in any genre. EVERYTHING about this album is just perfect. It transcends the genre of Hip Hop, any self-respecting lover of music in general needs to have Public Enemy's absolute masterpiece in their collection.
Stetsasonic - On Fire (1986)
This one will forever hold a special place in my heart, as it was one of the first albums I bought with my own money. It is also one of the first Hip Hop albums I ever owned, along with LL Cool J's Radio, Run DMC's Raising Hell and Beastie Boys' Licensed To Ill. All classic albums that I love to this day, but out of these four, Stetsasonic's debut is the one I always have ready to go.
Beastie Boys - Paul's Boutique (1989)
This musical masterpiece took some getting used to (because it was so different from the juvenile fun that was Licensed To Ill), but Paul's Boutique is another one of those albums that gets better with each passing year – the mark of a true classic.
Gang Starr - Step In The Arena (1991)
Step In The Arena is my favorite Gang Starr album and that's saying a lot because the three albums that would follow this one are all pretty flawless too. Step In The Arena is a long album but there are no filler tracks. You can listen to the whole album without having to skip a song. After an OK debut album, this was the beginning of Gang Starr's flawless discography and an album I always have close by.
A Tribe Called Quest - Midnight Marauders (1993)
The second Tribe album on this list, because it is nearly impossible to choose which one I love more. Faced with the impossible task of following up on the flawless masterpiece that is The Low End Theory, with Midnight Marauders Tribe delivered an album that is every bit as awesome as its predecessor was. There can be no greater praise.
Dr Octagon - Dr Octagonecologist (1996)
Together with Critical Beatdown, his debut as part of Ultramagnetic MCs, this is the second absolute classic in Kool Keith's vast discography. Like Critical Beatdown, this album was so far ahead of its time, I'm not sure if the world has caught up yet. The production by Dan The Automater is absolutely phenomenal. Innovative, eery, spaced-out: the instrumentals provide the perfect backdrop for Kool Keith's trademark bizarre lyrics. I never leave home without Dr. Octagonecologist ready to play. 
Others...
Limiting this list to only 15 albums was HARD. Here are some more albums that would make my personal Top 100, albums that still find their way to my playlists or CD-players regularly:
Mantronix – Mantronix
Run DMC – Raising Hell
Beastie Boys – Licensed To Ill
Schoolly D – Schoolly D
Schoolly D – Saturday Nigth The Album
Eric B & Rakim – Paid In Full
Eric B & Rakim – Let The Rhythm Hit Em
Eric B & Rakim – Don't Sweat The Technique
EPMD – Strictly Business
EPMD – Unfinished Business
MC Lyte – Lyte As A Rock
Big Daddy Kane – Long Live The Kane
Big Daddy Kane – It's A Big Daddy Thing
Slick Rick – The Great Adventures…
Chill Rob G – Ride The Rhythm
Young MC – Stone Cold Rhymin
Kool G Rap – Road To The Riches
Kool G Rap – Wanted Dead Or Alive
Master Ace – Take A Look Around
Boogie Down Productions – By All Means Necessary
Boogie Down Productions – Sex & Violence
KRS One – Return Of The Boom Bap
Ice T – Rhyme Pays
Ice T – Power
Ice T – The Iceberg
LL Cool J – Radio
LL Cool J – Bigger And Deffer
LL Cool J – Walking With A Panther
LL Cool J – Mama Said Knock You Out
3rd Bass- The Cactus Album
Public Enemy – Fear Of A Black Planet
Public Enemy – Apocalypse '91
Eazy E – Eazy Duz It
N.W.A – Straight Outta Compton
The D.O.C. – No One Can Do It Better
Too Short – Life Is…
Ice Cube – AmeriKKKa's Most Wanted
Ice Cube – Death Certificate
Above The Law – Livin' Like Hustlers
Dr Dre – The Chronic
Brand Nubian – One For All
A Tribe Called Quest – People's Instinctive Travels…
De La Soul – 3 Feet High & Rising
De La Soul – De La Soul Is Dead
De La Soul – Buhloone Mindstate
De La Soul – Stakes Is High
Jungle Brothers – Straight Out The Jungle
Jungle Brothers – Done By The Forces Of Nature
Main Source – Breaking Atoms
Black Sheep – A Wolf In Sheep's Clothing
Intelligent Hoodlum – Intelligent Hoodlum
O.C. – Word… Life
Nas – Illmatic
Nas – The Lost Tapes
Gang Starr – Daily Operation
Gang Starr – Hard To Earn
Gang Starr – Moment Of Truth
Jeru The Damaja – The Sun Rises In The East
Geto Boys – Geto Boys
Scarface – Mr Scarface Is Back
Scarface – The Diary
Lord Finesse – Funky Technician
Lord Finesse – Return Of The Funky Man
Showbiz & AG – Runaway Slave
Diamond D – Stunts, Blunts & Hip Hop
Queen Latifah – Black Reign
Black Moon – Enta Da Stage
Hardknocks – School Of Hardknocks
Organized Konfusion – Organized Konfusion
Organized Konfusion – Stress…
Digable Planets – Reachin'
Digable Planets – Blowout Comb
Notorious B.I.G. – Ready To Die
Pete Rock & CL Smooth – The Main Ingredient
Wu Tang Clan – Return To The Wu Tang (36 Chambers)
Wu Tang Clan – Wu Tang Forever
Raekwon – Only Built 4 Cuban Linx…
GZA – Liquid Swords
Ghostface Killah – Ironman
Ghostface Killah – Supreme Clientele
Snoop Doggy Dogg – Doggystyle
Souls of Mischief – 93 Til Infinity
The Pharcyde – Bizarre Ride II The Pharcyde
The Pharcyde – Lacabincalifornia
Goodie Mob – Soul Food
Big L – The Lifestylez Ov Da Poor & Dangerous
2Pac- Me Against The World
Mobb Deep – The Infamous
Show & AG – Goodfellas
AZ – Doe Or Die
Ras Kass – Soul On Ice
Camp Lo – Uptown Saturday Night
Mood – Doom
Redman – Muddy Waters
Poor Righteous Teachers – The New World Order
Bahamadia – Kollage
Common – Resurrection
Common – One Day It'll All Make Sense
Common – Like Water For Chocolate
Common – BE
The Fugees – The Score
The Roots – Illadelph Halflife
The Roots – Things Fall Apart
Jurassic 5 – Jurassic 5
Jurassic 5 – Quality Control
Black Star – Mos Def & Talib Kweli Are Black Star
Mos Def – Black On Both Sides
Reflection Eternal – Train Of Thought
dead prez – Lets Get Free
Slum Village – Fantastic Vol 2
Big Pun – Capital Punishment
The Coup – Steal This Album
Hieroglyphics – 3rd Eye Vision
Aceyalone – A Book Of Human Language
Styles Of Beyond – 2000 Fold
Pharoahe Monch – Internal Affairs
Talib Kweli – Quality
Kool Keith – Sex Style
Dr. Dooom – First Come First Served
MF DOOM – Operation Doomsday
MF DOOM – Mm Food
Binary Star – Masters Of The Universe
Zion I – Mind Over Matter
Jedi Mind Tricks – Violent By Design
Jedi Mind Tricks – Servants In Heaven, Kings In Hell
Dilated Peoples – The Platform
People Under The Stairs – The Next Step
People Under The Stairs – Question In The Form Of An Answer
Jay Z – The Blueprint
OutKast – Southernplayalisticadillacmuzik
OutKast – Aquemini
OutKast – Stankonia
Eminem – The SS LP
Eminem – The MM LP
Eminem – The Eminem Show
Deltron 3030 – Deltron 3030
Blackalicious – Nia
Company Flow – Funcrusher Plus
Canibal Ox – The Cold Vein
Masta Ace – Disposable Arts
Madvillain – Madvillainy
Cunninlynguists – A Piece Of Strange
Blu & Exile – Under The Heavens
Blueprint – 1988
Immortal Technique – Revolutionary Vol 1
Immortal Technique – Revolutionary Vol 2
Aesop Rock – Labor Days
Mr Lif – I Phantom
Brother Ali – Shadows On The Sun
Atmosphere – God Loves Ugly
Atmosphere – You Can't Imagine…
J-Live – All Of The Above
J- Live – The Best Part
Little Brother – The Listening
Little Brother – The Minstrel Show
R.A. The Rugged Man – Die Rugged Man Die
Murs & 9th Wonder – Murs 3:16 The 9th Edition
Canibus – Rip The Jacker
Elzhi – The Preface
Lyricist Lounge Vol 1
Soundbombing Vol 2
FlexOffers