Last months article February 2019 Round-Up: 6 Hip Hop Albums You Need To Hear listed 6 albums we feel should be a least considered for the top spots on 2019 end-of-year lists; no matter how early it is in the year and how many potentially excellent Hip Hop albums we can still expect to drop this year.
In March and April the quality of releases across the board was somewhat less compared to what we got in February, but two of the March releases will surely end up in our end-of-year top ten list, as well as one of the April releases.
For this piece, we selected 6 dope albums, 3 of them released in March and the other 3 in April, that deserve your attention. Did we miss any albums released in March and April that you feel need to be mentioned? Let us know in the comments!
Blu & Oh No - A Long Red Hot Los Angeles Summer
Blu's best release since his astonishing 2007 debut Below The Heavens? After a month of continuous rotation, we say yes.
For A Long Red Hot Los Angeles Summer Blu teamed up with Madlib's younger brother Oh No to deliver an album that will especially appeal to those who feel a disconnect with today's mainstream rap (let's not call it Hip Hop) and yearn for that real Hip Hop from back in the day.
A Long Red Hot Los Angeles Summer is a long album at 17 tracks, but not a second is wasted or out of place. An immersive musical experience, this is an album that will be a contender for the top spots on 2019 end-of-year lists for sure.
DJ Muggs & Eto - Hell's Roof
Legendary DJ Muggs continues his strong 2018 run in 2019 with this collaboration with Rochester, NY emcee Eto: Hell's Roof falls in perfectly with albums like Dia Del Asesinato (with Soul Assassins), Elephants On Acid (with Cypress Hill) and Kaos (with Roc Marciano) – 3 excellent releases Muggs put his stamp on last year.
On Hell's Roof Mugg's production is atmospheric and hypnotic as always, and Eto's work on the mic complements Muggs' soundscapes nicely. You could do worse than check out Hell's Roof:
Epic Beard Men - This Was Supposed To Be Fun
This Was Supposed to Be Fun, the debut LP (and second official offering) from Epic Beard Men, is an indie-rap tour de force by two of the underground's finest; Sage Francis and B. Dolan.
On March 29 this gem of an album was dropped with little fanfare. That's a shame because This Was Supposed To Be Fun is dope a hell and easily one of the best Hip Hop albums of the year up til now. Fun and clever lyrics (full of references to Golden Age classics) and sonically knocking – This Was Supposed To Be Fun is a must-listen:
Erick Sermon - Vernia
Erick Sermon's long-teased eight solo-album finally dropped in April. Was it worth the wait? The answer is a resounding yes. With 30+ years in the game and responsible for a whole bunch of classics – as part of EPMD and as a producer for others – Erick Sermon has nothing left to prove, his prominent place in Hip Hop history is assured. Nevertheless, The Green-Eyed Bandit shows he still has it in him not only to be relevant in 2019 but to be able to drop one of the best albums of the year up til now.
Vernia has something for everybody – both heads nostalgic for the Golden Age as well as listeners who are not rooted in the old days should find plenty to enjoy on Vernia. Artists like Keith Murray, AZ, Raekwon, Too $hort, Xzibit, N.O.R.E., David Banner, No Malice, Apathy, Big K.R.I.T., and Devin the Dude show up as guests to add flavor to Erick Sermon's own rhymes and even Shaquille O'Neal drops in to do a verse on "Zion".
Check out "The Game", one of the stand-out tracks on Vernia, on which Eric Sermon gives his views on the current state of Hip Hop. Also notable is "Cabinet", a dope cut on which Double-E is president and where he picks his cabinet members from the Hip Hop pantheon. Other than these two, there are 11 other great songs on the album, no useless skits, no filler – just a dose of real Hip Hop.
Vernia is a well-rounded and refreshing Hip Hop record, one that will be among 2019's best. You can get it here.
Pete Rock - Return Of The SP1200
Return Of The SP1200 is a treasure. The album contains fifteen instrumental tracks that were originally produced between the years 1990-98. With additional scratches by J. Rocc of the Beat Junkies, this is a dose of 100% pure and uncut Hip Hop. As legendary producer Pete Rock himself tweeted recently: "I'm super excited about this project cuz its old beats that still sound heavy. "
Bun B & Statik Selektah - TrillStatik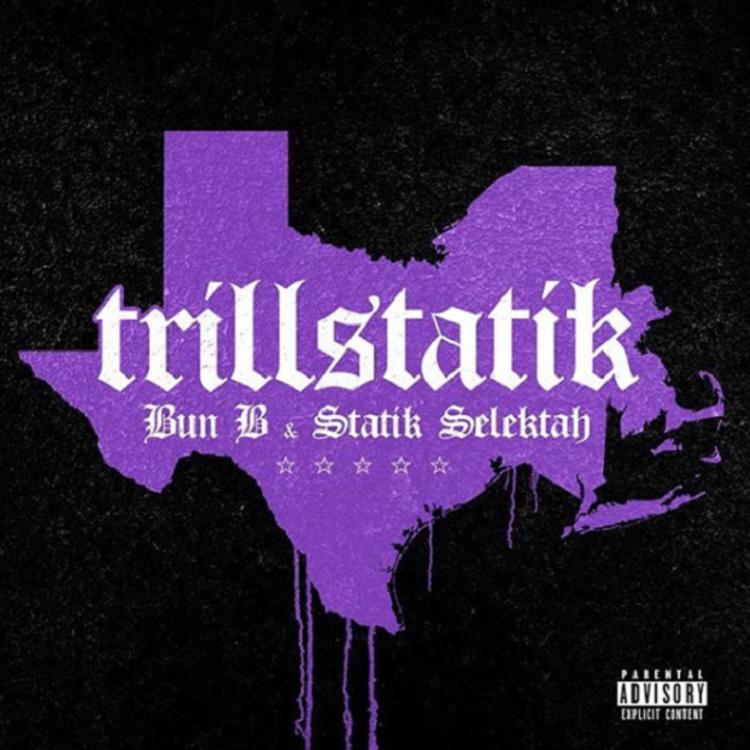 Wow – talk about a unique kind of project! UGK legend Bun B and renowned boom-bap producer Statik Selektah recorded this project in just under 12 hours, live-streaming the album's creation. Check their whole recording session here.
TrillStatik offers the best of both worlds: Statik Selektah's fat boom-bap beats merged with that butter-smooth UGK Southern vibe, with guests like Method Man, Talib Kweli, Fat Joe, Westside Gunn, Big K.R.I.T. and many more adding extra flavor – TrillStatik is another surefire contender for the top positions on end-of-year lists.