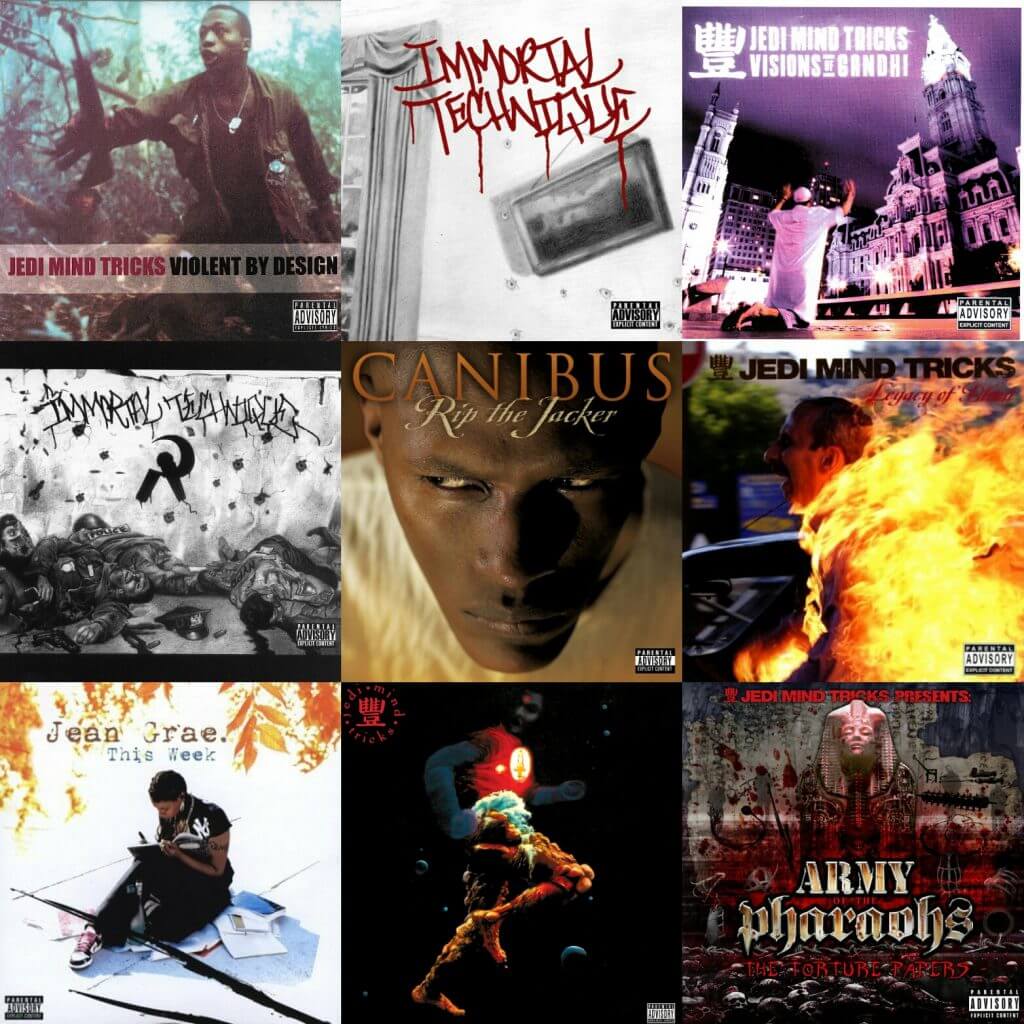 This record label salute goes to Babygrande Records: a very strong underground label that goes back to 2001. Acts such as Jedi Mind Tricks, Outerspace, 7L & Esoteric, and others have released some of the game's most prized yet horrendously slept-on albums. Babygrande Records is still going strong today, but now we have to highlight the best albums to come from this amazing label. Let's begin!
20. Canibus - Mic Club (2002)
One of Hip Hop's most vicious emcees has always been Canibus. Say what you will about how things went down between him and LL, as well as his fledgling "beef" with Eminem, Can is a lyrical war machine. His problems have always been centered around getting the right kind of production to match his ferocity. Mic Club was a decent turnaround from albums in the past such as his mediocre debut, Can-I-Bus, his follow-up 2000 B.C., and especially the baffling C True Hollywood Stories. Mic Club was a listenable album and one that he can firmly be proud of.
19. Various Artists - Dreddy Kruger Presents Think Differently Music: Wu-Tang Meets Indie Culture (2005)
Ever wondered what cats like Planet Asia, Sean Price, Aesop Rock, and MF Doom would sound over production from the likes of RZA, 4th Disciple, Cilvaringz, or Bronze Nazareth?
This question was thoroughly answered in the form of Wu-Tang Meets Indie Culture, which put Wu-Tang producers with underground giants like the aforementioned plus others like Cannibal Ox, J-Live, R.A. The Rugged Man, Ras Kass, and Casual. The results were mostly very dope and made for a damn intriguing and prodigious listening experience. It really didn't get any crazier than the RZA/MF Doom collabo "Biochemical Equation".
18. 7L & Esoteric - DC2: Bars Of Death (2004)
Underground 7L & Esoteric had been making noise with releases like Dangerous Connection and The Soul Purpose, but on their Babygrande debut Esoteric takes his lyrical game to another level and 7L continued to excel behind the boards.
Very much a head nodder, DC2 is one of the strongest examples of these two as a big time duo in the game. Now known for their work with Inspectah Deck as Czarface, 7L & Esoteric were building a nice following of fans. Cuts like "Graphic Violence" and the riotous "This Is War" show the talent of this Benton duo.
17. Bronze Nazareth - The Great Migration (2006)
When you mention Wu-Tang beatsmiths, besides RZA, people like 4th Disciple and True Master come to mind. There's another cat that people should mention a lot more: Bronze Nazareth.
Hailing from Michigan, Bronze has crafted compelling production for the likes of GZA, Afu-Ra, Black Market Milita, and many others. Most known for work on the previously mentioned Wu-Tang Meets Indie Culture, Bronze delivered a very dope debut full-length album that is worthy of the Wu-Tang seal of approval. While he showed he could rhyme, his acclaim is mostly held within his board work, as cuts like "Poet Burial Ground", "More Than Gold", and "Black Royalty" are fire cuts that help make the album as a whole very enjoyable.
16. Jedi Mind Tricks - A History Of Violence (2008)
The most celebrated and revered act on the entire Babygrande roster and one of the most renowned groups to ever emerge from the underground is the Philly-based Jedi Mind Tricks. They have amassed some of the most compelling albums to grace our ears ( most of which you'll see later throughout this list) and have a cult following that rivals any major label act around.
With their sixth album, A History Of Violence, they reunited with group member Jus Allah, who had left the group during the time of Legacy Of Blood, and they sounded as fresh as ever. Vinnie, Allah, and producer Stoupe The Enemy Of Mankind delivered an album full of conspiracy theories and violence. Much of the same from JMT, but it still sounds authentic and passionate, and it just felt good to have the band back together.
15. Blue Sky Black Death - Blue Sky Black Death Presents The Holocaust (2006)
Cali-based production duo Kingston and Young God were a bubbling duo known for their apocalyptic, brooding, and  dramatic production. They signed a deal with Babygrande and their first collaborative album was with Wu-Tang student Warcloud, otherwise known as Holocaust. The album was critically acclaimed and was known for highlighting the incredible production talents of this underground duo and the intimidating vocal stylings of Warcloud. Cuts like "The Ocean" and "Lady of the Birds" were so good they were practically hypnotizing.
14. Hi-Tek - Hi-Teknology 2: The Chip (2006)
Cincinnati beatsmith Hi-Tek was well known throughout the early millennium. Most notably known for his collaboration with Taleb Kweli for their nothing-short-of-beautiful debut album Train Of Thought, Tek put out his debut compilation album entitled Hi-Teknology to very decent acclaim.
The plans were for the sequel to get released on MCA Records (as Rawkus had been bought out by them), but the album was never put out. Thankfully, Tek brought his talents to Babygrande, along with the album, and boy were we ever so happy. The sequel was just a complete and total banger, with even more star power than before. Emcees such as Q-Tip, Nas, Raekwon, Bun B, and Jadakiss blessed this album. Simply put, this album may have been even better than Hi-Teknology.
13. Jedi Mind Tricks - Servants In Heaven, Kings In Hell (2006)
Philly's finest rhyme animals followed up their very strong album Legacy Of Blood with their fifth album Servants In Heaven, Kings In Hell.
Every bit as acclaimed and revered as their previous material, Vinnie Paz and Stoupe brought more of the same chilling musicianship that made them among the most respected acts in all of Hip Hop, not just the underground. The album is draped with depth and darkness, yet emcees like Ill Bill, R.A. The Rugged Man, and the late Sean Price lace the album with classic b-boy battle rhymes that match toe to toe with the angst and ferocious delivery of Paz. Definitely one of their finest moments.
12. Jean Grae - Bootleg Of The Bootleg EP (2003)
One of Brooklyn's most lyrically feared emcees, Jean Grae, delivered a thorough follow-up to her tremendous debut, Attack of the Attacking Things.
With only six tracks on this release, she comes through on each and every one of them, resharpening her blades for every track and attacking the listener in different angles, much like her debut. If there was any slight doubt about how well she would hold up after Attack…, critics were finally starting to silence and take careful note after this release.
11. Apathy - Eastern Philosophy (2006)
Connecticut's own Apathy is quite nasty lyrically. Known in the underground for collabs with the likes of JMT and Styles Of Beyond, the Demigodz member dropped his eagerly anticipated debut full-length album Eastern Philosophy, and it was vicious.
Equipped with one of the hardest intros you'll hear to this day, Apathy brought it on every track and cuts like "The Winter" and "Can't Leave Rap Alone" were standouts as they exhibited his big time knack for painting pictures with his lyrics, while also channeling his battle ready hunger. While other releases like the searing Honkey Kong and Wanna Snuggle were definite head-nodders, this one may be placed as his best work to this day.
10. GZA - Pro Tools (2008)
The eldest member of the notorious Wu-Tang Clan is Brooklyn's Genius aka GZA. Considered one of the most revered and respected members of the Wu, his '95 album Liquid Swords is widely regarded as one of the best albums of the entire nineties and is still seen as a genuine Hip Hop classic. Albums that followed such as Legend Of The Liquid Sword, Beneath The Surface, and his collaboration with Cypress Hill's DJ Muggs, Grandmasters, were all very strong and enjoyable but didn't quite touch the mastery Liquid Swords delivered.
With his first album in three years, Pro Tools brought a much needed classic Wu-Tang flavor for the masses and on cuts like the knocking "Pencil", "7 Rounds", and the 50 Cent-dis "Paper Plates", GZA showed that, even at near fifty years young, he still was a master orator and a respected emcee.
9. Army Of The Pharaohs - The Torture Papers (2006)
You almost couldn't find a bigger group of emcees collectively than the crew known as Army Of The Pharaohs, which consisted of over fifteen members including Jedi Mind Tricks, Outerspace, Chief Kamachi, Celph Titled, and 7L & Esoteric.
Their debut album, The Torture Papers, was definitely hardcore and sounded like another JMT album. This album pulled zero punches and gave even less fucks. Headache-inducing and neck-cramping, this album is as riotous as it gets, and there's enough venom to please everyone. Cuts like "Battle Cry" and "All Shall Perish" are bleak but fierce. While not as widely known as Wu-Tang, they're arguably as lyrically feared. If not, they should be.
8. Jedi Mind Tricks - The Psycho-Social, Chemical, Biological, And Electro-Magnetic Manipulation... (1997)
Vinnie Paz and Stoupe were introduced to us on a full-length scale with this album, considered their debut album. With one of the longest album titles in Hip Hop, this album became the precursor to their later phenomenal and acclaimed work, with haunting production and lyrics touching on physics and biology. The darker themes wouldn't emerge until their seminal second album (see later), but this album was incredible and remains one of their most prized possessions. Even Black Thought comes through and spits his usual dosage of fury on "Get This Low".
7. Jean Grae - This Week (2004)
The ever-special Ms. Grae. Seen and regarded as one of the most lyrically praised emcees around, this Brooklynite had already earned tons of love, but it was This Week that made sure that even more people knew who this young lady was.
Arguably her most cohesive album to date, Jean Grae displayed versatility as well as vivid rhymes that were both introspective and reflective, yet still had time to commence to lyrically knocking heads off with more battle-hungry material such as "Fyre Blazer" and "Style Wars" (which along with a few others were previously featured on her aforementioned Bootleg of the Bootleg EP).
6. Jedi Mind Tricks - Legacy Of Blood (2004)
The legacy of JMT was starting to really build at this point in '04. They had delivered some critically acclaimed music and were amassing a huge cult following, especially overseas. With Legacy Of Blood, they go with a much cleaner, more filtered sound, while still staying very JMT.
Standouts include the incredible duet with Killah Priest "Saviorself", the GZA-assisted "At The Eve Of War", and "Me No Shalto". Many have labeled this as their weakest effort, but nothing could be further from the truth. This album is to JMT what Tical 2000: Judgement Day was to Method Man: much of the same brooding nature, just more accessible in production and in themes. Another win for JMT.
5. Canibus - Rip The Jacker (2003)
After a few albums of mediocrity, Canibus started to fill in the very important missing link that he needed: fitting and capable production. While the aforementioned Mic Club served as a very decent turn for the cat that had to audacity to challenge LL Cool J and Eminem, it was the Stoupe-laced Rip The Jacker that officially became the album of his career.
With the trademarked haunting and melodic production stylings of Stoupe through the entire album, Can's insightful, yet razor sharp, lyrics made this album a knockout. We wished this would've been his official debut, instead of the lackluster Can-I-Bus, and with cuts like "Poet Laureate II" and "Showtime At The Gallows", Can finally got a taste of what it was like to have a critically acclaimed album.
4. Immortal Technique - Revolutionary Vol. 1 (2001)
The phenomenon of Immortal Technique was something that was intensely needed in that era of 2001. The Peruvian Bronx native made tremendous waves with his debut, Revolutionary Vol. 1, which was filled some of the most politically and socially charged angst since Public Enemy in their heyday.
From the opening intro, the SICK "Creation & Destruction" (him rhyming over CNN's "LA, LA" remix), you're enthralled with the no-fucks-giving attitude of IT mixed with his highly intelligent and culturally aware lyrics. This album, quite frankly, was ahead of its time, as in today's society, albums like this are so valued and so very much needed. For God's sake, peep "Poverty Of Philosophy" if you don't believe me.
3. Jedi Mind Tricks - Visions Of Gandhi (2003)
With a following building more and more, JMT delivered the excellent Visions Of Gandhi, which was as far removed from who Gandhi was as you would ever picture. Gandhi was a man of non-violence, and Visions Of Gandhi certainly has tons of violent imagery, but Gandhi was also about liberation and freedom, which makes this album "free" and "liberated" from what was dominating radio at that time of 2003.
While not quite as chilling as Violent By Design, Visions Of Gandhi was very musical. Stoups's production, although still very dark, experimented with Latin music and samples that were quite profound. This is considered a definitive underground treasure.
2. Immortal Technique - Revolutionary Vol. 2 (2003)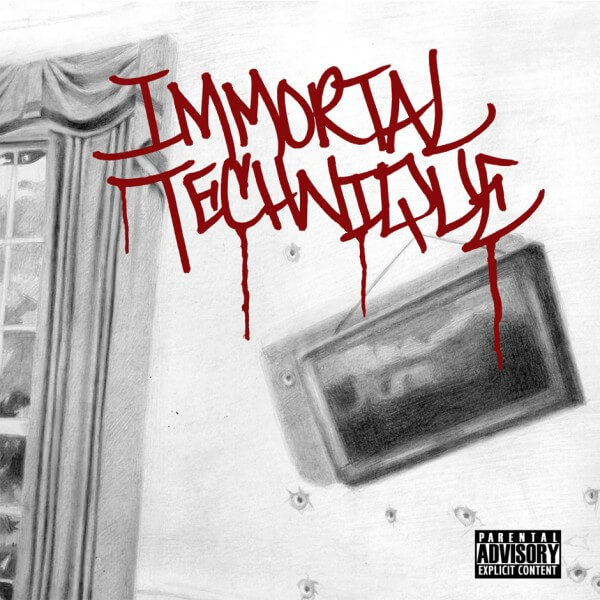 Following up IT's Revolutionary Vol. 1 was a very hard feat, as his debut was I mentioned, was/is incredible. However, he managed to do so with the equally exceptional sequel. Much more of the same as the first in the series, IT tackled 9/11, poverty, anti-religion, the prison system, and the corruption of politics and media with such vigor and intensity that you could feel it through your own body. However, he mixes the intense with the depressing ("Harlem Streets") and the informative ("Industrial Revolution"), and gets creative with the ode to the drug industry "Peruvian Cocaine". One of the most anti-establishment albums in modern history, Immortal Technique delivered a gem of an album that reverberates even more now than it did in 2003.
1. Jedi Mind Tricks - Violent By Design (2000)
Wanting to put a distinctive and undisputed mark in Hip Hop, Jedi Mind Tricks delivered Violent By Design, the follow-up to their acclaimed aforementioned The Psycho-Social… . This marked the first union of Jus Allah with the group, but most newsworthy was the breathtaking production by Stoupe. While he was raising ears with their debut, this album mixed very atmospheric, ethereal sounds with chilling samples and Latin sprinkles.
Definitely more violent in imagery and anti-establishment than their debut, the emcees tackle religion and even slight bits of homophobia, but this remains among the most brutal releases in the early part of the millennium. Without question, one of the most exceptionally produced albums you'll hear, even sixteen years later.
Tracks like "Sacrifice" and the exquisite "Deer Hunter" are just immaculate-sounding. Do yourself a favor, if you have slept on JMT up to this point, it's not too late to peep their releases, but just know Violent By Design is their unquestionable benchmark.
Honorable Mentions
Blue Sky Black Death & Jean Grae – Evil Jeanius
Jus Allah – All Fates Have Changed
Blue Sky Black Death & Hell Razah – Razah's Ladder
Army Of The Pharoahs – The Unholy Terror
Outerspace – Blood & Ashes
Wisemen – Wisemen Approaching
Army OF The Pharaohs – In Death Reborn
Cilvaringz – I
Hell Razah & Shabazz The Disciple are T.H.U.G. Angels – Welcome To Red Hook Houses
M.O.P. – Sparta
Vinnie Paz – God Of The Serengeti
Vinnie Paz-  Season Of The Assassin
As you can see, Babygrande has delivered some compelling, noteworthy Hip Hop over the years with hopefully no plans on stopping anytime soon. One of the most heralded labels in the underground, Babygrande is in fact a label full of authenticity and realness.
Stay tuned for more label salutes!