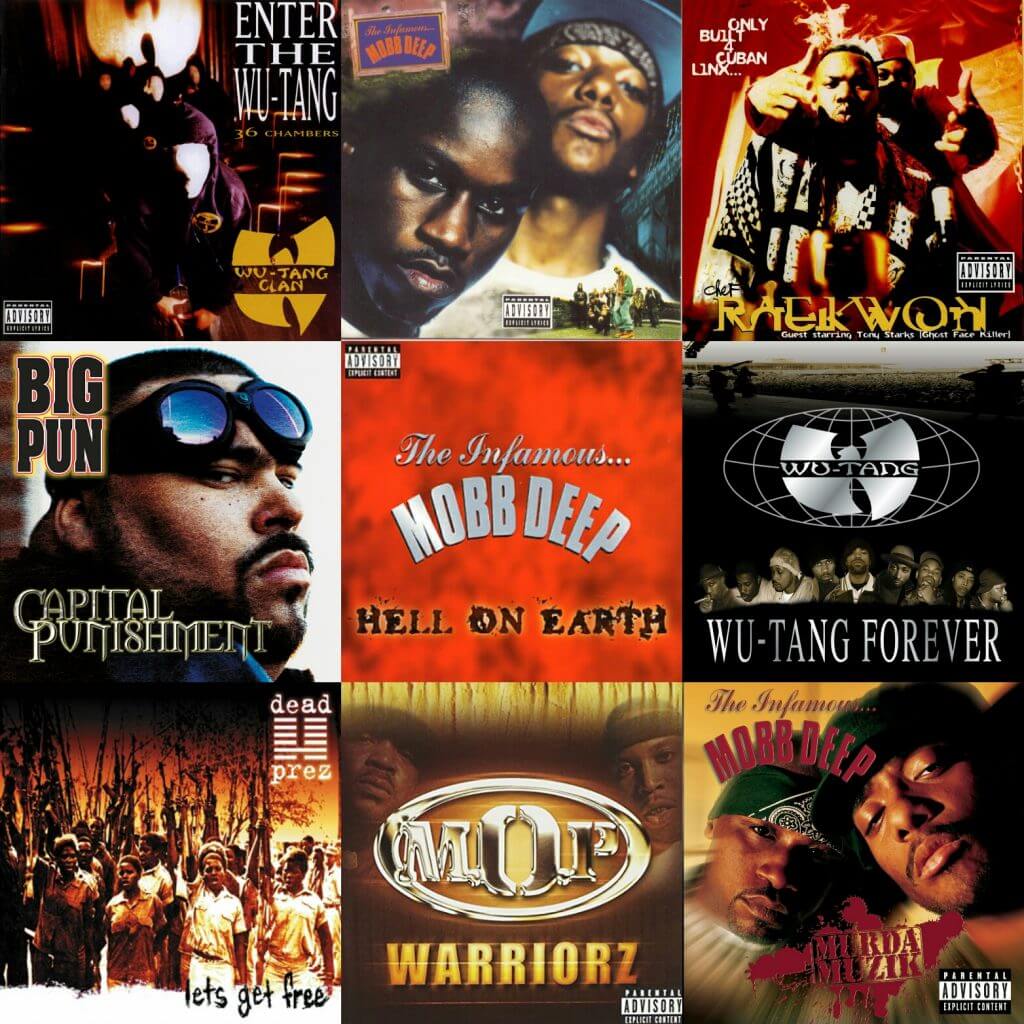 This article is another salute to a record label that gave us superb memories by releasing landmark Hip Hop albums. This particular list is centered around an underground label from RCA/Sony distribution, which was responsible for acts such as the Wu-Tang Clan, Mobb Deep, and Tha Alkaholiks. CEO Steve Rifkind had a fantastic ear for talent, and with it, established a label that was as critically acclaimed as any Hip Hop label that ever existed. Here are the best albums to emerge from Loud Records.
15. Tha Alkaholiks - Coast II Coast (1995)
Three lovable functional drunks known as Tha Alkaholiks made an impression with their debut album 21 & Over, with a vibe that was about having fun, partying, and making noise in the Cali scene, without the shootings and gangster overtones that were dominating that scene at that time.
They elevated their game to another level with their sophomore album, Coast II Coast. DJ/producer/emcee E-Swift raised his own stakes with even better production, and emcees J-Ro and Tash shined with cuts like the raucous first single "DAAMN", "Let It Out", and "Read My Lips". Their best years were still ahead of them, but this dope and fresh album would officially put Tha Liks in a bigger spotlight.
14. Three 6 Mafia - When The Smoke Clears: Sixty-Six, Sixty-One (2000)
One of the true pioneers of the Memphis Hip Hop sound was the Three 6 Mafia crew. Originally known as Triple 6 Mafia, the crew of DJ Paul, Juicy J, Koopsta Knicca, Lord Infamous, Crunchy Black, and Gangsta Boo had a very strong underground following, especially with the success of Chapter 2: World Domination, which spawned the classic "Tear Da Club Up".
Once Relativity Records folded they got on with Loud, and they created their huge crossover album When The Smoke Clears, which brought them their first platinum plaque. The album was highlighted by the unforgettable crossover single "Sippin' On Some Syrup" (with UGK), but also contained signature Three 6 cuts like "Who Run It", "Tongue Ring", and "I Get High". While the crew has experienced devastating losses with the deaths from members Koopsta and Lord Infamous, along with the professional departure of Gangsta Boo, the Mafia's legacy was officially stamped with this very important release.
13. Various Artists - Soul In The Hole OST (1997)
If there was a more ferocious soundtrack to emerge by the end of the nineties than the one to the streetball documentary Soul In The Hole, I would like for you to present your argument so I can shut it all the way down (Black Mask comes the absolute closest).  This soundtrack
This soundtrack was so chock full of bangers, it was like the best of the best from loud at the time were all represented, and they all brought their A-game. From Mobb Deep's "Rare Species" to Wu-Tang's "Diesel" to Pun's debut cut "You Ain't A Killa", this album was just insane with heated up cuts, and still stands as one of Hip Hop most outstanding Hip Hop centered soundtracks ever.
12. Tha Liks - X.O. Experience (2001)
One of the game's most consistent acts overall, from any part of the nation, was Tha Alkaholiks. We just covered their great sophomore album, Coast II Coast, but they also delivered a crazy release just afterwards with Likwidation, which spawned the odd yet delightful collab with the late Ol' Dirty Bastard "Hip Hop Drunkies".
They attempted to hit more radio play by going more accessible with their next album, X.O. Experience. The first single was a sampling of what was to come from the album, by them hooking up with Pharrell and The Neptunes to deliver the strip club gathering "Best U Can". The rest of the album stands as arguably the most cohesive album within their discography, as tracks like "Bar Code", the DOPE collab with Busta Rhymes "Bully Foot", and "Run Wild" were examples of how much further Tha Liks' star power was climbing.
11. Inspectah Deck - Uncontrolled Substance (1999)
The underdog of the almighty Wu ever was Inspectah Deck. Known mostly for his INSANE spot on the Wu's "Triumph", he is among the best and sharpest lyricists within the group. Deck had been sitting on the sidelines waiting for his chance to get the same solo stardom as ODB, Meth, Ghost, GZA, RZA, and Rae.
Due to a mysterious flood, the majority of the original demos of Deck's debut were destroyed, so this pushed things back for him. The resulting reworking was Uncontrolled Substance, and this album belongs in the same talk as any of the other incredible Wu releases during this time. Nobody short changed Deck's lyrical abilities, and on cuts like the impeccable "Loving You", "Power Of God", and the cinematic "Word On The Street", this was more than demonstrated.
An underrated gem of an album, Uncontrolled Substance still remains one of the Wu's best projects – and showed Deck could hold his own, on his own.
10. The Beatnuts - A Musical Massacre (1999)
Queens drunkards Juju and Psycho Les were always revered in the underground with releases like Intoxicated Demons, Street Level, and Stone Crazy. Known for street grittiness mixed with juvenile, classless humor, the "psycho dwarfs" fell victim to the close of Relativity much like Three 6 Mafia, M.O.P., and Common. They went elsewhere, which landed them at Loud.
Their Loud Records debut, A Musical Massacre, was a collection of blunted-out thuggery over some of the most hypnotic and pounding production The Beatnuts have ever crafted. With guests such as Common, dead prez, Biz Markie, Greg Nice, and Cuban Link helping them out, this album became their most acclaimed work to date, and spawned the singles "You're A Clown", "Watch Out Now", and the FUEGO "Se Acabo". One of the last true consistent bangers to come during the Loud era, The Beatnuts officially became mainstream stars.
9. Mobb Deep - Murda Muzik (1999)
There wasn't a hotter duo in NYC Hip Hop than Hav and P. Nowhere.  None. This is the duo that put out one of Hip Hop's most incredible gritty masterpieces with The Infamous and then followed that up with an album that on many levels is every bit as hard with Hell On Earth. Plus the fact that anything P was on as a lyricist was instant fire, made these two the go-to duo in NYC.
Their third album, Murda Muzik, was among the most anticipated album during the entire late nineties. So much so that the original pressing of the album was so massively bootlegged that the album had to be started almost completely from scratch. The result of the reworking was still that of a potent third album by any means.
Tracks like "Nobody Likes Me", "Mobb Coming Thru", and "Power Rap" were scrapped, but tracks like the Nas-assisted "It's Mine" and "Can't Fuck With" featuring Raekwon were the highly suitable replacements. It was the monstrous crossover smash "Quiet Storm" that officially put Hav and P in the double platinum company.
8. M.O.P. - Warriorz (2000)
One of the most noted acts on Relativity was the Mashed Out Posse, so when Fame and Danz went to Loud to record their fifth album Warriorz, the anticipation was very high. Building a steadily growing fan base and developing a cult of sorts, those Brownsvillains created an album that is as hard-hitting and head-cracking as anything you'll hear to this very day.  M.O.P. was always known for this aspect of their artistry, with their prior albums of To The Death, Firing Squad, Handle Ur Business (EP), and especially First Family 4 Life.
Warriorz was more fluid and more cohesive than anything they had done prior. The anthemic crossover smash "Ante Up" introduced them to an entirely new audience, and cuts like "Cold As Ice", "Home Sweet Home" and "G-Building" maintained the people they already had without compromising ANYTHING. Their biggest commercial album to date, the Posse had arrived.
7. dead prez - let's get free (2000)
Two Brooklyners, by way of Florida, stepped on the scene with an intent of bringing back Black consciousness with Public Enemy/NWA messages embedded within the themes. The cats of dead prez, comprised of m-1 and stic.man, first stepped on the scene with "Score" on the aforementioned Soul In The Hole soundtrack, then followed that up with an incredible cut called "Selling' D.O.P.E." on the Slam soundtrack.
This much buzz led to the hype of their debut, let's get free, which stands as one of Hip Hop's most prized, yet highly underrated pieces of work ever. We were all the way open with the ultra-bouncy "Hip Hop" and the seductive "Mind Sex". Other jewels like "They Schools", "Police State", and "Happiness" were stellar tracks as well, but let's get free never really got off the ground during this period of materialism and being show offs. This album still remains a classic and, especially during these days and times, one of the most important albums in all of Hip Hop.
6. Wu-Tang Clan - Wu-Tang Forever (1997)
The Wu-Tang Clan, by the time '97 rolled around, were the single most in-demand group of characters in all of Hip Hop. Easily having the most anticipated sophomore album in that entire time period to follow up their masterful debut, Enter The Wu-Tang (36 Chambers) (see later), the crew that now included Cappadonna finally presented Wu-Tang Forever.
We were all the way open with their absolutely unreal first single "Triumph". With other hitters like "Reunited", "Bells Of War", "The M.G.M.", and "For Heaven's Sake", it was clear that the Wu was back, and the game needed to be very afraid. Selling upwards of six million units, the Wu had officially taken over the world.
5. Mobb Deep - Hell On Earth (1996)
How the hell do you possibly follow up an ultimate classic like The Infamous? The answer of Hav and P came with Hell On Earth, every bit as brutal, savage, and maybe even more macabre than their debut.
With exceedingly dark tracks like the title track, "Get Dealt With", "Animal Instinct", and the Method Man-assisted "Extortion", Hell On Earth at least rivaled the sledgehammer that The Infamous provided. Lyrically, both guys stepped up even more, with especially P being in a complete zone. Don't believe me, just peep the 2Pac massacre "Drop A Gem On Em". Another gold plaque to their resume, Hell On Earth proved once and for all these QB stick up kids didn't play around.
4. Big Pun - Capital Punishment (1998)
On Fat Joe's sizzling sophomore album Jealous One's Envy, there was an INSANE lyricist named Big Punisher featured, and people were instantly like "Who is this cat?" We then hear him on the big time Beatnuts hit "Off The Books", and once again we're like, "This dude is sick, who IS he?"
Well, the portly Puerto Rock put the game in a stronghold with his single "I'm Not a Playa", which fueled the fire for his eagerly awaited debut, Capital Punishment. The remix with Joe hit, "Still Not A Playa" made him a household name, but could he hold down a whole album? The answer came in the form of a mighty resounding hell yeah, as Capital Punishment was nothing short of fantastic.
Capital Punishment can be counted among some of the best debuts in Hip Hop, much like Get Rich Or Die Tryin', Reasonable Doubt, Ready To Die, and Illmatic. Pun murdered everything in sight with this album. While doing so, he became the first Latino solo Hip Hop artist to go platinum. God Bless the dead, as he never fully got a chance to absorb how much of an impact his album made on Hip Hop.
3. Raekwon - Only Built 4 Cuban Linx... (1995)
While it was clear Method Man was the biggest crossover star to emerge from the Wu, the more acclaimed emcee came in the form of the almighty Chef, Raekwon.
Widely considered the greatest Wu album outside of 36 Chambers and without question the greatest Wu solo album, Only Built 4 Cuban Linx… was a masterwork that showed Rae's uncanny ability as a vivid storyteller, especially during the rise of the mafioso era.
Only Built 4 Cuban Linx… has been compared to an audio Scarface (the movie), and rightfully so. There wasn't one single blemish on the album, not a single one. Cuts like the unreal collab with Nas "Verbal Intercourse", "Glaciers Of Ice", and "Guillotine" were some of the genre's most intriguing cuts and became staples for Raekwon's career.
Production from RZA and True Master was as strategically put together as any Wu album ever recorded and it was obvious Raekwon had stepped into his place as the most checked for Wu emcee for the streets.
2. Mobb Deep - The Infamous (1995)
"We got you shook off the realness, we be the infamous, you heard of us/official Queensbridge murderers". That opening line from one of the game's all-time menacing cuts, "Shook Ones Pt. 2", paved the way for what would be a legendary and "infamous" career.
After a failed debut album when they were in their teens (Juvenile Hell), they went to Steve Rifkind to reinvent themselves and try another shot at this rap thing. The result came in the form of The Infamous, one of the most gritty and sinister NYC albums ever recorded.  The brutal imagery of drugs and violence was so compelling, it made the nicest and most
The brutal imagery of drugs and violence was so compelling, it made the nicest and most square guys start thinking they were wylin' out cats from the block. This album was madness and moments of gripping reality. Tracks like "Survival Of The Fittest", "Cradle To The Grave", and "Up North Trip" were so captivating that we knew there was a changing of the guard during an age where the west and Deathrow Records were killing the game. This one of the albums that brought the east back. The Bridge's other classic, Illmatic, set the mode for this timeless piece of work from one of the game's most acclaimed duos ever.
1. Wu-Tang Clan - Enter The Wu-Tang (36 Chambers) (1993)
The most defining album to ever emerge from Loud Records came from nine Staten Island/Brooklyn emcees that set forth to completely change and rearrange the structure of Hip Hop.
The crew, known as Wu-Tang Clan, had an obsessive fascination with kung-fu movies, and five percent wisdom and jewels. RZA, Ol' Dirty Bastard, GZA, U-God, Method Man, Ghostface Killah, Raekwon, Masta Killa, and Inspectah Deck brought a freshness and raw vitality to the game and when they dropped Enter The Wu-Tang (36 Chambers) in 1993, it was what the game needed.
Seen as a landmark album in Hip Hop and music as a whole the Wu, along with Nas, Biggie, and Black Moon, brought an even playing field to the dominating west coast / Deathrow Records era. With nine of the most versatile, complex and incredibly dope emcees ever assembled, the Wu had emerged – and the game would never be the same again. Just because of this album, Wu-Tang Clan arguably is considered the greatest collective Hip Hop has ever seen.
Who can escape some of the RAWEST cuts ever such as "Da Mystery Of Chessboxing", "Protect Ya Neck", and "C.R.E.A.M."?  Exactly my point. Simply put: brilliance!
Honorable Mentions
Pete Rock – Soul Survivor
dead prez – R.B.G. (Revolutionary But Gangsta)
The Beatnuts – Take It Or Squeeze It
Xzibit- At The Speed Of Life
Xzibit – 40 Dayz & 40 Nightz
Xzibit – Restless
Cella Dwellas- Realms N' Reality
The Dwellas – The Last Shall Be First
Big Pun – Yeeeah Baby!
Tha Alkaholiks – 21 & Over
Tha Alkaholiks – Likwidation
Prodigy – H.N.I.C.
As you can see: Loud Records, up until it got bought out by Sony, was a monstrous label that had some of the most legendary talent ever assembled on its roster. There will always be a place in Hip Hop history for Loud Records, salutes to Steve Rifkind for the vision. Until next time!