There have been a lot of great Hip Hop labels that have had a substantial impact on the game. For the next several posts, I'll be giving love to these labels, and saluting the best releases to emerge from them.
With this post, I'll be giving love to the label that birthed stars like DMX, Eve, and furthered the success of The Lox post-Bad Boy. You guessed it, double R. There have been some fairly cold releases to come from this label, and this is the top fifteen albums to come from the Dean family. Let's go!
15. Eve - Eve-olution
The third album from Ruff Ryders' first lady showed some steady progression into further stardom. Already establishing herself with her excellent debut album, Let There Be Eve, and her equally dope follow-up Scorpion, this was just another indication of the appeal of Eve Jeffers.
Aside from her in-house Ruff Ryders production team, she collabs with former mentor Dr. Dre behind the boards on "What" and the DOPE "Satisfaction". Arguably her most commercial album, she still shows her worth lyrically and her importance to Hip Hop. An Eve-olution indeed.
14. Ruff Ryders - Ryde Or Die Vol. 2
At a time where all coasts needed to come together to unify Hip Hop, Ruff Ryders did so with this album. Artists from all over the nation appeared on this album. This was evidenced by the thunderous first single "WW3" which featured Snoop, Scarface, new signee at that time Yung Wun, and Jadakiss. While a slight step down from the hot first double-R compilation, this still brought plenty of ammo for a dope get together such as "Go Head", "Fright Night", and "Twisted Heat". Clearly, Ruff Ryders was still in the fox hunt among the best crews and labels in the game.
13. Drag-On - The Opposite Of H2O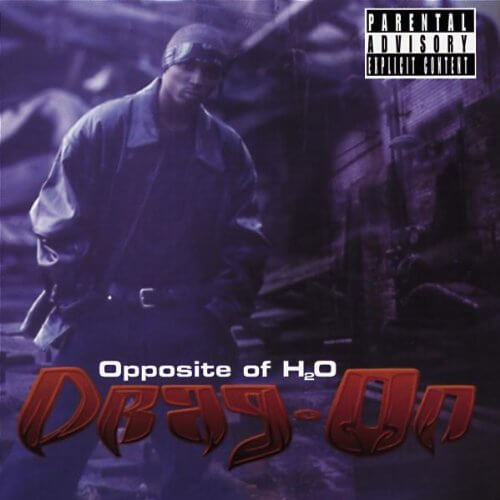 One of the more underappreciated cats to come from this camp was a young Yonkers native known as Drag-On. Seen with almost as much intensity as X man, he was among the most lyrically sharp in the camp. His very flames (no pun intended) singles of "Down Bottom" and "Spit These Bars" got his name out there and from there the debut album was a worthwhile listen overall. Despite the misrepresented review from The Source at this time (2.5 mics, really??), this album had enough heat to gain a copious amount of followers.
12. DMX - The Great Depression
DMX's fourth album was a thematically dark album, but not in the craziness that his debut and follow-ups were. Regardless, it continued his very gritty and passionate rhymes over a mixture adrenaline fueling and occasionally moody production. It's also the mixture of reflective ("I Miss You") and fight-inducing tracks ("Who We Be"), that makes up a huge part of the being Earl Simmons. His formula was very simple: if it's not broke, don't fix it.
11. Styles P - Time Is Money
The surprising hero from Ruff Ryders came to be Styles P of The Lox. His debut, A Gangster & A Gentleman, is considered one of the strongest debuts during that entire time period (see later), and his follow-up was arguably every bit as hard.
Suffering numerous setbacks prior to its release, when the album was cane out it still met expectations. Fabulous cuts like the melancholy "Fire & Pain", the celebratory Alchemist-crafted "I'm Black", and the radio burner "Can You Believe It" highlighted what was truthfully a nearly flawless sophomore album.
10. Jadakiss - Kiss Tha Game Goodbye
We were all eagerly anticipating Jada's debut. While not quite the game changer we were possibly expecting, Kiss Tha Game Goodbye still brought an enormous amount of firepower to make it an impressive debut and then some.
Besides the fact the whole double-R crew is featured on here, plus production from the likes of Alchemist, Just Blaze, Premo, and Timbaland who bring some of their strongest work, Jada showed on cuts like "Feel Me", "Cruisin'", and "Show Discipline" that he indeed belongs to be in the top five dead or alive discussions.
9. Eve - Scorpion
Making lots of great impressions with her debut, Eve attempted to redo that platinum success with her follow-up, Scorpion.  A bit more aggressive, she proves her weight as not just Ruff Ryders first lady, but one of the strongest female emcees in the entire game.
Sounding every bit as hungry as on her debut effort, the young femme fatale showed she was playing no games on cuts like "Scream Double R", "Gangsta Bitches", and "Thug In The Street". Being nominated for Best Rap Album at the Grammys in 2002, this would be another platinum plaque for Eve. Attempt succeeded.
8. Ruff Ryders - Ryde Or Die Vol. 1
The first family/label album was an anticipated one, as we wanted to see how cohesive the family would show themselves. The results were quite dope.
Aside from the super hits like "Down Bottom", "Ryde Or Die", and "What Y'all Want", there were also firestarters such as the megaton bomb that was Jay-Z's contribution "Jigga My Nigga", "Platinum Plus", and "Bug Out" that made this a platinum plus release. The double R family was officially here.
7. DMX - And Then There Was X
While DMX was already an established household name by '99, it was this particular album that made him a worldwide star. His third album, And Then there Was X, sold upwards of five million units, riding off the monster singles "Party Up", "What These Bitches Want", and "What's My Name", and became his most fluid album to date.
With this smash of an album DMX solidified his star status. Consistent with his prior two releases, the album touches spirituality with his need to be the street savior. Long live X.
6. Jadakiss - Kiss Of Death
By 2004, Jason Phillips was making his name as one of Hip Hop's most in-demand emcees and his very promising debut, Kiss Tha Game Goodbye, showed why.
His follow-up, Kiss Of Death, only further enhanced his stance and his place as among the elite of the game, especially with his massive hit "Why" and his decent radio hit with Mariah Carey "U Make Me Wanna". Delivering his first platinum album,  Jadakiss had every right to officially declare himself as one of the best.
5. Eve - Let There Be Eve: Ruff Ryders' First Lady
Once we checked for this feisty Philly native on the Ruff Ryders Vol. 1 compilation album, we knew there was something special about her. For one, Eve Jeffers wasn't scared or intimidated of her crewmates, which earned her tons of respect. Her debut, Let there Be Eve, was chock full of hits and gems. Cuts like "Gotta Man", "Let's Talk About", and "Love Is Blind" were all exemplary singles that showed that Eve had next, which led to her first platinum plaque. The "pitbull in a skirt" had arrived.
4. DMX - Flesh Of My Flesh, Blood Of My Blood
Many saw X's second album in seven months as a Dark & Hell Is Hot Pt. 2. It's a very valid argument, as it's every bit a hard as his impeccable debut.
Even slightly darker than the debut album, we see more from his double R crew on this one than his first one, such as The Lox's show-stealing verses on the searing "We Don't Give A Fuck" and Drag-On on "No Love For Me". There's even a guest appearance by goth/shock rocker Marilyn Manson on "The Omen".
This album marked another three million sold for him, being the only one other than 2Pac to put out successful platinum selling albums within the same calendar year. Although it's been rumored that Flesh Of My Flesh were cutting room tracks left off from his debut, that matters absolutely none, as clearly there was anything but a sophomore jinx here.
3. The Lox - We Are The Streets
Originally signed to Ruff Ryders management, Bad Boy trio The Lox were highly courted by Diddy. Their debut album Money, Power, and Respect was met with great fanfare, as we saw the birth and commercial success of Jadakiss, Styles P, and Sheek Louch. However, to many on the inside, they weren't the shiny suit cats that Diddy wanted them to be. They were gutter hood cats, and they ended up leaving Bad Boy for Ruff Ryders permanently.
The result was their Ruff Ryders debut, We Are The Streets, which was an explosive reinvention of The Lox, and many feel is their proper debut. Sounding re-inspired and filled with more hunger than we had seen from them ever, cuts like the middle-finger-in-the-air hit "Fuck You", the fight-inducing "Wyle Out", and the delightful Premier-powered "Recognize" made this album not just the hardest album since X's debut, but among the top five albums in all of the year 2000. The real Lox stood up!
2. Styles P - A Gangster & A Gentleman
While nobody ever doubted the lyrical abilities of the self-professed 'Ghost", Styles P became the unexpected star from the Ruff Ryders crew that wasn't named DMX or Jadakiss. Hoping to follow up with the commercial success of his fellow Lox brother, Styles emerged with A Gangster & A Gentleman, which resulted in one of the single best debuts in the early millennium.
Buzzing with his fire collab with Pharoahe Monch "My Life" and his fantastic ode to weed "Good Times (I Get High)", Styles' debut was filled with highly introspective tracks like the emotional "My Brother", the ode to solidarity in "Black Magic", and the vivid "Nobody Likes Me", which made this a very relatable album to anyone who had the joy of peeping it. An album for the thinking thug and the conflicted gangsta, Styles P delivered on every angle and brought forth a memorable solo debut.
1. DMX - It's Dark & Hell Is Hot
The album that put Ruff Ryders on the map massively. Garnering a sick buzz with appearances on LL's "5,4,3,2,1" and his underground cut "Born Loser", DMX first presented us with the adrenaline-fueled and grimy "Get At Me Dog" – which set the stage for one of the most different, but incredible debuts to close out the nineties, It's Dark & Hell Is Hot.
Not one to stay on just that first firestarter, he dropped the classic "Ruff Ryders Anthem" and the hood-dude-loves-around-the-way-girl ode "How's It Going Down", to show just how mean his star power was about to become. The result was a triple platinum bomb that exploded onto the masses and brought the dark and cold streets back to a mainstream, worldwide appeal.
Considered a classic among many, X's debut has definitely stood the test of time.
While Ruff Ryders, as a label, isn't around anymore, the legacy of the label shows the incredible talent of the artists and the behind the scenes team. Ruff Ryders brought the hood back in the late nineties and early thousands, and brought it back with pride. Salute to the double R fam!