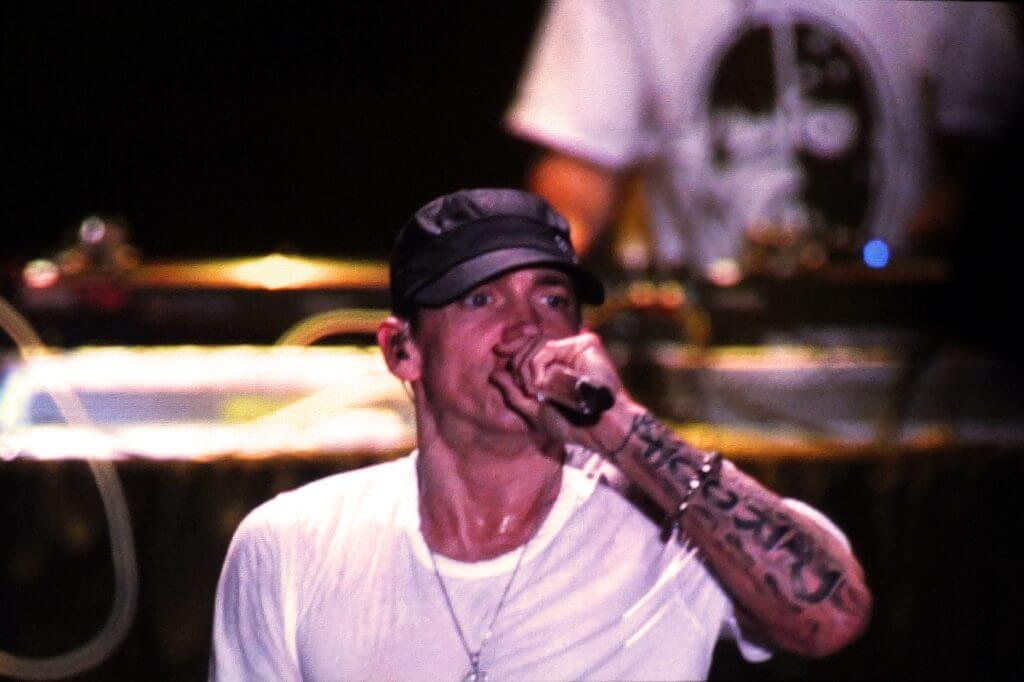 It's almost that time. Eminem's ninth album is on the horizon and news outlets are wringing any and all opportunities to drive traffic. Fans squirm in limbo, wrestling with their capacity for patience, snapping on any rumour that floats through their rap circles. Teases, speculations, rays of false hope and click-bait so blatant you hope the fifth time you bite is the last for the sake of your self-esteem. Is there anything we can do but sit here, try and take our minds off it and simply wait?
Since 2013's 'sequel' to The Marshall Mathers LP, Eminem has been quiet, appearing sparsely on a feature verse or two and the very occasional gig. Stans are ravenous and clueless over what's to come, but these five refined – albeit safe – predictions should stave off the hunger, if only for the moment.
5. Dr. Dre Will Be On It
Defiant Ones director Allan Hughes recently spoke with Uproxxx about
Dr. Dre's perpetuating productivity, noting his work on the album;
"Right now he's producing, in the 11th hour, a track for Eminem's latest album".
The absence of Dre and his old protege's unmistakable chemistry from rap has not gone unnoticed. What happened the last time Eminem took an extended break from music? Relapse- Produced almost entirely by the Doc himself. When Eminem needs to artistically regroup, his solid studio relationship with Dre establishes a creative safe haven. So now, nearing a year short of his infamous hiatus, will the pattern persist? I mean, there has to be a beat or two at least.
4. 2 Chainz Won't
A couple months back, 2 Chainz posted an Instagram photo with a (still weirdly) bearded Eminem captioned: "Sooo this jus happened …. #marshalllikestrapmusic".
Okay, so Eminem likes trap. That's cool, a lot of people do. Does that mean he could pull off the music? Definitely not. And I'm sure he knows better than to try. Judging by his regretted stint with Atlanta rap on 2007's Touchdown with T.I., reigniting his involvement with the Southern scene at this stage seems redundant. And as successful as 2Chainz has been at pissing off 'old-heads' by appearing on all their favourite rappers' songs, Eminem has always been extremely selective about his featuring artists, rarely enlisting anybody outside his clique – more recently even in it – and I struggle to picture Tity Boi (or Wale for that matter) as the unlikely exception.
Also noteworthy is that 2Chainz' story about how he bartered up his involvement from re-doing a hook to his own verse was totally forgotten when reopened on Hot 97 just a few days later. I'm not complaining.
3. He'll Ditch the New 'Flow'
The story arc of the Jerry Springer Show that Eminem analogises his life to be is coming to a close. We've seen out the climax, and many would argue that he's degenerated into rhyming words simply for the fuck of it. So? If there was ever a time to play about, have fun and show off a bit, it's now. And he does it pretty well, too. Still, as an artist, he knows that a flow completely devoid of all rhythm can't sustain a whole album.
Whilst impressive, the incredibly loose subject matter that facilities his wish-wash hyper-frantic syllable crunching style isn't the kind of personal material that's played a big part in gravitating his career thus far. Expect something a little more conventional in terms of song structure for this next one. Either that or a wayward oil spill of jumbled double entendres that even the most loyal of fans might struggle to appreciate.
2. Bad Meets Evil Will Be Back
To Eminem, Hip Hop is a sport, and Royce da 5'9 is one of the few tag
teammates who can keep up. Soon after his return, Em began burning
out his voice box like the tyres of the car doing donuts in the parking lot
in The Real Slim Shady video. Naturally, the bellowing fury that geared Recovery couldn't last forever. Back came the nasal tint that furnished a more juvenile Slim Shady with his signature delivery. 'All I Think About' is a stellar example of what the duo is capable of in full swing; A relieving far cry from Bruno Mars hooks and lines about music piracy concerns that bogged down the menace appeal of Hell: The Sequel.
What we heard from the Southpaw soundtrack is as close to the Bad-
Meets-Evil-that-could-have-been as we'll get, and it's still pretty damn
close. With Eminem in a newly dangerous comfort zone and Royce at
an indisputable career high, it wouldn't be unrealistic to expect a BME
guest spot, depending on the direction he decides take.
1. It Really Will Be His Last...
After producing Toronto's new battle rap film 'Bodied', Eminem will
have had nearly as much to do with the big screen in recent years as
music. He's agonised over his farewell to the limelight for decades with a fluctuating lust for privacy that's never quite been settled nor suppressed. Shady XV left us to wonder if his vocals were becoming as exhausted as the lyrical avenues he's left to take; "There's no more
emotion for me to pull from, just a bunch of playful songs that I make
for fun", he details on 'Guts Over Fear', "So to the break of dawn, here
I go recycling the same old songs".
Whether he feels he has anything left to contribute to the rap game – or his legacy – is a disorientating sentiment. One that'll hopefully become clearer (around Autumn, sources say) as the next and potentially final chapter in the Shady saga is unveiled.