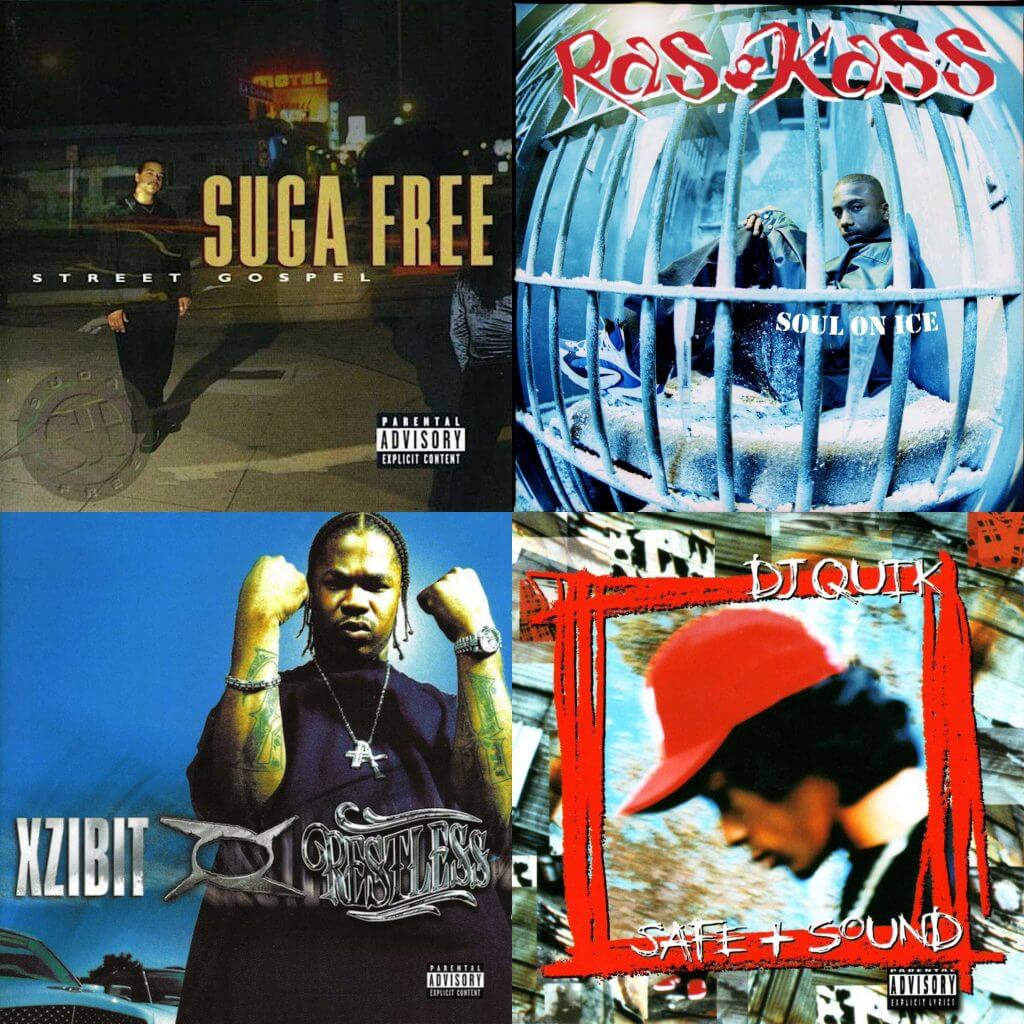 The West Coast has given the world a number of classics over the years. While many of those classics like Snoop's debut, Dr. Dre and his albums, The Game's debut, Dogg Pound and their debut Dogg Food, 2Pac's catalog, Ice Cube and his classic three-album run, among others were pivotal in the legacy of the West Coast, there are many albums that have a legacy that don't get discussed as much, and today, I wanted to take a look at a few of those albums.
Which albums make this list? Well, I selected a list of albums from some of the most underrated West Coast artists and here they are. Let's take a look at 6 underrated West Coast classics.
Ras Kass - Soul On Ice (1996)
One of the most slept on MCs from the West, Ras Kass is a legend. We interviewed Ras Kass on the site previously and he spoke on this album in length, but revisiting this project really reminds me of how great it is. The production was solid on the album, as Ras would receive assistance from the legendary Battlecat, Bird, Flip, and more producers. The beauty of this album is that it doesn't have a ton of features, instead you get to hear more of Ras Kass and how his mind works. His lyrical ability shines through on tracks like "Marinatin", "Anything Goes", "Nature Of The Threat", "Sonset", and one of my favorites "The Evil That Men Do". Ras showed why he is a premier wordsmith in the West and I wish this album was discussed a little more in the West Coast Hip Hop history.
Suga Free - Street Gospel (1997)
It isn't rare when a debut album truly hits you hard, but some debuts just hit you in a different way musically. The debut of Suga Free is one of those. It doesn't invoke the feelings that a Snoop or even a N.W.A debut does, but it does leave a mark on the listener for sure. Suga Free is raw, unabashed, honest, and all around cold on the mic, and as a result, this album benefits in many ways. The best part of the album is that he works with legend DJ Quik, who handles most of the production here and gives the album a cohesive sound throughout.
There are a number of songs on here that will leave an impact as you hear them, but for me, tracks like the El Debarge featured "On My Way", "Secrets", the classic "If U Stay Ready", and "Tip Toe" are the highlights of the album. Overall, Suga Free delivers with a debut that came out of nowhere (to me) and leaves a lasting impression with every listener. For that alone, it is a classic and it needs to be discussed MUCH more.
DJ Quik - Safe + Sound (1995)
The truth is, DJ Quik is one of the greatest producers and rappers from the West. He has classic albums in his catalog and he is one of the most infamous names to come from the West. When we look back at his discography and what he has managed to accomplish, one of his best albums has to be Safe + Sound. All of his albums are mostly solid, but this is one of my favorites.
The sound as always was mostly handled by Quik, providing that signature cohesion in his albums, and with minimal guest appearances, we got to hear a majority of the songs with Quik by himself. While I can't say this is his best album, it is up there with the best, and it doesn't get discussed nearly as much as it should. Tracks like "It'z Your Fantasy", the classic "Dollaz + Sense", "Somethin 4 Tha Mood", "Get At Me" and more are among the highlights on this album. Quik was still in his prime here and as a result, Safe + Sound would be an amazing listen from beginning to end.
The Coup - Genocide & Juice (1994)
You might not know about The Coup. You might not be familiar with Boots Riley. However, you should be. The second release from this slept on group is genius and it is the exact opposite of what the West Coast delivered during this era. It was more conscious and political than anything, but it definitely worked in a number of ways. It was produced entirely by Boots Riley, who recently released a major film (Sorry To Bother You came out in July), and is an underground legend.
The album doesn't have many features as only Spice 1 and E-40 make an appearance, but overall, the album is a great listening experience with enough content and substance to keep the listeners engaged. Tracks like "Fat Cats, Bigga Fish", "Takin These", "Gunsmoke", and more are true highlights on a very solid release from start to finish. You should do some research on The Coup if you haven't yet. It's worth it.
Xzibit - Restless (2000)
I had to decide which Xzibit album to place on this list, and it wasn't easy. The truth be told, the first few albums from X to the Z were all underrated, but one album we've never discussed is his third studio release. The album is his biggest commercial moment, as working side by side in the studio with Dr. Dre instantly made his career more successful. This album was designed to win, and it would end up earning Xzibit a platinum plaque.
Production-wise, the album is stacked with big names, as Dre, Erick Sermon, DJ Quik, Battlecat, Sir Jinx, Rick Rock, Nottz, Eminem, and more contribute to the project. Xzibit managed to find a comfort level on this album that hadn't been heard previously in his career, with tracks like "Been A Long Time" (featuring Nate Dogg), "Rimz and Tirez" (featuring Defari, Kokane, and Goldie Loc), and the gem "Best Of Things" being highlights on this release. All in all, Restless is a turning point in the career of one of the most underrated West Coast MCs period.
Snoop Dogg Presents The Eastsidaz - The Eastsidaz (2000)
For various reasons, I was late to the party on this album, but in retrospect, this was a classic. Snoop would introduce this duo and they would take the world by storm (to an extent) with this album. When I finally got around to listening and appreciating this album, I realized it was one of the most pure gangsta rap West Coast albums of the 2000s, perhaps the most pure. Every topic you would expect is here, and the content is by the numbers, but it just works so well. Tray Deee and Goldie Loc bring some of their best lyrics on this project, with Snoop being there consistently to assist.
Production is a highlight as many known West Coast beatmakers contribute such as Warren G, Jelly Roll, Battlecat, and others provided the sounds. The features are straight West Coast as well, as Dr. Dre, Suga Free, Kokane, Rappin 4 Tay, Kurupt, Butch Cassidy, Xzibit, and of course Nate Dogg (among others) are a part of this project. The highlights on the album are "LBC Thang", "Ghetto", "G'd Up", "Nigga 4 Life", and more. Simply put, Tha Eastsidaz staked their claim in Hip Hop and showcased that the West had even more in store.