Since the inception of Hip Hop, one thing that has always made the genre special was the ability to showcase different talents and styles. In the late 80's, with Hip Hop in its largest growth period, we were introduced a new style that would become a subgenre, titled alternative Hip Hop. When we look at what makes up alternative Hip Hop, it's simple. It's Hip Hop music that mixes different elements within the sound, boasting rock, funk, soul, and other elements in production with subject matter that doesn't fit into the normal standards of Hip Hop.
Today, I wanted to take a look at some of the albums from the best decade of Hip Hop that encompass exactly what alternative Hip Hop brings to the overall genre and discuss why these albums are so important. Let's take a look at 8 classic alternative Hip Hop albums from the 90's.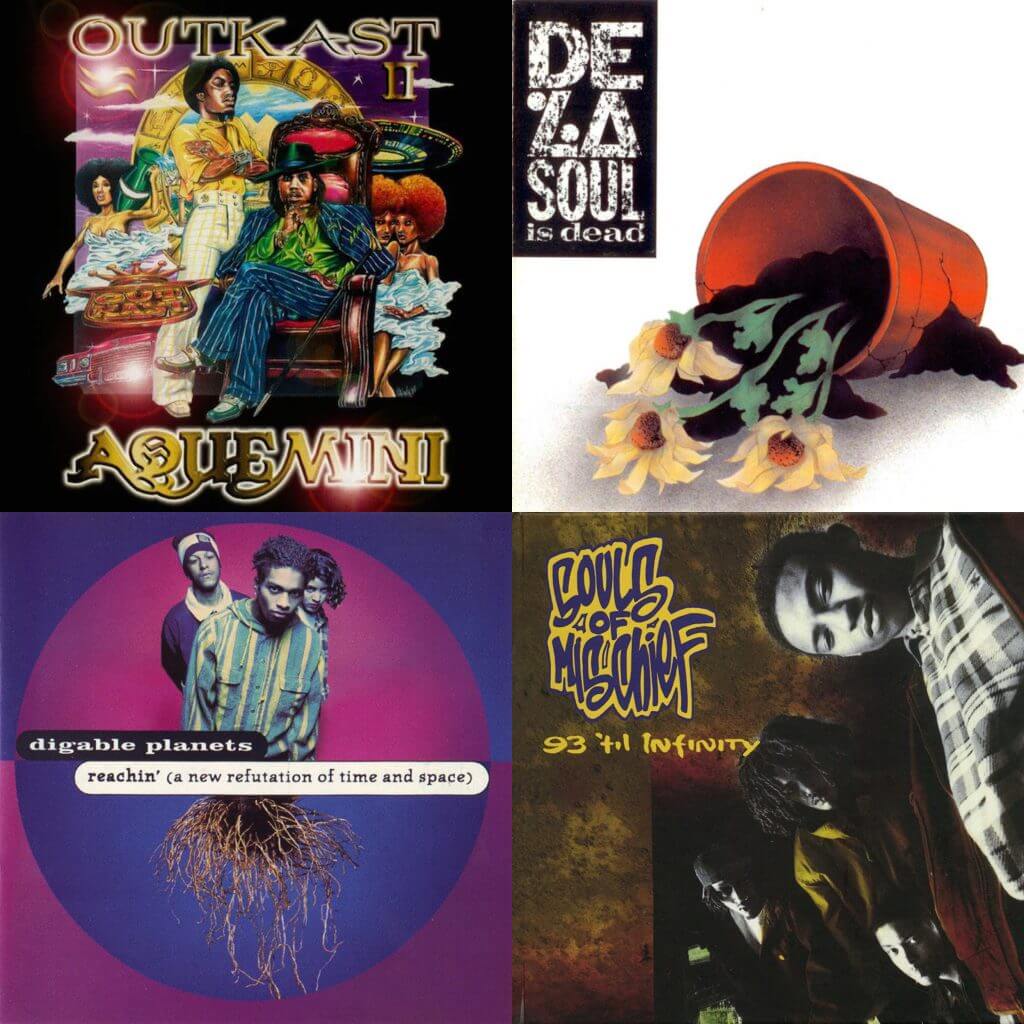 Souls Of Mischief - '93 Til Of Infinity (1993)
Out in LA, most of the artists that I was aware of were mostly on a more gangsta rap vibe, but little did I know, there were artists who had much more offer than that. Considered a subgroup of the collective Hieroglyphics, Souls Of Mischief came with a style that was unlike others in the game at the time. With sick internal rhyme schemes, along with jazz and funk-inspired beats, they delivered on an album that stands as the best project from that entire collective. Some of the best songs from this album including "Let Em Know", "That's When Ya Lost", "Never No More", and of course, the title track. Souls Of Mischief hit us hard with a great album that remains a classic to me today, and I think it's definitely one of the most impactful alternative Hip Hop albums.
Digable Planets - Reachin (A New Refutation Of Time And Space) (1993)
Some people don't even seem to remember how important Digable Planets were to the culture in their run, but they were one of the most pivotal groups in the early to mid 90's growth of alternative Hip Hop. At a time period where jazz rap/alternative Hip Hop was at the apex, Digable Planets debuted with an album that accentuated their strengths as artists. The album manages to touch on a few heavy topics, but of course the root of success for this album comes in the iconic single "Rebirth Of Slick (Cool Like Dat)", which remains one of my favorite songs of the 90's. My favorite part of this album honestly is how well they mesh the multiple samples together for tracks like "Escapism (Gettin' Free)", "Nickel Bags", and "What Cool Breezes Do". Overall, this album is a great listen and is remember as one of the best alternative Hip Hop albums ever, and for good reason.
Mos Def - Black On Both Sides (1999)
In the slight resurgence of alternative Hip Hop in the late 90s, one man emerged as the true voice for it. That man is Mos Def. After his collaboration with Talib Kweli on their Blackstar album, Mos sought to provide the world with his brand of music, which was a mix of true soulful Hip Hop and rhythmic melodies on his solo debut.
The production ranges from hard-hitting on some tracks to smooth and soulful on others, and the result is a surprisingly cohesive album that many consider to be one of the better releases of the decade. Mos shines with his storytelling ability on the iconic "Ms. Fat Booty", while also giving you food for thought with "New World Water", and providing an uplifting anthem with the classic "Umi Says". Mos delivered on his solo debut, and honestly, this might be my 2nd personal favorite album on this entire list.
Camp Lo - Uptown Saturday Night (1997)
Of course, this has to be mentioned. It sounded like the 70's, with a new age twist, coupled with some jazz elements added in as well. It's hard to classify this album and this group in general, thus it of course falls right into the subgenre of alternative Hip Hop. There is no denying that this album is a classic, as it is one of the most popular "underground" albums of the 90's with one of the most important hits of the decade IMO.
The first single "Luchini AKA This Is It" is one of the most grand Hip Hop singles in genre history, with booming production and engaging lyricism. The album manages to blend the jazz rap and soul sensibility with street Hip Hop, and it's hard to deny how well this album pushes the limits while still retaining that intangible. Some of the best songs on this album include "Negro League", "Coolie High", and "Rockin It AKA Spanish Harlem". Much credit has to be given to Ski, who handles the production for this album, providing an amazing sound that hasn't really been duplicated since. This album is one of a kind and a great alternative Hip Hop album to revisit 20 years later.
A Tribe Called Quest - People's Instinctive Travels And The Paths Of Rhythm (1990)
Of course, when we look back at albums from one of the greatest rap groups ever, it's easy to pick Low End Theory or Midnight Marauders because they're the most infamous, but I have a slight bias to their debut, mostly because it was our introduction to the abstract and eccentric legends, A Tribe Called Quest.
Released in 1990, this album was an extension in many ways of what De La Soul and the Native Tongues posse had began, but it was to an even higher power and quality. Tribe would make their mark and instantly take the title of the best group in Hip Hop, combining humor, lighthearted lyricism, and jazzy production to make their brand of classic music. This album is very concise and cohesive, and allows both Phife and Q-Tip to assert themselves as top-tier MCs, and with songs like "Luck Of Lucien", "Push It Along", "Can I Kick It", "After Hours", and of course "Bonita Applebum", this album just can't be denied by anyone.
The Pharcyde - Bizarre Ride To The Pharcyde (1992)
When we talk legendary West Coast artists, it's a shock that very few mention the amazing group The Pharcyde, but they are honestly one of the most important groups of the 90's, and probably takes the reign as the best West Coast group of the decade. Their debut album was special, and in many ways, refreshing, as it showed a different side of the West Coast musically, and featured soulful, lush jazzy production that complemented their playful and fun lyricism.
Pharcyde would give us the epic single "Passin' Me By" with this album, but they also gave us more gems like "Ya Mama", "Otha Fish", and "Pack The Pipe", all of which helped round out of the most pivotal albums of the early 90's. The alternative hip hop movement grew heavily in the East, but through Souls Of Mischief, Hieroglyphics, and The Pharcyde, the West had something to say.
OutKast - Aquemini (1998)
I thought about placing something from the Jungle Brothers on this list, but there's no way I can leave this album off. It is quite possibly the essential alternative Hip Hop album, as it was released in a time where shiny suits and aggression was the wave in the genre. Outkast had always done what they wanted, and while their debut wasn't necessarily an alternative Hip Hop album, their second project seemed to flirt with that subgenre before fully going head first into alternative Hip Hop with their epic third album.
The group managed to blend different sounds together, utilizing elements of distorted rock, funk, soul, and jazz through the album on songs like "Synthesizer", "Chonkyfire", "Rosa Parks", "Liberation", and of course "SpottieOttieDopaliscious". Overall, this album takes you on a journey through various sounds and styles, which is exactly what a classic alternative Hip Hop album is supposed to be. Aquemini is my favorite on this entire list and it isn't close.
De La Soul - De La Soul Is Dead (1991)
After their classic debut 3 Feet High And Rising, De La returned with their sophomore project, that allowed them to showcase their skills in an entirely different light in some way. After being painted as hippies for their debut, De La decided to reject that label and showcase more elements of themselves and their music. While bits and pieces of what made so popular on their debut is prevalent in their second album, I find this to be a more diverse project than their first album, as it gives you a blend of differing sounds.
De La have positive elements, and they don't wander into hardcore rap territory either, but the storytelling within this album and the slightly darker tones help to balance it out. Tracks like "A Roller Skating Jam Named Saturdays", "My Brother's A Basehead", "Millie Pulled A Pistol On Santa", and "Fanatic Of The B Word" helped to round out an album that is laced with creativity and high-level artistry. When we look back at alternative Hip Hop, there might not be a group more consistent or as vital to the genre as De La Soul, and this album is a big reason why.