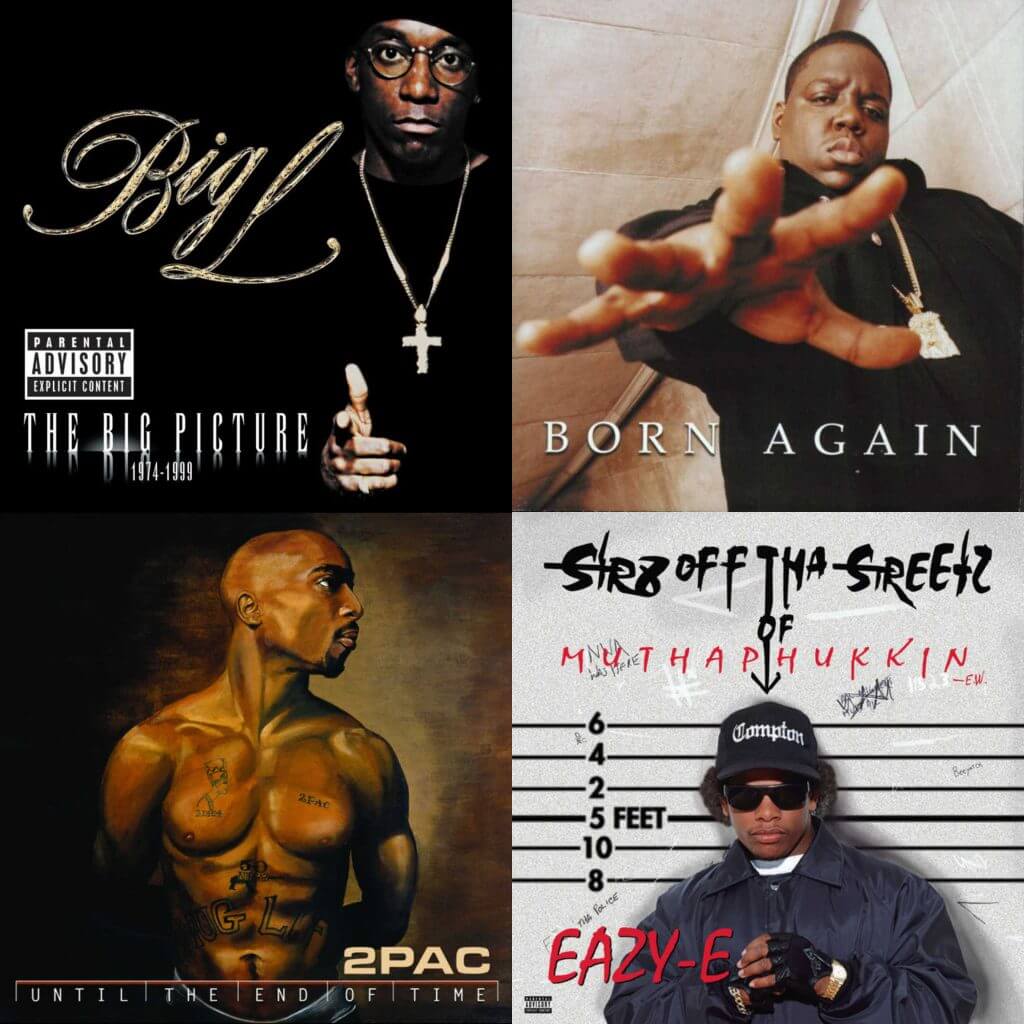 In Hip Hop, much like every genre of music, some of our most revered artists are not here to experience the love and appreciation that they deserved. It's unfortunate as always, but there are some instances when those who are no longer here can still have their impact felt after their passing. This is usually through existing legacy, but sometimes their vaults get unleashed and we are treated to more music from our favorites.
Today, we are here to talk those specific projects. Let's take a look at 7 posthumous Hip Hop albums and whether or not they did a good job of giving the fans more sounds from their favorites. Let's get into it.
Big L - The Big Picture (2000)
After his unfortunate murder in 1999, many started to finally give Big the props he deserved. The Harlem MC was one of the more gifted rappers with his lyrical ability and his punchlines were top notch. However, he was a slept on and underrated rhymer for most of his short career, with his debut album not getting the credit it really deserved. When it was announced that his final project was on the way a little more than a year after his death, fans wondered what we could possibly get out of this last album.
The result ended up being one of the premier releases in 2000 during the summer, as Big L was laced with production from DJ Premier, Ron Browz, Pete Rock, Lord Finesse, and Showbiz, among others, giving this album that real official New York sound. Of course, L didn't disappoint with his lyrical output and the guest stars on this album complemented his flow and rhymes well, as we got solid appearances from Fat Joe, Sadat X, Big Daddy Kane, Kool G Rap, and a seldom used verse from 2Pac added on as well. The best songs from this album IMO were "The Enemy", "Fall Back", "Casualties Of A Dice Game", and "Platinum Plus". All in all, this wasn't a classic, but it was a dope final collection of tracks for Big L.
The Notorious B.I.G. - Born Again (1999)
It's been said that Life After Death was essentially a posthumous album, but since the date was already in place, I can't seem to consider it for this list. However, Born Again is 100% a posthumous album, and while it wasn't exactly what I was hoping to get as a Biggie fan, it was put together about as well as I guess they could do.
What works for this album is the contrast between Biggie and the many guest appearances to fill out the missing verses on the newer beats. I liked the idea of the older Biggie verses on these newer beats, as it allowed us to see what his voice and lyrics could sound like over the sounds of the very late 90's. Of course, as Bad Boy expected, the album was a success, selling almost 500,000 copies in the first week.
Production for this was handled by a vast array of names from the Bad Boy in house names like Chucky Thompson, Mario Winans, D-Dot, and Nashiem Myrick, all the way to producers like DJ Premier, Clark Kent, Nottz, and the biggest shocker of them all, Mannie Fresh. The features are the next best thing on this project, as Eminem, Nas, Mobb Deep, Ice Cube, Snoop Dogg, Hot Boys, Busta Rhymes, and so many more help to round out a star-studded supporting cast.
As far as the best songs on this album, I would have to say "Dead Wrong", "Hope You Niggas Sleep", and "I Really Want To Show You" make up my top 3. This project wasn't great, but it wasn't horrible either. It was thrown together, provided some enjoyable moments, and helped carry on the legacy of Big, like a posthumous album should. Long live Frank White.
Big Pun - Yeeeah Baby (2000)
This album is tough. After not including Life After Death and electing to not include Makaveli as well, I wondered whether or not to put this album on the list or the other Big Pun posthumous release, Endangered Species. The truth is, this album is mostly Big Pun's vision, but he passed away before we got to see the entire vision come to life, and of course, the first single didn't have Pun in the video. So, when the album arrived two months after his passing, it was extremely bittersweet. His passing was still heavy on the minds and hearts of most fans and those who were involved in the making of the album, but regardless, the finished product turned out pretty well.
Of course, it wasn't on the level that his debut Capital Punishment was on, but it featured more of the lyrical dexterity and surprisingly smooth flow that we loved Pun for. The production on this album was gritty in spots, with names like Just Blaze, Knobody, Sam Sneed, Buckwild, Sean C, and more contributing. There were a few quality guest spots on the album, as Fat Joe, Remy Ma, Donell Jones, Cuban Link, Drag-On, and M.O.P. helped assist on the project. Overall, with tracks like "It's So Hard", "100%", "New York Giants", "Leatherface", "You Was Wrong", and more, this album doesn't really disappoint.
Mac Dre - Dre Day: July 5th 1970 (2008)
I have never been a huge fan of the Bay Area music like that, but honestly, there's no denying the legacy that Mac Dre carries as a Bay Area MC and a true Hip Hop legend. After his unfortunate death in 2004, the Bay Area mourned his loss by playing his music and repping for him as loud as they could.
He left behind a lot of music, as evidenced by the continual releasing of projects years after his murder, but there isn't a project in his catalog quite like this one, which to me is the best posthumous work from Mac without question. The album features a number of Bay Area big names, from Mac Mall, Keak Da Sneak, B-Legit, and Mistah F.A.B., and there are some solid tracks here like "All Da Time", "G.A.M.E.", "West Coast Pimp", and more.
With a pretty long tracklist, this project allows you to hear more of the Mac Dre that the Bay Area and the world over loved and if you had to pick one posthumous album of his to listen to, this should definitely be the one.
J. Dilla - The Shining (2006)
I remember when the world of Hip Hop lost J Dilla. It was a rough moment in Hip Hop. I heard the news and instantly thought about the work he had done in music over the years and the fact that I didn't know if we would ever get to hear any more work of his. Thankfully, there were archives stocked with music, and as a result, we got this project 6 months after his unfortunate passing.
The result is a very solid listen with some great production and solid verses from the guest appearances. With features from Pharoahe Monch, Common, Black Thought, Dwele, and D'Angelo, Dilla was backed by a great supporting cast on this project, and there was also minimal production assistance by Kareem Riggins and Madlib. For me, the best songs on the project remain "Baby", "Love Movin", and the smooth "Won't Do", all of which helped make this a mostly complete listen. This is a very well done posthumous release.
Eazy E - Str8 Off Tha Streetz Of Muthaphukkin Compton (1996)
It was a dark day in the West when Eazy E passed away. We were on the verge of a possible NWA reunion, Bone Thugs N Harmony was one of the most popular groups in Hip Hop at the time, Eazy had walked away from doing business with Jerry Heller, and everything was heading in the right direction it seemed.
Then the worst possible outcome occurred. The world had lost one of the pioneers of gangsta rap and West Coast Hip Hop. Long before his death, Eazy had planned out a big album titled Temporary Insanity that he envisioned being a double album, but due to circumstances, that never worked out that way. After changing the title of that album to what it would be released as, the project was set to debut in 1995. It would be released in January 1996, ten months after Eazy's passing, and it featured a large amount of production from DJ Yella, keeping that sound intact as always.
With minimal features on this project (minus Eazy and his crew, and of course MC Ren), it would turn out to be a solid release, with tracks like "Sippin On A 40", "The Muthaphukkin Real", "Creep N Crawl", and "Eternal E" helping to round out a solid final effort from one of the most important figures in Hip Hop history.
2Pac - Until The End Of Time (2001)
Choosing a posthumous 2Pac album could take hours because there's so many. There aren't too many artists in Hip Hop who had as much music left behind to make multiple projects over the years long after they weren't here. 2Pac is that rare breed. I thought of including Still I Rise, R U Still Down, or even my personal favorite Better Dayz, but honestly, the best of them all is Until The End of Time.
This 4X platinum double album debuted in March 2001 and seemed to reinforce the fascination with 2Pac that his fanbase had. A majority of this material here was recorded apparently while Pac was at Death Row, and it was mostly kept in its natural and original form without new production. This makes the album sound purely like a standard release Pac project, as production from names like Johnny J, Hurt-M-Badd, QDIII, and LT Hutton allows this album to have a familiar feel and vibe to it.
The guest appearances aren't plentiful, as is the case with most Pac albums, but we do get guest spots from regular Pac collaborators like Big Syke, The Outlawz, and an appearance by Above The Law. This double album could have been cut down a little bit and trimmed a few tracks off, but with songs like "Letter 2 My Unborn", "LastOnesLeft", "U Don't Have To Worry", "When Thugs Cry", and my personal favorite "Fuckin Wit The Wrong Nigga", this project doesn't disappoint, much like a majority of the albums on this list.