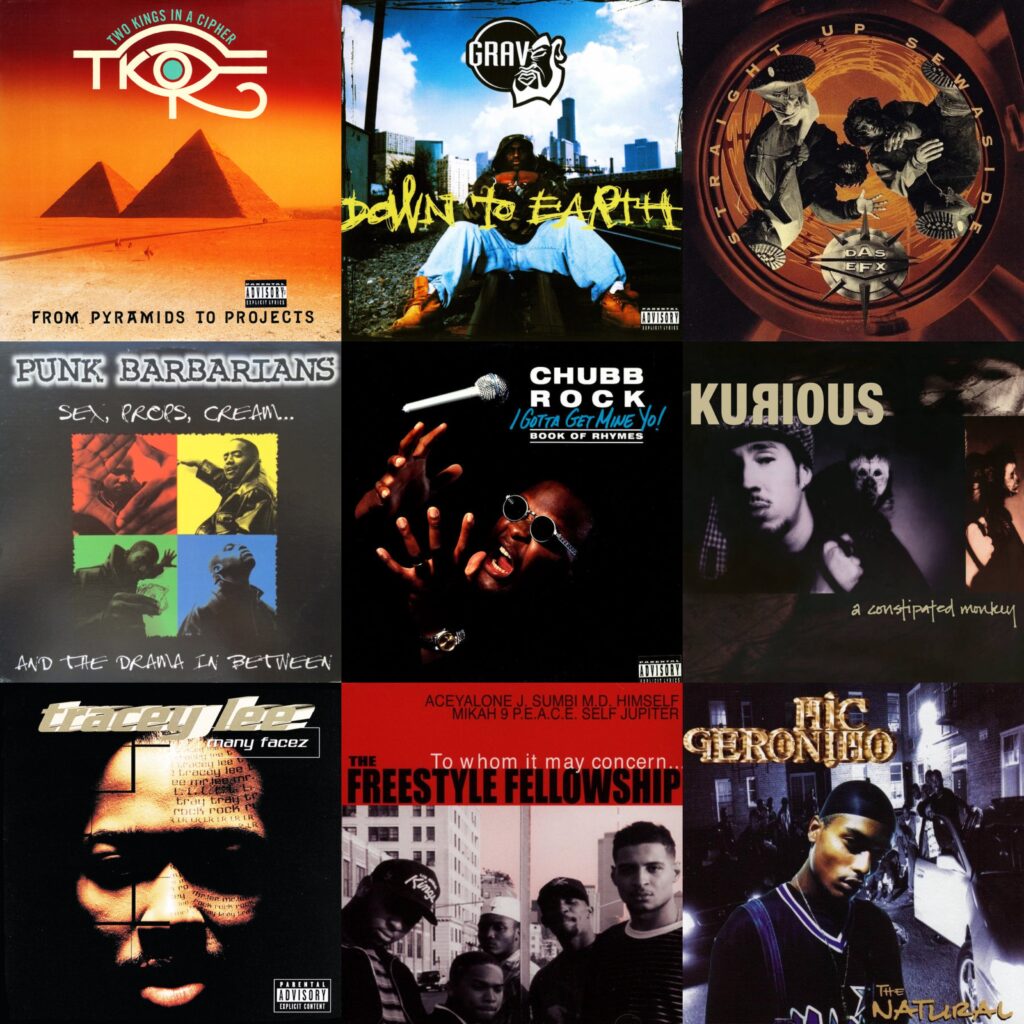 50 Underappreciated 1990s Hip Hop Albums | Part 3: Discussing the 'best ever' Hip Hop albums is a fun but often futile exercise. It is fun because it forces you to think and sometimes to re-evaluate, and it is also fun because discussions with others can make you discover some great albums that you might have otherwise overlooked. However, it can also be futile because not everyone has the same level of knowledge about Hip Hop. Trying to recommend more obscure Hip Hop albums to people who have only listened to 2Pac, Biggie, Jay-Z, and Dr. Dre can be tiring, as some people seem to think that these four are all that Hip Hop ever had to offer. This is unfortunate, as there has always been a wealth of great Hip Hop by other artists out there. Casual Hip Hop listeners who are open to discovering new music may find this list to be of value.
This list does not include albums by 2Pac, Biggie, Jay-Z, or Dr. Dre, nor does it include widely celebrated classics from acts such as A Tribe Called Quest, Nas, Gang Starr, Mobb Deep, De La Soul, Public Enemy, Ice Cube, OutKast, Eric B & Rakim, EPMD, Redman, Wu-Tang Clan, Ice T, Scarface, The Pharcyde, Common, and other well-known artists. Instead, we have selected 50 excellent Hip Hop albums released in the 1990s that we consider to be underappreciated. These are albums that we don't think get mentioned enough when people celebrate 1990s Hip Hop. Some of the albums on this list are more well-known than others, but even experienced Hip Hop fans may discover an album or two that they have missed out on.
Grand Puba - Reel To Reel (1992)
What better way to start this list than with a super-underappreciated piece of early '90s brilliance from one of the greatest to ever do it – the ever-underrated Grand Puba Maxwell. A charismatic rhymer with an unmistakable voice and abundance of style, New Rochelle, NY rapper Puba first came on the scene as a member of the group Masters Of Ceremony, who disbanded the year after their first LP Dynamite hit the shelves in 1988. He then became the frontman for Brand Nubian – whose breakthrough, 5-Mic masterpiece, One For All, is rightly considered an all-time Hip-Hop classic. But creative tensions within the group meant that didn't last long either – and the Now Rule rapper stepped into the solo spot shortly after One For All dropped in 1990, leaving remaining members Sadat X and Lord Jamar to fend for themselves.
Fast-forward to late '92, and MC Grand Pu – flanked by ex-Nubian spinners DJ Alamo and Stud Doogie (R.I.P) – was first up to bat with Reel To Reel. And while Puba didn't quite hit a home run, his first full-length features more hits than misses. Sticking to the winning formula that made One For All sound so superb, Puba rocks fly freestyle rhymes, nimble flows, and original lingo sprinkled with conscious lyrics and boastful bars about baggin' honeys over soulful, jazzy head-nodders. Still swift with the gift, the quick-witted, undeniable charm and signature vocal strut so characteristic of Puba's craft are in full effect on highlights like "Check The Resume," "That's How We Move It," and "Big Kids Don't Play." Showing he still knows how to "civilize a 85-er," he kicks some righteousness on "Soul Controller" and "Proper Education." And other than the slight jab at his former bandmates on "360 (What Goes Around)," Puba shows little animosity towards his Nubian brothers, preferring to grab the mic and kick flavor rather than dwell on the breakup. Full of lighthearted lyrics, feel-good vibes, and uplifting jams, with rhymes that roll off the tongue, Reel To Reel is an absolute joy to listen to – an unheralded gem from a true master of ceremony.
Brand Nubian - In God We Trust (1993)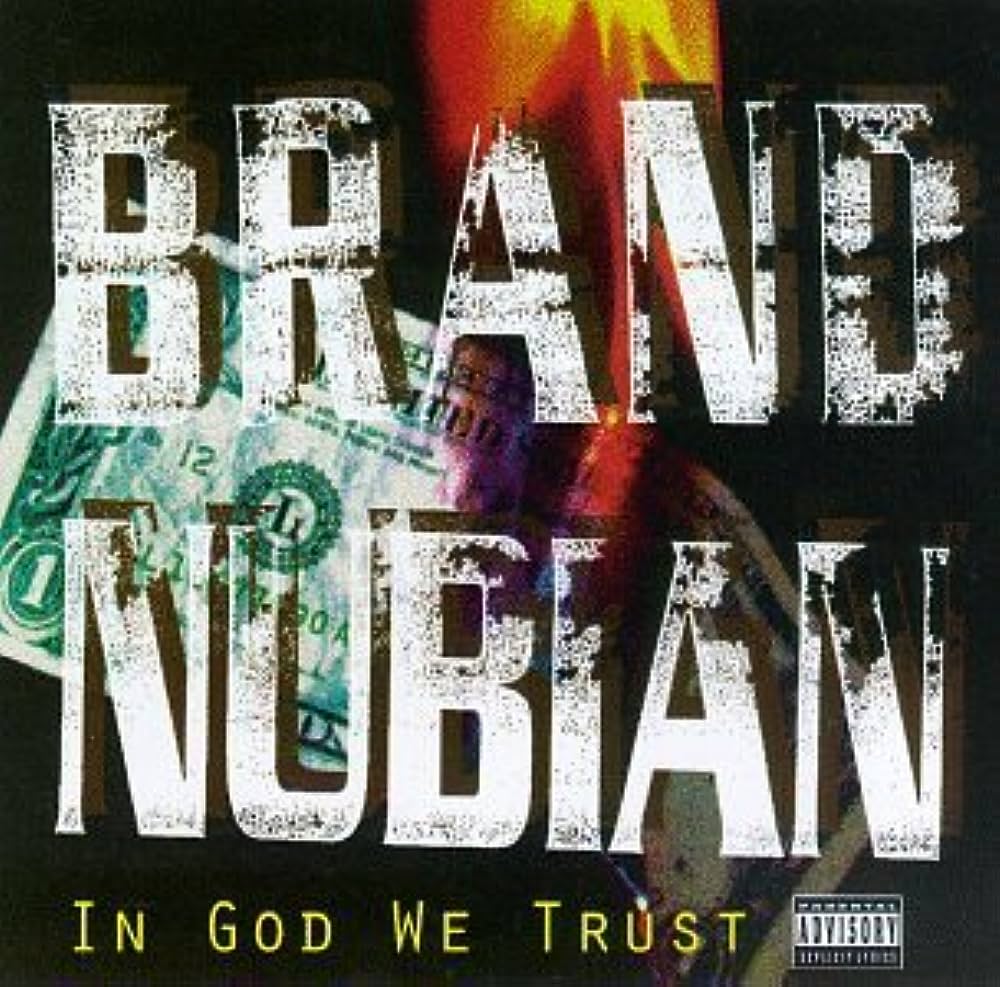 With Grand Puba, DJ Alamo, and Stud Doogie no longer aboard following the release of One For All, many thought the Brand Nubian ship had sailed. But Lord Jamar, Sadat X, and DJ Sincere had other ideas, deciding to keep the Nubian name in the game. As the younger, less experienced group members, X and Jamar played the back on the group's debut – so these two underdogs had something to prove. The odds seemed stacked against them – could they steer the ship and silence the doubters now they were at the helm?
The answer was an emphatic yes. Puffing their chests out and rising to the occasion, they emerged from the depths unscathed and – hot on the heels of Puba's Reel To Reel – came blazing through with the explosive In God We Trust in early '93. And when Brand Nubian resurfaced, it was clear for all to see that their image and sound had undergone a drastic makeover. Gone were the bright, multi-colored threads, cool shades, and sharp fades – replaced by hoodies, Timbs, baldheads, and dreads. X and Jamar still had their third eyes open, imparting knowledge, wisdom, and understanding. But their new project was permeated by a hardline Five Percent doctrine and militant, aggressive lyrics. Produced predominantly in-house (using samples mostly dug from the crates of Sadat X's father's record collection), the dusty, boomin' backdrops and abrasive, unapologetic poetics of In God We Trust gave it a much harder edge than One For All, challenging the expectations of many listeners. But the album was an absolute revelation and bangs from beginning to end.
X and Jamar address the break-up right from the jump, facing off against the naysayers on the bass-heavy opener "Allah U Akbar" and go straight for the jugular on the controversial Diamond D-produced "Punks Jump Up To Get Beat Down," stepping to anyone who dares claim "the Nubian reign had fallen." They bring the heat on the menacing "Pass The Gat" – staying strapped and ready to fight back against their adversaries. The Now Rule brothers clap back at their detractors over the reverberating upright bassline and eerie sound effects of "The Godz Must Be Crazy" and confront the street vendors selling counterfeit copies of their product on "Steady Bootleggin'." The album also produced the glorious-sounding single "Love Me Or Leave Me Alone" – definitely not your typical rap ballad. They may not have been all for one and one for all after they split, but Brand Nubian was technically two-for-two in the album stakes thanks to In God We Trust. And with this unacknowledged Hip-Hop classic, Sadat X and Lord Jamar ensured the Nubian brand was in good hands.
J Rock - Streetwize (1991)
'You are about to witness the strength of street knowledge." So goes the intro to NWA's "Straight Outta Compton" – but this infamous preamble is just as apt for Streetwize, J Rock's debut LP on Ghetto Groovz Records. On his only album, street narrator Rock takes you on a trip through some of the darkest corners of New York – his gritty ghetto tales told with the steady, assured flow of an accomplished rhymer "skilled in the rap field." Dropping jewels like a clumsy thief, the Newburgh, NY emcee offers sharp, insightful commentary into the world of pimping, hustling, police brutality, substance abuse, crooked cops, and everything else in between.
J Rock's street-savvy stories carry authenticity and a sense of foreboding, and on the motivational "Let's Get It Together," he encourages the listener to find a way out of the ghetto and build a better way of life. The album is noteworthy for featuring production by DJ Premier, who brings that jazzy, stripped-down early '90s Preemo sound that many know and love. Rock learned how to put tracks together himself by studying the Gang Starr legend, utilizing these skills and techniques to help create a demo tape before Streetwize's completion and sending it to The Source magazine, which earned him a place in the publication's coveted "Unsigned Hype" feature in 1990. Rock co-creating the album's lively opener, "Let Me Introduce Myself," with Easy Mo Bee, and produced the remainder of Streetwize, crediting himself on the LP as being "known as a dope producer."
Once notoriously hard to find, Streetwize became a collector's item of sorts. Thankfully, for anyone who missed it or struggled to find a copy, Ghetto Groovz re-released the LP in 2007, with independent Dutch Hip-Hop label de Rap Winkle Records reissuing it once in 2019 and then again in 2021 for the album's 30th anniversary – the 2019 version featuring the DJ Premier remix of "Neighbourhood Drug Dealer." Yet despite this, Streetwize remains one of the most overlooked rap records of the '90s that any discerning Hip-Hop head would be wise to check out.
Tha Alkaholiks - Coast II Coast (1995)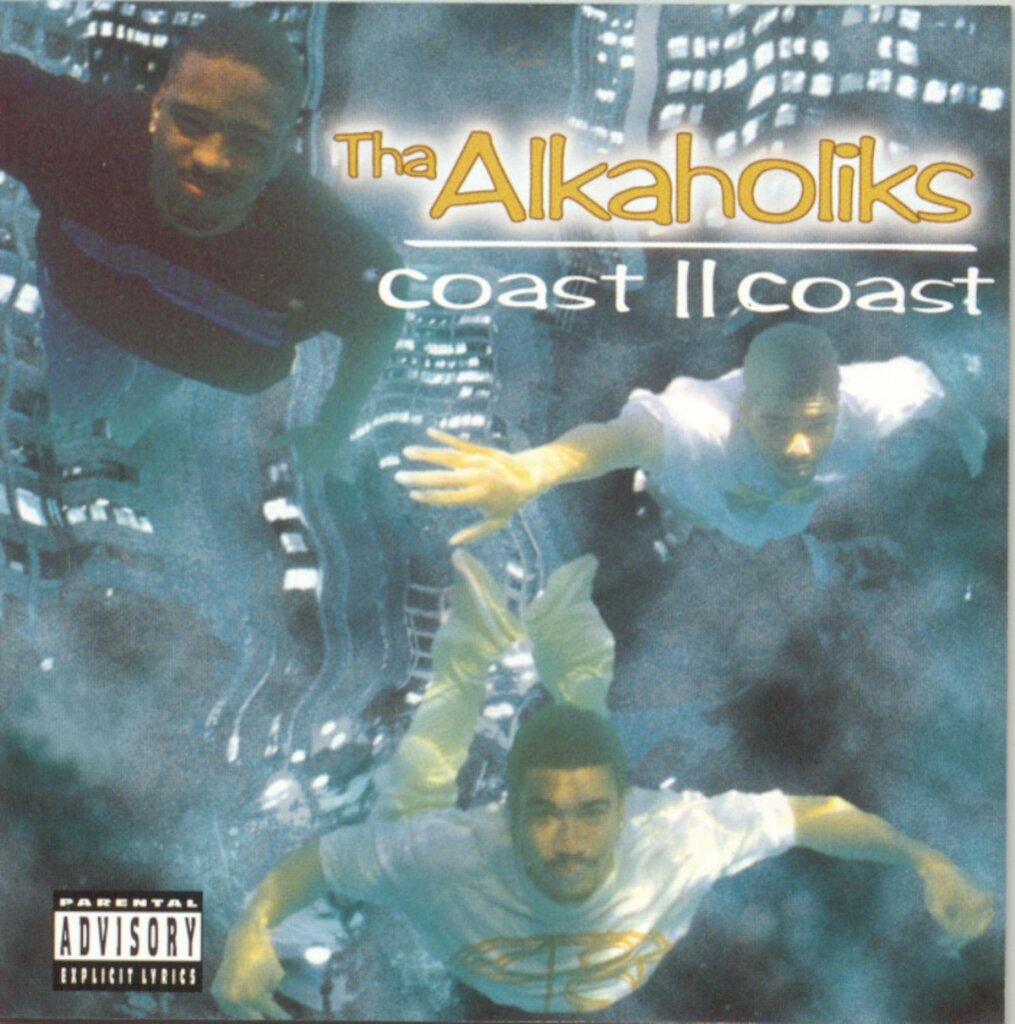 In the early '90s, rapper Tash and DJ, emcee, and producer E-Swift – both Ohio natives turned Cali residents – linked with LA-raised rhymer J-Ro to form one of Hip-Hop's most underrated groups: Tha Alkaholiks. Originally branded E.S.P. (Educated Street Poets), the trio were recruited by King Tee as inaugural members of his Likwit Crew, a loose-knit collective of emerging Left Coast talent featuring the likes of Xzibit, Defari, and Lootpack. Gifted, agile verbalists serving up witty one-liners, boastful, fun-loving freestyle rhymes, and inebriated flows, Tha Liks struck gold with a formula of boisterous party tracks and funky, smoked-out joints with bicoastal boom-bap sensibilities.
Their second LP, Coast II Coast – is arguably their best body of work, exhibiting the classic Alkaholiks sound to the fullest, simply oozing replay value. The lead single, "DAAAM!," is a highly combustible party-wrecker, and "Read My Lips" is another highlight, as Tha Liks get loose over a funky, back-to-basics mid-tempo head-nodder. And while some rap acts were busy squabbling over which was the coast with the most, Tash, J-Ro, and E-Swift were hooking up dope collabs with their NYC compadres. The Diamond D-produced "Let It All Out" is straight fire, flipping a killer sample from the Enter The Dragon soundtrack. Q-Tip is invited to the party for "All The Way Live" – The Abstract getting busy with Tha Liks over a distorted, off-kilter piano loop. And on the album's fantastic finale, "The Next Level" – with its futuristic b-boy flavor and rubbery, trunk-rattling bass line – Diamond D reappears behind the boards and drops by for a quick guest verse. Bursting with all-the-way-live Rap joints that get the party jumping and speakers thumping, Tha Liks' intoxicating second album has the beats and rhymes that'll make you say DAAAM! So bottoms up – time to raise a toast to Coast II Coast.
Intelligent Hoodlum - Tragedy: Saga Of A Hoodlum (1993)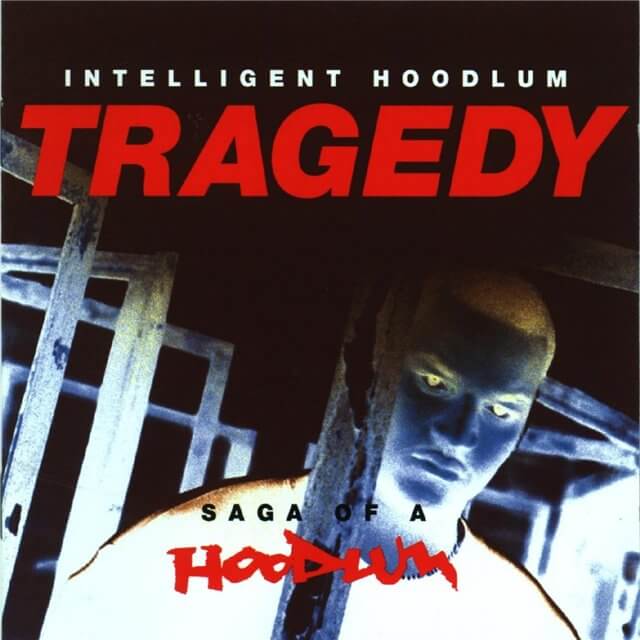 Queensbridge, NYC rapper Tragedy Khadafi (FKA Intelligent Hoodlum) is a true Hip-Hop pioneer – yet he's not as widely acknowledged and celebrated as he should be. As a member of the legendary Juice Crew, Tragedy started out as a young and aspiring street-conscious emcee, releasing his critically acclaimed, self-titled debut LP in 1990.
The cousin of Ghostface Killah, Trag was the first rapper to use the term "illmatic" (on his solo track "The Rebel" off Marley Marl's In Control Volume 1 LP). Fellow Queensbridge legends Nas, Mobb Deep, and Capone-N-Noreaga have all been heavily influenced by Tragedy, who is regarded as the true architect of the classic QB street rap sound. If you're looking for a tangible testament to his standing as an archetypal figure of hardcore Hip-Hop from The 'Bridge – look no further than his second album, Tragedy: Saga Of A Hoodlum.
Originally intended to be released under the name Black Rage, Trag's sophomore project was the subject of several alterations before it eventually saw the light of day. In an age when Rap music was becoming heavily censored, Tragedy's record label got jittery about his super-militant, sociopolitically-charged, pro-Black content and ordered that the album be re-recorded. Trag was forced to change the original versions of "Underground," "At Large," "Death Row," and "Pump The Funk" and add some new tracks for what ultimately became Saga Of A Hoodlum. But despite these setbacks, Tragedy's second LP still packed a powerful impact when it finally hit the streets. With Marley Marl's production protege and unsung beat-making supremo K-Def behind the boards for the bulk of the album, Trag attacks the tracks with intense ferocity – upping the ante with full-blooded, unyielding raps and formidable mic skills. Dropping street science with striking realism, the neighborhood narrator and "Live Motivator" balances braggadocious bars and ill ghetto grammar with informed social and political commentary and astute observations of the harsh realities of inner-city life scattered with heartfelt autobiographical revelations.
The album bows out in stunning style on its most poignant, profound moment: the Bonus Mix of "Grand Groove" – a dedication to life, death, and brotherhood; a mournful eulogy to friends and family who've returned to the essence. Eloquently vocalized over an exquisite Patrice Rushen sample and classic Skull Snaps drum break, it's sheer, goosebump-inducing Hip Hop that goes straight to the heart. Tragedy's final outing under his Intelligent Hoodlum moniker is definitely a more street-themed, grittier affair when compared with his debut. As an essential document of early '90s hardcore NYC rap that laid the blueprint for future Queensbridge classics, Tragedy: Saga Of A Hoodlum is one of the definitive embodiments of raw, unrestrained street poetry in its purest form.
A.D.O.R – The Concrete (1994)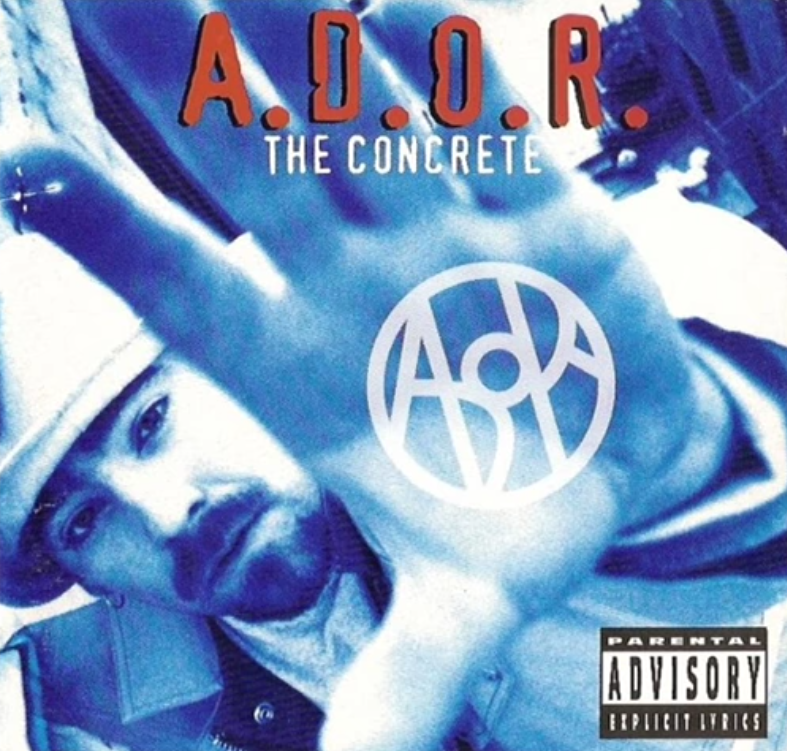 Hip Hop heads were unquestionably spoilt for choice in the early-mid '90s – a bountiful abundance of outstanding albums seemingly dropping here, there, and everywhere. But with such a wide array of dopeness at the listener's fingertips, many full-length creations were inevitably cast away in the vast ocean of releases. And albums granted only a limited run hindered an artist's cause even further.
Enter Mount Vernon, NY rapper A.D.O.R., whose debut album, The Concrete, suffered the fate of both scenarios in 1994. Released in Germany on CD and a handful of promo-only vinyl and cassette copies in the US before being pulled, A.D.O.R.'s first full-length flew over many heads in a year swarming with stellar LPs. Armed with block-rockin' beats from powerhouse producers like Pete Rock, Diamond D, Ski, K-Def, and Ron "Amen Ra" Lawrence (of Two Kings In A Cipher), combined with loudly chanted choruses and A.D.O.R.'s irrepressible raps, The Concrete has all the essential ingredients of a vintage mid-'90s East Coast Hip-Hop heatrock.
With his piercing vocal style and top-shelf rhyme skills, A.D.O.R. brings the uncut raw over a storming backdrop of blasting horns, slapping snare drums, and blistering basslines. Standouts include the anthemic, Pete Rock-produced classic "Let It All Hang Out" and the Diamond D bangers "Day To Day" and "The Kid Is Crazy." Ski's strutting piano loop and echoing horns combine with A.D.O.R.'s rip-roaring raps to forge another highly memorable moment on "From The Concrete." And worthy of note is that snippets of A.D.O.R.'s opening lines on the K-Def-produced "One For The Trouble" were sampled to help construct the hit single "Renegade Master" by UK house and electronic artist Wildchild.
Belgium-based label Hip-Hop Enterprise recognized the caliber of The Concrete, dropping deluxe double vinyl and CD reissues in 2019 to commemorate the album's 25th anniversary. A.D.O.R. has stated that some consider The Concrete one of the best Hip-Hop albums from the '90s – and that his life would have changed had the label released the album properly. We'll never know now, but if it wasn't shelved, The Concrete might have blown up rather than exist as an overlooked footnote in the annals of '90s Hip-Hop.
Original Flavor - This Is How It Is (1992)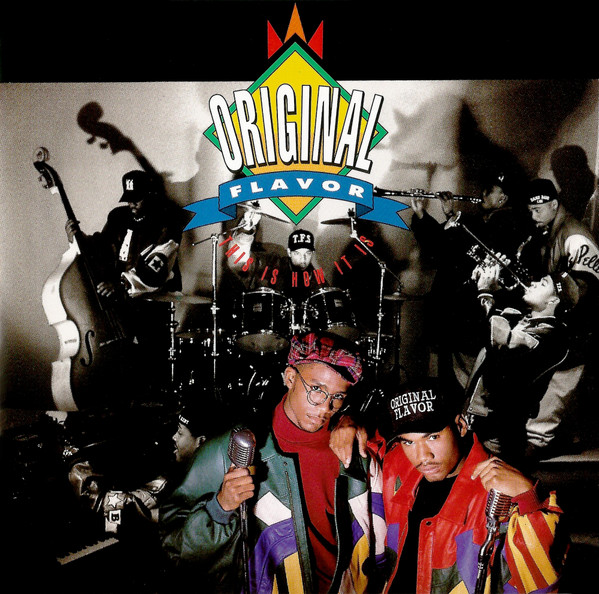 Often hidden behind the scenes – but worthy of just as much recognition as the underrated rappers and records of the golden age – are the unheralded producers responsible for the soundtrack of what's becoming a bygone era. North Carolina-born beatsmith Ski (AKA Ski Beatz) features high on the list of sound providers who should be given their flowers while they can still smell them. Discovered by DJ Clark Kent, he was the man behind the boards for scores of artists, including Jay-Z, Camp-Lo, Pace Won, and Fat Joe. Cutting his teeth as a producer-rapper under the name of MC Will-Ski, he made his entree as one-third of one of NC's first ever Hip-Hop groups, The Bizzie Boyz, in the late '80s. The early '90s saw Ski relocating to NYC, teaming up with rapper Suave Lover to form Original Flavor.
The group's first LP, This Is How It Is, was executively produced by Dame & Darien Dash and DJ Clark Kent, who all feature on the album's cover photo and managed Original Flavor associates The Future Sound. Ski and Suave kick cool, calm, and collected freestyle flavors on their debut – while serving up some substance on inspirational cuts like "When I Make It," "Waiting For My Break," and "Brainstorm." But Will-Ski's beats are the main attraction. Accountable for most of the tracks, Ski cooks up a cohesive batch of breezy, jazzed-out head-boppers to kick back and lounge to – his production proficiency shining through.
In the end, though, heads didn't catch the fever for the Flavor, and This Is How It Is passed many people by. Suave Lover and Will-Ski severed ties, but Ski kept the Original Flavor brand alive – Suave was replaced by T-Strong and DJ Chubby Chub for the group's second LP Beyond Flavor in 1993 (best remembered for featuring the hit single "Can I Get Get Open" with Jay-Z). Original Flavor dissolved soon after, with Will-Ski hanging up the mic before returning strictly as a beatmaker, co-founding Roc-A-Bloc Productions in partnership with Dame Dash and Jay-Z's Roc-A-Fella Records. Behind the boards is where Ski struck success in the music industry – and while This Is How It Is doesn't sit amongst the elite group of Hip Hop albums that blessed 1992, it's an expertly produced record full of positive vibes and phat jams that deserves its just dues.
Leaders Of The New School - T.I.M.E. (1993)
Assembled by Public Enemy's Chuck D and The Bomb Squad, Long Island's Leaders Of The New School was one of the dopest live Hip Hop acts of their generation – a fine-tuned machine renowned for rocking animated stage shows with mad ad-libs and watertight call-and-response rhyme routines reminiscent of The Coldcrush Brothers, updated and rejuvenated for the '90s. Busta Rhymes, Charlie Brown, and Dinco D – three uniquely talented emcees with contrasting rhyme styles – were some of the freshest kids on campus. Swiftly taken under the wing of the Native Tongues – and with their rousing debut LP A Future Without A Past on their report card – LONS's popularity and reputation quickly grew.
After catching mad wreck on A Tribe Called Quest's "Scenario" (featuring Busta's legendary, show-stealing verse), the world was at their feet. With the stage set for the Leaders to go top of the class, could they graduate to the next level with their second album, T.I.M.E. (The Inner Mind's Eye)? While the album still receives mixed reviews, many heads (including this listener) think LONS passed the test with flying colors on their sophomore set – some would say surpassing their freshman effort. The group's DJ (and Busta's cousin), Cut Monitor Milo, stepped from behind the turntables to join Dinco, Busta, and Brown on the mic for T.I.M.E. – and the four minds combined to deliver an exceptionally slamming LP that sounded unlike anything else in '93.
Immediate highlights are the singles "Classic Material" and "What's Next?," the bass-heavy, boom-bashin' bangers "A Quarter To Cutthroat," "Connections," and "Bass Is Loaded," and the packed posse cut "Spontaneous (13 MC's Deep)" featuring Rumpletilskinz, Cracker Jax, and another one of Busta's cousins, Rampage The Last Boyscout. "Syntax Era" addresses the style biters and "non-rhyme writers," and on "Understanding The Inner Mind's Eye" and "Daily Reminder," LONS zone in on the album's central theme: using the mind to master time, control your destiny and achieve life's goals and aspirations. The contagious energy, frenetic flows, and script-flipping technical tongue twisters were still in their locker – but LONS dispensed with the playful party joints and schoolyard shenanigans of A Future Without A Past in favor of heavier raps recited with more ferocity on their second effort. The intensity and ultra-competitive spirit on T.I.M.E. is palpable – Busta and Brown especially seem to try and outdo one another, making for an exhilarating listen.
But the spotlight wasn't big enough for both of them – and concealed behind the sound of two supremely skilled emcees going rhyme-for-rhyme on record was something more destructive at the heart of the group: dysfunction, clashing egos and infighting – Charlie and Busta often coming to blows. Tensions began to mount, and cracks started to show when an interview with Fab Five Freddy in 1994 on Yo! MTV Raps came to an abrupt halt due to the crew quarreling on camera – the group unraveling right before the viewer's eyes. The writing was on the wall, and superstar status beckoned for Busta, who parted ways with LONS before blossoming into a hugely successful solo artist. Sadly, the Leaders were no more – a group with infinite skill and potential left with just two albums to its name. And while their final project masterfully combines the classic with the contemporary and possesses a truly original style, will it ever be awarded the plaudits it deserves? I guess only time will tell.
Nine - Nine Livez (1995)
What's in a number? Quite a lot – as it turns out – for Boogie Down Bronx rapper Nine, who bestowed himself that title for specific reasons. Born on 19/09/1969, Nine's mother went into labor at nine o'clock that day, and he wears a size nine shoe. It might not come as a surprise to know that his lucky number is – yep, you guessed it – nine. Originally going by the artist name of 9 Double M, he frequently collaborated with Funkmaster Flex in the early '90s, featuring on a selection of singles with the Hot 97 DJ, including Flex's 1993 club crowd-pleaser, "6 Million Ways To Die." Nine began to gain real traction as a recording artist when he signed to Profile Records and made mad noise with 1994's "Whutcha Want" – the lead single from his debut album, Nine Livez.
Ripping roughneck, reggae, and dancehall-flavored vocals and raspy raps over slammin' neck-snappers, Nine licks shots left, right, and center on Nine Livez, bringing the drama with menacing, full-throated rhymes and ill verbals. The production from Rob Lewis (a close affiliate of DJ Chuck Chillout and Funk Flex) and Tony Stoute (who worked with Nine's labelmate Tucka Da Huntaman) is impeccable throughout. "Hit Em Like Dis" (where Nine trades bars with his bizarre alter-ego Froggy Frogg) is must-listen material for all the Hip Hop heads out there – and the album's other singles, "Ova Confident" and "Any Emcee" are easily on par with "Whutcha Want," serving as just a couple of the many highlights on offer. Strictly hardcore, rough, rugged-n-raw was the mantra for much East Coast rap in the mid-'90s – and few emcees personified this style more than Nine on his debut album. If phat beats and raw rhymes are whutcha want, you can't go wrong with Nine Livez.
Two Kings In A Cipher - From Pyramids To Projects (1991)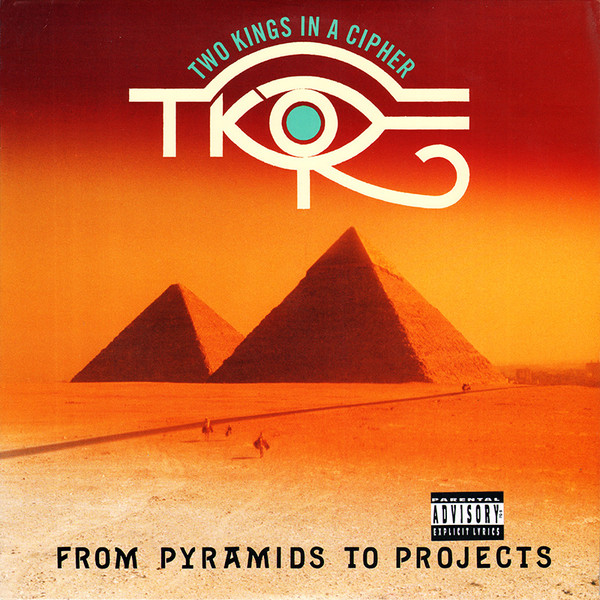 Afrocentric, conscious-minded Hip Hop was a crucial component of Hip Hop in the late '80s and early '90s, becoming one of the golden age's key components. One of the lesser-known groups to form part of this movement was Two Kings In A Cipher, composed of DJ Tone 'The Executioner' and Brooklyn-born emcees The Noble Amen-Ra and D.O.P. (Deliverer Of Prophecy).
The group's full-length inauguration was in 1991 when they rolled out their only LP, From Pyramids To Projects. Conceived, scribed, orchestrated, and performed entirely by the Two Kings – with DJ Tone slicing and dicing the "cuts of fury" – the album was a curious concoction of braggadocious bars combined and racial commentary interspersed with the science and supreme mathematics of ancient African civilizations. Exchanging rhymes with smooth, authoritative vocals and insightful, regal raps, the Kings Of TKO kick knowledge, wisdom, and understanding to inspire physical and spiritual elevation.
And in case you have trouble deciphering the album's themes and terminology, the LP comes complete with a 'Glossary of Definitions' to pore over. The jewel in the crown, though, is the album's sample-driven, funky-fresh beats – production was undoubtedly the pair's real forte. But From Pyramids To Projects failed to generate much pomp and ceremony, especially compared to the crew's contemporaries, and the Two Kings folded following the album's release. In a move that likely raised some eyebrows, Amen-Ra and D.O.P. later joined Bad Boy Records as members of the label's production team, The Hitmen (under the names Ron "Amen-Ra" Lawrence and Derrick "D-Dot" Angelettie) – and D.O.P. morphed into the Madd Rapper, dropping the album Tell Em Why U Madd in 1999. Two Kings In A Cipher might never be crowned Hip-Hop royalty, but From Pyramids To Projects is an early '90s nugget worth celebrating.
Down South - Lost In Brooklyn (1994)
Like many southern folk in the US who relocated up north over the generations, Down South upped sticks from the southern comfort of their Richmond, Virginia, home to the bright lights of New York City. Looking to make a name for themselves in the rap game, Myorr The DJ and cousins Sean J-Period and Soda Pop signed with Big Beat Records before dropping their debut LP Lost In Brooklyn in 1994.
Notable as Sean J-Period's first foray into the Hip Hop music biz, the producer-rapper contributed eight tracks to the project alongside The Beatnuts, Stretch Armstrong, and underrated Soul Assassins beatsmith T-Ray. Thanks to this lineup and, as hinted by its title, Lost In Brooklyn has that jazzy, drum-heavy mid-'90s East Coast sound. This made the group an exception to the rule compared with many Hip Hop artists south of the US Mason-Dixon line in '94. But the beats on the LP were blended with a dash of flavor from down south – the VA representatives certainly not forgetting their roots. Sean-J Period and Soda Pop pen colorful anecdotes and heartfelt odes to life in their hometown through much of the album, reminiscing on growing up in Richmond while sprinkling some southern slang into the mix. As Sean-J raps on the smooth single "Southern Comfort:" "We hit the black gold, Texas T, then we move to the north, but we'll never forget the southern folks are the source that raised us, and provided us with just a hint of southern twang in my vocal thang."
A year and some change post-Lost In Brooklyn, Sean J-Period emerged as a prolific production talent on the East Coast. He worked with Big Beat labelmates Mad Skillz and the Artifacts, along with the likes of the Boot Camp Clik, Mos Def, and Bush Babees, while producing for several artists on Rawkus Records. But despite providing plenty of Southern hospitality over stellar beats, Down South didn't just get lost in Brooklyn. The talented trio and their only LP got lost in the mix amongst the quantity and quality in what many consider the finest year of Hip-Hop's golden age.
KMD - Mr Hood (1991)
When KMD (Kausin' Much Damage, or a positive Kause in a Much Damaged society) arrived on the scene, they were part of an explosion of radically creative artists pushing the boundaries of Hip Hop music in the early '90s. Straight from Strong Island, NY, Onyx The Birthstone Kid, DJ Subroc, and his British-born blood brother Zev Love X got their break in 1989 when X appeared on the classic 3rd Bass track, "The Gas Face." Swiftly signed to Elektra Records by A&R Dante Ross (one-half of production duo The Stimulated Dummies), KMD's debut LP Mr Hood followed soon after.
At the album's core lies a curious – and brilliant – dichotomy: subversive, thought-provoking anti-racist rhetoric creatively manifested using satiric narrative wit and subliminal abstractions aimed at destroying negative racial stereotypes and dispelling damaging mythologies and prejudices. The album carried a serious message – yet KMD delivered it using joyful humor, sarcasm, subtlety, and imagination; their softly-spoken raps and eccentric slang brimming with youthful vigor and innocence. From raps tinged with the teachings of Islam to bugging out and hanging with your crew, the adventures of KMD in the land of racial and social inequality on Mr Hood is the antithesis of hypermasculine, in-your-face rap – this is Hip-Hop with a smile on its face.
Replete with vibrant funk, jazz, blues, and soul samples, smattered with snippets of Sesame Street records and other non-musical sources, Mr Hood possesses a certain lo-fi charm – and you can tell that KMD had complete creative control of the project. The brilliantly interwoven skits and interludes – cleverly constructed using sound bites from an old language instruction record – depict KMD's encounters with the ignorant, old-fashioned new guy in town, Mr Hood. Ingenious and genuinely amusing, they segue seamlessly with the songs and link neatly with the topics explored – one of the many things Mr Hood deserves much credit for. The only guest features come from KMD labelmates and fellow Five Percenters Brand Nubian on the righteous, pass the mic free-for-all "Nitty Gritty" – significant for marking Grand Puba's final appearance as a member of the Nubian crew. Hands down one of the most uniquely entertaining, innovative Hip-Hop records of all time, Mr Hood is a one-of-a-kind golden age creation – an album with which KMD truly delivered a positive Kause in a Much Damaged society. Rest In Peace, Subroc and Zev Love X / MF DOOM.
Grav - Down To Earth (1996)
Regrettably, several '90s Hip-Hop artists are members of the "one and done" club – dropping a dope debut LP before disappearing from the scene without much of a trace. Harlem, NYC native turned Chicago resident Grav is one such rapper with this unfortunate distinction. Sure, albums released by the club's members aren't all stone-cold golden-age classics – but many deserve more recognition nonetheless. And Grav's debut, Down To Earth, is a prime example – an LP that flew well under the radar when it surfaced that remains super-slept-on.
Released on the short-lived LA-based imprint Correct Records, Down To Earth is unquestionably an underground Hip Hop highlight of 1996. The tough, bouncy beats and soulful boom-bap grooves from Chicago beatsmiths Kanye West, No I.D., Doug Infinite, and Andy C are top-class. Kanye weighs in with eight tracks, and naturally, Down To Earth has gained much notoriety for featuring Mr West's officially accredited production premiere and first rapping appearance. But to say this is the album's main draw would be selling it well short. Labelmate and ex-Beatnuts member Al Tariq drops a standout verse on "City To City," and Jurassic 5's DJ Numark – the project's A&R director – supplies some killer cuts on the title track. And Grav himself holds it down on the mic – the Windy City emcee kicking relatable raps with a consummate flow while showing a flair for conceptual storytelling. He paints dark, dystopian pictures on "World Domination," a metaphorical memoir in which he shares "visions of the world being mine through blood, sweat, tears, and my rhymes." He takes the listener inside the darker reaches of his subconscious mind on the fictional "Sick Thoughts;" and warns aspiring artists to be wary of backstabbers in the "venomous" music industry on "Snakebite." "I move rhymes like retail, make sure s**t sell," goes the Raekwon The Chef-quoted chorus on the spirited "Keep Movin'." But regrettably, despite being a critical success, this hidden gem from Chi-Town's best-kept secret didn't sell well and sadly remains overlooked.
Das EFX - Straight Up Sewaside (1993)
New Jersey native Krazy Drayz and Brooklyn-bred Skoob formed Das EFX while studying at Virginia State University. After a few years performing in the VA area and recording demos, Das (an acronym for Drayz And Skoob) was spotted by EPMD at a talent show in Richmond. They failed to win the contest, but Erick and Parrish offered Drayz and Skoob a record deal off the strength of their performance. And the rest, as they say, is history.
They joined EPMD's Hit Squad crew and dropped their influential breakthrough debut LP, Dead Serious, in 1992. The album blew up, and Das EFX was a huge success. With high-energy, wildly addictive raps and a newfangled way of freaking flows, their now-iconic "iggedy-riggedy" rhyme style proved extremely popular. But popularity and innovation breed imitation – and a wave of rap acts suddenly appeared sounding just like Das, which led to a transition for the duo on their next album.
As with their debut LP, Straight Up Sewaside was almost entirely produced by Brooklyn beat-making team Solid Scheme. But this time around, something was noticeably different. Not only did the record have a heavier, more underground sound – Drayz and Skoob slowed their flows down a notch and dropped the "riggedy" from their rhymes. Thankfully, this wasn't to the detriment of Straight Up Sewaside. The dynamic duo once again exhibited their nifty wordplay, colorful similes, and witty pop culture references – bragging and boasting their way through bangers like "Undaground Rappa," "Gimme Dat Micraphone," "Check It Out," and the singles "Baknaffek," and "Freakit" – rubber-stamping their stature as one of Hip-Hop's most talented tag teams. Straight Up Sewaside may not be held in as high esteem as Dead Serious and proved nowhere near as successful, but the album is a fan favorite for many and regarded by some as the most impressive piece of work from the kids straight out the sewer.
Mountain Brothers - Self: Volume 1 (1998)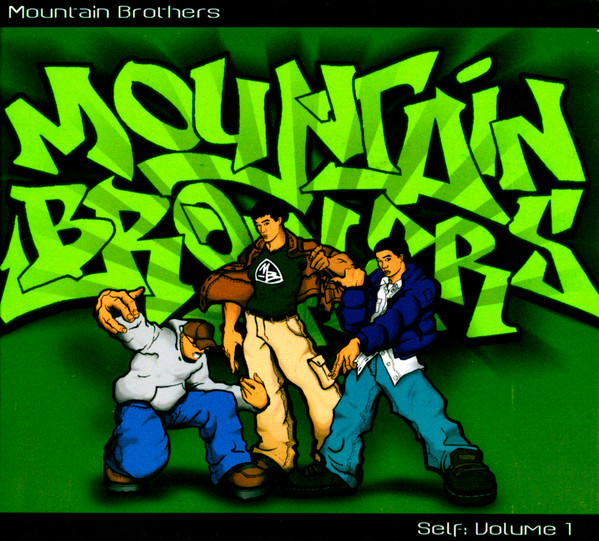 Asian-American Hip-Hop artists are relatively few and far between, often marginalized in Rap music. Among this small, underrepresented collective were the Mountain Brothers – a Chinese-American trio from Philadelphia comprised of emcees Peril-L, Styles, and producer-slash-rapper Chops. Bonding through their shared love of Hip-Hop while studying together at college in the early '90s, they initially named themselves Da Other Asiatics, dropping a demo tape in 1994. After emerging victorious at a nationwide singing contest sponsored by Sprite in '96, the group won what was considered a holy grail for many fledgling Hip-Hop hopefuls: radio exposure through an advert they recorded promoting the soft drink. A few singles and a short-lived label deal with Ruffhouse Records later, the Mountain Brothers released their first full-length, Self: Volume 1, in 1998.
The group's name was inspired by an ancient Chinese legend about a group of heroic bandits with special powers that lived on a tall mountain in the heart of China, reclaiming monies from the greedy rich, helping the less fortunate, and battling corrupt imperial forces. The liner notes of Self: Volume 1 state: "Now in 1998, a new generation of Mountain Brothers has emerged to serve justice, maintain order throughout the Hip-Hop universe, and elevate Hip-Hop music to the next level." And the MBs achieved that goal with their debut LP.
Released independently through their own imprint, Pimpstrut Records – and produced and promoted entirely by themselves – Self: Volume 1 is an organically crafted record in every sense. Chops curated the album's soundscape by sourcing samples strictly from live instrumentation, lacing the tracks with everything from warm, jazzy keys, plucky basslines, and the wah-wah guitar to create funky-fresh grooves and infectiously bouncy beats, even performing a vocoder solo on "Galaxies: The Next Level." The album has both style and substance in abundance. The MBs rap with confidence and ability, using clever wordplay and lighthearted humor, with several tracks carrying a strong message. They rhyme about the pitfalls of being trapped in the rat race on "Day Jobs," then on "Days Of Being Dumb," the trio reminisce about the more innocent, simpler times of their youth, reflecting on how their passion and dedication for Hip Hop still burns bright. And on "Paperchase," Peril-L and Styles express their refusal to compromise their artistic integrity by becoming a slave to the dollar bill – while Chops voices his disapproval towards old acquaintances who've suddenly come out of the woodwork now that he's financially stable.
Despite the album receiving critical acclaim and gaining a reputation as a late-'90s indie Hip Hop classic in underground circles – helping the MBs secure a small but loyal fanbase – the trio faced an uphill climb, failing to reach the summit of success and disbanded soon after releasing their second LP, Triple Crown, in 2003.
Smoothe Da Hustler - Once Upon A Time In America (1995)
Invariably during Hip Hop's golden age, a record would suddenly appear and blow up the streets without warning, leaving heads in a total frenzy. "Broken Language" by Brownsville, Brooklyn rapper Smoothe Da Hustler – which busted through speakers in 1995 – was one of those moments. An instant hood classic staying in heavy rotation on rap radio stations, Smoothe and his blood brother Trigger Tha Gambler unleashed a fresh new style of rhyming on an unsuspecting Hip Hop nation, trading back-to-back bars without a hook or bridge. The song graced The Source magazine's "Hip-Hop Quotable" feature, and soon enough, the door of Smoothe Da Hustler's rap career was flung wide open.
And he ran right through it with the release of his debut album, Once Upon A Time In America – the story of his life on the block and aspirations of transitioning from street corner hustler to successful rap recording artist. Smoothe's gravelly vocals and arresting, tenacious rhymes grab the listener by the throat – his concrete jungle chronicles and ghetto bravado saturated with sharp street slang, creative wordplay, and ill punchlines. Guest features come mostly from D.V. Alias Christ (considered by many as the East Coast incarnation of Nate Dogg) and Smoothe's right-hand man Trigger Tha Gambler.
Smoothe and Trigger (AKA The Smith Bros.) had incredible chemistry and formed a lethal combination. The two catch mad wreck on "My Brother My Ace" (a sequel of sorts to "Broken Language"), and Trigger supplies a killer hook on the opening salvo "F**k Whatcha Heard." Sonically, Once Upon A Time In America doesn't stand out from the crowd of mid-'90s hardcore East Coast Hip-Hop – but the exceptionally banging boom-bap sound supplied by Brownsville beatmaker DR Period (fresh off working on M.O.P.'s debut album) is the perfect soundtrack for Smoothe's rugged raps. But in the hugely competitive environment of '90s Hip-Hop, many under-exposed projects got lost amongst the relentless releases – and Smoothe Da Hustler's debut sadly met that fate. It's a pity, as Once Upon A Time is stacked with surefire street anthems and expertly ripped rhymes – a hard-hitter from front to back that goes pound-for-pound with many other heavyweight LPs from the 9-nickel.
Punk Barbarians - Sex Props, Cream… And The Drama In Between (1996)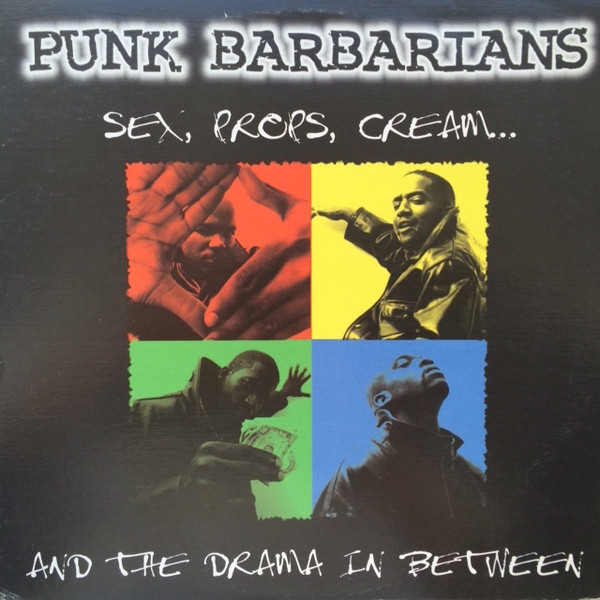 The list of Long Island Hip Hop legends and pioneers is extensive. From Rakim to De La Soul to EPMD to Public Enemy to Leaders Of The New School to Biz Markie, it's no wonder the New York borough goes by the nickname of Strong Island. No pressure then for L.I.'s newest rap recruits the Punk Barbarians when they came on the scene in the mid-'90s. Continuing the legacy of their trailblazing Long Island forefathers who helped revolutionize the art form would be no easy feat. But the four-emcee crew consisting of BamBam, Doozer, Renegade, and Sunny Cheeba proved they were up to the task.
Blasting off in 1994 with "Kidds From Terror" off Terminator X's second LP, Superbad, expectations were understandably high for the PBs – and they definitely delivered with their debut LP. Dropping in 1996, Sex, Props, Cream… And The Drama In Between explores the trials and tribulations that go with the trappings of everyday existence. Or as described in the album's liner notes: "Life is often about fleshy desire, the quest for prestige, and the fight for loot. But it's also about struggle, the effort to turn those three shallow notions into deeper meaning. The drama. Herein lies the balance." And the rhyming quartet expertly executes this concept while deftly playing off each other, harmoniously interchanging energetic, engaging raps loaded with intricately designed rhymes and spontaneous, staccato flows; fused with bluesy jazz, melodic keys, and precision snare drums, creating an undeniably hard-but-smooth vibe and a fluid, cohesive sound. "The drama in between is what's real but still seldom seen," the crew chants with vigor on the title track's chorus. Alas, the Punk Barbarians were also seldom seen – or heard – after Sex, Props, Cream… And The Drama In Between, despite the Strong Island disciples earning their stripes with their first but unfortunately final LP.
Chubb Rock - I Gotta Get Mine Yo! (Book Of Rhymes) (1992)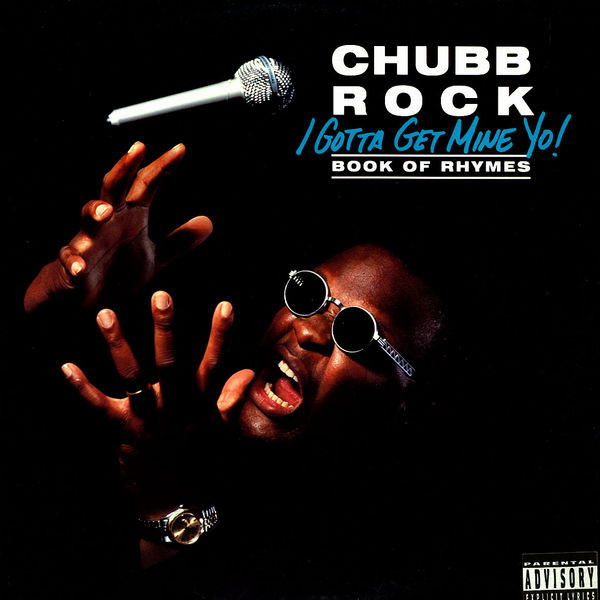 Underappreciated albums and underrated rappers often go hand-in-hand. Chubb Rock is no exception – the Brooklyn-born rhyme sayer has dropped several unheralded projects and still doesn't get the recognition he should earn. As one of the most overlooked artists of Hip Hop's golden age, The Chubbster was a highly influential figure for many up-and-coming rappers, most notably fellow-Brooklynite Biggie Smalls. A pre-med student, Chubb Rock succumbed to his love for Hip-Hop and dropped out of college to pursue a rap career, releasing five albums over a nine-year span. Chubbs teamed up with his cousin Hitman Howie Tee for his first two records before releasing three solo albums in the '90s – and '92's I Gotta Get Mine Yo! (Book Of Rhymes) probably goes down as my personal favorite.
Produced entirely by Rock himself alongside The Trackmasters, The Chubbster rocks the mic right on his fourth outing – his intelligent lyricism and commanding baritone vocals in full flow. "3 Men At Chung King" (named after the now obsolete Chung King Studios) finds Chubbs trading bars with Red Hot Lover Tone of The Trackmasters and Grand Puba over a quintessentially raw instrumental. Rock tackles racial issues on "Don't Drink The Milk" (switching personas to his comical-sounding alter ego, MC Nasal), "My Brother," and "The Hatred." "Every studio session, I try to kick a positive lesson," he rhymes on the latter. As a footnote, "Yabadabadoo" sparked a little-known beef between Chubb Rock and Cypress Hill. "He's buzzin', cummin' at cha, and you know we had to whatcha, time for some lyrics, while I kick it and you hear it," rhymes Rock on the track – and Cypress Hill took this line as a direct diss towards their lyrical ability, responding by taking aim at Chubbs on "Insane In The Brain."
21 tracks deep, Book Of Rhymes may have fared better had Chubb Rock been more ruthless and cut some of the filler. But make no bones about it, The Chubbster went and got his with I Gotta Get Mine Yo! – so get yourself a copy and celebrate one of Hip Hop's underrated legends.
Gunshot - Patriot Games (1993)
By the early '90s, the UK's burgeoning Britcore movement began to dominate the landscape. True trailblazers like Hijack, Hardnoise, Silver Bullet, and Demon Boyz built a brand of indestructible, hardcore Hip Hop that blew your mind – and your speakers. And, of course, there was the crew straight out of Hackney, East London – Gunshot.
Formerly known as Sudden Impact, emcees Alkaline (R.I.P.) and Mercury and DJ Wildchild Rix were front and center of the Britcore scene and a real force to be reckoned with – an unstoppable three-headed monster ready to blow up the spot. After releasing a string of successful singles – like "Battle Creek Brawl" and "Children Of A Dying Breed" – and steadily building a reputation as ones to watch in the UK rap field, Gunshot dropped the official bomb in 1993: their debut LP, Patriot Games.
Combining elements of ill emceeing, punishing production, and breakneck scratching, the album is hard-as-nails. Alkaline and Mercury's raw, rude boy raps wreak havoc – and Wildchild Rix murders the mix with noisy, clattering breakbeats and supreme skills on the wheels of steel. Alkaline's performance, in particular, is breathtaking from start to finish – his roughneck, cockney-patois stylings, and flawless, rapid-fire flows are untouchable. A high watermark and defining moment for UK Hip Hop, Patriot Games is a serious piece of Britcore bizness that hits harder than a bullet and pulls no punches. Regrettably, the East End crew didn't get the recognition and praise they deserved outside of Britain and Europe, and their landmark debut failed to gain more worldwide acclaim. But with Patriot Games, Gunshot staked their claim as the UK's most dangerous Britcore outfit.
Kurious - A Constipated Monkey (1994)
What would you do if you were labelmates with Nas, who was just months away from dropping his soon-to-be crowned 5-mic classic, Illmatic? Drop the brilliant but underrated A Constipated Monkey, of course! Sure, Kurious Jorge certainly had his work cut out when putting together his break-out full-length in '94 – to say it was a tall task for the Cuban and Puerto Rican rhymer to make an immediate and long-lasting splash in a flooded, quality-filled market would be an understatement. But he came through in the clutch, delivering a consistently captivating project in a year crammed with classics.
As a member of the Uptown NYC collective The Constipated Monkeys (a crew of MCs, DJs, B-Boys, and graffiti writers which included the likes of KMD and Bobbito Garcia of Stretch & Bobbito fame), Kurious formed close connections with The Beatnuts, 3rd Bass, and The Stimulated Dummies – securing the production talents of the SD50s, Pete Nice & Daddy Rich and The 'Nuts all in their prime for his first long-player.
Packed with top-notch, horn-heavy boom bap beats, the LP features the underground hits "Spell It With A J", "Walk Like A Duck", and "Uptown S**t" – all definite high points. Confidently breezing through every track, Kurious kicks humble freestyle raps with lighthearted, colorful humor with help from guest rappers Psycho Les, MF Grimm, and Casual of the Hieroglyphics crew – and also ensures he brings some substance to the table. On "Leave Ya With This," Kurious drops a dope dedication to KMD's Subroc (R.I.P.), while "Nikole" is a bittersweet tale of lost love. And Jorge finds time for sincere self-reflection on the autobiographical, soul-searching Pete Nice & Daddy Rich-produced "I'm Kurious" – arguably the LP's finest cut. The slammin' B-side-only track "A Mansion And A Yacht" featuring Brand Nubian's Sadat X and Mike G of the Jungle Brothers may be missing from the tracklist – but Kurious The Magician pulled the rabbit out of the hat with A Constipated Monkey, an album worthy of much more credit.
Ultramagnetic M.C.'s - Funk Your Head Up (1992)
No doubt, Ultra's debut LP – the seminal classic Critical Beatdown – was a hard act to follow. The tragic passing of legendary engineer and production wizard Paul C, who was instrumental to the project's pioneering sound, only added to the challenge of delivering a sequel worthy of the wait. And by 1992 – following a four-year album hiatus – a fresh new batch of cuts from the Bronx crew was long overdue. Switching labels to Mercury Records, MC Kool Keith, DJ Moe Love, and rapper-producers Ced Gee (one of Hip-Hop's earliest exponents of the SP1200) and T.R. Love unveiled Funk Your Head Up.
Produced almost entirely by the Ultras, the album's stripped-back, high-voltage beats, obscure sci-fi and b-movie sound bites, and futuristic, space-age rhymes continued in the same vein as its predecessor. Once again, the Bronx Bombers were helmed by the one and only Kool Keith – the top 10 emcee who doesn't appear in nearly enough top 10 emcee lists. Tracks like "MC Champion," "Go For Yourz," and "Make It Happen" underline why Keith is a true microphone master and one of the nastiest rappers in the game – his unconventional cadences and advanced vocabulary setting him apart from the pack. With his calm, self-assured presence, phenomenal flow, and unnerving delivery, he scythes through the hardcore, vintage drum breaks with absolute impudence. "Pluckin' Cards" – Keith's scathing attack on a whole host of artists in the Hip-Hop industry – is striking as it is audacious. Showing no mercy, he steps to anyone and everyone, from Kool Moe Dee to A Tribe Called Quest to Salt-N-Pepa to De La Soul.
Sure, Funk Your Head Up isn't without its flaws, and inevitably, it failed to reach the level of Critical Beatdown. The album would have benefitted from a higher quality mix-down and studio mastering – and why the slamming East Coast Mix of "Poppa Large" was omitted from the tracklist is a real head-scratcher. Despite being awarded four mics in The Source, the project bombed and was a critical and commercial flop. Arguably, Ultra's beats, rhymes, and flows were ahead of their time. Some heads perhaps didn't catch on, and in some circles, Funk Your Head Up remains the least well-regarded LP in the Ultramagnetic catalog. But don't let any of that put you off – this discarded early '90s NYC classic demands an official reissue and remaster, along with a thorough reassessment, by which time it might finally get the props it deserves.
Tracey Lee - Many Facez (1997)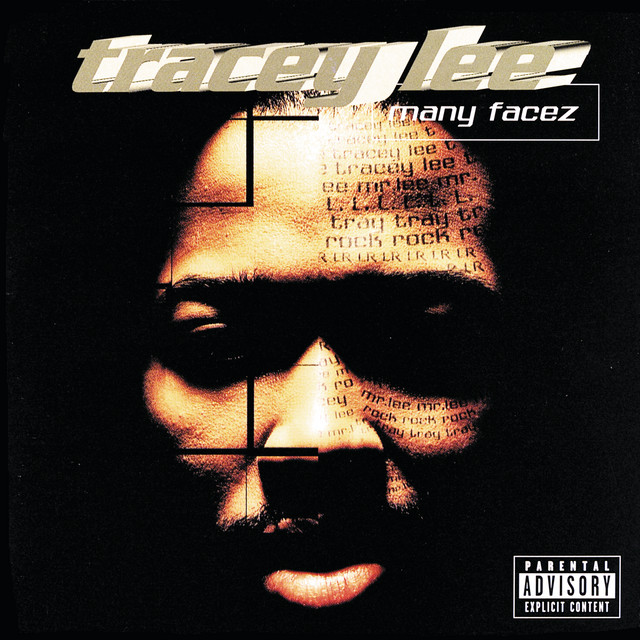 Buffalo-born Tracey Lee is the perfect example of a '90s rapper with tons of talent and unfulfilled potential. When his party-starting single "The Theme" caught fire in 1997, Lee rose to prominence almost overnight. Striking while the iron was hot, Lee's label, Bystorm/Universal Records, wanted to drop his first album, Many Facez, on the quick-fast – and Tray had to pull out all the stops to piece together his debut set as swiftly as possible.
Composed of a handful of demos recorded in the early to mid-'90s, mixed with a collection of newly constructed cuts, Many Facez showcases Lee's various flows, flavors, and cadences. Exhibiting formidable mic skills and an arsenal of versatile rhyme styles, Lee unmasks the multiple sides of his fictional split personalities. There's L. (the straight-up rhymer who features most prominently on the LP), Mr Lee (the businessman), LR (the reflective, serious side of Tracey Lee), Rock (the party man and drinker), and Tray (the ladies' man). This eclectic cast of characters, all with unique personas and distinctive deliveries, are individually represented on their own tracks. L. rocks the mic right on the groovy "Stars In The East" and then exposes his vulnerability on the introspective "Living On The Edge." Mr Lee flexes as the shrewd street corner entrepreneur on "Big Will," and Rock gets down on "The Theme" and "The After Party (The Theme II)" featuring Busta Rhymes, while LR spits flames on "Rugged One." All five characters appear simultaneously on the title track, trading bars and jostling for position. And L., Mr Lee, Rock, and Tray find themselves pitted against one another and protesting their innocence on the murder mystery-themed "Clue (Who Shot LR?)."
Thanks to Lee's close connections with Bad Boy Entertainment and Hitmen producers Derrick "D-Dot" Angelettie and Ron "Amen Ra" Lawrence (formerly of Two Kings In A Cipher), Many Facez features beats from D.Dot and Amen-Ra, along with a guest appearance from The Notorious B.I.G. on "Keep Ya Hands High," where Lee goes line-for-line with the late legend. Ultimately, the album's rushed release was both a blessing and a curse. While it inspired the birth of an original, entertaining theme, Many Facez lacks cohesion in places. Its concept feels underdeveloped, and Lee's many faces aren't fully fleshed out, leaving listeners wondering what might have been. But the bottom line is this creatively crafted record – executed with the swagger of a veteran emcee combined with the raw passion and energy of a hungry new jack – is arguably 1997's most snoozed-on album; a diamond in the rough from the man with Many Facez.
Blahzay Blahzay - Blah Blah Blah (1996)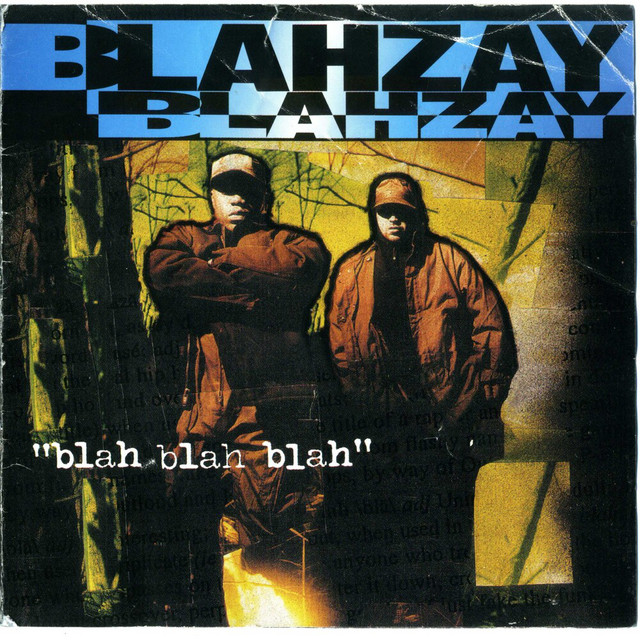 In 1995, DJ and producer P.F. Cuttin' and rapper Outloud – better known as Blahzay Blahzay – pledged their allegiance to the East Coast with the classic underground hit "Danger," a warning to all rappers that no one is safe "when the East is in the house." The Brooklyn duo dropped their debut LP, Blah Blah Blah, the year after – carrying the torch for New York Hip-Hop and showing everyone "how the East Coast rocks."
Friends from childhood, the Crooklyn pair possessed that natural DJ and emcee chemistry. True students of the game, Cuttin' and Outland had done their homework, studying and paying homage to the past masters of the emcee and DJ/producer craft who paved the way, like Gang Starr, Pete Rock & CL Smooth, and Showbiz & AG.
Immediately apparent on Blah Blah Blah is P.F. Cuttin"s expertise behind the boards. Producing the album in its entirety, the well-established DJ and firm fixture of the NYC mixtape circuit had clearly sharpened his production chops. Emerging as a supremely skilled beatmaker, he lays down dope tracks with dynamic samples over banging drums fortified with formidable, seamless scratch choruses, slicing up classic lines from iconic rap tracks that fit flawlessly with the content of each song. The brooding, organ-laced "Don't Let This Rap S**t Fool You" is one of the most polished production pieces on the project, and "Danger – Part 2" (featuring Smoothe Da Hustler, Trigger Tha Gambler, Dark Man, and D.V. Alias Christ) is a worthy sequel to the original.
While Outloud doesn't blow many rappers out of the water, he has a powerful vocal presence, showing sharp skill on the title track and tunes like "Pain I Feel" while displaying his storytelling savvy on the ill "Good Cop/Bad Cop," where he steps into the shoes of a corrupt police officer. Granted, Blahzay Blahzay hardly reinvented the wheel with Blah Blah Blah, which is definitely a product of its time. But armed with robust raps and P.F. Cuttin''s production prowess, you have a slammin', must-listen NYC banger on your hands that you shouldn't let slip through your fingers.
Freestyle Fellowship - To Whom It May Concern (1991)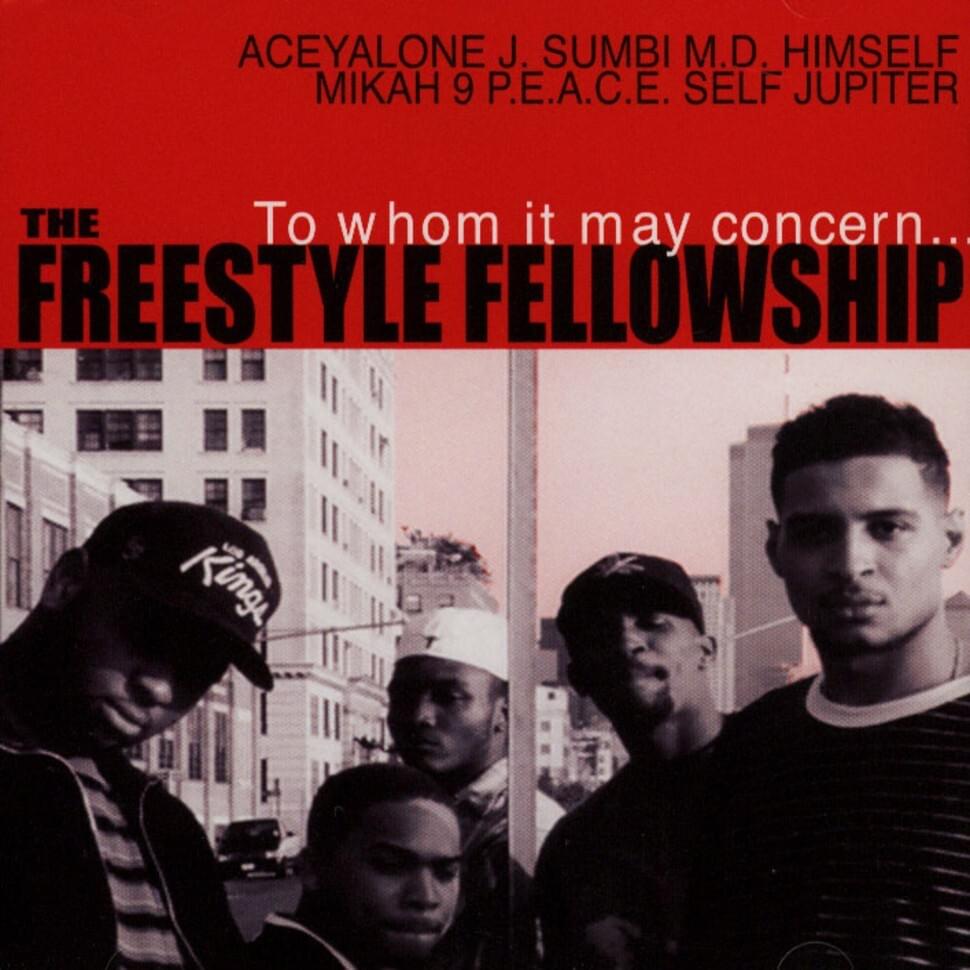 Throughout the '90s, The Good Life Cafe played a significant role in helping LA's thriving alternative Hip Hop movement flourish. The fabled open mic nights held at the now-infamous cafe and health food store provided a platform for Hip Hop hopefuls to display their talent, hone their skills and perform new material. Instrumental to the Good Life scene was an amalgamation of wordsmith wizards from Crenshaw, South Central LA, known as Freestyle Fellowship, composed of J. Sumbi and M.D. Himself (as the duo All In All), P.E.A.C.E., Self Jupiter, and founding members Mikah 9 and Aceyalone.
Their debut album, To Whom It May Concern, is unquestionably one of the more seminal and boundary-breaking records of the '90s. Using a 4-track tape recorder to produce the project, Freestyle Fellowship independently distributed the album hand-to-hand via 500 cassette tapes, the profit from which was later used to press up 100 vinyl copies. This established the Fellowship as one of the earliest Hip Hop groups to press an album on wax on their own label. And there are plenty of other reasons why To Whom It May Concern was such a pioneering release.
As they expressly announce on the forthright anti-racism and police brutality manifesto "We Will Not Tolerate," the Fellowship are definitely not your ordinary rappers. Their tongue-twisting lyrical excursions, elaborate vocabulary, polyrhythmic rhyme patterns, and erratic pitch-switches pushed the art of emceeing past the margin. Contorting their fluctuating vocal cords around the jazzy soundscapes and funky rhythms as if their voices were musical instruments, the Cali crew fused creativity with innovation. Their astounding verbal acrobatics and lyrical complexity are something to behold – yet Freestyle Fellowship aren't always given their props. Last year, however, Mikah 9 received some long-overdue recognition, crowned the king of rap wordcraft by being awarded the top spot in Matt Daniels' Hip Hop Vocabulary Chart. And more recently, To Whom It May Concern was nominated in the Best Historical Album category at this year's Grammy Awards. Here's hoping the Fellowship's debut LP continues to earn the accolades it so richly deserves, as their genre-bending showpiece inventively and defiantly deviated from the prevailing trends in Hip Hop – and paved a path for others to follow in the footsteps of the Freestyle Fellowship.
Mic Geronimo - The Natural (1995)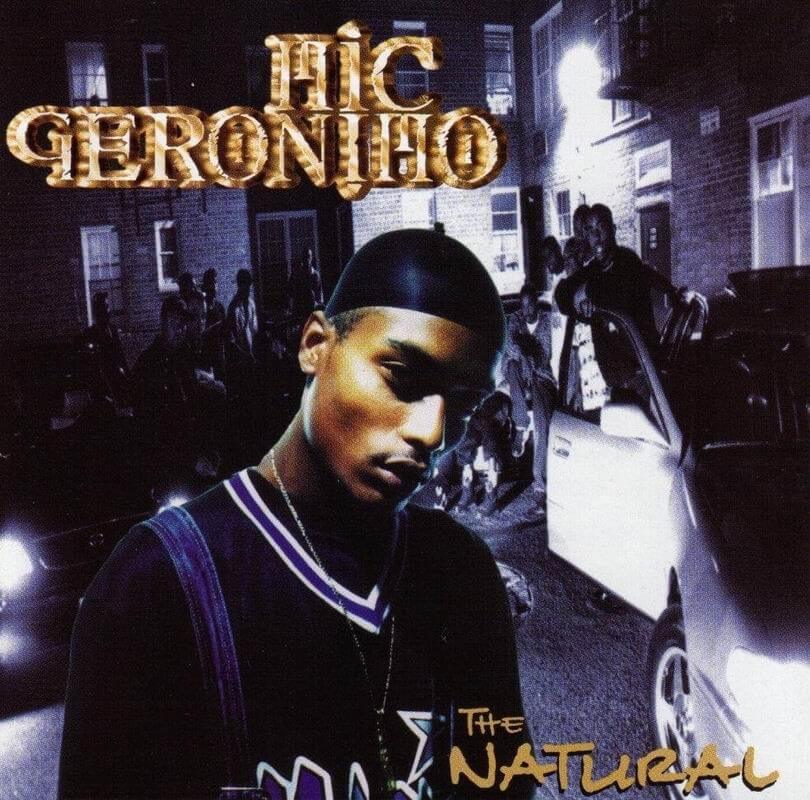 The NYC borough of Queens has long been a fertile breeding ground for Hip Hop talent, constantly churning out a wealth of artists hungry to make their mark in the rap game. None more so in the mid-'90s than the highly underrated Flushing emcee Mic Geronimo. A close friend of Large Professor, the young rapper straight from "The Planet Of Queens" cut his teeth DJing for Extra P before linking with DJ Irv (AKA Irv Gotti of Murder Inc.) and pressing up his demo "S**t's Real" in 1993. Quickly turning into a street smash and doing a lot of damage on the airwaves, the demo put Geronimo in the spotlight – and demand for more product from Mic G was building. Inking a deal with Blunt Recordings, the underground gem "Masta I.C." set the wheels in motion for Mic to come through with his eagerly awaited debut, The Natural, in 1995.
Geronimo's calm, confident, but gritty delivery definitely befits the album's title. A thorough lyricist and natural, masterful mic technician, his flows float effortlessly atop the grimy, blunted basement beats provided by Buckwild, Da Beatminerz, Mark Sparks, Chyskillz (R.I.P.), Nashiem Myrick, and DJ Irv. Fully equipped with an impressive roll-call of guest emcees, the album features three of the more overlooked posse cuts of the '90s. "Men V. Many" sees Geronimo go toe-to-toe with O.C. and fellow Flushing rhymer Royal Flush over a spacey, bass-heavy Beatminerz backdrop. "Time To Build" features verses from Jay-Z, Ja Rule, and DMX before they became Hip Hop household names, making for a truly historic moment. And the remix version of "Masta I.C." features the Lost Boyz and Royal Flush (in another of several appearances he makes on the LP).
With such a strong release under his belt, it felt like Mic G was poised to be the next big thing coming out of Queens. But his fallout with Irv Gotti and label politics curtailed his career, as he faded into obscurity following the release of his solid but slightly disappointing second LP, Vendetta. Regardless, Mic Geronimo perfectly personifies gully, street-certified NYC Hip-Hop to the fullest with The Natural – a mid-'90s East Coast classic worthy of being hailed as one of the foremost full-lengths of 1995.
Royal Flush - Ghetto Millionaire (1997)
Following his buzzworthy appearances on Mic Geronimo's The Natural, it was finally time for Royal Flush to shine with his debut album Ghetto Millionaire. Straight from Flushing, Queens – and the cousin of C-N-N's Capone, Flush created a real stir on the underground in the build-up to his first album – not least with his '96 single "Worldwide," which ruffled a few feathers, especially on the East Coast due to Flush taking shots at his fellow New Yorkers. And mixtape favorites like "Movin' On Ya Weak Productions," the album's second single "Iced Down Medallions" and "Rotten Apple" (sadly absent from Ghetto Millionaire due to sample clearance issues) had heads fiending for a full-length offering from the Blunt Recordings signee.
And when it finally arrived in 1997, Ghetto Millionaire didn't disappoint. Flush keeps it thorough on his debut – with smooth, composed raps, slick street dialect, and absorbing, deeply crafted tales of street dreams and paper chases backed by sublime beats from production hotshots like Buckwild, Da Beatminerz, Hi Tek, EZ Elpee, Chyskillz (R.I.P.) and L.E.S., and features from Mic Geronimo, Noreaga and Queens crew Wastlanz. Several record labels – including Def Jam – courted Flush for his signature before Ghetto Millionaire was fully forged, but Blunt Recordings remained his home.
Who knows what might have been had the album received commercial exposure with the help of a big label – striking a deal with Def Jam or another major might have put Flush at the top of the deck. But it didn't happen, and Blunt failed to properly push the LP, resulting in Ghetto Millionaire getting lost in the shuffle. While not necessarily breaking any new ground or separating itself from the pack of similar releases, Royal Flush's exceptional debut set impeccably encapsulates the true essence of mid to late-'90s NYC street rap – and warrants much more praise.
The UBC - 2 All Serious Thinkers (1990)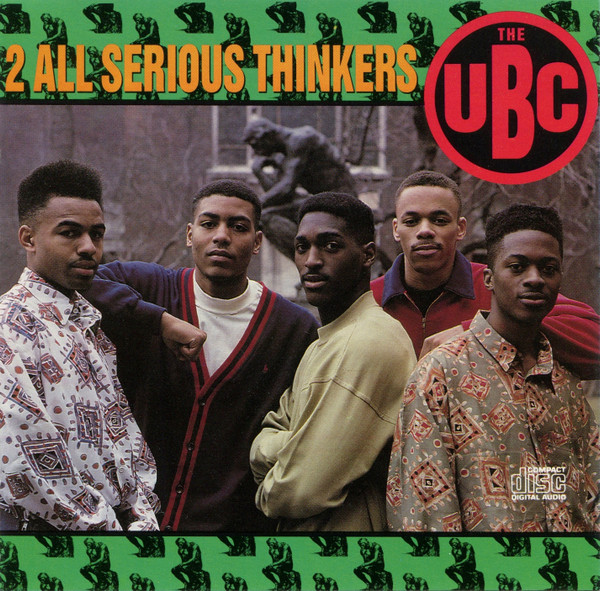 Obscure rap albums not only carry an air of mystery – they also possess an extra element of reverence and are often elevated to cult status. Of course, some records should arguably remain in obscurity – but many other forgotten gems are exceptional pieces of work, deserving not to be as widely neglected. The first and final LP by Long Island crew, The UBC, definitely falls into the second category – and is an essential inclusion on this list.
A tight-knit outfit of emcees, producers, DJs, and dancers, the core members of the UB collective consisted of The E-Ski Spectacular Show, Mike Air, The Blitz, Cae Love, and D-Nasty. Rapper E-Ski was once part of Leaders Of The New School, but after falling out with Charlie Brown and being replaced by Busta Rhymes, he left LONS to join The UBC. Initially signed to First Priority Music alongside artists like Positive K, Audio 2, and MC Lyte, EMI Records scooped the group up after it won a demo contest at The New Music Seminar in 1989.
Their super-fresh but largely unknown debut LP, 2 All Serious Thinkers, dropped the year after. E-Ski was the album's nucleus, flying solo on eleven of the LP's thirteen tracks – all penned in 1987. He flows fluently with crystal clear diction across stripped-back, head-bopping beats by Cae Love and D-Nasty, his elegant rhyme style smooth like butter and intelligent, thought-provoking lyrics eloquently articulated. "Dropping degrees on sucker emcees," Spectac doesn't just come out swinging on half-steppers – he drops knowledge and wisdom with substance and sincerity.
Radiating a sense of warm nostalgia, 2 All Serious Thinkers leaves you longing for the days when much of the Hip Hop on offer stimulated your mind. It's a positively joyous listen that gets you lifted, minus any artificial gimmicks – and as the album cover's hype sticker proclaims, this is "headstrong Hip Hop for the '90s." So give some serious thought to unearthing this golden early '90s nugget – you won't be disappointed.
Bahamadia - Kollage (1996)
In 1993, Gang Starr's Guru (R.I.P.) launched his independent imprint Ill Kid Records – a label showcasing fresh Hip Hop talent and helping break upcoming artists via vinyl-only street promos. One emcee on Guru's radar was a female from Philadelphia named Bahamadia. So impressed was he with the Philly emcee's premier performance on "Funk Vibe" from the Funky Vibes compilation EP released in '93 on indie label IQ Records, Guru swiftly snapped up Bahamadia and added her to the Ill Kid line-up. After appearing on the Ill Kid Jumbo Sampler that same year with the Guru-produced bomb "Total Wreck," Bahamadia became the Gang Starr rapper's protegee, securing her a record deal with Chrysalis/EMI (Gang Starr's home at the time).
Under Guru's guidance, the Philly rhymer began building her debut album Kollage. Guru once said: "It's mostly tha voice" – and with Bahamadia's distinctive vocal style, it's no wonder he took her under his wing. One of Hip-Hop's most overlooked female emcees, her calm, deliberate delivery, silky, nasal verbal tone, and intricate flows effortlessly cut through the tracks on Kollage like a hot knife through butter.
Blessed with beats by DJ Premier, Guru, Da Beatminerz, Ski Beatz, Rap-A-Lot producer N.O Joe and Philly affiliates The Roots, the varied vibes of Kollage perfectly complement Bahamadia's intellectual wordplay and dulcet vocal textures. Premier provides some classic Preemo goodness on the super-fat "Rugged Ruff," the thumping "3 Tha Hard Way" featuring Philly female spitters K-Swift and Mecca Star, and bestows "True Honey Buns" with a hazy, nocturnal ambience. The blissful, N.O Joe-produced "I Confess" is an intimate, soulful serenade set over sweet guitar licks and high-pitched synths. And on "UKNOWHOWWEDO" Bahamadia salutes a whole host of Philly Hip-Hop legends, underground heroes, and pioneers from past and present over an infectious jeep-beat groove supplied by Roc-A-Bloc beatmaker Ski. A captivating collage of sounds and flavors combined with profound poetry, Bahamadia's sparkling debut is a masterful contribution to the Hip-Hop world that shouldn't go undervalued.
Prime Minister Pete Nice & Daddy Rich - Dust To Dust (1993)
Staunch 3rd Bass fans were left feeling more than a tad disappointed after the group's bitter break-up following the release of their soundtrack single "Gladiator." Two gold-certified albums deep and steadily growing in stature – MC Serch, Prime Minister Pete Nice, and DJ Daddy Rich were on a roll. But it soon ended in acrimony, with Pete and Serch going their separate ways. MC Serch dropped his solo set, Return Of The Product, in 1992 – while Pete Nice and Daddy Rich stuck together to form a duo, releasing their first and only full-length the year after.
The album spawned two singles, "Rat Bastard" and "Kick The Bobo," which – as especially evident from their respective videos – were disses thrown at MC Serch, showing Pete and Rich still held some animosity towards their ex-comrade. Pete Nice probably won't appear on any greatest rappers of all time lists – but he was still an extremely competent rapper and lyricist. And with the Prime Minister's sinister vocals, sharp similes, and dry, witty double entendres, combined with superbly crafted, exceptionally dynamic instrumentals and Daddy Rich's superior turntable wizardry, Dust To Dust stays true to the classic 3rd Bass sound, despite Serch's absence. The title track sounds like something ripped straight out of the Derelicts Of Dialect sessions – with Pete Nice's fierce delivery and Rich's ferocious scratches set to a foreboding upright bass loop and chilling sound effects over a stripped-back breakbeat. Pete Nice praises his deadly DJ on "The Lumberjack" – and rightly so – he's an essential element of Dust To Dust, ripping the turntables to shreds with lightning hands and precision cuts.
Assisted by The Beatnuts on a handful of tracks, Pete Nice & Daddy Rich handle the bulk of the production. And frequent 3rd Bass collaborator, Sam Sever of Downtown Science, supplies the soundscape for what's arguably the album's pinnacle: "The Rapsody (In J Minor)" – its pulsating bassline, quirky keys, and catchy chorus creating a piece of pure majesty. Along with features from Kurious, Psycho Les of The Beatnuts, and Benz from Daddy Rich's crew, the Dredknotz on the album, there's an uncredited debut appearance from underground rapper Cage on "Rich Bring 'Em Back." Now long out of print, Dust To Dust is easily one of the most underrated albums from '93 and remains a sorely slept-on piece of early '90s gold – unfortunately left to gather dust on the shelves.
Lord Finesse - Return of the Funky Man (1991)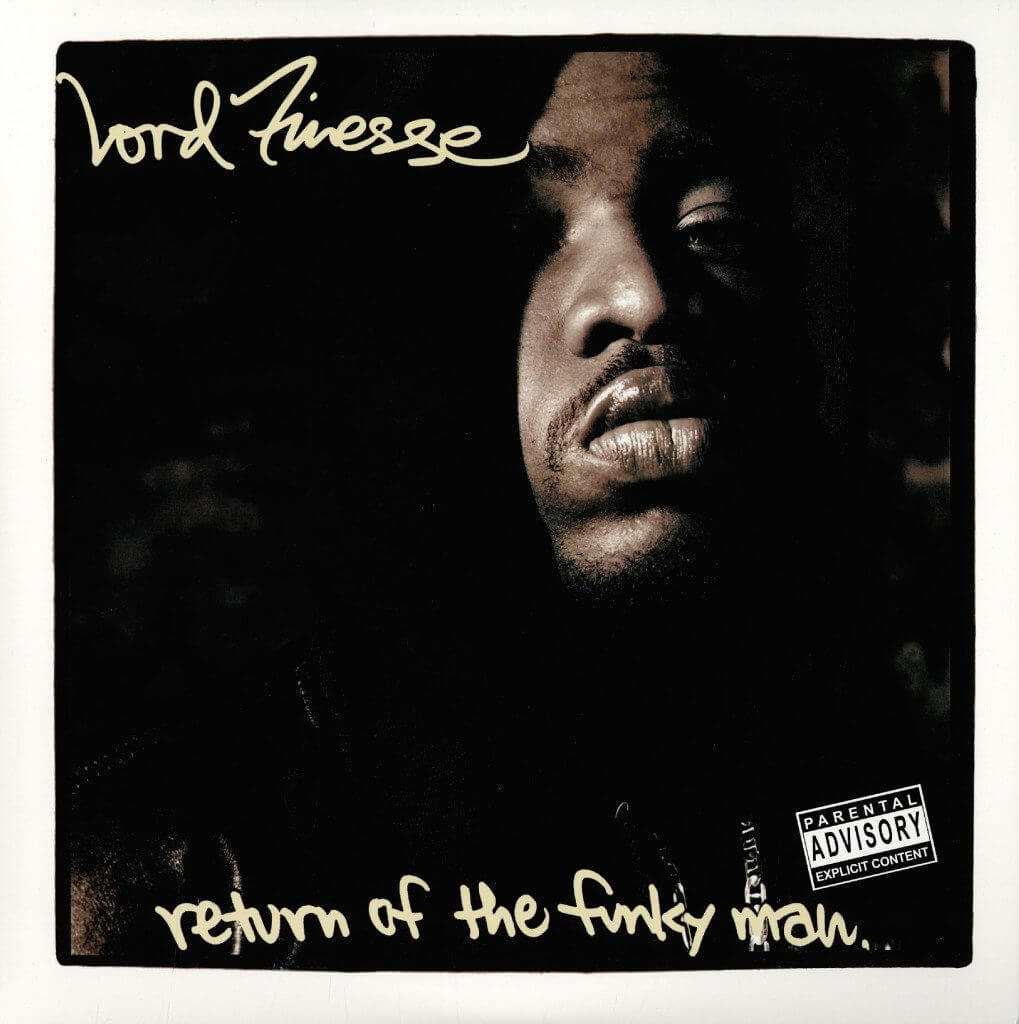 The early '90s saw the emergence of one of the most magnificent, immensely skilled – yet sorely underappreciated – Hip Hop collectives of the golden age: the mighty Diggin' In The Crates crew. One of its core members is the rhymer's rhymer – the man many crown Hip Hop's punchline king – Lord Finesse.
Parting ways with Wild Pitch following his first LP, Funky Technician, the Bronx-bred emcee joined Ice T's Rhyme Syndicate collective and signed with Giant Records before dropping his sophomore release. While his debut album paid homage to his heroes and early influences like Rakim, Big Daddy Kane, KRS One, and Kool G Rap, Return Of The Funky Man showcased a more individual style. Finesse found his niche and came into his own, rocking compound rhyme schemes and kicking classic quotables with undeniable smoothness, displaying a flair for metaphors, similes, slick rhymes, and powerful punchlines.
By this time, "the brother with a fade, half-moon, and long sideburns" could outwit virtually any rapper with some of the freshest slang and most flamboyant flow in the game – Finesse had clearly mastered the art of rhyming. There's production to match, too – the album's banging, bare-bones beats coming courtesy of D.I.T.C.'s Showbiz and Diamond D, The Rhyme Syndicate's DJ Aladdin & SLJ, and Lord Finesse himself.
Both guest rappers on the LP – fellow Boogie Down Bronx rhymers Andre The Giant of Showbiz & A.G. and Percee P – go line-for-line with their host on "Yes You May;" and Percee P's feature on "Kicking Flavor With My Man" recaptures the essence of his fabled freestyle rap battle with Finesse in 1989. How this album isn't more highly regarded and why Lord Finesse isn't handed his rightful place amongst rap royalty remains a mystery. But it's never too late to praise the Lord and roll out the red carpet for the Return Of The Funky Man.
Private Investigators - React Like Ya Knew (1993)
In the late '80s and early '90s, New Jersey crew Redhead Kingpin & The F.B.I. played a significant role in the flourishing – but fleeting – New Jack Swing scene – a genre fusing elements of Hip-Hop, R&B, Funk, and Disco. Closely affiliated with New Jack Swing pioneers Teddy Riley and Wreckx-N-Effect, the group released a pair of well-received LPs in 1989 and 1991. But in '93, all that changed. Redhead Kingpin and F.B.I. member DJ Wildstyle were back on the case – but this time with newcomers Gicci Brown and Knowledge as the Private Investigators. Red took center stage as the crew's ringleader – and their debut album marked a true metamorphosis for the NJ rhymer.
Reinventing himself and switching up his style, Red went the hardcore beats and raw raps route with the PI's debut album React Like Ya Knew. Produced by the Private Eyes, DJ Wildstyle, Will Nice, underrated Carolina beatsmith Mark Sparks – and Redhead Kingpin himself – every beat on this thing bangs. The slammin' tracks are the perfect platform for Red to rock his rough rhymes over – the self-proclaimed "dopest Trinidadian on the mic" setting out his newfound sound and identity as the "smooth rapper buggin' out on the flip side."
Besides reappearing on "90s Remix" of Nas' "Where Are They Now?" in 2006, little is known about what became of Redhead Kingpin following what proved to be the PI's only album. Now long out of print, some CD and cassette copies are still out there – but you might have to hire a private investigator to track down the super-rare promo-only vinyl version. In all fairness, there wasn't much to distinguish the PIs from any other hardcore East Coast Hip-Hop outfit in '93, which – along with the lack of proper promotion – could help explain why React Like Ya Knew went by the wayside and remains such an unknown entity. But all things considered, this is the perfect representation of straight-up boom-bap rap executed to near perfection. As the crew uproariously chant on the album's closer, this is "the stuff ya love to bang ya head to.
Mad Skillz - From Where??? (1996)
Richmond, Virginia – that's where. But in the '90s, the misconception made by some was that most rappers proficient with the pen and skilled on the battlefield had to be from New York. If you didn't hail from one of the five boroughs, you wouldn't survive one second in a freestyle cypher or emcee battle, right?
Not so, proved a young freestyle fanatic from Richmond, Virginia named Mad Skillz – one of the few rappers of his era to fly the flag for VA outside of his home state. Discovered by Q-Tip at the Jack The Rapper convention in 1993 and coming close second to Supernatural in the New Music Seminar MC Battle For World Supremacy that year, things started to move quickly for the Richmond rhymer. Runner-up at the NMS contest earned Skillz a demo deal with mentorship from DJ Clark Kent. Then, after appearing in The Source's "Unsigned Hype" column in 1994, he was soon snatched up by Atlantic/Big Beat Records, releasing his first album From Where??? in '96.
Using his growing reputation and industry connections to snare the services of an ensemble cast of top-tier production talents like Large Professor, Buckwild, Jay Dee, The Beatnuts, and Nick Wiz, From Where??? is a remarkable-sounding record. And the battle-hardened emcee "straight from punchline ave, metaphor metropolis" demonstrated exactly how nice he was on the mic with his debut. He holds his own alongside Q-Tip and Extra P on the pounding, piano-driven "Extra Abstract Skillz," and on "Unseen World," he trades tight rhymes with his VA crew Supafriendz over EZ Elpee's murky bassline and neck-snapping drums. Sure, a record full of slick similes, punchline-primed rhymes, and "phat funk freestyle perspectives" can have its limitations. But Skillz packs much flavor and personality into his bars – and puts the battle raps and metaphors to one side by flexing his storytelling skills on the dark, conceptual closer "Inherit The World," produced by labelmate and fellow Richmond rep Sean J Period, finishing the album off in fine fashion.
Putting VA firmly on the map with From Where???, Mad Skillz showed the Hip Hop world there was genuine rhyming talent in the South and proved that it's not where ya from – it's where ya at.
King Just - Mystics Of The God (1995)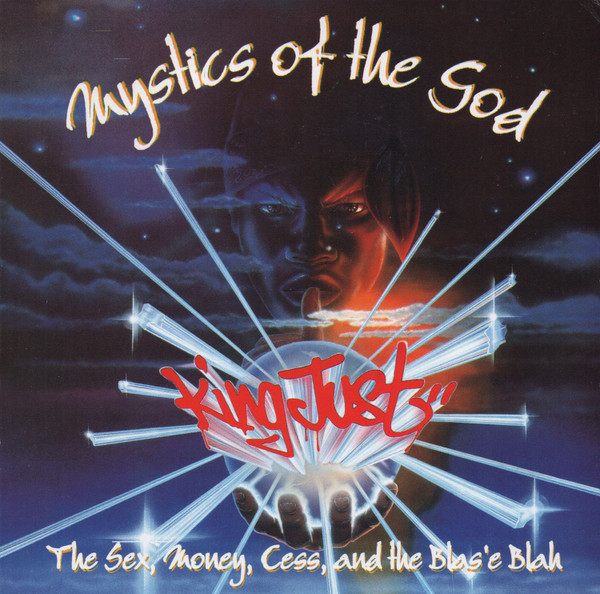 A rapper of Native American descent hailing from Staten Island, NY, King Just grew up alongside several members of the Wu-Tang Clan, sharpening his sword by battling the likes of Method Man, Raekwon, and Inspectah Deck in freestyle cyphers. Being a Wu-Tang affiliate or merely associated with the Clan in the mid-'90s was both a gift and a curse. While it gave artists much-needed exposure – and sometimes notoriety – several rappers were often unfairly compared to Clan members and accused of biting their style and slang. But King Just carved out his own niche.
Dropping the underground bomb "Warrior's Drum" in the summer of 1994, he unleashed his debut LP, Mystics Of The God, on the independent imprint Black Fist Records the year after. Boasting beats from Easy Mo Bee, E-Swift of Tha Alkaholiks and RZA's production mentor RNS, the "Shaolin Soldier" stomps all over the tracks with blistering, maniacal urgency. With rambunctious raps "sharp as a steeple," King Just effortlessly flips flows and switches styles at the drop of a hat. The album's dramatic, ominous opener and title track is a true tone-setter, followed by the rowdy "Shaolin Soldiers," which picks up where "Warrior's Drum" left off. And "No Flows On The Rodeo" is an essential, bouncy jeep-beat banger finding Easy Mo Bee in fine form. Admittedly, there are a few monotonous beats here and there, which unfortunately fail to hit the spot or match the force of Just's high-octane vocals. And bafflingly, the weaker Westside Remix of "Warrior's Drum" appears near the top of the album, with the far-superior original version relegated to the bottom of the tracklist. That aside, King Just proved why he was one of Shaolin's finest underground talents with Mystics Of The God – a widely ignored record well worth peeping.
Rumpletilskinz - What Is A Rumpletilskin? (1993)
What do you get when you cross Onyx with Leaders Of The New School? The Rumpletilskinz. What is a Rumpletilskin? – you might ask. Based on the evidence of their dope debut LP, a Rumpletilskin is all about rocking raucous, actioned-packed raps, wrecking parties, dropping the occasional psychedelic, and mashing mics over seriously phat beats.
Hailing from Long Island, NY, the four-man crew of Sha-Now (The Remedy Man), Jeranimo, R.P.M., and The Capitol L.S. were down with their fellow Strong Island natives Leaders Of The New School. The late Jeranimo (R.I.P.) – a dancer for the Leaders – invented the iconic "East Coast Stomp" dance, and Rumple guest featured on both LONS albums, rhyming on "Sound Of The Zeekers" and "Spontaneous (13 MC's Deep)."
This connection and exposure raised the group's profile, helping them land a deal with RCA Records before dropping What Is A Rumpletilskin? on the masses in 1993. R.P.M., The Capital L.S., and early Onyx producer Chyskillz (R.I.P.) bring the beats that bump like Timberland boots stomping on hard concrete. With shrieking horns, heavy drums, and bass to blow your speakers, Rumple's boom-bap bangers demand to be played at high volume – "preferably in a residential area." Audio bombs like "Hudz," "Mad M.F's," and "Earthquake," and the singles "Attitudes" and "Is It Alright?" epitomize the Rumpletilskinz sound to a tee: booming beats, riotous raps, and resounding choruses.
Besides the consistently killer cuts, the star turn on the project comes from Sha-Now. Bringing a unique vocal style and flows full of flavor to the party, The Remedy Man shows tons of potential – enough to have embarked on a successful solo career, perhaps. But it wasn't to be. He resurfaced in 1995, blessing the Blackmarket Unreleased compilation album with the R.P.M.-produced solo cut "Remedy Man (Known As The Shanow)," and then disappeared from the scene. And alas, RCA dropped the ball with Rumpletilskinz. They failed to push the group, and the album flopped sales-wise. Many who copped What Is A Rumpletilskin? kept it in heavy rotation – and likely still do. But if you've not checked it yet, give these "Mad M.F's from the East" a shot – you'll have a blast bumping this overlooked golden-age heater and discovering what a Rumpletilskin really is.
Tha Dogg Pound - Dogg Food (1995)
The dawn of the G-Funk era in the early '90s ushered in a contemporary, genre-redefining sound. This cultural phenomenon took the Hip-Hop world by storm, sending shockwaves through the rap industry. At its epicenter was the infamous Death Row Records, with gangster rap heavyweights Dr Dre, Snoop Dogg, and 2Pac topping the label's roster.
Sitting in the back seat of the G-Funk ride were Snoop's cousin Daz Dillinger (a producer-emcee from Long Beach, CA) and Philadelphia-raised rapper Kurupt The Kingpin, AKA Tha Dogg Pound – a gifted duo whose contribution to Death Row's catalog shouldn't go unrecognized. They made guest appearances on Dre's The Chronic, featured on the Murder Was The Case and Above The Rim soundtracks (with Daz lending his production hand to all three projects), and played supporting roles on Snoop's Doggystyle – leaving heads hopeful that these Death Row inmates would be let off the leash so their debut album could get an early release.
But, scheduled to arrive in July '95, Dogg Food wasn't uncanned until the tail-end of that year due to being targeted in legal protests against gangster rap, specifically that coming out of Death Row. Despite this hitch, Dogg Food delivered the goods and represented G-Funk at its finest. Thanks to soaking up his mentor Dr Dre's production techniques, Daz solidified his status as a skilled producer on Dogg Food – laying down classically constructed G-Funk compositions characterized by bouncy basslines, crisp percussion, smooth grooves, and sinister synths.
Executing tight raps with a laid-back gangster lean, Daz and Kurupt's instant chemistry is at its best here – Dillinger's nonchalant, deft delivery and Kurupt's cold, calculated cadence sitting snugly in the pockets of the polished production. Included on the tracklist is the controversial DJ Pooh-produced single "New York, New York" – arguably the song Tha Dogg Pound is most famous for; its lyrics and video stoking tensions in the East vs West Coast rivalry. Death Row family members feature throughout the LP, with Snoop, Nate Dogg (R.I.P.), and The Lady Of Rage all showing out, and Mr Malik (formerly of Illegal) stops by to steal a verse on "Cyco-Lic-No."
Despite critical and commercial success, Dogg Food doesn't garner the same acclaim as other Death Row releases. Perhaps if it had dropped on schedule, its soulful low-rider anthems and banging G-Funk flavor would have been a big part of the soundtrack of summer '95. Regardless, Dogg Food is produced, performed, mixed, and mastered to perfection – full of phat G-Funk for the trunk and unfadeable flows from two of Death Row's unsung heroes.
Heavy D & The Boyz - Blue Funk (1992)
When talking about some of the more talented and influential rappers of the '90s, the name of the late, great Heavy D rarely crops up, which is a crying shame. An outstanding figure on the Mount Vernon Hip Hop scene and beyond, the older cousin of Pete Rock enjoyed both underground and mainstream success as the frontman of Heavy D & The Boyz. Yet the Heavster still doesn't receive widespread recognition in the Hip Hop community for his skill on the mic and contributions to the culture.
The third LP from Heavy D & The Boyz, Peaceful Journey, was recorded at a time of grief and mourning following the tragic death of one of the group's dancers, Trouble T-Roy, in 1990 – who Pete Rock & CL Smooth paid tribute to on "They Reminisce Over You (T.R.O.Y.)" – and the passing of Heavy's older brother the year prior. With its mostly radio-friendly, R&B-tinged tracks, Peaceful Journey didn't receive a warm welcome from everyone – with some saying the Heavster was too soft and had gone pop.
The crew's follow-up LP – 1993's Blue Funk – was Heavy D's response to those critics. Out to prove he could still scrap with the best of them, the Heavster returned harder than ever with boastful bars, banging beats, and rough-n-rugged rhymes backed by production from DJ Premier, Pete Rock, Jesse West, Skeff Anselm, and Bad Boy producer Tony Dofat. With hard-hitting joints like "Who's The Man," "Talk Is Cheap," and "It's A New Day," Blue Funk is a largely no-nonsense, straight-up rap record – a strictly boom-bap affair with a darker and grittier tone than its predecessor.
On a side note, Gang Starr fans are in for a real treat here. On "Yes Y'All," DJ Premier flips the same bluesy piano loop he used on "92 Interlude" off the Daily Operation LP. The funky "Here Comes The Heavster" is a forgotten Preemo gem, and Guru features alongside Heavy, Busta Rhymes, Biggie Smalls, Rob-O, and 3rd Eye (Jesse West's rapper pseudonym) on what has to be one of the most star-studded posse cuts of the golden age. A triumphant return for the Heavster, Blue Funk is a true early '90s sleeper and arguably the finest – and most unheralded – outing from the much-missed "Money Earnin' Mount Vernon" legend. R.I.P., Heavy D.
X-Clan - To The East Blackwards (1990)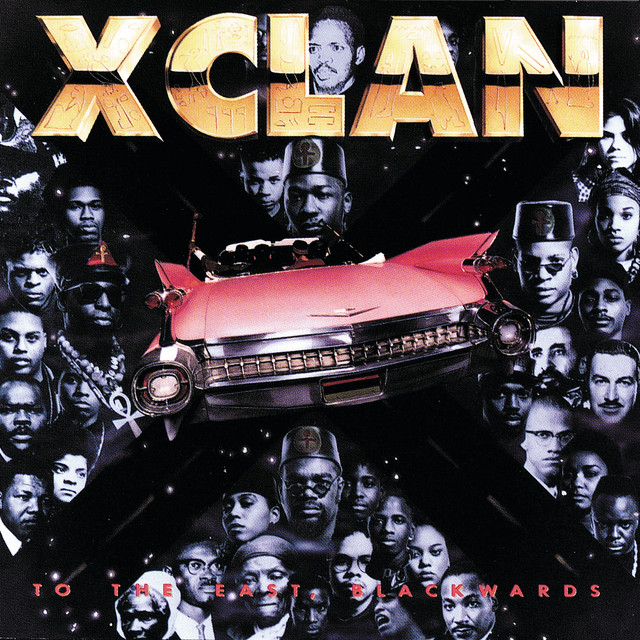 When thinking of politically-charged Hip Hop groups at the forefront of Hip-Hop's golden age, names like Public Enemy and BDP immediately come to mind. And then there's X Clan – four firebrands from NYC consisting of Grand Verbalizer Brother J, Professor X The Overseer (R.I.P.), DJ Sugar Shaft (R.I.P.), and Paradise the Architect (AKA Paradise Gray – once host and manager of the legendary Latin Quarter club, now renowned Hip Hop historian and chief curator of the Universal Hip-Hop Museum). Militant, passionate political activists using their platform to broadcast powerful, pro-Afrocentric rhetoric, mobilizing listeners behind anti-discrimination campaigns, and leading and participating in protest marches, X Clan talked the talk and walked the walk.
Their debut manifesto, To The East, Blackwards – a pitch-perfect combination of sample-heavy, funk-fuelled rhythms mixed with Brother J's searing, enunciated teachings and Professor X's emphatic monologues – defiantly raises a black fist in the face of racial inequality and social injustice. Brother J drops serious science and words of wisdom "deeper than Atlantis," promoting knowledge of self, education, and awareness as paths to enlightenment. His "Funkin' Lessons" seek to inform and empower, imploring listeners to put down the gun, pick up a book and choose an alternative weapon in the fight against oppression: the mind. Professor X (the son of prominent civil-rights activist Sonny Carson) was to Brother J what Public Enemy's Flavor Flav is to Chuck D – except more serious. He persistently proclaims at every turn that the album's mission is "protected by the red, the black, and the green" of the Afro-American flag – driving home that its message is "an invitation to the crossroads, with a key in the ignition" on the journey to choosing freedom and positivity over death and self-destruction. It's a motivational rallying cry delivered with purpose and potency – a clarion call for African Americans to build, not destroy.
The original X Clan line-up released just two albums before disbanding in the mid-'90s, and sadly Professor X and DJ Sugar Shaft have both since passed away. But X Clan remain true iconoclasts and one of the most important political groups in Hip Hop history – and To The East, Blackwards is intelligent, revolutionary resistance rap in its finest form, as relevant and resonant today as it was back in 1990. In the words of Professor X – "Vanglorious!"
Mad Flava - From Tha Ground Unda (1994)
From the ever-expanding '90s Texas rap scene, which had produced artists like The Geto Boys and UGK, came relatively unknown newcomers from Dallas, TX, Mad Flava. Consisting of 1990 DMC US Champion DJ The Cut Selectah Baby G, emcee Cold Chris The Soulman, producer/rapper Erich "Hype Dawg" Krause, and Bronx-born microphonist The Don Kasaan, this skilled, multicultural crew cut a major label deal with Priority Records, dropping their only LP in 1994.
Recorded in LA and produced mainly by West Coast beat-makers Total Trak Productions (who worked with Cali artists like DJ Quik, 2nd II None, and AMG), From Tha Ground Unda hardly resembled Hip Hop emanating from the Lone Star State. In fact, just one listen to their full-length debut would have you convinced these guys were close cousins of the Soul Assassins collective – especially the House Of Pain. In fact, on "Feel Tha Flava" – the album's lead single from '93 – Cold Chris raps: "I'm not Irish, but I'll take you to the house of pain." Coincidence? Who knows, and while Mad Flava's sound and themes weren't too dissimilar to that of the Soul Assassins, From Tha Ground Unda is an album full of forceful, rugged rhymes, shrill, siren-sounding horns, and head-nodding beats that's hard to put down.
As Cold Chris declares on the thumping "Bump Ya Head": "The gimmick is there is no gimmick." Baby G is arguably the star of the show – putting in an impressive turntable performance, blessing the LP with crazy chorus cuts and a couple of ill scratch interludes. Sure, concepts and variety of subject matter are at a premium – but Cold Chris, Don Kasaan, and Hype Dawg are very competent rappers. While much of the album isn't anything you haven't heard before, heads looking for some of that raw, Soul Assassins-type flavor can't go wrong with this album – an underrated gem worth digging up by the crew From Tha Ground Unda.
Special Ed - Legal (1990)
The influx of rapping youngsters in the early '90s is still considered a fad in some quarters, with several teenage emcees ending up here today and gone tomorrow upstarts used as marketing gimmicks. But Flatbush, Brooklyn wunderkind and rhyming sensation Edward Archer – known in the Hip Hop world as Special Ed – was a clear exception. Instantly rubber-stamping himself as Hip Hop's most precocious new kid on the block, his stock quickly rose thanks to the hit single "I Got It Made" and his debut LP, Youngest In Charge – recorded when he was only 14 and 15 years old and released on his 17th birthday.
Seizing the moment and riding the wave of the record's success, its sequel swiftly hit the shelves the year after – the album's title a nod to Ed turning 18 years old. Loaded with dynamic, catchy beats and breaks and deftly cut choruses, Special Ed's second go-around displayed his strong knack for poetry and mastery of the English language way beyond his years. By all accounts, Legal feels like a natural extension of Ed's dazzling debut. Rhyming with the self-assured swagger and precision pen game that helped make his first LP so refreshing, he was teamed up with unheralded super producer "Hitman" Howie Tee (who supplied the sounds for Youngest In Charge) and was accompanied once again by DJ Akshun on the 1s and 2s. The espionage-themed, James Bond theme-sampling lead single "The Mission" – on which Ed shows off his storytelling skills – originated from the Youngest... recording sessions. And the superb remix of "The Magnificent" – the original appearing on Ed's first full-length – also blesses the tracklist. Absent from his debut LP were guest appearances – but on "5 Men And A Mic," Special Ed brings Drew Archer, 40-Love, Little Shawn – and even DJ Akshun – along for the ride with the beat switching for each rapper's verse.
The verdict on Legal is that it's a legit early '90s sleeper, and with his solid sophomore set, Special Ed showed and proved he was no flash-in-the-pan but a magnificent mic specialist – and still the youngest in charge.
UMC's – Unleashed (1994)
Kool Kim and Haas G of the UMC's were among the earliest Hip Hop artists representing Staten Island, introducing themselves as the Universal MC's with "Invaders" and "Party Stylin'" on 1989's Roughouse Orchestra compilation album. On their first LP, Fruits Of Nature, the self-styled"'Universal Masters of Charisma" proudly proclaimed that "UMC is the new way of being!"
But with the sequel, Unleashed, the soulful, jazzy sounds, and the smiles, colorful clothes, happy-go-lucky lyrics, and overall sunny disposition of their uplifting debut album were swapped for scowls, gritted teeth, and rugged raps filled with angst and aggression over more intense, hardcore production. Kim and Haas were now hollering that "UMC is the new way to wreck!" Yet – despite the majority of Unleashed marking a stark contrast to Fruits Of Nature – the beats and rhymes on the duo's second effort remained on point. On the lead single "Time To Set It Straight," the two emcees do precisely that, rocking rowdy rhymes over relentless organs and a dark, filtered bassline. "Hit The Track" (which uses crashing drums and a wailing scratch chorus to striking effect), the sinister-sounding "Evil Ways," and the hard-but-smooth "Staten Island Comes First" all find the pair hitting their stride. And "Some Speak Ill Thoughts" – arguably the album's best moment – is pure production perfection and genuinely rewind-worthy.
Still, to many listeners, it felt as if Haas and Kim had morphed into angry, hard-rock rappers overnight. The question was, had the UMC's fallen foul of the route other artists had taken by switching to the hardcore sound so prevalent in mid-'90s Hip Hop to move with the current trend and shift units? While Kool Kim admitted in a 2013 interview that Unleashed wasn't as honest a representation of the UMC's as Fruits Of Nature, he also offered some insight and context, explaining he and Haas G were beset by professional and personal problems at the time, including label woes with Wild Pitch – and Unleashed was the sound of two frustrated rappers lashing out.
But it ended up being the duo's final LP. Unceremoniously dropped from their record label, the UMC's disappeared off the Hip Hop map for several years before eventually jumping back on the scene. Haas G is now focused on production under the moniker Fantom Of The Beat and provided tracks for Busta Rhymes, Ghostface Killah, and Inspectah Deck, and many others in the late '90s and the 2000s. And as for Kool Kim, he dropped a dope Haas G-produced single in 1998 before reinventing himself as NYOIL – his righteous, highly-charged 2007 LP, Hood Treason, proving a huge underground success. And in 2019, the UMC's reunited for a brand new single and video, "Flashback."
The Colored Section - Bomb MC (1998)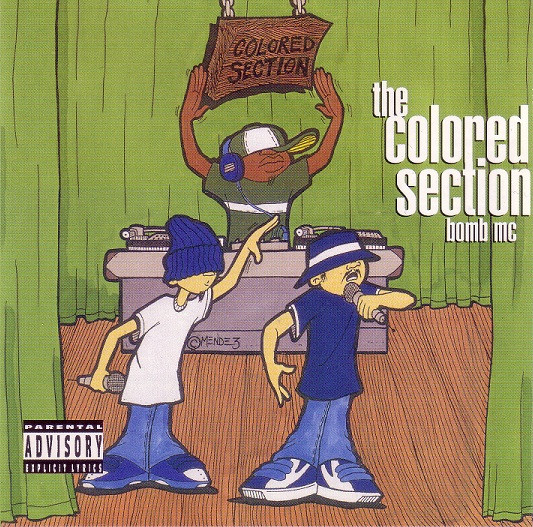 By the late '90s, the gap was widening between the mainstream, major-label rap acts and the artists who remained fiercely independent and sought to uphold Hip Hop's true essence. West Coast crew The Colored Section – comprised of DJ Homicide and emcees Coke (formerly of Mad Kap) and Che'-Ski – pitched up in the latter camp.
Released in 1998 on the short-lived indy imprint 12 Inch RPM, the LA trio's one and only LP features fun-filled raps and bugged-out b-boy capers. Over lush, sample-based soundscapes, smooth basslines, and phat drums, Coke and Che'-Ski rhyme about the lighter side of Hip Hop, reviving the element of fun once commonly associated with the music and culture, offering some respite from the shiny suit era artists and hardcore mafioso rap of the late '90s. The two versions of the title track find Che'-Ski kicking amusing fictional tales of crediting himself as a key player in events that shaped Hip Hop history on the East and West Coast. Che' declares he "introduced the breakbeat to Kool Herc" and "hooked Dougie Fresh up with Ricky D" on the piano-laden, East Coast-themed "Original Recipe" version; then brags about getting King Tee and DJ Pooh together on the Cali rap-inspired "Old Gold RMX" – which aptly flips the same samples found on Tee's "Played Like A Piano."
With its breezy summer vibes and carefree, mischievous spirit steeped in youthful b-boy-isms, Bomb MC is in some ways akin to a People Under The Stairs record – which is certainly no bad thing. Sadly, though, the Section's sole long-player only made any real noise on the underground scene and remains largely unknown, languishing in the lower reaches of Hip Hop album anonymity. The group soon vanished following the record's release, but with Bomb MC, The Colored Section definitely crafted a bomb LP.
Keith Murray - The Most Beautifullest Thing In This World (1994)
From the ashes of the EPMD breakup emerged the Def Squad, composed of founding member Erick Sermon, Redman, Jamal (one half of teenage rap duo Illegal), the late Hurricane G (R.I.P.) and – last but not least – gifted Long Island rhyme-ripper Keith Murray.
Emerging as one of the next can't-miss Hip Hop prospects thanks to his attention-grabbing guest verse on "Hostile" off Sermon's debut solo LP, No Pressure, in 1993, Mr Murray blasted off into the rap stratosphere in spectacular style. Snaring the momentum gained from his emphatic entrance into the Hip Hop universe, the lyrical lunatic from Strong Island touched down with his much-anticipated first album in '94, The Most Beautifullest Thing In This World. Picking up right where he left off on "Hostile," Murray's debut was a stellar set of cosmic, funk-filled tracks fused with intergalactic rap tactics and in-your-face flows. With a breathless eruption of verbiage and absurd wordplay ripped straight out of the pages of his personal rhyming dictionary, Keith's "vocabulation is out of your imagination," as he brings the "drama like Jason."
Of course, Mr Murray was in good hands on the production tip – Erick Sermon supplying a super-phat selection of blunted basement beats straight from the dungeons of the Green-Eyed Bandit's funk lab. The album's title track was one of the most memorable singles from '94, with other high points being the thick, deep funk flavor of "Dip Dip Di" and the buddha-blessed smokers' anthem "Get Lifted." Def Squadron cohorts Sermon, Redman, Jamal, and Hurricane G join Murray on the mic for his maiden voyage – with Reggie Noble pitching in on production duties on the spaced-out finale "Escapism." Sure, the LP may lack some depth and variety – and was largely overshadowed by the astronomical amount of high-caliber releases around at the time – but (at least to this listener's ears) Keith Murray's brilliant debut is most definitely a beautiful thing
Mystidious Misfitss - A Who Dat? (1995)
As you can probably tell from this list, I'm deeply fascinated with uncovering golden-age Hip Hop rarities and have a strong passion for obscure rap albums. The aptly-titled A Who Dat? by Brooklyn outfit the Mystidious Misfitss fits the bill: an LP that came and went with little fanfare that's rarely mentioned when mid-'90s East Coast Rap records are talked about or listed.
Misfitss emcees Rubberband, Mushmouth Marques, and Messiah Peekaboo started out as dancers for artists like EPMD, Salt-N-Pepa, and Little Shawn before venturing into the rap game and signing the dotted line with Epic Records in the early '90s. But it took a while to get their recording career off the ground, with a pair of singles ("I Be" and "Upside Down") and their debut LP not dropping until 1995. And when listening to A Who Dat?, you get a sense it has a mix of old and newer joints, suggesting the project was held back.
"Trix Of A Misfit," "Streets, Avenues & Boulevards," and "M.I. Crooked Letter" all have a distinct early '90s vibe – Rubberband exclaiming "'92, '93, and '94!" on the latter's intro. This makes the album sound a little disjointed – but it's a minor gripe considering the majority of the beats and rhymes are on point. The likes of DJ Doc (of BDP and The Chosen Ones fame), Buckwild, Jesse West (AKA 3rd Eye), and Vinyl Reanimators supply a solid set of sonics exhibiting that trademark '90s East Coast flavor. Gifted with "vocabulary by the ton" and frequently switching up their rhyme formats with swift twists of the tongue, one word to describe the Misfit crew's vocal style is unconventional. "It didn't take a day to become a lyrical acrobatic, so many emcees will try to catch this!" boasts Peekaboo on "Nu Sounds." It certainly requires repeat listens to wrap your head around the dizzying flows, elastic vocal inflections, and meandering abstract lyrics – but when you start to catch on and appreciate the skill, you reap the rewards.
There lies the rub with A Who Dat? though. The experimental, offbeat raps made it less accessible than other offerings in '95. Ironically, the Misfitss lived up to their name, failing to find their place within Hip Hop's ever-evolving and increasingly hardcore landscape. The album was also hindered by Epic seemingly discarding the project, limiting its release to a single vinyl LP in the US and a Japan-only CD version. With scarcely any output since the release of their one and only album, the Mystidious Misfitss remain one of those mysterious golden-age rap acts that'll have many heads asking A Who Dat?
Justin Warfield - My Field Trip To Planet 9 (1993)
In 1993, a little-known musician and mic soloist named Justin Warfield came up with a groundbreaking LP that largely defied the conventions of Hip Hop music. A hungry, aspiring LA-born emcee of African American and Russian Jewish-Romanian descent, Warfield's first full-length excursion took listeners on a journey like no other. Under the tutelage of close friend Jarobi from A Tribe Called Quest and longtime mentor Quincy Jones, his precocious debut was a heady concoction of obscure samples and classic breakbeats from Prince Paul, Jones' son QDIII, and Warfield himself, together with a heavy dose of dynamic live instrumentation.
Drawing inspiration from a wealth of influences like the Native Tongues, Beastie Boys, and several others, Field Trip fuses elements of jazz, funk, rock, psychedelia – and much more besides – to create a truly diverse, organic vibe, illustrating not just Warfield's broad musical tastes, but his breadth of vision and artistry. As Warfield commented in his essay, which forms part of the recent vinyl reissue's liner notes, Field Trip was either missed, dismissed or misunderstood by most of his peers, the press, and radio. Misconstrued by many as just another trip-hop record, the album was poorly promoted and failed to garner widespread attention, especially in the US, and sales were dismal. It did, however, find more favorable success in the UK and Europe, where the album continues to enjoy a veritable cult status to this day.
A colorful kaleidoscope of sounds, styles, and sub-genres, My Field Trip To Planet 9 is an experimental musical odyssey exploring uncharted territory – a psychedelic, beatnik b-boy extravaganza with its feet firmly planted in the roots of Hip Hop music and culture.
Sadat X - Wild Cowboys (1996)
Sadat X undoubtedly possesses one of the most striking, distinctive voices and unorthodox rhyme styles in Hip Hop, his onbeat-offbeat flows punctuated by an over-pronounced diction and high-pitched, nasal vocal inflexions. After recording three albums as a member of Brand Nubian, Sadat went for dolo, releasing his side-project Wild Cowboys on Loud Records in 1996. Rounding up an elite posse of producers for his first solo venture, Pete Rock, Da Beatminerz, and D.I.T.C.'s Diamond D, Buckwild, and Showbiz are the album's standout sound providers, with Roc Raida (R.I.P.) of The X-Ecutioners performing precision chorus cuts over Buckwild's bouncy backdrop on the "The Lump Lump."
Without wielding the Wild West theme as a gimmick, Sadat sprinkles some Western movie and pop-culture cowboy references into his rhymes. On the DV Alias Christ-assisted "Hang 'Em High," X draws parallels between the Wild West and the badlands of NYC over a sample from Clint Eastwood's The Good, The Bad, And The Ugly, giving the track the feel of an epic spaghetti western. Sadat shoots straight from the hip on Da Beatminerz-blessed "The Interview," featuring actress Regina Hall quizzing the New Rochelle rapper about everything from his new Wild Cowboys crew to asking him to explain "the incident at the O.K. Corral."
And a record named Wild Cowboys wouldn't be complete without DJ Alamo, right? Appearing on the LP's dope cover photo, the ex-Brand Nubian member produces the laidback "Open Bar," where Sadat shares the mic with his former Nubian partner-in-rhyme Grand Puba. By becoming the lone ranger and joining Loud's lineup of heavy hitters, the pressure was on for Sadat X. But with Wild Cowboys, the Brand Nubian gunslinger showed he was still one of the sharpest shooters in town, riding off into the sunset with a dope new debut album under his belt.
M.O.P. - Firing Squad (1996)
Brownsville microphone manglers Lil' Fame and Billy Danze – AKA M.O.P. (short for Mash Out Posse) – posed a simple question with their debut single: "How About Some Hardcore"?! And the track delivered just that. The single was a street smash, and the duo quickly caught the attention of Gang Starr's DJ Premier, who became an instant fan.
It wasn't long before Billy and Fame hooked up with Preemo, drafting him in for the remix of M.O.P.'s second single, "Rugged Neva Smooth" – the studio sessions of which birthed "Downtown Swinga," a track Premier cites as a firm favorite from his prolific production catalog. From that point, it was on, and heads were clamoring for another M.O.P. and Preemo collab. And their wish was granted when the duo's second album, Firing Squad, dropped in 1996.
Recorded at the legendary D&D Studios, DJ Premier produced six tracks, the intro, and mixed most of M.O.P.'s second effort – and Firing Squad was just what everyone was hoping for. Coming strapped with 15 fully-loaded hardcore tracks, Billy and Fame rhymed like they had nothing to lose, going all guns blazing with a verbal onslaught reminding listeners to make no mistake that – along with the ability to yell straight from the top of their lungs – they could rap. Loudly and skilfully staking their claim as prime exponents of guttural, hardcore NYC Hip-Hop, their high-powered, thunderous rhymes were as potent as ever. Big Jaz (AKA Jaz-O), Lil' Fame, Ali Dee, and Mash Out Posse member Laze E Laze joined DJ Premier on production, packing heavy ammunition – the album armed to the teeth with heavy-duty, hardbody beats.
And M.O.P. rhyming alongside Kool G Rap over a Preemo track? That alone was simply off the hook and well worth the admission fee. What often held M.O.P. back, though, was the lack of radio play. Frequently shunned from the airwaves, the duo's raw, uncompromising street rap was likely considered by some to be too strong for the radio, impacting their promotion and exposure. But M.O.P. didn't flinch – sticking to their guns and coming out blasting with one of the most visceral, authentic hardcore Hip-Hop albums of the '90s. All salute the Firing Squad.
Fu-Schnickens - F.U Don't Take It Personal (1992)
The abundance of originality and diversity at the heart of Hip Hop's golden age can't go overstated. With this wealth of innovation and variety of artistic expression came a wave of playful, carefree rap crews who were all about being themselves, having fun, and showing skills.
In 1992, three friends from Flatbush, Brooklyn, calling themselves the Fu-Schnickens, made their mark with F.U. Don't Take It Personal – a joyous album full of fresh flavor and foolish, youthful exuberance. Rocking reggae and dancehall-inflected vocals and live-wired raps peppered with cartoon and pop-culture references, the Fu-crew packed a real punch. And with the name Fu-Schnickens, and the trio going by the monikers of Chip-Fu, Moc-Fu, and Poc-Fu, it didn't come as much of a surprise to discover one of the group's biggest influences was classic kung fu flicks – incorporating elements of martial arts movies into their music and lyrics before the Wu-Tang Clan came into the picture.
On the funny fictional cut "Movie Scene," the three emcees wield versatile rhyme styles to defeat their arch-enemy and avenge the death of their master, finishing their foe with Chip-Fu's 'backward technique' – where he recites rhymes in reverse without the aid of audio trickery. Chip Fu was chief of the crew and the trio's sharpest sword. Running off at the mouth a hundred miles a minute and rarely coming up for air, his frenzied flows and multisyllabic rhymes make him one of the fastest, most technically skilled rappers you'll hear. The group's strong connections with their friends from the Native Tongues gifted the album with three stellar singles produced by A Tribe Called Quest ("True Fuschnick," "Heavenly Father," and "La Schmoove" – the latter featuring Tribe's Phife Dawg), plus Dres from Black Sheep raps on and produces the lively posse cut "Check It Out." Some were quick to dismiss the Fu-Schnickens as a corny, cartoonish gimmick, but scratch beneath the surface, and you'll uncover a vintage-sounding early '90s treasure.
Organized Konfusion - The Equinox (1997)
Organized Konfusion is undoubtedly among Hip Hop's dopest duos. Setting new standards of rhyming, Pharoahe Monch and Prince Poetry took the art of rap to its upper echelons and beyond. Yet their undeniable talent and stellar output stays underappreciated. O.K.'s third and final installment, The Equinox – a lyrically and conceptually dense affair – is possibly their most ambitious project. Its backstory chronicles the lives of close friends and street hustlers Life and Malice (voiced by rapper O.C.) via various skits and narrative interludes, taking the listener deep into an underworld of crime, conflict, violence – and ultimately near tragedy.
Using their lyrical expertise, verbal dexterity, and artistic ingenuity to drive the album's narrative and central theme, Organized summoned all the raw skill and creativity that typified their work. The incredible "Invetro" is penned from alternative perspectives of a human embryo. Prince Po can't wait to be born and enjoy all life has to offer, whereas Pharoahe has a pessimistic worldview and would prefer his mother choose to abort. On "Hate," they rap through the lens of bigoted white supremacists. And never ones to compromise their artistic integrity, Organized challenge the Hip Hop status quo on "Questions" – asking why skillful, lyrically complex emcees like themselves are often overlooked by the masses and come off second-best to shallow, materialistic rap acts. Stamping their authority as "God's gift to vocabulary," Organized's battle-ready rhymes and intelligent wordplay remained sharp as a knife. Prince Poetry's pinpoint delivery and groovy flows are immaculate, and the imperious Pharoahe raps at an elite level, letting loose his vast repertoire of rhymes with abandon. An absolute surgeon with the pen, his multi-layered lyrics and polysyllabic rhyme schemes dance majestically over the tracks – it's yet another Pharoahe Monch masterclass.
The classic boom-bap sounds from the likes of Buckwild, Diamond D, Showbiz, and Organized themselves hold the album's dark and heavy vibe together and are nicely tempered by the more funky, laidback stylings of "Soundman" and the Rockwilder-produced single "Somehow Someway." You get the sense that O.K. put their blood, sweat, and tears into The Equinox – and the scale of what they tried to achieve with their final LP certainly wasn't beyond their capabilities. But their label failed to fully back the project – and the links between some songs and the overlying storyline are tenuous, with several skits diminishing the impact of certain tracks and curtailing the album's momentum. But if you can navigate these obstacles, you'll discover The Equinox is a top-drawer late-'90s LP from two of Hip-Hop's finest microphone masters.
Grits - Mental Releases (1995)
Nashville, Tennessee emcees Teron "Bonafide" Carter and Stacy "Coffee" Jones formed Grits (Grammatical Revolution In The Spirit) after meeting as backup dancers for Christian rap/rock group DC Talk. TobyMac of DC Talk was also one-third of The Gotee Brothers, a production team who started a Christian music label, Gotee Records, in 1992. This Hip-Hop / Rock / Indie imprint soon signed Grits, who released their debut LP Mental Releases in the summer of '95 – a record featuring cerebral flows and spiritual, self-reflective rhymes which stemmed the tide of the steady stream of hardcore Hip Hop that seemed to dominate the mid-'90s.
And everyone was invited – by no means were the duo's messages and themes preachy or lordly, and their rhymes carried an unpretentious street edge. Bonafide and Coffee looked inwardly, telling personal, heartfelt stories of regret and redemption rather than patronizing or evangelizing the listener. It's not all introspection and conscious rhymes, either. "10 A-Cee" is a love letter to their stomping ground – and on "Everybody Wants On," they bemoan the proliferation of wannabe rappers demanding record deals. Primarily produced by The Gotee Brothers, jazz music is at the heart of the album's sound and vibe, with warm keys, soothing horns, and dusty drums illuminating the soundscape. There's even a song dedicated to the genre and its intrinsic links to Hip Hop titled simply "Jazz" – an ode to the brand of music Bonafide and Coffee consider Hip Hop's forebearer.
Excuse the unintended pun, but Christian Hip Hop can often get a bad rap – and is sometimes perceived as sanctimonious or too soft. But Grits defied these notions with their debut LP, bucking the common stereotypes of the much-maligned sub-genre. A record that feeds the soul while providing mental and spiritual sustenance – with beats to bop your head to – Mental Releases lives up to its name.
Pete Rock & CL Smooth - The Main Ingredient (1994)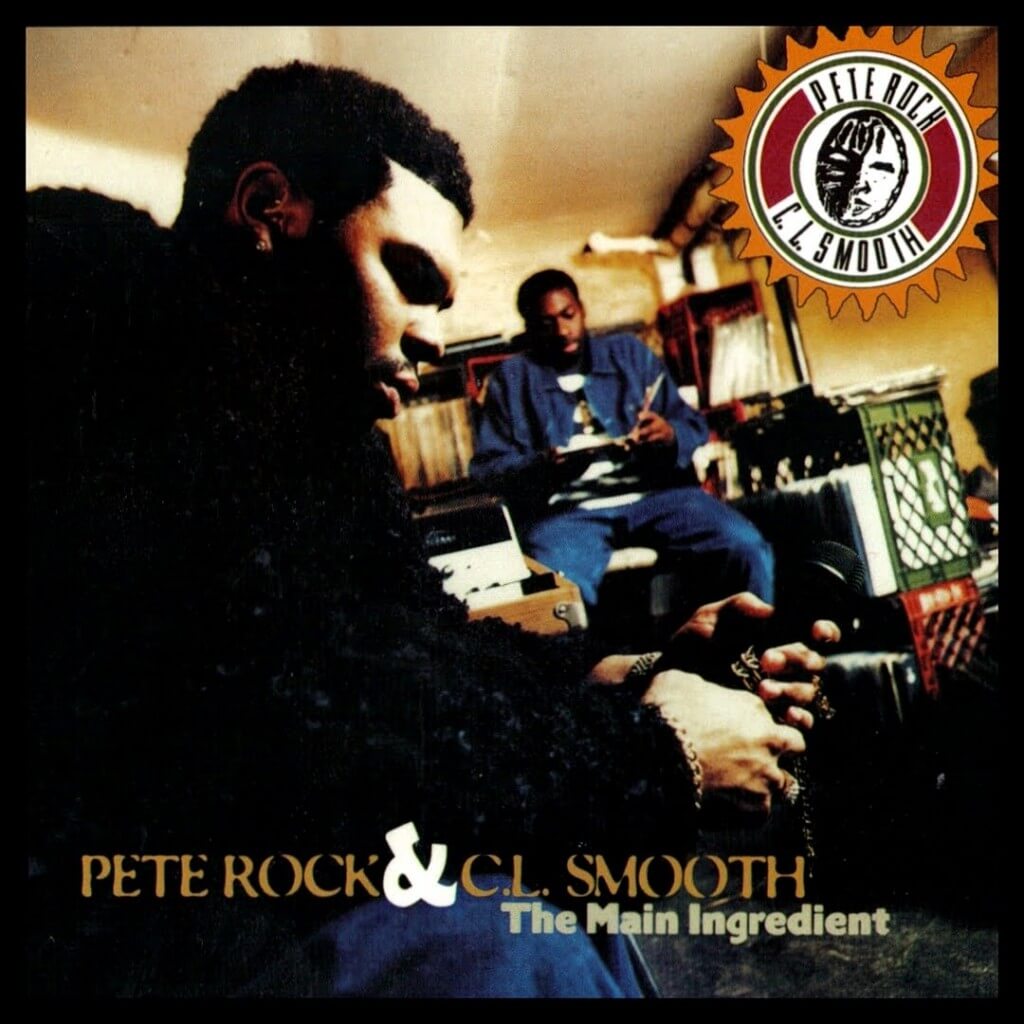 It may come as a surprise to some that this list features one of Hip Hop's greatest-ever duos. But the fact is, Pete Rock & CL Smooth's The Main Ingredient doesn't always get the widespread adulation it merits. After the pair's breakout EP All Souled Out, followed by the drum-heavy, horn-driven, minimalist magnificence of their first full-length Mecca & The Soul Brother, many were salivating for what was next on the menu from PR & CL. And with Pete Rock solidifying his status as one of the hottest producers in the game – the musical maestro from Mount Vernon earning production credits for Public Enemy, Run DMC, EPMD, House Of Pain, Das EFX, and countless others – this whet the appetite of fans waiting for a sequel to arrive.
And while The Main Ingredient didn't quite possess its predecessor's powerful impact, it was worth the wait. What immediately jumped out was that Pete Rock had switched his style up, blessing The Main Ingredient with a distinctly refined, polished sound. PR's sonic stew of sumptuous soul samples, seductive, sultry grooves, phat drums, filtered basslines, and jazzy loops, seasoned with CL's silky smooth flow, was the perfect recipe – and the short but sweet instrumental interludes put the cherry on top. The Soul Brother Number One was in the zone, possibly reaching the pinnacle of his production powers – his luxurious soundscapes purely divine. CL Smooth's soul-enriching rhymes and eloquent poetics blend perfectly with Pete's plate of soul food, naturally complementing PR's elegant acoustics – a testament to CL's status as one seriously underrated emcee.
The highlights are plentiful, and there's little filler to be found – yet The Main Ingredient failed to hit the heights of Mecca & The Soul Brother, and PR & CL split shortly after the album's release. Obscured by the sheer number of releases and the more hardcore Hip Hop style penetrating the scene in 1994, it proved a tough time to shine. The Main Ingredient didn't follow in the direction Hip Hop music was heading, and Pete Rock & CL Smooth chose a different path, making their final full-length something of an overlooked classic. Now receiving long-overdue acclaim in some quarters, this godly, heaven-sent work of art is a substantial slice of pure golden-age flavor to savor.