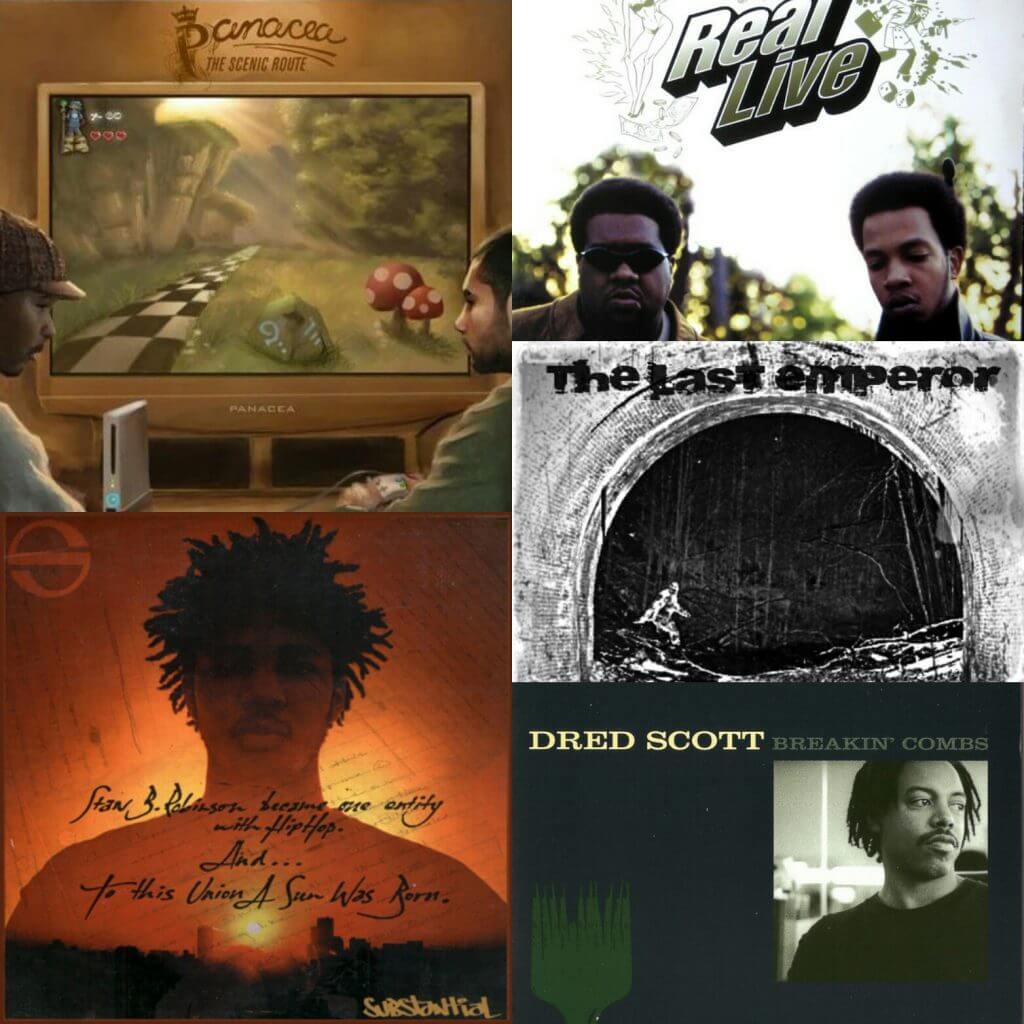 In a recent series of articles, we have highlighted a number of Hip Hop albums that never really received the commercial success they deserved, but that are well-enough known and universally acclaimed in Hip Hop circles.
In this first part of a new series, we celebrate five albums that pretty much were ignored completely, even by real Hip Hop heads. If you are on the lookout for some great Hip Hop, you could do worse than check out the 5 gems on this list.
The Last Emperor - The Legend of Bigfoot (2000)
Philly's The Last Emperor is an outside category emcee, better than 99% of the rappers out there, past and present. Impeccable flow and delivery, incredible versatility and wordplay and intelligent lyrics all around. Due to some unlucky decisions and a few instances of wrong place wrong time, Last Emperor never made it as big as he should have made it.
After making a name for himself in his hometown and later in the New York underground, he got signed to Dr Dre's Aftermath, a label that would become notorious for leaving artists hanging and unreleased. In 2003, just after he signed with Rawkus Records, Rawkus unexpectedly stopped releasing music.
This caused his full-length debut, The Legend of Bigfoot, to remain unreleased. A shame, because it is an outstanding album front to back. It opens with 'Secret Wars Pt. 2″ – a sequel to his classic underground cut "Secret Wars" in which he cleverly pits famous emcees against comic superheroes – and ends with the banging "Bums". With cuts like "Heaven", "Black Magic", "Heavy Height Invinsible", Meditation" and "The World of Susie Wong" in between this is truly as good as Hip Hop gets.
Unofficial releases of early demos are readily downloadable for internet crate-diggers, but someone really should polish off The Legend of Bigfoot and officially release it – it's that good.
Dred Scott - Breakin' Combs (1994)
Wrong time, wrong coast? If this outstanding album from west coast artist Dred Scott had dropped in NYC a few years earlier, it probably would have been bigger back then and universally recognized as a classic right now.
As it is, Breakin' Combs is a sorely slept-on and unjustly forgotten album. Entirely self-produced, Dred Scott delivers an album filled with smooth, jazzy beats reminiscent of A Tribe Called Quest and Pete Rock & CL Smooth. Nothing wrong with his lyrics and emcee skills either.
Just listen to tracks like "Back In The Day", "Check The Vibe", "Funky Rhythms" and "My Mind Is Driftin" to know how excellent this album is. Why this album is so underappreciated is a mystery, but it definitely deserves its props.
Substantial - To This Union A Sun Was Born (2001)
Substantial dropped one of 2001's best albums with To This Union A Sun Was Born. Shame that almost no one ever heard it, though. Large part of the reason for that is probably that the album was released exclusively in Japan.
Almost completely produced by Nujabes before he really started making a name for himself, To This Union A Sun Was Born especially shines because of the soundscapes provided by the late Japanese genius. With the melodic, jazzy compositions he would become famous for, he gave rapper Substantial a bunch of dope beats to work with. Favorite track: "Be People", also because of the dope cuts by DJ Kiyo.
To This Union A Sun Was Born is an underrated gem of an album you really should listen to.
Real Live - The Turnaround: A Long Awaited Drama (1996)
Talk about slept on. New Jersey natives and Hip Hop veterans K-Def and Larry-O come correct with this quintessential East Coast mid-nineties boom bap album. With guests like Ghostface Killah and Cappadonna (among others), this album offers true Hip Hop at its finest.
Marley Marl protege K-Def offers up some of his best work on the boards ever, on par with beats he provided for acts like Lords Of The Underground and Tragedy. Larry-O is a competent emcee, delivering the typical mid-nineties NYC mafioso tales with enough skill and confidence to remain entertaining throughout.
Tracks like "Pop The Trunk," "The Gimmicks,", "Larry-O Meets Iceberg Slick,","All I Ask Of You (Commin' Thru)", "The Turnaround" and "Real Live Shit" all bang – and this album deserves to be mentioned in the same breath as contemporary albums by the more lauded likes of Nas, Mobb Deep, Raekwon, Kool G Rap, Black Moon and Tragedy Khadafi. Don't sleep on Real Live!
Panacea - The Scenic Route (2007)
Panacea is a duo consisting of emcee Raw Poetic and producer K-Murdock, hailing from Washington, D.C. Their sophomore LP The Scenic Route is an unsung masterpiece, similar in vibe and musicality to Blu & Exile's classic Below The Heavens. 
With mesmerizing beats laid down by K-Murdock complemented with Raw Poetic's dope lyrical flow, The Scenic Route is one of those unique albums that flows perfectly from beginning to end, utterly consistent and cohesive throughout. Smooth and irresistible, this album was a breath of fresh air in a year when (mainstream) rap was sinking into a monotonous abyss of vulgarity, stupidity, and negativity – and it is a great addition to any music lover's collection.