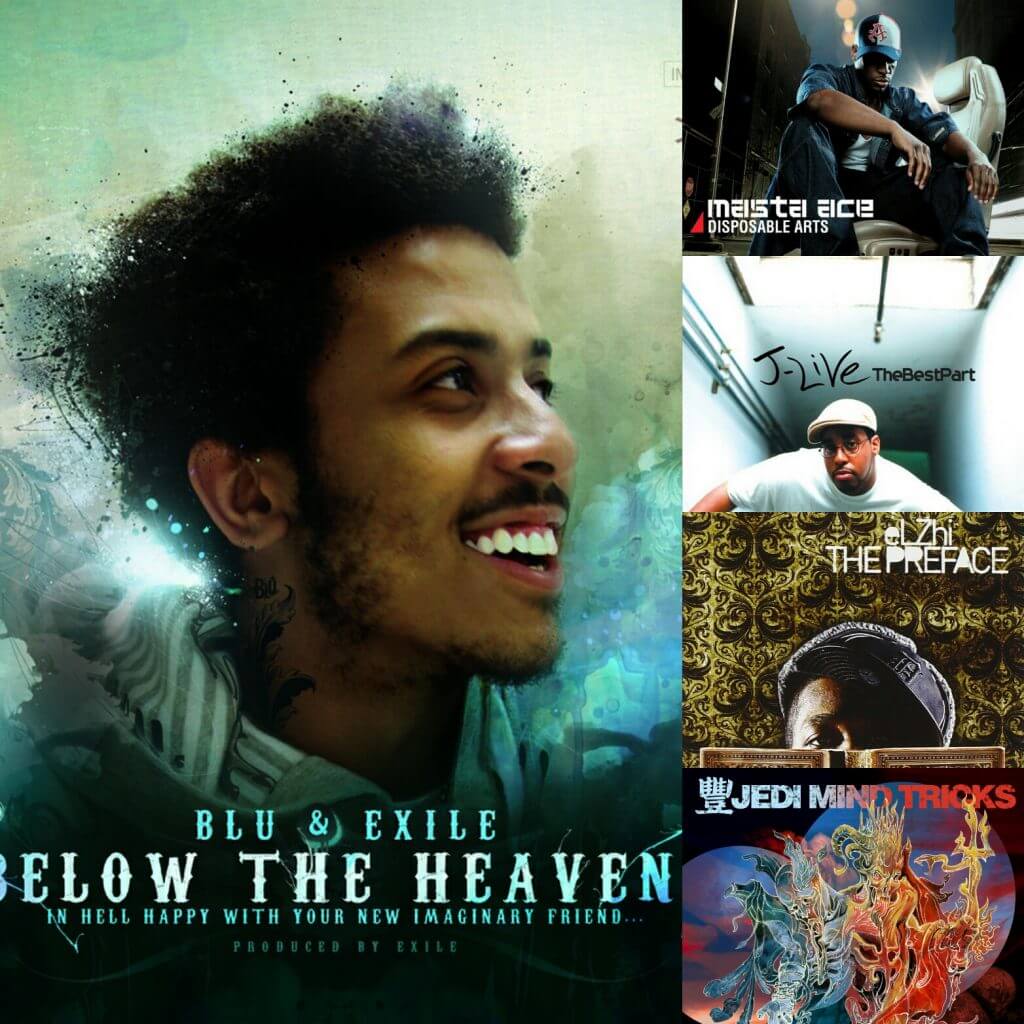 In this fourth part of our ongoing 5 Classic Records You Don't Own, But Should series, it's time to highlight five critically acclaimed but slept-on Hip Hop gems from the 2000's – five albums that any and all self-respecting Hip Hop lovers simply need to have in their music collection. Which one is your favorite out of these five? Do YOU own them all?
Jedi Mind Tricks - Servants In Heaven, Kings In Hell (2006)
Servants in Heaven, Kings in Hell is the fifth studio album by legendary Philly crew Jedi Mind Tricks and arguably their best, in a series of excellent albums. It is also their best-performing album commercially but still went criminally unnoticed (especially when compared to 2006 highest selling and 'not-so-good' rap albums from the likes of Lil Wayne, Rick Ross and others like them).
Servants In Heaven, Kings In Hell is worth the price of admission alone for the masterpiece that is "Uncommon Valor", with an epic verse by guest emcee R.A. The Rugged Man. But the rest of the album bangs too. Stoupe's unique and cinematic soundscapes and Vinnie Paz's vicious lyrics get equal shine, every track works. With some dope additional rhyming from guest like regular JMT collaborator Chief Kamachi, Sean Price and especially the aforementioned R.A. The Rugged Man, this album truly is a worthy addition to anyone's music collection.
Elzhi "The Preface" (2008)
Elzhi is one of the most underrated emcees in the game. The Detroit lyrical giant dropped an instant classic with The Preface. Bangin beats – mostly provided by equally underrated Detroit producer Black Milk – and excellent wordplay by Elzhi himself and guest like Guilty Simpson, Royce da 5'9″ and Black Milk, make this 2008's best album, along with The Roots' Rising Down and Q-Tip's The Renaissance.
"Guessing Game", "Motown 25", "Colors", "Transitional Joint", "What I Write", "Talking In My Sleep" – just a few standout tracks on an album with not a bad song on it.
"Show these motherfuckers what a classic is…" In the intro of the album Elzhi is set up for a tall order, but boy does he deliver. The Preface is an amazing album you just have to have in your collection.
J-Live "The Best Part" (2001)
This is one of the most slept on albums ever, it easily is one of the best Hip Hop albums of the 2000's decade. The Best Part was recorded from 1996 to 1999, featuring production by Prince Paul, DJ Premier, and Pete Rock. Due to label problems, it was not before 2001 when the album was finally released. There's no doubt it was worth the wait, though.
J-Live is an incredible emcee, with a great flow and delivery and clever lyrics. "Yes," "Don't Play", "True School Anthem", "Got What It Takes" and the classic cuts "Braggin Writes" and "Can I Get It" are just six of the awesome songs you have to check out on this album.
Critically acclaimed by those in the know, but sadly ignored by the larger audiences, The Best Part simply is a must-have for any self-respecting Hip Hop head. Oh, and J-Live next album – 2002's All Of The Above – is almost as brilliant as this one.
Masta Ace "Disposable Arts" (2001)
Masta Ace is one of those few artists who are able to keep reinventing themselves while turning out consistent quality. This album is no exception. Ever since his 1990 debut album Take A Look Around Masta Ace has been one of Hip Hop's greatest talents, who was always able to capture the true essence of Hip Hop in all his work.
Disposable Arts is a conceptual album, filled with dope tracks. Excellent production and clever wordplay; from Masta Ace himself and guests like Rah Digga, Jean Grae, Greg Nice, Punchline, Wordsworth and more.
This album arguably is Masta Ace's magnum opus, although the 2004 sequel A Long Hot Summer is almost as formidable.
Blu & Exile "Below The Heavens" (2007)
Record sales don't make an album a classic. A classic album is timeless, one that will still sound good decades from now. A classic album can be played again and again, without having to skip tracks.
Blu & Exile's Below The Heavens is such an album. Consistent quality throughout – Exile's soulful production is perfectly complemented by Blu's introspective and intelligent lyrics. The album was well received by real Hip Hop heads and critically acclaimed, but it never got the sales or mainstream attention it deserved.
This is real Hip Hop and a true underground classic.