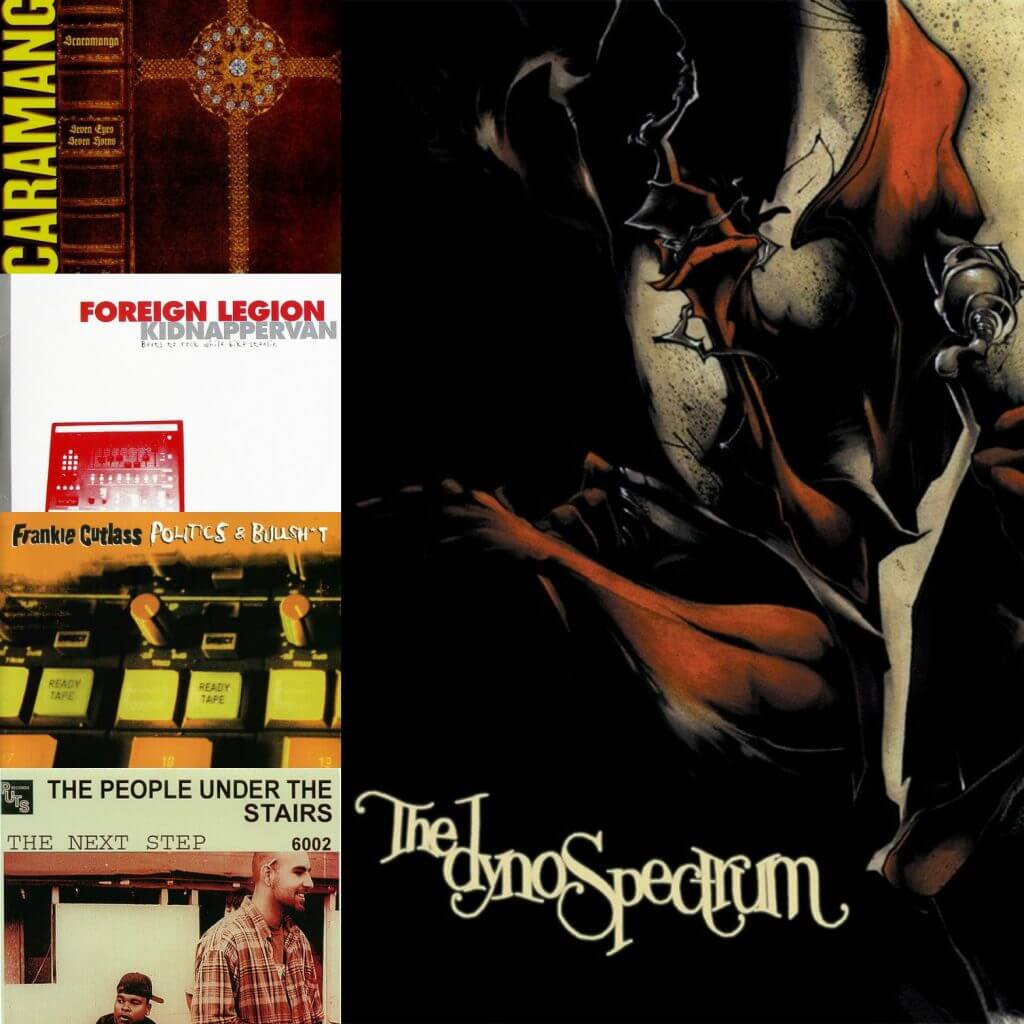 Part three in our 5 Great Hip Hop Albums You Have Never Heard series futures five dope albums released between 1997 and 2000. In the last years of the millennium, we saw mainstream Hip Hop and underground Hip Hop drift apart more and more – with a select group of artists like Jay-Z, Puffy, DMX and Eminem blowing up and selling millions of albums, while others (who often made better Hip Hop) got largely ignored.
These are 5 albums, a few by well-respected artists and a few more obscure ones, that didn't nearly get the recognition they deserved. Have you heard them all?
5. Foreign Legion - Kidnapper Van: Beats to Rock While Bike-Stealin' (2000)
Foreign Legion (Marc Stretch, Prozack Turner and DJ Design) released a slept-on gem with this album. Strictly underground, Kidnapper Van: Beats to Rock While Bike-Stealin' showcases dope beats and turntablism throughout as well as clever lyrics worth listening to.
"Full-Time B-Boy", "Reference Check", "Underground", "Let Me Tell You Something" are some of the highlights, but the whole album is 100% pure uncut Hip Hop.
4. The Dynospectrum - The Dynospectrum (1998)
The Dynospectrum is a collaboration from the Rhymesayers Entertainment roster, between Slug, I Self Devine, Sab the Artist, and Swift. As The Dynospectrum they performed under the pseudonyms Sept Sev Sev Two, Pat Juba, General Woundwart, and Mr. Gene Poole, respectively. The production was handled by Atmosphere's Ant, who assumed the name Solomon Grundy for the project.
This is an underground treasure, an excellent album for all those who are into real lyricism, fat beats and just plain old Hip Hop.
3. Scaramanga - Seven Eyes, Seven Horns (1999)
Scaramanga a.k.a. Sir Menelik biggest claim to fame up til the release of this album were his contributions to Kool Keith's classic Dr. Octagonecologyst. With Seven Eyes, Seven Horns he dropped a wonderfully obscure album himself, filled with dope rhymes and beats.
"Holding New Cards", "Seven Eyes, Seven Horns", "Star Of The Empire", "Shallah Magnetic", "Special Efx" – just a few of the great tracks on this album. This is one for true Hip Hop heads.
2. Frankie Cutlass - Politics & Bullshit (1997)
What an album! An underground classic – sorely slept on. Frankie Cutlass gathered an A-star line-up for this boom bap, old school vibing gem of an album.
With guest spots from Craig G., Roxanne Shante, Biz Markie, Big Daddy Kane, Mobb Deep, Kool G Rap, M.O.P., Fat Joe, Busta Rhymes, Keith Murray, Redman, Sean Price and more you know this has to be a quality album. Don't sleep and go check this album out if you never have before.
1. People Under The Stairs – The Next Step (1998)
The Next Step is the independently released full-length debut by Los Angeles duo People Under the Stairs – the first in a string of excellent albums. PUTS always come with that authentic, real boom-bap Hip Hop and this first effort is a underrated gem.
There is not one weak track on the album, with standouts "San Francisco Knights" and "Los Angeles Daze" being among the best tracks to ever come from the West. If you slept on People Under The Stairs: get this album, and then dive into the rest of PUTS' catalog – it's all good.