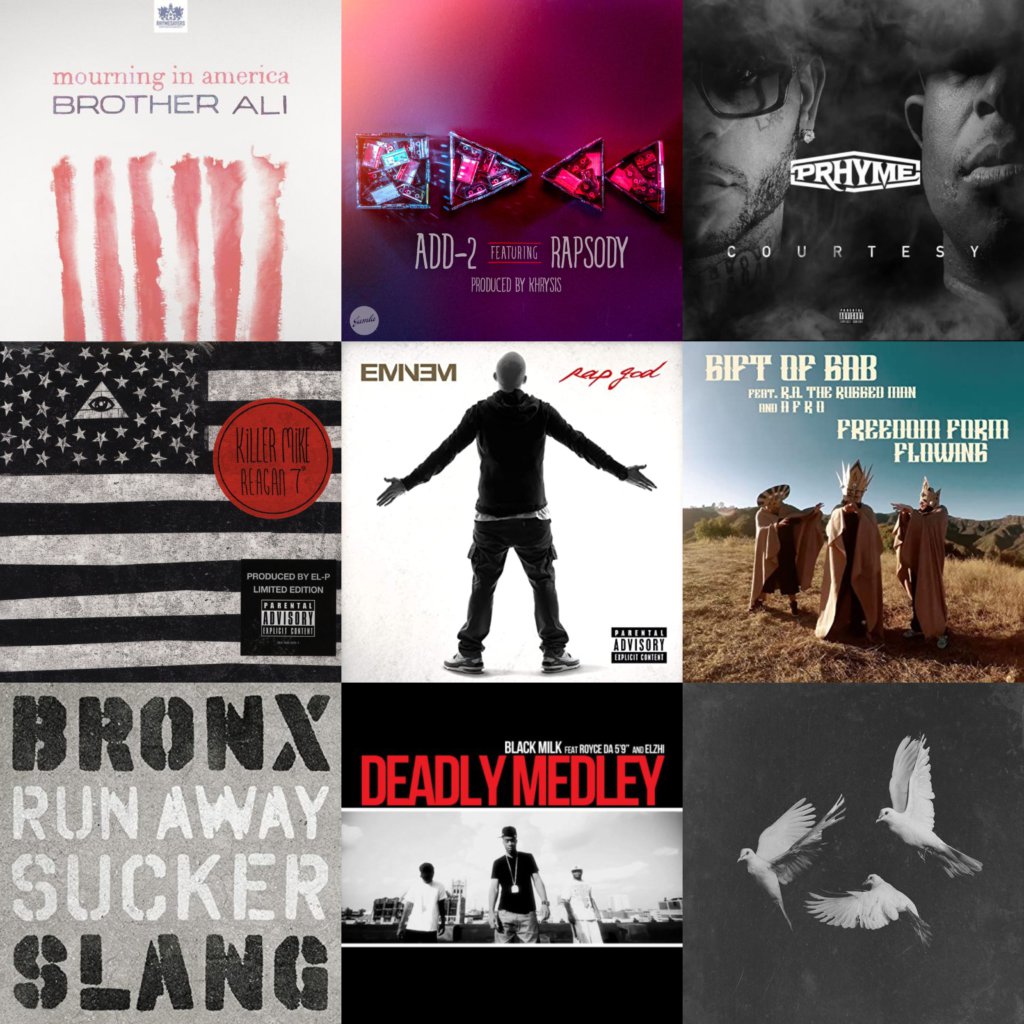 This here is a totally gratuitous list, based on nothing but personal tastes. We've selected 30 songs and videos from the 2010s we think are great, presented in no particular order. It's not a coincidence that this list contains music from emcees we consider to be among the best in the Hip Hop game, but who are rarely mentioned in all those uninformed best rappers lists you see circulating around the internet all the time, always with the cue-card choices like 2Pac, Biggie, Jay-Z, Kanye, Kendrick or even someone like Lil Wayne topping them. Our favorite emcees include some of the ones whose videos you'll find in this list, underappreciated by (or even unknown to) most of the cue-card list people – think Masta Ace, Pharoahe Monch, R.A. The Rugged Man, Phonte, Skyzoo, O.C., Elzhi, Royce Da 5'9″, Murs, Gift Of Gab, and Black Thought – among others.
Remember, this list is not a ranking, nor is it meant as a balanced representation of 2010s Hip Hop – so there's no need to get upset if your personal favorite is not included. But even if your personal favorite is not here, no doubt you'll find something to enjoy. Dive in, and let us know which is your favorite track listed here.
Also read: The Best Hip Hop Albums Of The 2010s
Killer Mike - Reagan (2012)
We love it when everything we value in Hip Hop comes together in one project. Killer Mike's R.A.P. Music (Rebellious African People Music) is such a project, one that fires on all cylinders. R.A.P. Music was an instant classic, reminiscent of the fire and fury early Ice Cube and Public Enemy albums brought – this album has that same sense of intensity and urgency. Killer Mike's lyrics are raw and unapologetic yet intelligent and socially conscious at the same time – and the ingenious soundscapes provided by El-P only serve to strengthen Killer Mike's diverse lyrical content. "Reagan" is the centerpiece of the album – hyper-political thought-provoking lyrics, just check the last bars of the song:
Ronald Reagan was an actor, not at all a factor / Just an employee of the country's real masters / Just like the Bushes, Clinton, and Obama / Just another talking head telling lies on teleprompters / If you don't believe the theory, then argue with this logic / Why did Reagan and Obama both go after Qaddafi? / We invaded sovereign soil, going after oil / Taking countries is a hobby paid for by the oil lobby / Same as in Iraq and Afghanistan / And Ahmadinejad say they coming for Iran / They only love the rich, and how they loathe the poor / If I say any more they might be at my door / (Shh..) Who the fuck is that staring in my window? / Doing that surveillance on Mr. Michael Render / I'm dropping off the grid before they pump the lead / I leave you with four words: I'm glad Reagan dead…
R.A. The Rugged Man - Tom Thum (2013)
R.A. The Rugged Man is one of our favorite personalities in the Hip Hop game: he is totally authentic and says what he thinks, no matter what other people think about his opinions. But R.A. is not just one of our favorite personalities, he is one of our favorite emcees as well. Few, if any emcees can go bar-for-bar with R.A. The Rugged Man. His technical skill, his incredible flow, his breath control, and his bar-building skills are second to none.
R.A.'s second album Legends Never Die is one of the best Hip Hop albums released in 2013, and this is one of the best tracks of that album. The track features Australian beatboxer Tom Thum (the track is named after him and he appears in the video) and is a dope example of two of the things R.A. The Rugged Man does best: humorous bragging using some crass imagery while lyrically destroying other rappers.
Too much lyricism to digest, I do it on purpose
Two of my bars is more lyrical than two of your verses, come on
Add-2 - Stop Play Rewind ft. Rapsody (2015)
"Stop Play Rewind", featuring Rapsody, is the lead single from Prey For The Poor, Chicago emcee Add-2's debut solo LP since signing to 9th Wonder's Jamla Records. Prey For The Poor is his official debut album after a string of excellent mixtapes – an album that went sadly unnoticed upon its release in 2015. Make no mistake though – this is one of the best Hip Hop releases of 2015. Don't sleep on Add-2.
Phonte - The Good Fight (2011)
As one-third of Little Brother (along with Rapper Big Pooh and 9th Wonder), Phonte was responsible for two of the best albums of the 2000s – The Listening (2003), and The Minstrel Show (2005). In 2004 he dropped Connected, one the 2000s sleeper classics as half of Foreign Exchange. After these three near-flawless albums in the 2000s, in 2011 he released Charity Starts At Home, his long-awaited solo debut. Charity Starts At Home has none of that fake hustler rap about money, guns, and b*tches we heard too much from the face-tatted circus clowns this past decade, but if offers grown man Hip Hop at its finest – smooth instrumentals and intelligent lyrics by one of the finest emcees in the game. "The Good Fight" is one of the centerpieces of the album.
O.C. - A New Dawn (2018)
"A New Dawn" is the title track from one of the best Hip Hop albums of 2018: O.C.'s A New Dawn. A New Dawn serves as the follow-up to 2017's Same Moon, Same Sun, which was billed as the "first phase" of the three-album series. Dope beats, clever, next-level lyricism – it's O.C., if you know Hip Hop you should know what to expect.
PRhyme - Courtesy (2014)
What can go wrong when one of the top-lyricists of the last two decades hooks up with one of the most important producers ever? Not much – as PRhyme, the epic first album from collaborative duo Royce Da 5'9″ and DJ Premier proved. DJ Premier's beats and signature scratches sound as good as ever, and Royce brings his A-game too. PRhyme is a fantastic album, "Courtesy" is just one of the dope tracks on it.
Tone Spliff & Recognize Ali - Recreational Rec (2019)
Los Angeles based DJ and Producer Tone Spliff (who originally is from Utica, NY) dropped a true gem with his crowdfunded project Ardore Melodico. "Recreational Rec" with Recognize Ali is one of our favorite songs of 2019, and it has one of the best videos too. Adding Ardore Melodico to your music library should be a no-brainer if you're a boom-bap head.
Rapper Big Pooh - Augmentation (prod. Apollo Brown) (2015)
Beat box, this is back to the block/ Before every rapper sold rocks/ Before everybody needed rocks in their watch/ Just watch, now it's all about board rooms and stocks/ Words paint pictures, I'm an artist non-stop/ Raw beats, raps, this is called Hip Hop…"

"Sometimes you have to destroy and rebuild in order to augment an idea. "Augmentation" is me destroying the idea that a lot of young cats have about a career in Hip Hop/Rap. We are trained to look at the exceptions and accept them as the standard. I just wanted to share some real game with up and comers, spectators, and those looking to make their mark." – Rapper Big Pooh
From Little Brother emcee Big Pooh's underrated Words Paint Pictures (Big Pooh's debut release for Mello Music Group) this Apollo Brown production captures the essence of Hip Hop: bars, beats, samples – this is how it should be done.
Oddisee - Own Appeal (2013)
Washington DC's Oddisee is an incredible producer AND a great lyricist. He is responsible for two near-flawless albums as one-third of Diamond District, and he has released a string of great solo-projects. Tangible Dream is his best solo-effort of this decade, along with The Good Fight (2015).  Tangible Dream is a smooth and intelligent album that should be a part of any serious Hip Hop collection. Along with cuts like "Tomorrow Today", "Back Of My Mind", "Killin' Time", "Be There", and  "Tangible Dream", "Own Appeal" is one of the stand-out tracks.
D.I.T.C. - Rock Shyt ft. Fat Joe, Lord Finesse, Diamond D (2016)
This is a dope track from three veterans of the legendary D.I.T.C. crew. Fat Joe and Diamond D do their thing, but as usual, its Lord Finesse who has the best bars:
When you're tired of listening to frauds auditioning for broads / My sh*t religion, you need to get up on the Lord / Cause nowadays mad sh*t's retarded / When it's cool to wear sh*t out your sister's closet / Most got that Xerox flow, but ain't all that sharp / Lyrically, you fingerpainting, you call that art? / I do damage, with a flow that's so savage / I don't respond and answer, yall n****s below average / So it's nothing to get murdered in the booth / Why even keep it real when yall allergic to the truth / I know sh*t ain't the same, why sit and complain / I was told throw on a uniform and get in the game / I'm the ace of trades with the insight to teach / Got a mean hand on the game, it's not polite to reach / I ain't after fame, just trying to craft my pain / With enough bars to incarcerate half the game / Will my team fall short? That might mean never / We`ll be here long after the tight jean era…
Demigodz - Dead In The Middle (2013)
KILLmatic is a 2013 album from supergroup Demigodz. Demigodz is a Hip Hop collective whose line-up has changed several times over the years – as of 2012, the group consists of Apathy, Celph Titled, Ryu, Esoteric, Motive, & Blacastan. With production from Apathy (who also serves as executive producer for the album), DJ Premier, Teddy Roxpin, Chumzilla, Snowgoons, Skammadix, Will C, and Marco Polo, and guest appearances from renowned rhyme spitters as R.A. The Rugged Man, Planetary, and Termanology KILLmatic is an hour of HEAT. 100% pure uncut Hip Hop: hard rhymes, booming beats, dope scratches, and nostalgia-inducing samples – just listen to "Dead In The Middle", which uses the epic Big Pun verse 'dead in the middle of Little Italy little did we know that we riddled some middlemen who didn't do diddly' as the hook.
Skyzoo & Illmind - Speakers On Blast (2010)
"Speakers on Blast" is one of the best tracks from Live From The Tape Deck, a collaborative studio album by Brooklyn rapper Skyzoo and New Jersey producer Illmind. Live From The Tape Deck is one of the best albums of 2010 and just one of the gems Skyzoo would drop in the 2010s.
Black Milk - Deadly Medley feat. Royce Da 5'9" & Elzhi (2010)
Detroit's finest at work. From Black Milk's underrated Album Of The Year album, we get guest appearances by Royce Da 5'9″ and Elzhi, two of the finest emcees not just in Detroit, but in the world.
Run The Jewels feat. Zack de la Rocha - Close Your Eyes (And Count To F**k) (2014)
Run The Jewels is one of the MVP acts of the 2010s for us, and this track is one of the centerpieces of their best album: Run The Jewels 2. This is what El-P and Killer Mike have to say about the video that goes with the song:
El-P:  "this is a vision of a seemingly never-ending struggle whose participants are pitted against each other by forces originating outside of themselves." Adds partner Killer Mike "this video represents the futile and exhausting existence of a purgatory-like law enforcement system. There is no neat solution at the end because there is no neat solution in the real world. However, there is an opportunity to dialogue and change the way communities are policed in this country. Salutes to AG Rojas for his unique take on the subject matter and to Shea and Keith for giving us their all and bringing it to life."
KRS-One - Just Like That (2011)
Hate him or love him, KRS-One is and will forever be one of the most important figures in Hip Hop. For HHGA, any best rapper discussion that hasn't KRS-One in the top 3 is invalid. KRS-One has always been totally consistent in his output, never pandering to trends. In his fourth decade in the game, KRS was still going strong – if not with a selection of classic record releases, at least with rocking stages worldwide. Anyone who has ever attended a KRS-One concert will know he's one of the best live-performers in Hip Hop, ever. This track is another one of his Hip Hop history lessons, over a dope instrumental and supported by a nice visual.
Eminem - Rap God (2013)
A lot of people are sh*tting on Eminem these days, and even if it's true his output has been more miss than hit for a long time, there's simply no denying he is one of the greatest lyricists of all time. This is the highest-profile song on this list, everybody will know this one. Doesn't matter – "Rap God" is f*cking brilliant, one of the best songs of the past decade.
Murs - Okey Dog (2015)
From 2015's Have A Nice Life, "Okey Dog" showcases Murs' story-telling abilities and humor, and his talent to create fun-to-watch videos to go with his songs.
Sean Price, Termanology & Lil Fame - I Rock Mics (2013)
The aptly titled "I Rock Mics" is a straight-up banger, with a booming beat and three real emcees spitting fire bars. RIP Sean P.
Bronx Slang - Run Away Sucker (2019)
"Fast out the blocks in the 1-9 is N.Y.C. Hip Hop duo Bronx Slang's new single 'Run Away Sucker'. Streetwise, wailing funk sliding through car windows – Jadell on the boards and playing the getaway driver – makes Jerry Beeks and Miggs a pair who won't let you in if your name's not down. Adjusting the bass so the pair can blast – "I keep it raw like I'm lactose intolerant" – this BX clap back is a top-shelf standard in good-old-days beats and rhymes. Chumps, prepared to be chased out of town. As calls for golden age purism grow louder, Bronx Slang – influenced by the almightiness of Grandmaster Caz and a lightning bolt moment when purchasing LL Cool J's 'I Need a Beat' – offer an A+ guarantee of being able to "pickpocket your playlist, shoplift your pop hits/and show you how gritty Hip Hop can get".
Pusha T - Untouchable (2015)
Pusha T's King Push – Darkest Before Dawn: The Prelude was a definite step up from the merely OK My Name Is My Name (2013). This short and tight 10-track album fires on all cylinders. Pusha T is a great rapper, but it's the beats that steal the show on this album. "Untouchable" is exemplary: this beat with the Biggie sample is killer.
Atmosphere - The Last To Say (2011)
Slug laces this smooth slow beat by Ant, and eloquently describes the nature of domestic violence. Explaining how domestic violence can be a cycle but at the end has an uplifting few lines which state you should break the cycle. The slow tempo of this song suits the way Slug has penned these lyrics and the chorus/break is simple but touching. The song is accompanied by a clever emotional video.
Masta Ace & Marco Polo ft. Pharoahe Monch - The Fight Song (2018)
From the excellent A Breukelen Story (2018), "The Fight Song" is a creative display of penmanship and lyrical skill by two of Hip Hop's best emcees, supported by an excellent Marco Polo instrumental. How Pharoahe Monch personifies a disease and Masta Ace the recipient fighting the disease is truly a work of art.
CZARFACE - Hazmat Rap (2013)
Czarface is one of the most consistent acts of the 2010s, and they are unperturbed in dropping vintage-sounding East Coast Hip Hop. "Hazmat Rap" is just one of the dope tracks off their self-titled debut album.
Semi Hendrix (Ras Kass & Jack Splash) - Jesus Pressed Mute (2015)
Semi Hendrix is a collaboration between Grammy-winning producer Jack Splash and legendary lyricist Ras Kass – they joined forces in 2015 to make Breakfast at Banksy's. This album is excellent, totally overlooked by almost everybody, unfortunately. Jack Splash manages to come up with different sounds for every track, maintaining a high energy level from start to finish. The beats are exactly what Ras Kass needs to match his intensity. Ras Kass, as always, comes with clever, humorous, and hard-hitting lyrics, while Jack Splash manages to hold his own on the mic as well. The album is one of 2015's hidden treasures, "Jesus Pressed Mute" one of the stand-outs.
Brother Ali - Mourning in America (2012)
Terrorism is the war of the poor / Hold up a mirror so the script get flipped / Cause when it's in reverse it ain't wrong no more / Warfare's the terrorism of the rich / Who's the true guerilla / When the bomb on your body killing innocent civilians / But a life is a life and a killer is a killer / You're at a desk chillin' push a button kill a million / See the anguish of the parents / When they're carrying the body of the baby that they cherish / When innocent people perish / It's a very thin line between a soldier and a terrorist…
Thought-provoking stuff from Brother Ali, this critique of the US culture of death and murder, from actual war zones around the world to the US inner cities. Whether you agree with him or not, there's no denying the punch this track from Brother Ali's 2012 album Mourning In America packs.
Jurassic 5 - The Way We Do It (2014)
After Jurassic 5's last LP release Feedback in 2006, the legendary Los Angeles crew came back together in 2014 for a reunion tour and a new song called "The Way We Do It". With production from the late Heavy D, the song perfectly continues that signature Jurassic 5 throwback-flavored excellence.
Diamond D - Pump Ya Brakes ft. Rapsody, Boog Brown & Stacy Epps (2015)
One of the stand-out tracks from Diamond D's 2015 album The Diam Piece. A signature quality Diamond D beat, with lyrical excellence from Rapsody and Boog Brown, and surprisingly from singer Stacy Epps. Rapsody received wide recognition for her work in the 2010s (she has three albums on our Top 150 Hip Hop Albums Of The 2010s list), but Boog Brown is regrettably slept on even in Hip Hop circles. Not by HHGA though, you'll find two Boog Brown albums on that 2010s list as well.
The Roots - Now Or Never (2010)
This powerful and uplifting track is one of the stand-outs off The Roots' How I Got Over (2010), an album that belongs to the Roots crew best along with  Illadelph Halflife (1996), Things Fall Apart (1999), Game Theory (2006), Rising Down (2008) and Undun (2011).
Gift of Gab ft. R.A. The Rugged Man & A-F-R-O - Freedom Form Flowing (2017)
"Freedom Form Flowing" is a dope track from Blackalicious emcee Gift Of Gab's 2017 EP Rejoice! Rappers are Rapping Again!. All three emcees on this track kill it, Gift Of Gab is another one of those underappreciated rappers who is better than 99% of the rappers out today and young talent A-F-R-O easily holds his own between veterans Gift Of Gab and R.A. The Rugged Man with a killer verse. "Freedom Form Flowing" is a display of lyricism and wordplay at its finest.
Epic Beard Men feat. Slug of Atmosphere & Blue Raspberry - Pistol Dave (2019)
"Pistol Dave" – crafted around a line from Slick Rick's 1988 classic "Children's Story" – is one of the singles takes from This Was Supposed To Be Fun, the debut LP from Epic Beard Men (Sage Francis and B. Dolan). The album offers fun and clever lyrics and dope instrumentals all the way through, This Was Supposed To Be Fun is a must-listen – one of the most entertaining Hip Hop albums released in 2019.