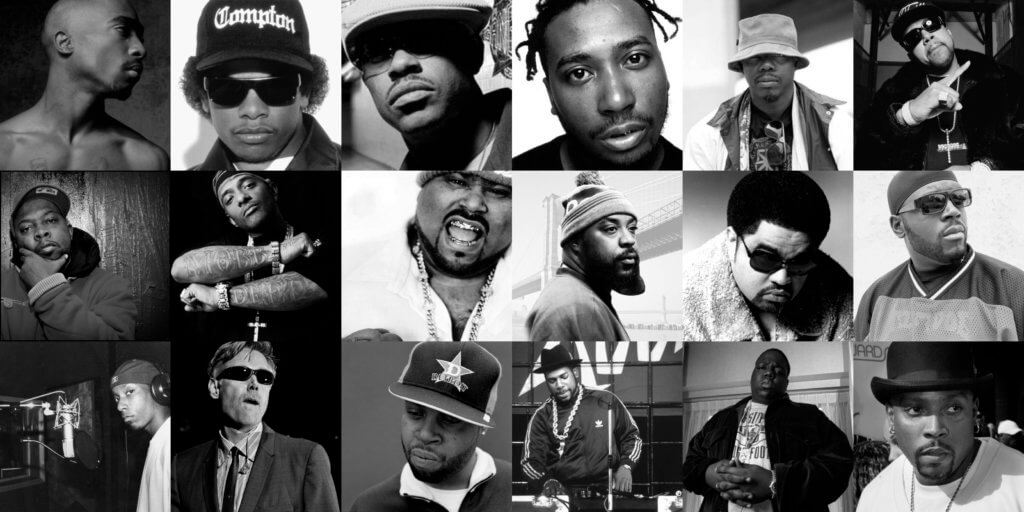 Over the years, a lot of influential and successful Hip Hop artists have died long before their time – due to violence, illness, drug overdoses, and a variety of other reasons. 2Pac, Notorious B.I.G., Eazy E, Guru, Phife Dawg, Prodigy, Ol' Dirty Bastard, Big Pun, Big L, Pimp C, Bushwick Bill, Sean Price, Heavy D, MCA, J Dilla, Jam Master Jay, Tim Dog, Nate Dogg, Cowboy, Lovebug Starksi, Buffy, Scott La Rock, MC Breed, Paul C, Mac Dre, Freaky Tah, Big Syke, Too Poetic, Koopsta Knicca, Fresh Kid Ice, Baatin, Roc Raida, Proof, Eyedea, Capital Steez – just a few of the Hip Hop artists who died much too young. More recently Hip Hop lost talented artists like Nipsy Hustle, XXXTentacion, Mac Miller, Juice WRLD, and Pop Smoke – the list seems endless. This piece is a tribute to some of our favorite deceased Hip Hop artists, with 18 classic cuts to remember some of the best Hip Hop has had to offer.
2Pac - I Ain't Mad At Cha (1996)
Tupac Amaru Shakur, born Lesane Parish Crooks (June 16, 1971 – September 13, 1996), popularly known by his stage name 2Pac, was a rapper and actor. He is considered by many as one of the most significant rappers of all time. Much of 2Pac's work has been noted for addressing contemporary social issues that plagued inner cities, and he is considered a symbol of resistance and activism against inequality.
On September 7, 1996, 2Pac was shot four times by an unknown assailant in a drive-by shooting in Las Vegas; he died six days later. He was 25 years old. His murder remains unsolved.
"I Ain't Mad At Cha" was a prophetic song. The catchy piano-laced background melody perfectly enhances Pac's emotional lyrics on one of his biggest hits, the last one under the name 2Pac (before switching to the Makaveli moniker). The song was the first one to be released after his death and has 2Pac taking a trip down memory lane and making peace with some people from his past. The accompanying video has 2Pac being shot dead after leaving a hotel and entering heaven, to be received by legends as Marvin Gaye, Bob Marley, and Jimi Hendrix.
Eazy E - Real Muthaphuckkin G's (1993)
Eric Lynn Wright (September 7, 1964 – March 26, 1995), known professionally as Eazy-E, was an American rapper, record producer, and entrepreneur who gained prominence for his work with NWA, where he has been credited for pushing the boundaries of lyrical and visual content in mainstream popular music.
Born and raised in Compton, California, Eazy-E faced several legal troubles before founding the Ruthless Records record label in 1987. After beginning a short solo career in which he frequently collaborated with Ice Cube and Dr. Dre, the trio came together to form the group NWA later that year.
As a member of the group, he released the controversial album, Straight Outta Compton (1988), which tackled many socio-political issues. The album has been regarded as one of the greatest albums of all-time, and one of the most influential in the genre. The group released their final studio album three years later, and disbanded shortly after, due to long-standing financial disputes.
Eazy-E then resumed his solo career, where he released two EPs, which drew inspiration from funk music, contemporary Hip Hop, and comedians. He also engaged in a high-profile feud with Dr. Dre, before being hospitalized with AIDS in 1995. He died a month after his hospitalization. He was 30 years old. 
Without his former NWA mates there to provide beats and lyrics, Eazy E's solo work was more often miss than hit. This song hits the spot though, and is the perfect answer to Dre dissing Eazy on "F*** Wit Dre Day".
Guru (Gang Starr) - Mass Appeal (1994)
Keith Edward Elam (July 17, 1961 – April 19, 2010), better known by his stage name Guru(a backronym for Gifted Unlimited Rhymes Universal), was a member of the legendary Hip Hop duo Gang Starr, along with DJ Premier. He was born in Roxbury, Boston.
On February 28, 2010, Guru went into cardiac arrest and, following surgery, fell into a coma. It was claimed that Guru had briefly awakened from his coma, but he died on April 19, 2010, at the age of 48, from multiple myeloma, a form of blood cancer.
In this classic joint from Gang Starr's fourth album Hard To Earn, Guru addresses sell-out artists who are willing to compromise their sound and themselves for chart success. The quintessential Gang Starr track.
Phife Dawg (A Tribe Called Quest) - Butter (1991)
Malik Izaak Taylor (November 20, 1970 – March 22, 2016), known professionally as Phife Dawg (or simply Phife), was a member of the group A Tribe Called Quest with Q-Tip and Ali Shaheed Muhammad (and for a short time Jarobi White). He was also known as the "Five-Foot Assassin" and "The Five-Footer" because he stood at 5 feet 3 inches (1.60 m).
On March 22, 2016, Phife Dawg died from complications relating to diabetes at age 45.
Phife's moment to shine on his solo song from ATCQ's classic sophomore album The Low End Theory. A big difference between this album and ATCQ's first is the emergence of Phife Dawg as the second full lyricist in the group, not just one to complement Q-Tip here and there. Phife carries this irresistible track effortlessly – it truly 'sounds' smooth like butter.
Prodigy (Mobb Deep) - Shook Ones, Pt II (1995)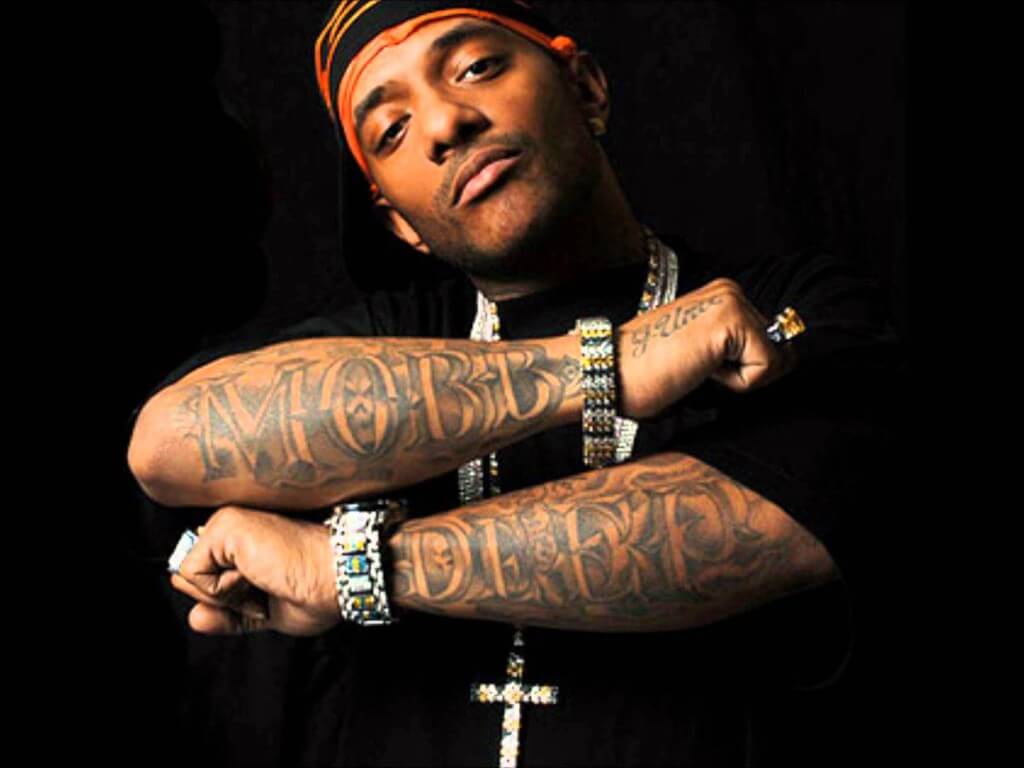 Albert Johnson (November 2, 1974 – June 20, 2017), better known by his stage name Prodigy, was a rapper, author, and entrepreneur who, with Havoc, was one half of legendary Queensbridge duo Mobb Deep.
Prodigy died June 20, 2017, in Las Vegas. at the age of 42, after a lifelong battle with sickle-cell anaemia disease. 
Classic Prodigy rhymes over a signature sinister Havoc beat – this song is not just Mobb Deep's best, but one the very best in the history of Hip Hop. THE centerpiece of the all-around epic album The Infamous, which was a big part of the 'renaissance' of East Coast Hip Hop.
Big Pun - Twinz (with Fat Joe, 1998)
Christopher Lee Rios (November 10, 1971 – February 7, 2000), better known by his stage name Big Pun (short for Big Punisher), emerged from the underground Hip Hop scene in The Bronx borough of New York City in the early 1990s, he came to prominence during the latter half of the decade for his work with Fat Joe and the Terror Squad. Pun's lyrics are notable for their technical efficiency, having minimal pauses to take a breath, heavy use of alliteration as well as internal and multi-syllabic rhyming schemes. He is frequently cited as one of the best MCs of all time.
Big Pun struggled with weight issues his entire adult life. He weighed 180 pounds (82 kg) at age 18, which increased to 300 pounds (140 kg) at 21. His weight fluctuated in the early 1990s between obese and morbidly obese. On February 5, 2000, Rios withdrew from a planned Saturday Night Live performance with Fat Joe and Jennifer Lopez due to illness. Two days later while staying at a hotel with his family in White Plains, New York, he suffered a heart attack and respiratory failure and was taken to a hospital, where he died at the age of 28. His weight had reached a peak of 698 pounds (317 kg) at the time of his death.
Using the instrumental of Dr. Dre & Snoop Doggy Dogg's classic "Deep Cover" track, "Twinz" features some of Big Pun's most iconic bars, like: "Dead in the middle of Little Italy little did we know that we riddled some middlemen who didn't do diddly…"
Big L - Street Struck (1995)
Lamont Coleman (May 30, 1974 – February 15, 1999), known professionally as Big L, emerged from East Harlem, New York in the early to mid-1990s. Big L became well known amongst underground Hip Hop fans for his freestyling ability and was eventually signed to Columbia Records, where, in 1995, he released his debut album, Lifestylez ov da Poor & Dangerous, an album that is now considered by many fans to be a classic. 
On February 15, 1999, Big L was killed in his native Harlem after being shot nine times in the face and chest in a drive-by shooting. He was 24 years old. His murder remains unsolved.
This classic cautionary tale warning listeners of the dangers of the hustler's lifestyle on the inner-city streets, would 4 years later become a tragic reality for Big L himself as he was shot and killed in a drive-by shooting on his home-turf in Harlem.
MCA (Beastie Boys) - Sure Shot (1994)
Adam Nathaniel Yauch (August 5, 1964 – May 4, 2012), better known by his stage name MCA, was a rapper, bass player and filmmaker who was a founding member of the legendary Beastie Boys. 
MCA died on May 4, 2012, after a three year battle with cancer. He was 47 years old.
Everything that makes Beastie Boys sophomore album Paul's Boutique so brilliant comes together on this track. The album performed commercially disappointing upon release (people were probably expecting more Licensed To Ill style frat-rap), but Paul's Boutique would eventually universally be recognized as the creative and innovative masterpiece that it is. MCA spits some classic bars on this one: "So like a pimp, I'm pimpin' / I got a boat to eat shrimp in / Nothing wrong with my leg, I'm just B-boy limpin'…"
J-Dilla - Workinonit (2006)
James Dewitt Yancey (February 7, 1974 – February 10, 2006), better known by the stage names J Dilla and Jay Dee, was a producer and rapper who emerged in the mid-1990s underground Hip Hop scene in Detroit, Michigan, as one-third of the acclaimed music group Slum Village. His obituary at NPR stated that he "was one of the music industry's most influential Hip Hop artists," working with notable acts including A Tribe Called Quest, De La Soul, Busta Rhymes, Erykah Badu, The Roots, The Pharcyde, Madlib, and Common. Today, he is known by some as the godfather of lo-fi Hip Hop.
J Dilla died as the result of a blood disease on February 10, 2006.
J Dilla passed away just three days after the release of his instrumental opus, Donuts. – one of the best, if not THE best, instrumental Hip Hop albums of all time (it has to compete with DJ Shadow's Entroducing… (1996) for that title).
Ol' Dirty Bastard - Shimmy Shimmy Ya (1995)
Russell Jones was born in Brooklyn, New York, on November 15, 1968. As Ol' Dirty Bastard, he rose to fame as part of the Wu-Tang Clan and with his own 1995 debut album, later scoring hits with the tracks "Ghetto Supastar" and the remix of Mariah Carey's "Fantasy." After many arrests, the rapper was placed into rehab and later prison. He died on November 13, 2004, from heart failure due to an overdose of drugs, at 35.
"Shimmy Shimmy Ya" is the second single and arguably best-known track of Ol' Dirty Bastard, from his solo debut album Return to the 36 Chambers: The Dirty Version. It was produced by fellow Wu-Tang Clan member RZA. A perfect testament to ODB's crazy brilliance.
Bushwick Bill - Ever So Clear (1992)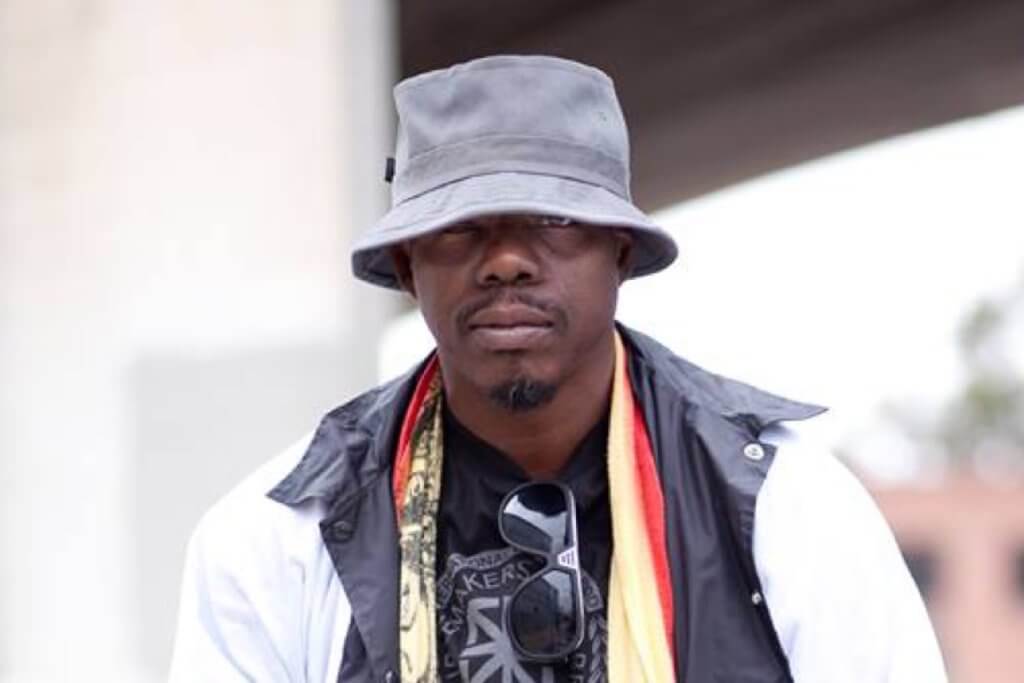 Richard Stephen Shaw (December 8, 1966 – June 9, 2019) was a Jamaican-American rapper and producer better known by his stage name Bushwick Bill. He was best known as a member of the pioneering Geto Boys, a group he originally joined as a dancer in 1986 as Little Billy. He went on to become one-third of the best-known incarnation of the group, alongside Willie D and Scarface.
On May 1, 2019, Bushwick Bill revealed that he had been diagnosed with stage 4 pancreatic cancer. On June 9, 2019, reports emerged that he had died, but news of his death was later refuted by his son. However, it was subsequently reported and confirmed that he died later that day at a hospital in Denver, Colorado. He was 52 years old. 
"Ever So Clear" is about an incident that happened in the summer of 1991, when Bushwick Bill was shot by his girlfriend during an argument, losing an eye; he refers to this incident and his intoxication on Everclear grain alcohol in the lyrics of the song. He was also high on PCP. He was pronounced dead but due to the phencyclidine he was able to be revived and he lived. The aftermath of this incident is depicted on the album cover of Geto Boys' album We Can't Be Stopped, which shows Bushwick Bill being pushed through the hospital on a gurney the night he was shot. He pulls down the medical patch from his eye to show the wound.
Pimp C (UGK) - Int'l Players Anthem (I Choose You) ft. OutKast (2007)
Chad Lamont Butler (December 29, 1973 – December 4, 2007), better known by his stage name Pimp C, was a rapper and producer. He was best known for his work with Bun B as a founding member of the Underground Kingz (UGK).
On December 4, 2007, Pimp C was found dead in a West Hollywood hotel room allegedly due to a combination of sleep apnea and "lean/purple drank" overdose. He was 33 years old. 
"Int'l Players Anthem" was the last single UGK released before Pimp C died (later that year). This is a legendary song and video that has become a staple of what southern Hip Hop was like.
Sean Price - Peep My Words / Monkey Barz (2005)
Sean Duval Price (March 17, 1972 – August 8, 2015) was an underground rapper and member of the Hip Hop collective Boot Camp Clik. He was also half of the duo Heltah Skeltah, performing under the name Ruckus (sometimes abbreviated as Ruck), along with partner Rock.
On August 8, 2015, Sean Price died in his sleep at age 43 due to unknown reasons.
A doubleheader video with two tracks takes from Monkey Barz, the solo debut by Sean Price. Monkey Barz was the first release from Duck Down Records 2005 "Triple Threat Campaign", followed by Buckshot & 9th Wonder's Chemistry, and Smif-N-Wessun's Smif 'N' Wessun: Reloaded. Monkey Barz was possibly the most acclaimed of the three.
Heavy D - The Overweight Lover's In The House (1987)
Dwight Arrington Myers (May 24, 1967 – November 8, 2011), better known as Heavy D, was a Jamaican-born American rapper, producer, and actor. He released 5 successful albums (one Gold album, two Platinum albums, and one double Platinum album) as Heavy D & The Boyz, as well as 4 solo albums.  
Heavy D died on November 8, 2011, after experiencing a pulmonary embolism. He was 44 years old.
Heavy D is one of the most likable characters Hip Hop has ever known. Livin' Large, his 1987 debut album, was not as commercially successful as the four following Heavy D & The Boyz group albums would be, but it's considered a classic now. From Livin' Large comes this funky party track: no cursing, no hate-filled speech, no talk about drugs, violence or killing – this was when 'clean' Hip Hop was OK and when rappers weren't afraid to dance and have fun.
Tim Dog - F*ck Compton (1991)
Timothy Blair (January 3, 1967 – February 14, 2013), better known by his stage name Tim Dog, was a rapper from the Bronx, New York, who rose to notoriety during the early 1990s with his debut LP Penicillin On Wax and the celebrated diss track "F*ck Compton." He had already appeared on songs with the Ultramagnetic MCs and went on to form a duo, Ultra, with Kool Keith. 
On February 14, 2013, the media reported that Tim Dog died of complications from diabetes. By May 2013, he was under investigation for allegedly faking his death to avoid charges of grand larceny, and a warrant was issued in Mississippi for his arrest. However, on September 15, 2014, it was finally confirmed by NBC News that Tim Dog had indeed died on February 14, 2013, as had been initially reported, but then disputed. A death certificate was filed in Dekalb County, Georgia, putting an end to speculation that he was still alive.
Tim Dog became a controversial and much-ridiculed figure when he started a beef he could never win – with dissing N.W.A. and the whole of Compton / L.A. he bit off more than he could chew. Or maybe that controversy and notoriety are exactly what he wanted to gain a name for himself. Whatever the case, his debut album Penicillin On Wax is not bad at all. Excellent funky and hard-hitting beats provided by Ced Gee of the Ultramagnetic MCs complement Tim Dog's rugged and rough delivery. Straight up raw boom-bap Hip Hop – and this lead track of the album is a classic, whether you like it or not.
Jam Master Jay - Jam Master Jay (1984)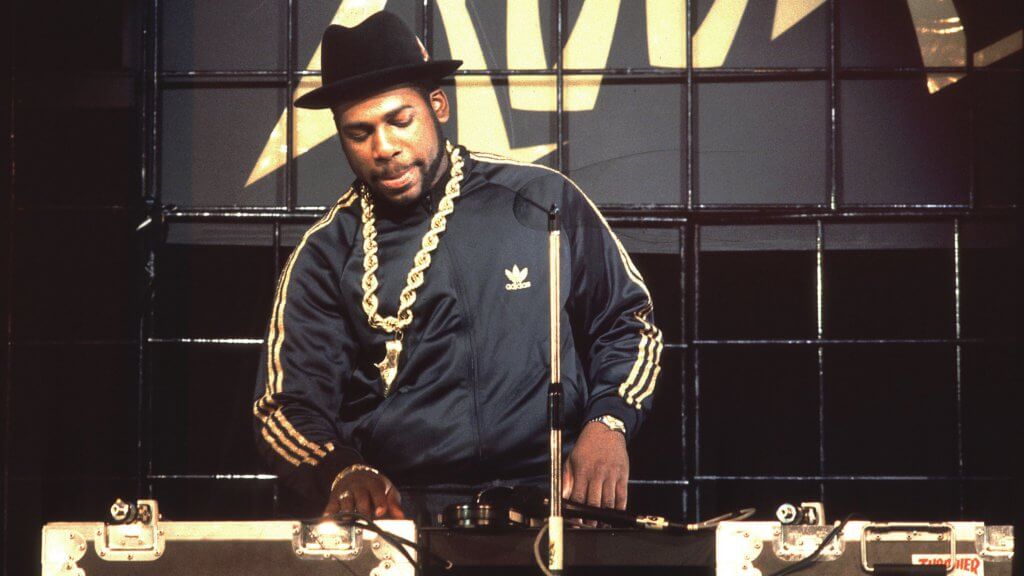 Jason William Mizell (January 21, 1965 – October 30, 2002), better known by his stage name Jam Master Jay, was a musician and DJ. He was the DJ of Run D.M.C. During the 1980s, Run-D.M.C. became the biggest Hip Hop group and are credited with breaking Hip Hop into mainstream music. 
On October 30, 2002, while recording new music at his studio in the Jamaica section of Queens, New York City, Jam Master Jay was shot and killed by an unknown assailant. He was 37 years old. His murder remains unsolved.
One of the best tracks from their 1984 debut album. Run DMC's way of showing Jam Master Jay is an integral part of the group, even if he was not one of the rappers. You have to know Run DMC is not a duo, but a trio: Run, DMC and Jam Master Jay: "J-A-Y are the letters of his name / Cutting and scratching are the aspects of his game / So check out the Master as he cuts these jams / And look at us with the mics in our hands / Then take a count, 1 2 3 / Jam Master Jay, Run DMC"
Notorious B.I.G. - Juicy (1994)
Born as Christopher Wallace on May 21, 1972, in Brooklyn, New York, Biggie Smalls, also known as Notorious B.I.G., became a drug dealer at a young age. He started experimenting with music as a teenager and, not long after, befriended Sean "Puffy" Combs. His 1994 debut album, Ready to Die, was a smash hit, and his long-running feud with 2Pac helped to shape his career.
Biggie was shot and killed in Los Angeles on March 9, 1997. He was 24 years old. His murder remains unsolved.
The first single from Notorious B.I.G.'s monumental Ready To Die and an unbelievable critical and commercial success. This classic Biggie joint is an all-time classic not just because of its universal appeal, but also because of its essentially positive vibe.
Nate Dogg - Regulate (with Warren G, 1994)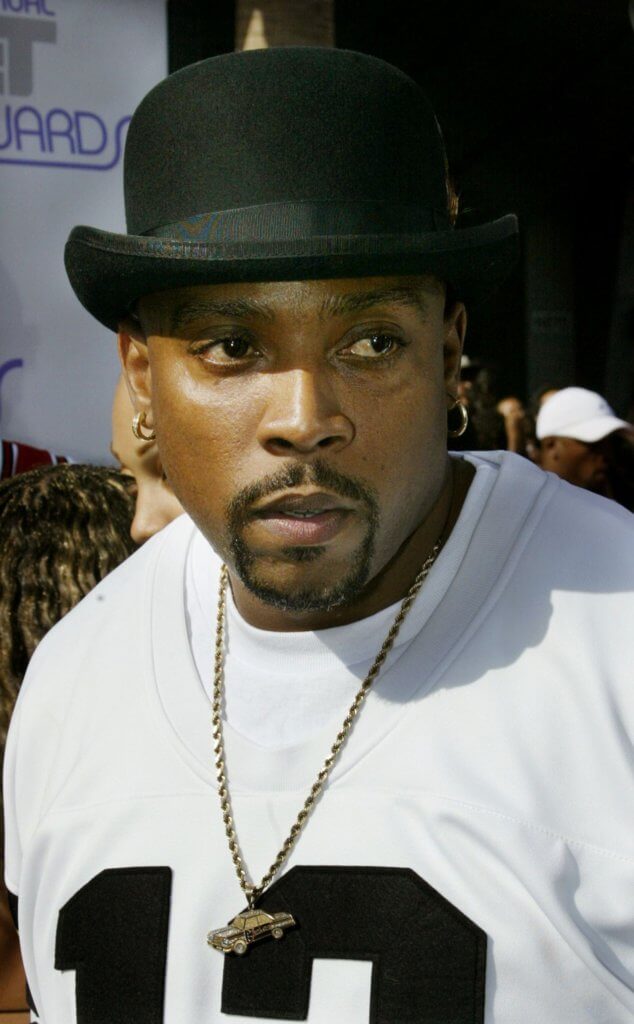 Nathaniel Dwayne Hale (August 19, 1969 – March 15, 2011), known professionally as Nate Dogg, was a rapper, singer, songwriter, and actor. Nate Dogg began his career as a member of the Long Beach, California rap trio 213, alongside his longtime friend Warren G and cousin Snoop Dogg. He eventually pursued a solo career and released three solo albums, G-Funk Classics, Vol. 1 & 2 in 1998, Music & Me in 2001, and Nate Dogg as a bootlegged album in 2003 and on CD in 2014.
He was known for his deep, low-pitched singing voice, and for performing hooks, frequently collaborating with other artists such as Dr. Dre, Eminem, Warren G, Tupac Shakur, Westside Connection, Snoop Dogg, 50 Cent, Ludacris, Xzibit, and Shade Sheist on many hit releases. Nate Dogg is regarded as one of the pioneers of G-funk.
Nate Dogg died in 2011 due to complications from multiple strokes. He was 41 years old.
"Regulate" is the worldwide smash hit by Warren G and Nate Dogg. Released in the summer of 1994, the track appears on the soundtrack to the film Above the Rim and later Warren G.'s album Regulate…G Funk Era. "Regulate" is one of those timeless tracks that still get played today and it's the track established Nate Dogg as the undisputed king of Hip Hop hooks.