Introduction By @TrueGodImmortal – There are some groups in Hip Hop who have the ability to transcend the genre and become bigger than expected. There are some groups in Hip Hop that spawn some of the best lyricists, or just one of the best lyricists of all time. There are some groups in Hip Hop that push the limit and succeed in their own way every time. There are some groups that don't need the platinum plaques or the forced accolades that come with the game. There is only one group that embodies all of these things, and that's The Roots. These Philadelphia natives started out as a very young and ambitious band, focused on bringing their brand live instrumental Hip Hop to the forefront.
Initially, they were the only group in Hip Hop that was actually a band, with a rapping front man in Tariq Trotter, known more to us as the legendary Black Thought. With the more outspoken drummer Ahmir Thompson, otherwise known as Questlove, seen as the musical frontman and sort of the face of the band, The Roots set out on a journey for Hip Hop supremacy.
They weren't your average Hip Hop artists. They had a street element to that, but they didn't do gangsta rap. They weren't glossy or shiny suit artists, and they definitely weren't a hardcore East Coast act as well. No, The Roots represented a different side of Hip Hop, and with their representation, more eclectic and eccentric musical acts became comfortable in their own skin, which was honestly a big thing for the genre.
Starting out in 1987, with over 30 years under their belt, The Roots represent a movement in Hip Hop that is and has been like no other. Today, we decided to take a look at what makes them so special and why they are the true legends of this game. Let's get into a look at the legacy of The Roots.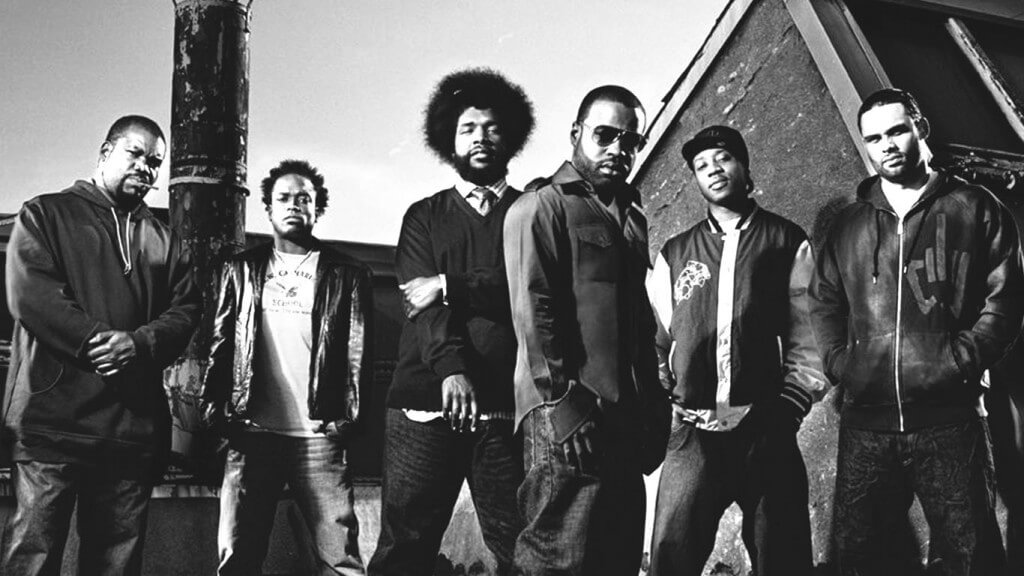 @CherchezLaPorsh – There aren't many groups in Hip Hop who are more than 4 members deep and who bring an entirely different talent to the industry. Back in 1987, two artists would become friends and execute a vision that would bring a new element to Hip Hop. Over the years, they expanded their numbers and by 1993, we would know those two friends as Black Thought and Questlove, one a drummer and one a rapper.
What originally started off as a duo performing at various venues with live instrumentation would turn into a group that was over 9 members deep (although they would see many membership changes). Each one would bring the talent of a different instrument to the table and before we knew it, Hip Hop had one of its first and only "live band" Hip Hop groups. They created original material and constantly had creative ways of pairing thought-provoking lyrics with a perfectly harmonized instrumental backdrop.
The Roots have had a very long run in the industry. From their debut back in '93 until present day, The Roots have given us album after album while staying true to the essence of music as a whole and sprinkling it with lyrical brilliance.
Although I love and appreciate the entire catalog, my favorite album from the group is their 1996 release of Illadelph Halflife. When The Roots created this album, they truly took the mechanics of Hip Hop and rap and effortlessly combined it with jazz and a whole lot of soul. From production to instrumentals to lyrics, The Roots left no stone unturned and gave us a twenty track masterpiece of every musical and poetic art form by showcasing talents of their members. My favorite tracks include "Universe At War", " The Hypnotic" and "Panic!!!!!", amongst a few others.
2009 would be an interesting year for the group as they were approached by the Late Night show with Jimmy Fallon to be the house band. They played the opening song, they did the music as it would go in and out of commercials and they were also involved in sketches throughout the shows. This was a huge success as it expanded their audience base by thousands and thousands. What was once a group that was primarily only for Hip Hop fans, suddenly appealed to every demographic and those who liked various genres, and they also showed they were more than just Hip Hop. With a group that had so much talent in writing music and lyrics and playing various instruments, it's no wonder they were brought on for the masses.
I don't know if in 1987 when Questlove and Black Thought teamed up, they knew they would have such a profound impact on Hip Hop and would bring so much to the entertainment industry, but what started off as performances on sidewalks and small-scale talent shows turned into a group that throughout the decades would be regarded as a fresh and creative addition to music as well as a legendary group with a solid catalog.
@JADBeats – Philadelphia has birthed a lot of great talents we know as legends today. Being a place that thrived in the early 1900's with jazz music it only makes sense that The Roots, who hail from the city of brotherly love will, have that fused into their music. The group consisted of many members throughout the years coming and going, but the 2 constants were Black Thought as lead MC and Questlove on drums. Their style was pretty simple. All they needed was an MC, drummer, keyboard, bass, and guitar, as well no samples and scratches.
All though there were acts from Philly to come prior, like Will Smith & DJ Jazzy Jeff, Schoolly D (credited for creating gangsta rap), and more, I likened The Roots to doing for Philly what OutKast did for the Atlanta Hip Hop scene with a new sound, new subject matter, new style of flows, and being unique enough to never be imitated. Much like OutKast, The Roots opened the floodgates for the hometown MC's to create their own lanes and most of them sound different but had success.
"What They Do" featuring Raphael Saadiq was my first introduction to them and watching the video on TV at the time I must admit that I wasn't paying attention to the lyrics because they had sexy women half naked shaking a** to the beat, but later on it became one of my favorite songs. One of my favorite parts from this song was in the 1st verse where Black Thought drops some knowledge when he goes:
"Lost generation, fast paced nation

World population confront they frustration

The principles of true Hip Hop have been forsaken

It's all contractual and about money makin'

Pretend-to-be cats don't seem to know they limitation

Exact replication and false representation"
Funny how that still applies 20 years later to music and the world over.
Some other favorite tracks:
You Got Me featuring Erykah Badu and Eve
Break You Off featuring Musiq
Dear God 2.0
I Remember
My two favorite LPs of theirs and albums I consider classics are:
Illadelph Halflife
Things Fall Apart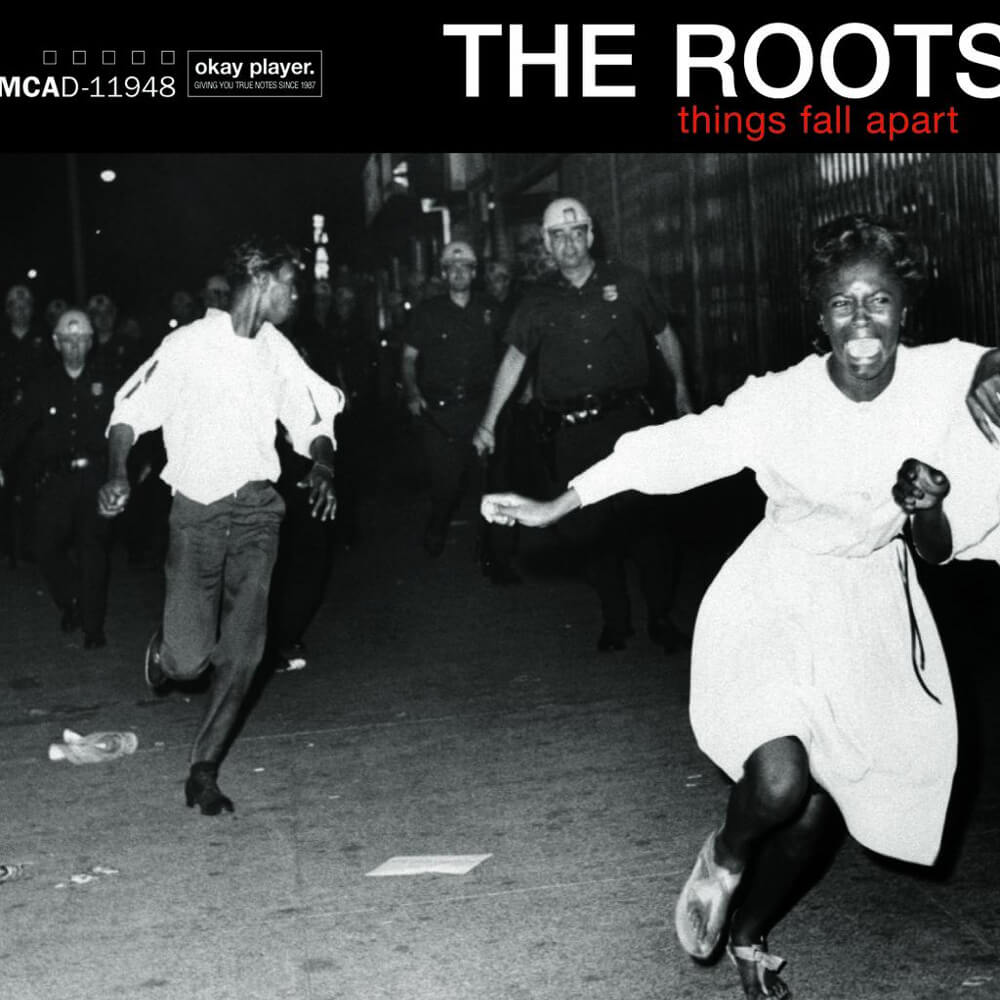 I like the fact that all the album covers are thought-provoking and gripping to the eye. There's always a meaning to be taken away from it. I think it's dope that The Roots have been the official house band for Jimmy Fallon's Late Night shows since 2009. I think that has helped them gain more popularity over the years and getting that exposure constantly has made it easy for new fans to explore their catalog. What more can I say, The Roots are certified legends, and one of the greatest groups of all time. Not only that, Black Thought is underrated as an MC and a top lyricist in Hip Hop. It's as simple as that.
Outro By @TrueGodImmortal – Simply put, The Roots are one of the most influential, most impressive, and a top 10 Hip Hop group of all time. Black Thought is a true legendary MC and Questlove has a legacy solidified, but the group has one of the most infamous catalogs in the genre. From the classic Illadelph Halflife to the breakthrough album Things Fall Apart, all the way to one of my personal favorites Phrenology, The Roots rarely miss when it comes to an album.
It's that type of consistency that makes them so special in Hip Hop, and what has always drawn me to them. I've purchased every Roots album, and I think they've gotten better in certain aspects on every project. One could turn to albums like Game Theory, Rising Down, How I Got Over, and Undun for examples of that.
The Roots have mastered lyricism, production, storytelling, and so much more. I can't wait to see what they do next musically, and I'm sure their gig as the band for Jimmy Fallon will continue to keep them busy going forward. The Roots are a truly legendary Hip Hop group and they should always be recognized as such. – DAR