Introduction by @TrueGodImmortal – When we talk Hip Hop, one of the most important aspects of the genre has always been groups. Groups in Hip Hop have always maintained a level of quality and there are particular groups that have never went through a period of falling off and losing a step. Though that's a small number of groups in the history of Hip Hop, one group that has never really seen themselves take a fall is the often underrated De La Soul.
Arriving in 1987, De La affirmed themselves as one of the most important groups instantly while a part of the Native Tongues crew with the Jungle Brothers and A Tribe Called Quest. They weren't your typical Hip Hop group, as they came into the game with their focus being more on positivity, unity, and overall harmony.
Their debut album, 3 Feet High And Rising is one of the greatest debuts of all time in Hip Hop and this was the introduction to a group that would represent a whole new era in music. While they aren't as underrated as the Jungle Brothers, De La Soul tends to be slept on by this recent generation, and that's unfortunate. They are still going strong 30 years later after their arrival, and that's a testament to their longevity.
Today, we wanted to take a look at De La and their legacy, what made them special and what keeps them going today. The long journey of Posdnous, Maseo, and Dave is one that should be revered by many fans and over the years, they've sustained a level of quality in their music that keeps them on the top tier Hip Hop group lists. De La Soul is a legendary group, with classics to their name, and a lot of respect in the Hip Hop world. Let's take a look at their legendary run.
@CherchezLaPorsh – Hip Hop has never lacked talent and since its emergence, there have been MC's, duos and groups that have made a profound impact on the genre and industry. We often talk about (or hear about) A Tribe Called Quest, Public Enemy and NWA but there's one group that often gets forgotten and that's De La Soul. Their debut album 3 Feet High And Rising released in 1989, brought with it a different kind of sound, one that fused funk, jazz, reggae and pop sounds sprinkled with psychedelia and laced with clever and humorous lyrics. It made the album incredibly enjoyable and matched so perfectly with the bright and hippie looking cover art! They were so fresh and different, they attracted a ton of attention and secured a fan base. Their debut was so well received, it seemed Hip Hop was on to something and De La Soul would be the ones to keep the momentum going, right? Not exactly.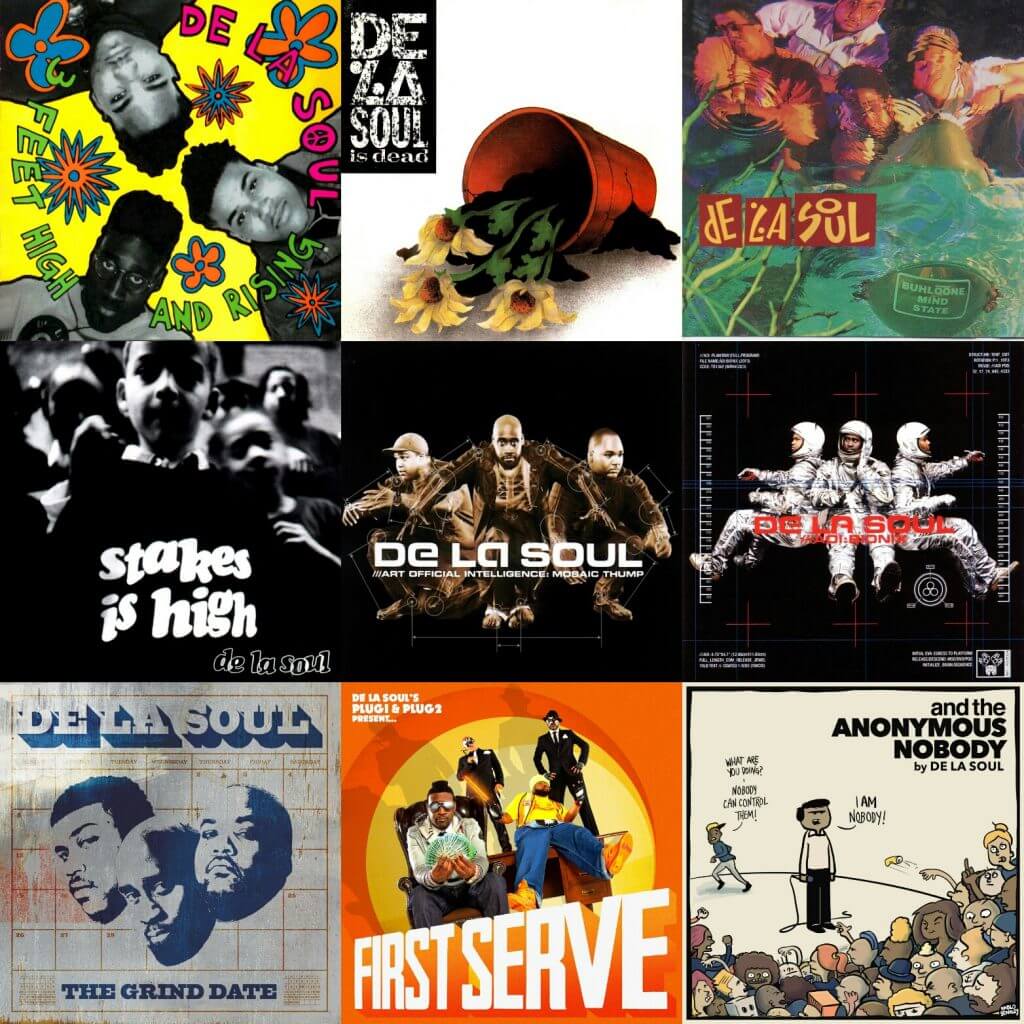 Their sophomore album De La Soul Is Dead released in 1991, would give the group (what seemed like) a complete "makeover"! With gangster rap gaining popularity it SEEMED like there was no lane for the hippie-style jazzy funk they originally came with so this album was a bit darker and had lost the lighthearted humor of their debut. While some would consider this versatility, others wouldn't. Their fan base seemed to drop and that reflected in the commercial success. The third, fourth and every release after seemed to stray farther away from the sounds we originally loved from the group. Even though their catalog wasn't the most consistent, De La's debut was enough to merit them the title of a "legendary rap group"
What I love most about De La Soul is their initial image, their original sound and their light-hearted lyrics. I love how much of the "old school" elements of music they incorporated and how they pulled from various genres and made such a unified and unique (new) sound. De La Soul's contributions go beyond just music and lyrics, as they are the reason why legal sample clearance is practiced now. They took a big hit and were involved in a pretty big (and public) lawsuit for "illegally" sampling a 60's song! Whatever way you look at it, De La Soul seemed to come out of nowhere but they had a pretty good run in the industry and changed Hip Hop along the way!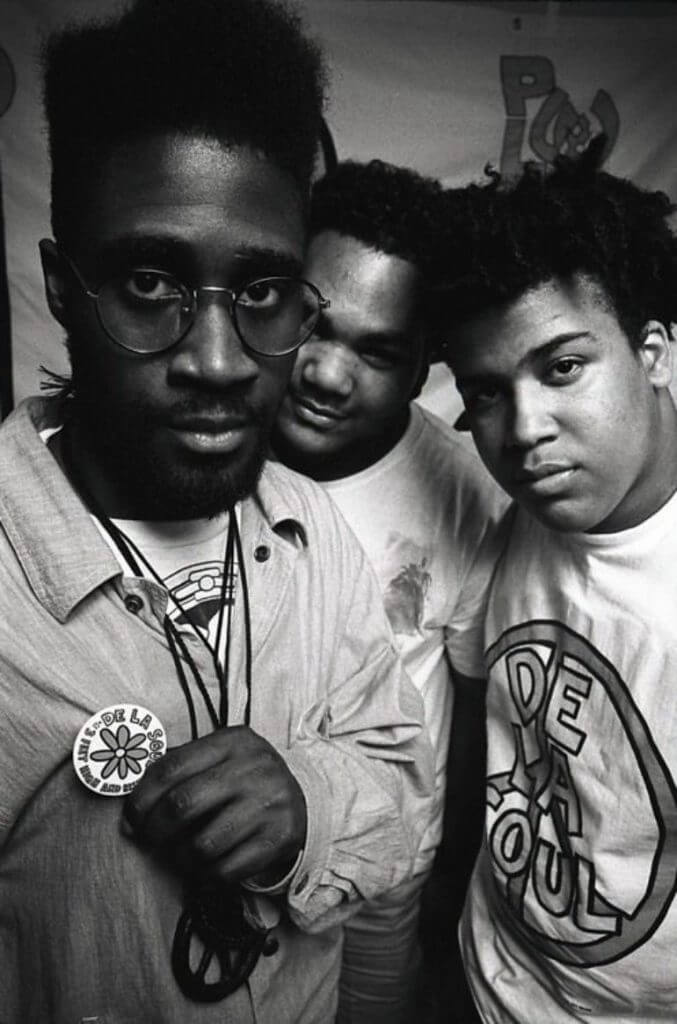 @JADBeats – De La Soul was one of the first groups to come out in the late 80's to give a voice to the kids who weren't necessarily hood, street, gangsta, ladies' men, partiers but more so geeks and cooler oddballs that some would even say were "rap nerds". They brought that sound that was light, fun, smooth, jazzy and made all their samples sound different from what was out at the time.
The first I had ever heard of them was from my uncle who wasn't really into the hardcore Hip Hop scene. He dressed quirky and played De La a lot. "Me Myself & I" was the first song I'd heard from them. It was so dope and different and these guys didn't care about image. The 3 Feet High and Rising album flowed so well. "Buddy" feat. A Tribe Called Quest, Jungle Brothers, Monie Love and Queen Latifah was amazing and is a classic song. I'd say they became more lyrical in the mid 90's with the Buhloone Mindstate album followed by Stakes Is High,  which has one of my favorite tracks, "The Bizness" feat. Common.
They managed to crank out a hit from their The Art Official Intelligence: Mosaic Thrump album with "All Good" feat. Chaka Khan which has a line saying "we were certified hot then dropped to lukewarm/ now we back up in the spot claiming never been gone/" and that was real. It didn't hurt that around that time the music scene was loving that sound. They did it again on their next project, AOI: Bionix with "Baby Phat" as well. The Grind Date is another good album with dope features from Common & Ghostface, with my favorite being "Rock Co Kane Flow" feat. MF Doom. De La and Nas should've just collabed on a track because their song "Much More" sounds just like Nas "Reason", which were both released in 2004. They eventually did link up with Nas on the track "God It".
Their 2016 album and the Anonymous Nobody was cool. I really liked the "Here In After" song. It was different for them within their own catalog. It wouldn't be their first time experimenting with sounds that were dope like their contributions to the Gorillaz albums like Momentz, Superfast Jellyfish, but the best one was "Feel Good Inc", which was a huge single, great video and won a grammy which would be the group's first win ever. The great thing about De La is they never followed trends, got better with time and never declined, always kept the art form true and stayed consistent. It's been well over 25 years and they still have a passion to make music with new material on the way. Legends.
Outro by @TrueGodImmortal – For me, De La Soul was never my favorite group. I was very young when I first heard their debut, about three years following the actual release of it. When I finally got a chance to listen, I enjoyed it, but couldn't quite understand the level of artistry until years later. Their debut is honestly one of the gems in Hip Hop that sounds different from almost everything else at the time.
3 Feet High And Rising is a classic and with tracks like "Buddy", "Me, Myself, And I", "The Magic Number", and more, it really is something special. It might be one of the initial albums that popularized jazz rap and alternative Hip Hop, alongside the Tribe Called Quest debut and the Native Tongues mantra and sound was so diverse and varied. They didn't sample only James Brown or Hip Hop staples, they branched out to more unexpected artists to sample, which gave them more lush sounds for their music.
Their biggest achievement remains 3 Feet High And Rising, as the album was added into the Library of Congress, and is credited with the creation of the album skit. If I was going to make a list of important and impactful Hip Hop albums, 3 Feet would have to be near the top of that list without question.
There are other albums from De La that are important, although nothing rivals their debut. Another dope album from the collective is their sophomore project, the often slept on De La Soul Is Dead, an album that was essentially their answer to bring labeled hippies in Hip Hop. After an ill-advised performance on Arsenio, De La wanted to erase the stigma they carried, but also let it be known that they aren't trying to be hardcore or even tough. The album was full of skits, but it all flows very well, giving the project a slight cinematic feel to it.
Their third project Buhloone Mindstate doesn't get mentioned as much as the debut and the sophomore project, but it was a very solid album, perhaps the most underrated in their catalog. De La continued their run as top artists in the game and they might have been the most consistent and diverse in sound over their first three albums. However, it might be their fourth album (which followed their promo EP in 1994) that holds the most weight for me as an overall fan.
Their fourth album, the 1996 release Stakes Is High, marked a chance for the group. After releasing three official albums that were of high quality, it seemed that De La would once again return with a new sound and a different direction, similar to how they tried to do so for every album prior. The difference here was that they didn't work closely with Prince Paul, and instead make sure to showcase their talents as producers by self-producing a majority of the album. They would receive assistance from Spearhead X and J. Dilla, but for the most part, the group handled production duties themselves on this great album.
De La would feature Common and Mos Def on their project, providing Common with a nice opportunity, but most of all introducing Mos to the Hip Hop world honestly. After the release of Stakes Is High, De La would become a target of 2Pac briefly and Naughty By Nature just for speaking their mind on gangsta rap, but eventually they would move beyond this as expected. Following some touring and planning, De La would plan a three disc album that would serve as a trilogy separated, and they would work diligently on it.
That result spawned two albums only, the next album being titled Art Official Intelligence: Mosaic Thump, released in 2000. This album saw the group get back into the hit-making territory, as they would release two popular singles from the album, the Redman featured "Oooh" and the Chaka Khan assisted "All Good". It's interesting to reflect back on this album, which was a solid project in itself with features from the Beastie Boys, Chaka, Redman, Xzibit, and more, so it's not a shock this album was mildly popular and became certified gold.
Their 2001 follow up to AOI: Mosaic Thump would be the slightly more soulful and booming AOI: Bionix, which also spelled the end of their long-standing relationship with label Tommy Boy. I would have loved to have heard the third disc in the supposed trilogy, but after Tommy Boy went defunct, the group went to work on a very underrated album, the 2004 release, The Grind Date.
Released independently, the album is much leaner than previous releases and features some amazing production from Madlib, 9th Wonder, J. Dilla, Jake One, and of course Supa Dave West. For me, the best song on this album came in the form of the J. Dilla produced and Yummy Bingham featured "Much More", which was forever immortalized by their appearance performing it on Chappelle's Show. I can still play that track over and over today and truthfully, the LTD sample backed by those drums is flawless.
In the years that followed, De La would release material that previously had been unheard along with a Nike associated exclusive mixtape for iTunes and their Grammy-winning turn on the Gorillaz track "Feel Good Inc".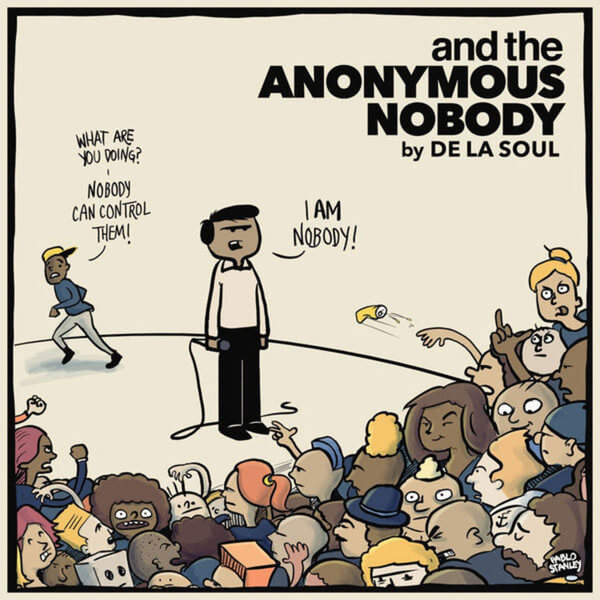 Their last official album was the 2016 release And The Anonymous Nobody, which they utilized crowdfunding to help make the album. The album isn't comparable to their previous releases, but was solid enough to get the group a Grammy nomination for Best Rap Album, which has to be an amazing honor for them 30 years after arriving in the game.
Through the years, De La has seen their label go defunct, albums not sell that well, and they've been somewhat overlooked, but they've always maintained their artistic integrity and remained one of the greatest groups of all time. De La Soul is legendary and they deserve all the recognition in the world for being one of the only groups (that never broke up) still standing from their initial era. That alone is historic in its own right. – DAR