The People Want A Message And KXNG CROOKED Delivers An Unapologetic One With  'GOOD VS EVIL' | 'GOOD VS EVIL' features appearances from Eminem, Tech N9ne, Just Blaze,, Xzibit & RZA | 'GOOD VS EVIL' will be released on  11-11-2016
HHGA Premieres First Single, "Shoot Back (Dear Officer)" With Tech N9ne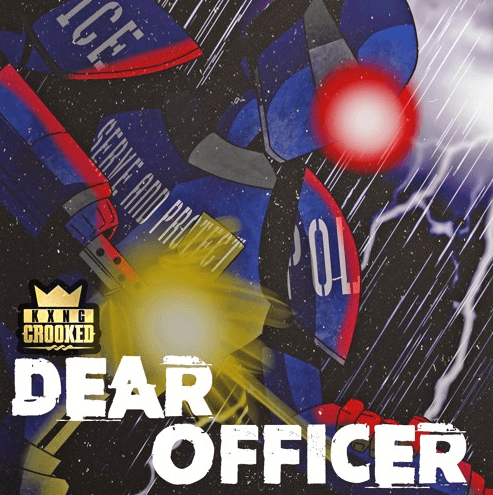 If history tells us anything, all societal uprisings have clear identifiable markers that trace back to specific events which transpired at very specific times.  The "Watts Riot," "The L.A. Riots" etc. all presented very early warning signs and symptoms that could have been prevented.  The documentation was available and prevalent far before the actual civil unrest occurred. Communities demanded answers, they demanded justice—and simply; their pleas were ignored. KXNG Crooked will not be ignored.  If you are looking for a unifying message, KXNG Crooked delivers an incendiary and unapologetic one with his forthcoming solo album Good Vs Evil.
As we approach the most controversial Presidential election in this country's history, one that has not only created further divisiveness amongst the people residing in it, but one that includes a candidate that is using "Stop & Frisk" as a major policy platform, it has become evident we are living in a complicated and dangerous time. Protests are raging in the streets, State of Emergency's regularly occur and the societal divide widens so much with every passing day that it seems as if at any moment the pendulum could shift.  KXNG Crooked's Good Vs Evil could not appear at a more needed time.
Similar to the rampant rash of police shootings against innocent civilians, KXNG Crooked does give a warning shot with Good Vs Evil. He directly tackles these boiler-plate issues that are permeating society as a super-hero persona from a parallel universe; racial and economic injustices, unprovoked police brutality (and the glaring lack of accountability), a deteriorating educational system, governmental agencies that willingly pump poison into its communities and a basic disregard for civil rights. "It all started when I was watching a news segment on the murders of Eric Garner, Tamir Rice, Sandra Bland and all the other black people killed by Police" Crooked states. "I saw Tamir Rice's mother on TV and the pain in her eyes made my blood pressure boil. No mother should lose a child like that. Then, I watched cops kill unarmed people on film and go home to their families like black lives didn't matter. No charges and with paid leave. At the same time, I watched officers capture Dylan Roof alive and buy him a hamburger after he slaughtered nine black churchgoers. I thought to myself, are we under attack as black people to the point where I might have to shoot an officer just to survive a mere traffic stop? I thought, how crazy is it that we even have to think about in America (in 2016)?  Then I thought, how ill would it be to have a black super-hero (that other black children can look up to; the same way we do Marvel characters) to tackle and these issues."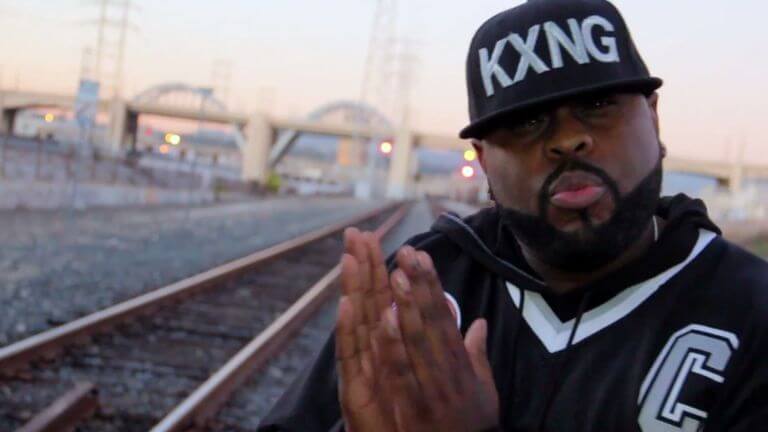 Good Vs Evil is an incendiary and unapologetic audible call to arms that demands to not only be heard—but processed.  The anger, truth, authenticity and clarity of Crooked's mythological character's message are both palpable and unwavering. The albums messaging is an embodiment of Public Enemy, Ice Cube, N.W.A. and Tupac updated and delivered as only KXNG Crooked can. "As more and more bodies piled up from police brutality, I started paying closer attention to politics and government corruption on a whole and I could feel myself going into a dark place mentally and when I get to that place, I find light in music" Crooked lamented.  "I'm the type of person who feels other people's pain more than average. I've been that way my whole life. It's a gift and a curse. With Good Vs Evil I decided to create an alternate universe where the victims of police brutality, government corruption and class discrimination fight back; but not through silent protest—through violent protest. Sometimes you have to shake people up and shock them into paying attention. Imagine if Mike Brown, or Philando Castile survived the officers shooting them and went straight to the studio to record an album. What would they say? How wouldn't they feel?"
While a few individuals have stepped up to carry the torch, Crooked takes things a step further with Good Vs Evil; he is not asking for sit-downs, or to clear the air, Crooked is about that action and like any true activist—-he is willing to lead by example to enact swift and radical change. Good Vs Evil is KXNG Crooked answering the bell, staring into the face of oppression and striking a nerve. "Good Vs Evil is my medication" Crooked asserted "I either made it, or made the news."
No Justice, No Peace! You have been forewarned—KXNG Crooked Good Vs Evil 11-11-2016!
Watch KXNG Crooked f/ Tech N9ne "Dear Officer (Shoot Back)" Video:
You can now pre-order KXNG Crooked's Good Vs Evil album at iTunes and receive "Shoot Back (Dear Officer)" as a gratis track: https://itunes.apple.com/us/album/good-vs-evil/
Tracklisting & Credits for KXNG Crooked's Good Vs Evil Album:
1.)  'A Just Message' (Intro) (with Just Blaze)
2.)  'Welcome To Planet X (We're Coming For You)' (with Eminem & The Observer)
3.)  'Dem People' (with Xzibit & SAS)
4.)  'Robocop Went Pop'
5.)  'Rebel Party' (with The Observer)
6.)  'I Want To Kill You'
7.)  'CrazyPsychoLoco'
8.)  'Intergalactic Hustling' (with Boroc)
9.)  'Revolutionary Funk' (with P Funk Pavarotti)
10.) 'Shoot Back (Dear Officer)' (with Tech N9ne)
11.) 'Obey (KXNG's Speech)'
12.) 'The Oath'
13.) 'KXNG Tut'
14.) 'Puppet Master' (with RZA, KinG! & The Observer)
For More Information:
https://twitter.com/CrookedIntriago
https://www.instagram.com/kxngcrooked/
https://www.facebook.com/KXNGCROOKED/