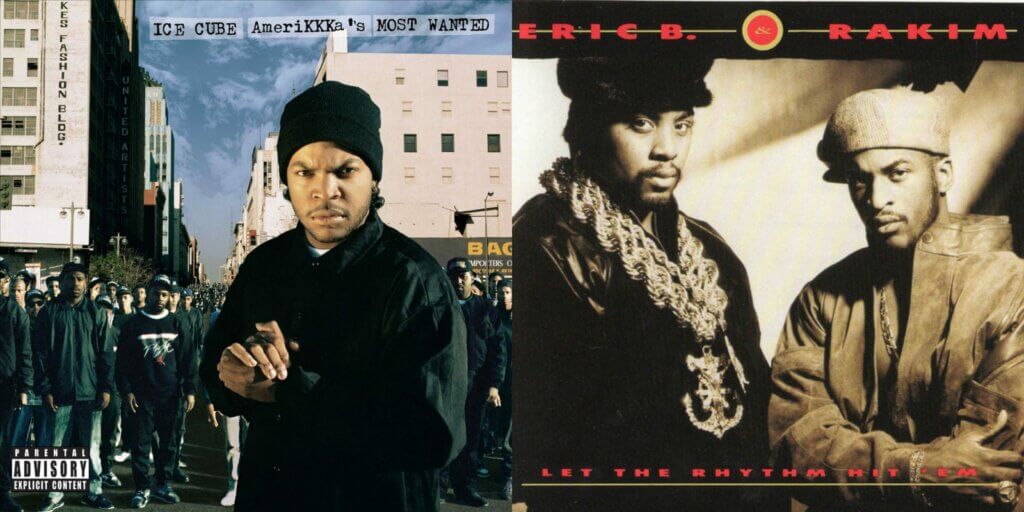 The fun in preparing these Just One essays is revisiting some of the music that defined my adolescence. But today's match-up? YESSIR!!! this one is colossal! Two classics that both received 5 mic ratings from The Source. Two definitive albums from titans of the culture. The two albums from indisputable Hip Hop legends at the center of this Just One dilemma are Ice Cube's Amerikkka's Most Wanted and Eric B & Rakim's Let The Rhythm Hit 'Em. This is gonna be good!
Regular readers are familiar with our use of a 0-2 point scoring system in a couple of categories to help determine which would have been the better initial purchase. The categories are:
Pre-release history: What did we know about these artists prior to the reviewed albums' release?
Review of three songs that either charted highest or had a buzz.
How did it age / does it still sound fresh? Not all of the music in our collection sounds as good today as it did way back when. Seriously, when G.L.O.B.E. does that "ZZZ zzz ZZZ zzz …" verse in "Planet Rock", my kids look at me with questions.
Game-Changer or Pace-Keeper: The game-changer will get the nod. For example, the first two DMX albums were TIGHT; yet, the whole "where did this dude come from" astonishment we had when we first heard "Get at Me Dog" separates the first album from the second.
Look, I'm ready. Let's go!
PRE-RELEASE HISTORY
Ice Cube was a vital part of NWA and departed just as they achieved national acclaim or notoriety, depending on how you want to look at it. By now, we were well aware that he wrote some of the group's most outstanding verses. However, besides Kawhi Leonard, who leaves a team when they are on top? Good ole O'Shea, that's who.
Ice Cube – 2 points
By this time, Eric B & Rakim were icons. I mean, there are stars. Then there are legends. Then there are icons. With this release, they (particularly Rakim) would ascend to nearly mythological status. We knew these cats very well.
Eric B & Rakim – 2 points
SONG REVIEWS
"The Ni*** You Love To Hate" shows Cube coming out of his corner swinging! At this point, we were accustomed to Cube on a platter of beats by Dre. But the Bomb Squad? At the peak of their game? The "sound" or "vibe" was an assault on the ears – probably just as Cube had planned it. Especially since he was spitting bars like these:
'Cause I'm about to f**k up the program

Shooting out the window of a drop-top Brougham

When I'm shooting, let's see who drop

The police, the media, and suckers that went pop …
Ice Cube – 2 points, 4 total
"In The Ghetto" is my all-time favorite Eric B & Rakim song! In fact, if there was a Hip Hop line that best described me, it would be when Rakim said:
I'm so low key that you might not see me

Incognito, and takin' it easy
Oh yeah, this is my joint! Seriously though, I can't think of another MC who can rhyme from the perspective of sperm and take listeners along for the visual ride. Yet, despite having "so much to say … (he) still flows slow." I'll say this, there is a reason you ain't never ever heard of any MC anywhere trying to diss Rakim. Who else has that much juice?
Eric B & Rakim – 2 points, 4 total
"Who's The Mack": it is not often that mellow and Ice Cube go together in the same sentence but on this track the mellow vibe helps facilitate the question of "who's the mack?" or essentially, who is being played?
With different scenarios of cats getting over on people, Cube shifts gears with his flow and nails the track.
Ice Cube – 2 points, 6 total
"Mahogany" was the first time we heard Rakim do a track for the ladies and it is SLAMMIN'! The Al Green sample sets us up for the coolest seduction of a lady in Hip Hop history. Plus, this Rakim, so he went abstract and still brought it home, for example:
From the light I shine when my brain cells spark

Constantly so she can glow in the dark

And soon, you can represent the moon

As long as I keep you in tune

I'll tell you who you are and why you're here

Take it in stride 'cause it might take a year

It's funny – how time flies when you're havin' fun

We got close and it was almost one

She kissed me slow, but you know how far a kiss can go

F**k around and miss the show

So I told her to hold that thought real tight

We can finish where we left off later on tonight

Back to the scene of the crime on time

As they introduced the fiend of a rhyme
Eric B & Rakim – 2 points, 6 total
"Endangered Species": I believe this is the first inkling of the Cube that would later shine on the Death Certificate album. Communicating the angst of the inner city is different from shouting woof tickets. Add in a guest verse from the legendary Chuck D, and Cube shows he is more intelligent than the shot-em-up, where-the-h**s-at caricatures associated with gangsta rap.
You wanna free Africa? I'll stare at ya

Cuz we ain't got it too good in America

I can't f*** with them overseas

My homeboy died over keys

Of cocaine, it was plain and simple

The 9mm went (gunshot sound) to the temple
Ice Cube – 2 points, 8 total
"Let the Rhythm Hit 'Em" is a showcase of top-flight lyrical MCing. You can't help but nudge someone and say "damn, did you hear that?" Back in 1990, I rewound the tape over and over to catch these bars:
The prescription's one every hour, now it's a habit

Ya need another hit from the freestyle fanatic

Attention: follow directions, real close

Keep out of reach of children, beware of overdose

Too many milligrams, no one made an iller jam

My rhyme is the rhythm of thoughts that kill a man

Ideas for the ear to fear, might split him

He'll never forget 'em, he'll rest in peace with 'em

At least when he left, he'll know what hit him

The last breath of the words of death, was the rhythm
Wow. I mean, damn. Whoa. Yeah … whew.
Eric B & Rakim – 2 points, 8 total
HOW DID IT AGE?
Back then, we were excited for Cube's debut and he did not let us down. But now, it just sounds like a lot of senseless hollering. Indeed, it captured the frustration of the times and it was true to the gangsta motif Cube represented with NWA. However, now that the times have changed (or have they?), do you feel like listening to somebody who ain't never got gaffled like that? Amerikka's Most … deserved the love it got, but it did not age well.
Let The Rhythm Hit 'Em aged much better. It is a melodically cohesive album and even three decades later, Rakim's lyrical gems are still prompting "oh sh*t" moments of understanding from listeners. I know I'm playing toward my bias – my preference of later albums over the first. As noted by my preference of OutKast's ATLiens over Southernplayalistic … or Little Brother's The Minstrel Show over The Listening and even Cube's Death Certificate over Amerikka's Most … – I believe there is a difference from the excitement of a new voice as compared when the artist has really found their voice, their groove. Having said all that, I prefer to listen to Let The Rhythm Hit 'Em as an entire album in one setting more than Paid in Full.
Nevertheless, Let the Rhythm Hit 'Em aged significantly better than Amerikka's Most …
Ice Cube – 0 points, 8 points
Eric B & Rakim – 2 point, 10 points
GAME-CHANGER of PACE-KEEPER
A West Coast MC with East Coast production? I don't think any of us saw that coming. Despite the fact that Cube was already a known commodity, the combination of Cube and the Bomb Squad makes Amerikkka's Most ... a game-changer.
Let The Rhythm Hit 'Em is an evolution in production. To me, it feels like ideas they tested out production-wise with Follow The Leader, were perfected for this album. It is not quite a game-changer but an evolving, improving pace-keeper
Ice Cube – 2 points, 10 total
Eric B & Rakim – 1 point, 11 total
In life, we sometimes wish to right past wrongs. Knowing what we know now, we would do things differently. I didn't buy either at the moment they dropped but I did buy Cube first. However, knowing what I know now and considering I could only purchase "just one" – I have to go with Eric B & Rakim.