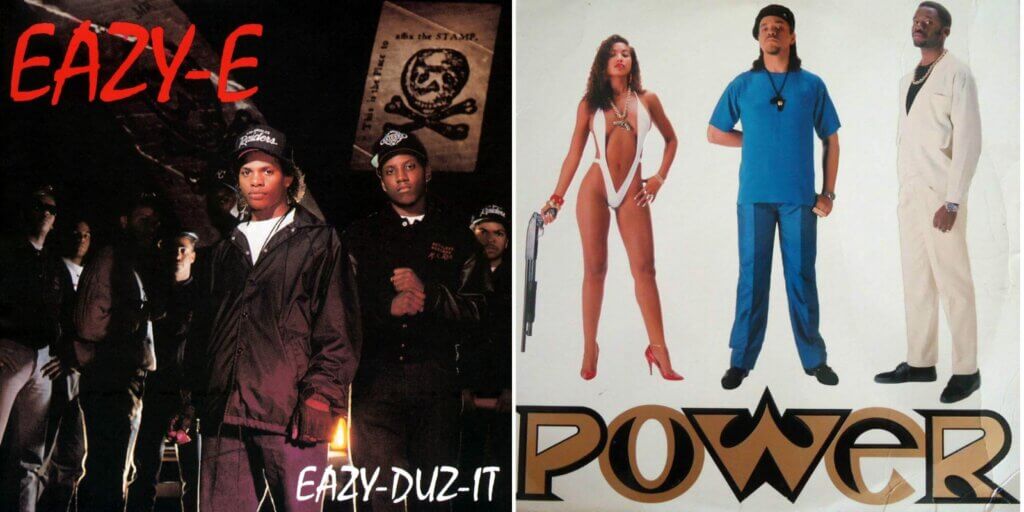 September 13, 1988, a handful of days before my 14th birthday and while I had a few ends in my pocket, I only had enough money to make one purchase. The dilemma I faced over thirty years ago is the focal point of today's nostalgic essay – whose album should I purchase Eazy E or Ice T?
Let's acknowledge that many were moved by Ice T's Power album cover. Its layout is simple. It's iconic. And most importantly, Darlene was (is) sho'nuff beautiful. For today though, we are going to try to pretend that was not a factor in the choice.
If this is your first time joining us, do know that we employ some reflective variables that should help us choose whether Eazy-Duz-It or Power should have been our initial purchase. We score these variables and objectively assign points between 0 – 2. The variables are:
Pre-release history: What did we know about these artists prior to the reviewed albums' release?
Review of three songs that either charted highest or had a big buzz.
How did it age / does it still sound fresh? Some albums, cassettes, or CDs in my music collection are best consumed with headphones while a few others are worthy of the window-down-radio-aloud treatment. I could play Let the Rhythm Hit 'Em aloud in my car but would keep my enjoyment of Dana Dane with Fame private because it did not age as well.
Game-Changer or Pace-Keeper: Do you remember where you were when you first heard …? that's the sign of a game-changer. A pace-keeper almost blends with a previous release.
After tallying the scores, the album with the highest overall score is the one we probably should have purchased first.
PRE-RELEASE HISTORY
I have the Dopeman album with all those cats bunched up in a corner in an alley so I approached Eazy-Duz-It with some familiarity. I was not quite sure which of the jheri-curled dudes he was, but I did know who NWA was.
Eazy E – 2 points
I heard Rhyme Pays and was familiar with "6 in the Mornin'". I also knew Ice T from his cameo in the Breakin' movie and could even recite:
Once upon a time a DJ's task

Was just to play records, what more could you ask?
That day in Professional's Record Shop, I already knew who Ice T was.
Ice T – 2 points
SONG REVIEWS
"Boyz-N-The-Hood": in '88, I didn't know what a ghostwriter was. I did know that "Boyz-N-The-Hood" was the best display of lyrics on the album. I thought it was better than "Dopeman". What I would later learn was that I was developing an appreciation for Ice Cube (before he was clubbin'). Nevertheless, I still believe this is the best song on the album.
Eazy E – 2 points, 4 total
"I'm Your Pusher" in a previous essay about Kanye, I was hyped off a Curtis Mayfield sample and with this song, I was even more hyped by another Mayfield sample. Even at 13, I understood Ice's play on words. He was using a drug dealer metaphor while consistently discouraging the use of real drugs.
His implication was that good music is a better high. A little preachy, but I got and appreciated the message.
Ice T – 2 points, 4 total
"Eazy-Duz-It" has a humorously catchy beginning. His fans can rap along:
Well I'm Eazy-E, I got bi***es galore

You may have a lot of bitches but I got much more

Wit my super duper group coming out the chute

Eazy-E, moth******ers, cold knocking the boots
Oddly, I remember the Dr. Dre spliced bridge with Richard Pryor and Kool Moe Dee the most, even co-opting the "where you from fool?" line as an inside joke among friends.
Eazy E – 2 points, 6 total
"High Rollers" is probably the best example of Ice sharing the story of a hustler while also discouraging participation in the game.
Now radio stations probably won't play

This record because of the things I say

They'll say I'm glamorizing the hustling hood

And a record like this can do no good

But I'm not here to tell ya right or wrong

I don't know which side of the law you belong
With Ice, it is never a dazzling one-liner, but the context of the larger story that grabs the listener.
Ice T – 2 points, 6 total
"We Want Eazy" was the only track with a video from the album. It shows the group dynamic behind the song and the album.
In time, we would come to see this album as a warm-up or precursor for Straight Outta Compton. A more discerning listener would have noticed by this, the seventh track, that there is not much diversity in content.
Eazy E – 1 points, 7 total
"Personal" stands in for any of the other tracks as an example of Ice as an MC. He's repping LA. He's cool. He understands the game. While respected as a storyteller more than an MC, "Personal" and the other tracks show his MC skills and definitely establishes him as a better rapper than Eazy E.
Ice T – 2 points, 8 total
HOW DID IT AGE?
Power aged better. Back in '88, one of my early impressions was wondering why they (Eazy E / NWA) were cursing so much. I had this feeling despite growing up in a city where the mayor would use a well-placed curse word to add emphasis. I also had a familiarity with The Last Poets and Rudy Ray Moore. Yet, at 13, I thought on Eazy-Duz-It that they were just cussing for cussing's sake.
'll go a step further, while NWA voiced angst that had not been heard on a national scale (best represented by "F*** the Police"), I would place their biggest consequence was shock value. When comparing them to Ice T, I'll use a more comparison to highlight the difference – I believe Eazy E / NWA are more Menace To Society while Ice T is more Boyz N the Hood (despite the title being inspired by Eazy's song). Menace was shocking and provocative while leaving the viewer with nihilistic hopelessness. Boyz addressed the same area, same societal ills, evoked despair, and somehow left the viewer with some hope and some ideas to build upon. I think these distinctions help explain how Power aged better than Eazy-Duz-It.
Eazy E- 1 point, 8 points
Ice T – 2 points, 10 points
GAME-CHANGER of PACE-KEEPER
Eazy-Duz-It was a game-changer. Although it was not the first gangsta rap album, it was the stage-setter for the most well-know gangster rap group. It was the album that bumped Ruthless Records into notoriety.
Power is a pace-keeper. It is a better cohesive album than Rhyme Pays and more focused than the subsequent Iceberg / Freedom of Speech album; yet, it is consistent with Ice T's modus operandi.
Eazy E – 2 points, 10 total
Ice T – 1 point, 11 total
Going back to September 1988, you probably should have bought Ice T first. Actually, I tried to buy the album, but the lady at the record store asked did my mom know I was buying it. So my brother bought the cassette on a different occasion and we played it repeatedly. Same record store, some time later, I bought Eazy E. In the years that have followed, I have listened to Power hundreds of times more than Eazy-Duz-It.