Long Island, Compton, High Wycombe in the Chiltern Hills. That last place doesn't have quite the same resonance when it comes to backing up a rap group's credibility, especially during the Nineties when fans in the UK struggled to appreciate the beats and rhymes of our own, but the emergence of Caveman on Profile records was a sign that British rap was coming of age after too many years of cross-Atlantic sycophantic emulation.
As with the London Posse, Gunshot and the other British crews around at the tail end of the Eighties-start of the 90s, Caveman used their own accents and steered clear of boasting about their Tims or pretending they were from the Five Boroughs. Before grime and dubstep stars Stormzy, So Solid, Man Dem Crew et al spat about the ends – and long before Roots Manuva talked of 'eating his cheese on toast' on Witness – Caveman had 'rhymes so crisp like Golden Wonder' over a sped-up version of D-Nice's All About Me. This was decent rhyming over a solid production that held its own alongside the tunes now deemed classics.
The trio weren't the first British artist to be signed to NY heavyweight record label Profile; that honour was Paul Hardcastle when his electro-boogie track 'Rainforest' was released in 1984. Neither were they the first rap act to be taken across the Atlantic and asked to impress the Americans; that somewhat difficult task befell lightweight rapper Derek B followed then by speed ragga duo Asher D and Daddy Freddie.
But in 1990 it was Caveman, and their debut Fry You Like Fish, which stood shoulder to shoulder with Poor Righteous Teachers' Rock Dis Funky Joint and original hoodz Onyx with their debut twelve Ah, And We Do It Like This.
Profile went for a moody out-of-focus illustration of a British council estate chain fence behind a capped black youth staring straight into the camera that hinted at the struggles depicted on the wax inside. A squealing sax reminiscent of the opening cut to Spike Lee's Do The Right Thing with Rosie Perez frugging animatedly on screen, was squeezed over JB wails and horns with a tease of wah-wah guitar. Lyrically, Caveman could hold their heads high alongside peers like Jungle Brothers' Afrika Islam and Prince Be of the similarly open-minded duo PM Dawn with their positive exhortations, mentions of black pride and praise of God on Introduction To A Caveman.
Robi Laskar (aka The Principle) and Mark Layman (aka MCM) are credited as songwriters on both of their first two twelves with the follow-up, 1991's I'm Ready, with lyrics by MCM and cuts by Diamond J (third member William Graves), that really announced the trio's arrival.
Run DMC's What's It All About had already been released in '90 and its sampling of the Stone Roses' Fool's Gold (which itself had made off with Clyde Stubblefield and John 'Jabo' Starks' Funky Drummer beat) preceded Caveman's appropriation of Jimi Hendrix's Crosstown Traffic on I'm Ready.
As with their debut, I'm Ready was a refreshing, cross-pollinated fusion; this time an upbeat walking bass was underpinned by fat phased drums as that familiar kazoo-like guitar riff served the group's readiness to get paid and 'make a change'.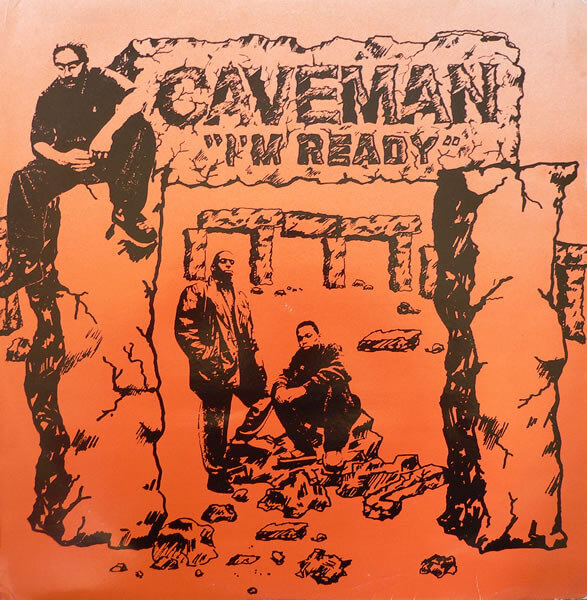 On the B were two crate-digging classics hidden away: firstly, Back To Cause Mayhem with its gnarly riff, urgently uttered rhymes and percussive cymbal ride. Then, over the pealing notes of an Impressions-like guitar, Pages and Pages detailed how they'd 'check a Muslim, check a Christian, but all the fightin' and fussin', I think we're missing the point, we all worship the same God' which now serves to remind of how conscious rap was so prevalent at that time – and taken for granted.
There were seven singles and two albums from Caveman between 1990 and 2011 in total – all of which are freely available (and cheap) on Discogs. MCM carried the name forward into 2013 when he released a seven-only release entitled Rhymes Equal Actual Life (R.E.A.L.) for KingUnderground/Headcount Records. But it was Diamond J who arguably had the most success of all three members, going on to showcase his best hamsters on Sexy MF for Prince's Love Symbol LP and also land a producing credit alongside Trackmasters, Eric Sermon and Havoc on Def Jam's soundtrack to the 1997 film How to Be A Player.
Nowadays they're barely a footnote in any Hip Hop history, but they leave us with good memories of a relatively brief yet still refreshing time in music when producers and rappers could look where they liked for inspiration, pushed an Afro-centric yet English viewpoint and were defiant about doing both.
'The C, that is for the courage, the A, that is for the action, the V that is for the victory, the E is for everlasting, the M, that is for the knowledge in my mind, the A is for youthful accessory, the N is for the slackness that is none, the N, that is for the slackness that's none…'