(Republished from hiphopspeakeasy.com) 
Every once in a while, we let greatness slip through the cracks. In the ever-saturated market that is the modern-day Hip Hop music industry, it's easy to pass over or forget projects that released in recent years, even in recent months and weeks.
For me, the album that nobody gives enough credit to is Nas' untitled ninth studio album.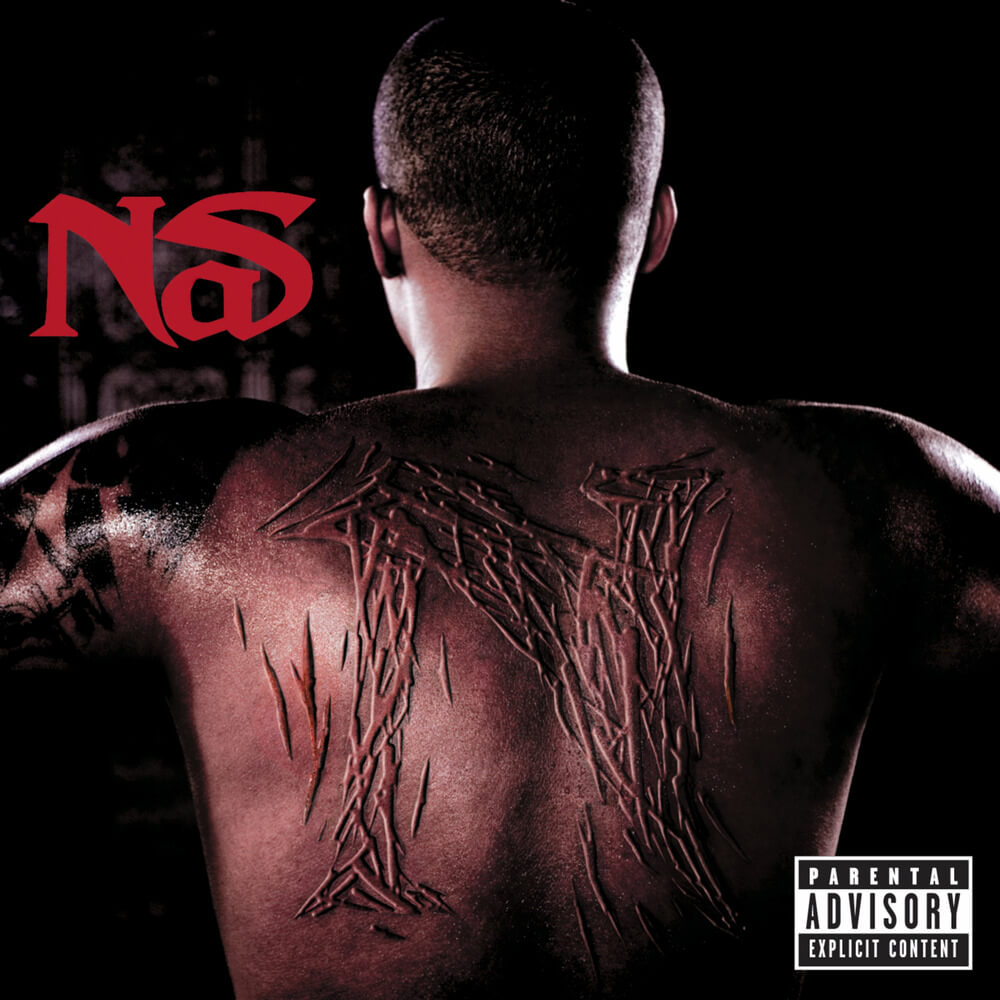 It's 2008, fall, and I'm browsing the aisle of a now-defunct electronics store looking for any new Hip Hop CDs I can get my hands on.
On the top shelf I spot a CD with a cover unlike anything I have ever seen. On it, a man stands with his arms out and on his back are scars, presumably from lashings, in the shape of an "N." Turning the CD over in my hands, I notice the name on the side: Nas.
I skim the tracklist written in an Olde English font on the back. Songs like "Queens Get The Money," "N.I.*.*.E.R. (The Slave and The Master)," and "Black President" stand out to a kid who barely listens to Hip Hop beyond Eminem, 2Pac, and Biggie.
Later that day, I am in my room ready to tear off the plastic and delve into this seemingly untitled album by Nas. It would be the day that I first listened to an entire Nas project and the day that I became a fan of one of Hip Hop's most prolific emcees.
Eight years later, Nas' untitled album still finds its way into my rotation every now and then. The tracks mentioned above, in addition to the underappreciated single "Hero," as well as "You Can't Stop Us Now," "Project Roach" and many more remain as frequently played tracks in my iTunes.
But it wasn't until 2016 that I could really take a minute to realize how ahead of its time Nas' untitled album really was. I liken Nas' ninth studio album to Kanye West's "808's and Heartbreak" or Common's "Electric Circus" and other albums that were stark departures from the respective artist's traditional sound.
In the same way these albums were so different, they were revolutionary and trendsetting. These albums would go on to influence multiple albums and artists, as well as mark a point in time when a particular style would become a trend used by artists thereafter.
I want to examine Nas' untitled album and really shed light on why I think this album is a) one of Nas' greatest albums ever, b) one of the most important Hip Hop albums of the 2000s, and c) how ahead of its time "Untitled" really was.
Political Commentary Painted Over Dark, Minimalistic Production
As soon as the Jay Electronica-produced piano loop comes in on "Queens Get the Money," Nas unleashes a spray of cold Queens-bred bars juxtaposed with some commentary on the Black community in America. The minimalism and dark atmosphere of this drumless track would carry on throughout the album as Nas delivers politically-charged rhetoric over hazed and funky instrumentation.
Black America is the thread that sews this album together. Even down to the production, with samples from songs like "Message from a Blackman" by The Whatnauts and audio clips from Barack Obama's congratulatory introduction after being voted president, Nas makes a record that aims to illuminate the beauty and resiliency of Black America at a time when the Black community at large still faces great adversity socially and politically.
With Obama's presidency on the horizon, race relations in America came to a pivotal moment in 2008 – were we really, finally in a post-racial America? According to Nas on the aptly titled "Black President" – which sampled 2Pac reciting, "And though it seems heaven-sent, we ain't ready to see a black President" – no, no we were not.
But just as Nas spits enlightening commentary, he turns around and urges listeners to just "Breathe" on the album's third track. Even on the album's Keri Hilson-assisted lead single, "Hero," Nas makes his stand as a voice for a generation, at the same time further commenting on the controversy that surrounded the naming of this very album.
For the rest of the album, on songs like "America," "N.I.*.*.E.R. (The Slave and The Master)," "Project Roach," and "We're Not Alone," Nas talks about institutional racism and oppression in the United States, as well as the negative effects of conservative media, bigots, and terrorism at home and abroad.
The "Street Disciple" Speaks When No One Else Will
Nas does this at a time when Lil Wayne's "Tha Carter III" topped the charts and took over the airwaves, when Kanye crooned about the death of his mother on "808s and Heartbreak," when Flo Rida was making everyone drop it low.
While I've glossed over the true intricacies of this album for the sake of illuminating the true purpose of this piece, I want to make clear that this album is severely underrated in its complexity, smart commentary, and mood-tuning production, even regardless of its trendsetting nature.
Furthermore, this album stands out among an era of Hip Hop music that, at large, failed to provoke much-needed thought through social and political commentary, as is tradition in Hip Hop music (see Public Enemy, Common, Kendrick Lamar, and more).
It Has Been Said: The Influence And Impact Of Nas' "Untitled" On Your Favorite Hip Hop Albums
As of today, there have been several projects that have released over the years since "Untitled" dropped, and these albums are lauded for their commentary on Black life in America, namely: "undun" by The Roots, "Black Messiah" by D'Angelo, "To Pimp a Butterfly" by Kendrick Lamar, and most recently, "Black America Again" by Common.
Nas' untitled album dropped in 2008, "undun" in 2011, "Black Messiah" in 2014, "To Pimp a Butterfly" in 2015, and "Black America Again" in 2016. That's four albums over eight years that have been major successes for each artist using the same formula that Nas used on his untitled album years before. Again I say, this record was way ahead of its time.
In 2008, before Obama actually took office, people weren't ready to hear Nas rap, "America's browning, 20 years from now every town'll be brown and Latin" or "The hypocrisy is all I can see, white cop acquitted for murder black cop cop a plea."
In 2016, after years of Black men, women and children dying from police officers' bullets, Nas' words ring louder and so much more clearly than ever before, and yet his words don't (and didn't) receive the same recognition as Kendrick's.
When Kendrick Lamar was speaking for the Black community while assuring that "we gon' be alright," Nas had already said:
"To all my n****s getting money in the streets,

Middle fingers up, f*** the police.

Light up my trees, and I just breathe."
When The Roots were composing narratives about Black poverty on "undun," Nas had already told the story of a roach living in poverty, a metaphor for how Nas believes the government treats Black people who live in inner cities and projects.
When Common displayed raw anger at a system set up to disadvantage Blacks, as well as the disparity within the Black community itself on "Black America Again," Nas' shouts on the shelved single "Be a N***** Too" still echoed:
"Why we fight each other in public in front of these arrogant fascists?

They love it; puttin old n***** verse the youngest

Most of our elders failed us, how could they judge us?"
On "Untitled," Nas was attempting to bring attention to the plight of Blacks in modern America, a message that became familiar again years later on "Black Messiah" when D'Angelo crooned:
"All we wanted was a chance to talk,

'Stead we only got outlined in chalk,

Feet have bled a million miles we've walked,

Revealing at the end of the day, the charade."
Nas wasn't the first rapper to talk about these things, of course. He's followed in the footsteps of Public Enemy, KRS-One, dead prez. and others who brought politics into Black commentary in Hip Hop.
But during a time when rap had become less and less politically-charged, Nas stood as a beacon to light the way back into discussing very real and very relevant issues. Over the years, this message has been amplified by the likes of Kendrick Lamar, Common, and many others not mentioned above.
Making The Case For Nas' "Untitled"
Nas' "Untitled" LP is not only a strong body of work in and of itself, it is a monumental moment in Hip Hop when one of rap's greatest voices really became the "Street Disciple." Nas shed light on issues that would only intensify as the years passed and Black relations in America became more and more strained.
If Nas dropped this album today, I think it would not only be astonishingly relevant and lauded by the Hip Hop community, it would probably earn the man his first GRAMMY.
"Ayo I'm American born, love america, love my people, love all mankind, all nationalities you know. I think it's just recently where everybody just started to feel like there was an elite group that runs everything, and everybody else was sheep, ignorant, making all ethnicities, colors and creeds, niggers, blind to what really is going on. So I say take off the wool from your eyes. Out with the Old America in with the New. End all racism, all injustice, all oppression to poor people, any people anywhere in this planet. Let's come together: a new day is rising."

– Nas, "Make The World Go 'Round"