The Bay. Overlooked and underappreciated in Hip Hop's golden era and even today. In a region that is traditionally known for pimped out rhymes, parachute pants and the hyphy movement, the Souls of Mischief (SOM) and Hieroglyphics crew have been keeping it thorough for over two and a half decades for authentic Hip Hop enthusiast. As recently as last month the Netflix documentary-style show "Hip Hop Evolution" failed to even mention SOM and Hiero in their broadcast which specifically focused on the regional sound of the Bay Area. This lack of recognition is blasphemous.
Hailing from Oakland California the combined Hiero collective is comprised of SOM members Tajai, A-Plus, Phesto, and Opio, plus Del the Funky Homosapien, Domino, Casual, DJ Toure, and Pep Love. Their sound is one of a kind and if I was trying to educate a new set of ears on their style I'd describe it as a mixture of Wu-Tang and ATCQ, add a healthy dose of that Oakland flavor and there you have it… that Hiero vibe. The crew trades bars cohesively while rhyming over funky boom bap beats and heavy scratches to keep your head noddin'. Hieros definitely got that dope.
SOM had their first taste of success with the release of "93 'til Infinity "which caught the attention of ears worldwide. They officially made their collective Hiero presence known to the masses with their debut album "3rd Eye Vision" in 1998, this would prove to be a golden era classic.
Standout posse tracks include, You Never Knew, All Things, The Who, Dune Methane, At the Helm, The Last One, Oakland Blackouts, Mics of the Roundtable, See Delight, Off the Record, After Dark, No Nuts, One Life One Love, and Miles to the Sun. Gems are scattered throughout the album, check these bars out from Pep Love:
"Why don't you come into, what I'm into
Slip into darkness, and listen, I rhyme monumental
Never I fault or halt or alt-er my ulterior
Assault to inferior thoughts are feeble!
In the process the party people wobble
but it don't fall down, and it won't stall now
Beware, the boy's bad after seven
When the lights go click my mic injects nitro
into my bloodstream, I get to gushing
Cold crushing lyrics so much reach out and touch things
unexplored, from hits to flops that plummet
The synopsis is we rock this s***
Day and night, but it gets intense
to extends a pleasure unmeasurable when I'm layin pipe
in domes, protected, by the microphone
When night fall I fall in my zone and it's on"

– After Dark
If you're a golden era junkie and this album is not in your rotation, stop what you're doing and add this album yesterday. Altogether they've dropped three studio albums, "3rd Eye Vision, Full Circle, and "The Kitchen", as well as numerous solo albums from each of the crew members. Their catalog is stacked with heavy bars, untraditional flow patterns, and dope delivery. I'd suggest you start digging in the crates.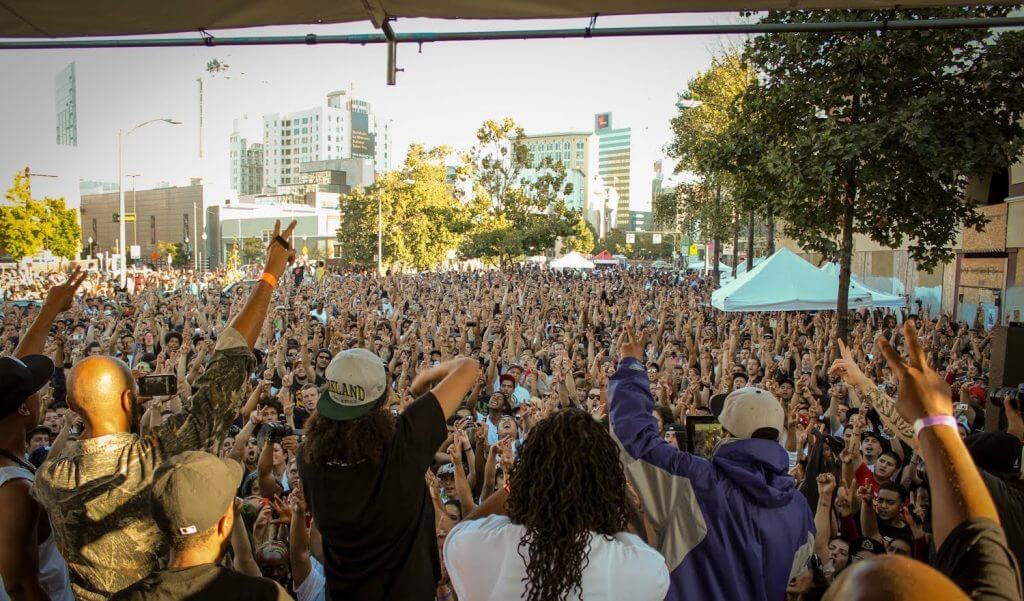 The world famous third eye symbol they use tacitly speaks volumes about who they are and what they represent. You can experience what they're reppin' first hand in Oakland every September. For the past 7 years Hiero has been putting on the annual Hiero Day which is a celebration of Hip Hop culture, food, art and community.
They've hosted some of the illest emcees of all time at this event, from Elzhi to Black Thought to Locksmith and Blu, this event is certified dope. If you're in Oakland early September DO NOT MISS IT! Hiero truly embodies all 5 elements of the Hip Hop culture and they've let the world know that there is more to the Bay Area sound than the obvious. We should all be celebrating these talented emcees for their continued contribution to this culture we all love and respect.