(Republished from DefineARevolution.com, By @CherchezLaPorsh)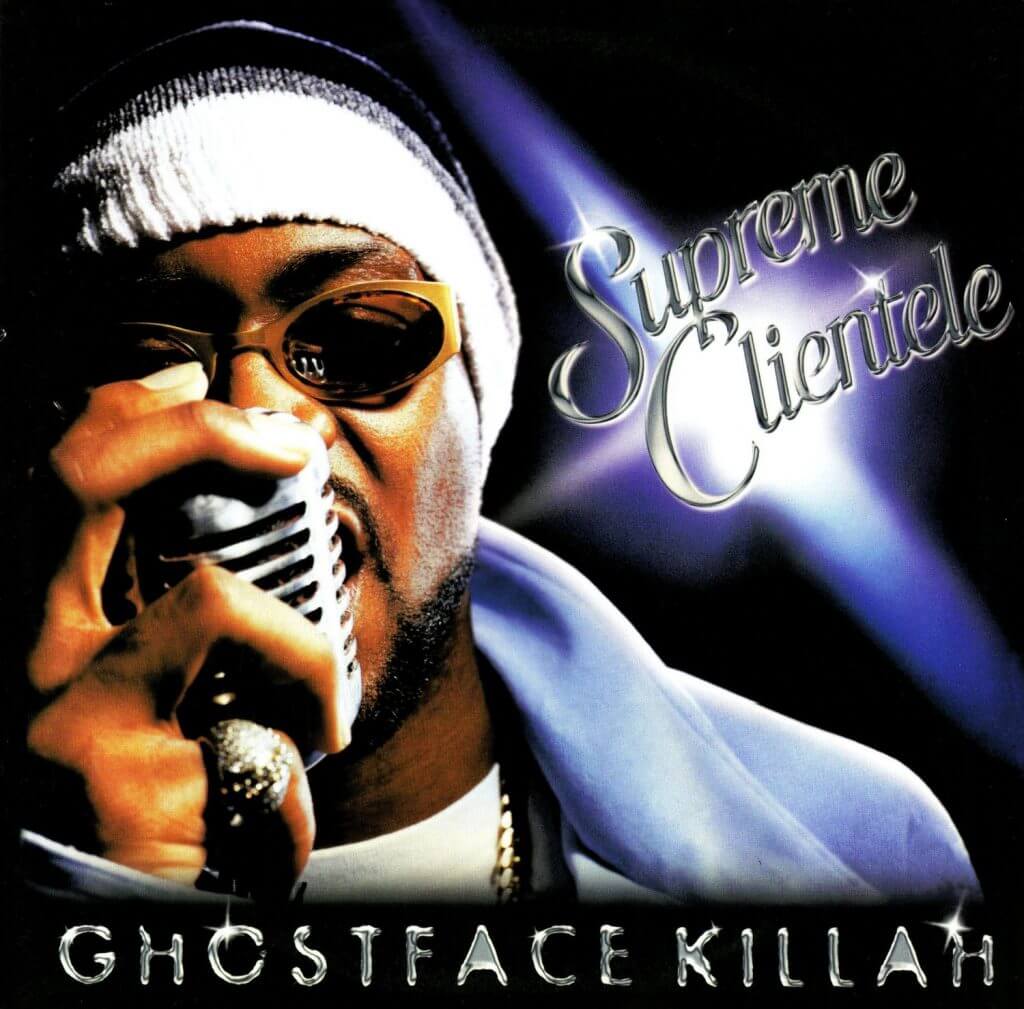 Tracklist Ghostface Killah – Supreme Clientele
Intro
Nutmeg
One
Saturday Night
Ghost Deini
Apollo Kids
The Grain
Buck 50
Mighty Healthy
Woodrow The Base Head (Skit)
Stay True
We Made It
Stroke Of Death
Iron's Theme
Malcolm
Who Would You F*** (Skit)
Child's Play
Cherchez La Ghost
Wu Banga 101
Clyde Smith (Skit)
Iron's Theme Conclusion
The turn of the millennium.. with all the Y2K paranoia and end of the world nonsense, it seemed like everyone was hitting studios and releasing albums. As a result, Hip Hop had just come out of a solid year in '99. Amongst the dozens of releases, The Wu members were continuing their momentum and still releasing solos, collaboration albums, sophomore projects and even a "greatest hits" album. None of this was a surprise because the Wu dominated the entire decade before, but what fans will notice was that Ghostface was nowhere to be found. In fact, we hadn't seen much of Ghost since his debut of "Ironman", but early 2000 Ghost hit fans with the best sophomore album to come out of the Clan.
He, with the help of the RZA, Deck, Allah Math and a few other non-wu related producers, crafted a lyrically solid, upbeat, (somewhat) conscious album in "Supreme Clientele" that would once again put Ghost at the top of the greatest lists.
This millennia release is my favorite for a few reasons:
It has one of my favorite Hip Hop tracks of all time and the reason my twitter handle is what it is.
It's different, it's fresh, yet true to the Wu flavor with an incredible back story on the development and recording side. (I would expect nothing less than lyrics that were created and infused with insight).
Anytime a Wu member releases a solo, we get all other Clan members as featured MC's so each track becomes that much better.
While this 21 track, feature heavy album may seem exhaustive…it's not! It's also packed with variation, interesting samples and of course lyrical gems, wisdom and insight. All of which are perfectly delivered by Ghostface and his Wu-brothers. As much as I would love to cover every single track and skit, in the interest of "time" I'll only focus on a handful. Let's get to it…
Much like 99% of albums, Ghost kicks off the album with an intro. One of the most clever intros of all time, why? Because the sample is about Ironman. It ties in his debut album, his monikers and talks about the Ironman to Tony Stark transition. Fantastic use of the sample which obviously comes from the RZA, we get a first-hand exposure to the use of '70's cinematic sounds. 45 seconds in, the album already comes to life.
The first track is "Nutmeg" featuring RZA and is incredible (much like all of them honestly). I have to start with production because it's amazing. First off credit goes to Black Moes-Art for the brilliant use of "It's Over" by Eddie Holman and "Ain't No Sunshine" by Bill Withers. Both of these add the 70's R&B gospel twist Ghost was going for, but with the increase in tempo against his voice and flow, it makes it incredibly unique and incredibly complimentary. As far as lyrics, it reminds me a lot of his verse on "Ice Cream" which is a great thing. He's consistent and in true "Wu Form" here's what I mean:
"You know.. I don't really mean no harm..

but it just happens you know"
"Copy out the rap kingpin, Summertime fine, jewelry drippin

Face in the box

I seen your ear twitchin"
RZA has never had great flow, though his lyrics are dope, conceptually he's a genius, but his delivery has always been offbeat and it's no different here. I do love his addition though, as he epitomizes Wu-Tang and always manages to bring in some aspect of martial arts and Shaolin. It always works and it's much appreciated. Like I said this track is incredible from beginning to end.
Track two we have "One" which features T.M.F (Wu Affiliate rappers) and we have JuJu from the Beatnuts on production. He sampled a track by The Sweet Inspirations, so once again we have familiar gospel sounding beats of the late '60's much like we just heard. Ghost's flow on this is perfectly aligned with the tempo (clearly he had the music when he wrote this track) and the entire song flows well. As for content, interestingly enough amidst the typical "naked bitches" lyrics we have some glimpses of the "consciousness"  Ghost was trying to go for, here's what I mean:
Chorus:

"To my real bitches take your drawers off

To all my high n*****, snatch her skirt off

Just in case she wanna play, get up in that b**** face"

Verse 2

"Ayo, the Devil planted fear inside the black babies

Fifty cent sodas in the hood, they goin crazy

Dead meat placed on the shelves, we eat cold cuts

Fast from the heart y'all, and GROW UP"
I know, I know. It's not much but it's a start. We'll see more I'm sure.
Next up, Ghost hits us with "Saturday Nite" a quick minute and a half of upbeat high energy temp which Ghost delivers perfectly on. This definitely adds to the fresh sound coupled with some laugh-worthy lyrics, but he's actually recounting a run-in with the feds since the Wu was being investigated at the time, once again the insight. Here's my favorite:
"It's not mine fucker, what I said

You met the 13th n****

A multimillion dollar operation is based upon it yo

Where in the Hell's the RZA?

He's sellin mics, wildest joints"
And it doesn't stop there, just before the end we hear "Dial 1-900-Raekwon, tell the God s***'s mega real". I love the approach and the reference to Rae. The entire thing is just a great listen and a dope track.
The following track, "Ghost Deini" is where things get interesting with this album. For those who don't know, there were 2 versions of this album, an international version and a US version. This song was originally produced by the RZA (US version) which contains another sample/reference to Ironman much like we heard in the intro. The beats, they sound similar to the ones we've heard so far. What I love most about this track….Ghost's references!! People who know me, you'll know why this is my favorite line:
"Ghost sold crack

Now his revelations spoken thru rap

Veloured down like the sheik of Iran

Gasoline CREAM wrapped in hospital bands"
Hah! I love it! Now I know he's referring to the "Iron Sheik" from WWF, but the play on words and the play on concept (Iron Sheik -> Ironman) is fantastic. Pure genius!
This next track is fantastic! "Apollo Kids" featuring Raekwon! I don't know where to start. First, these two have the best dynamic and compliment each other so well, so we know this is going to be great. On production, Carlos Evans (Hassan) delivers a perfect, high energy, explosive type beat that is a certified crowd pleaser. And it was, as the lead single off the album fans loved it. Everything about this works, from Rae's feature spot, both their lyrics addressing all the headlines and rumors going around about the Wu and their involvement in gun violence and of course the beat! The song was perfectly executed.
I won't get into this one, but a third of the way into the album we have RZA featured again on "The Grain" which he also produced. Consistent with the theme of the album, RZA stays true to the cohesiveness and delivers a great track.
Track 8, we kind of get everybody, as we see Method Man, Cappadonna and Redman as features alongside Ghost. And we get RZA on production, so "Buck 50" is sure to be great. I've said this many times before in various reviews…I love and credit artists who reference their previous work and tie songs and concepts together. Ghost does that here, as he references lines he used on verses in "Only Built 4 Cuban Linx" and Cappadonna references the "Odd Couple", which was a concept started by him and Ghost so this track brings it all full circle with a fresh millennium "flavor". It doesn't stop there, Redman references the "Persian Gulf" and Meth drops the last verse, which is the perfect finisher. Once again, dope lyrics, incredible dynamic and brilliant production. So far, this album is 8 for 8!
The next track is "Mighty Healthy" and although I won't spend too much time on this one, I do have to say it's the first track produced by Allah Math! The guy is the official DJ for the Clan and brilliant in that regard. He uses a couple musical samples and one from "Shaolin Rescuers" in true Wu form. Like I said, if it's not the RZA on production delivering the best, his protege is.
This is the point in the album where Supreme Clientele gets the most critique. Believe it or not the next 7 tracks (I know it's a lot) is where people consider it "filler"…we would have seen 2 skits, an intermission and 3 tracks under 2 minutes long, BUT we would also see Inspectah Deck and RZA on production and some more Wu affiliated featured MC's. Now if it was any other rapper I would say the skits might be thrown in, but (IMO) Ghost is a bit more calculated than that. Each skit ties in to the track right after with a running theme which is why I don't consider it filler, rather an intro of sorts, exactly how "Woodrow The Base Head" feeds into "Stay True". Ghostface is way too calculated for this to be random and he's proved that throughout.
This brings us to "Child's Play" and there's nothing I can say to do this track justice. This is where the variation comes in. It starts off with a soft, piano instrumental and true to album form, scratching and a series of very well paired, varying samples that create a unified but ever changing beat. Ghostface's lyrical approach on this is noteworthy. Considering this is a retrospective look at childhood and laced with double entendres the way he starts off is very children's rhyme-like: "Pretty little Sally sat up by the tree trunk", and the line immediately after that changes from child-like to very adult. The way he maintains the innocence and the darkness of both aspects of "his" life while meshing them together is where Ghostface truly shines as an MC. It's cohesive and definitely different from how he typically raps (or any of his fellow Clan members). If you ever doubted Ghost as lyrical genius, this should help!
I've been waiting for this track… "Cherchez La Ghost" feat. U-God, the track that birthed CherchezLaPorsh!! Once again I'm in awe. Where do I start? The title, it incorporates French, which I love of course. Absolutely brilliant. Although it's a play and Hip Hop take on a 1976 disco-pop song, Ghost stays true to the origins AND adds his own ambiguity! I'm almost at a loss for words…Madame Majestic's vocals are phenomenal and add the disco feel! The mention of "Tommy Mottola" in the chorus ties it to the original and then we get to the lyrics. In this whole concept of "Cherchez La Ghost" Ghostface cleverly talks about being "lost" and "sneaking out"…here this is what I mean:
"Lost on the dance floors, I attack y'all

Snuck through the back door, guess who they saw?

Goldie and Ghost, black African Rose

Star-studded low lenses, plus the mural was dope"
"Goldie and Ghost", cute!! Once again, from beginning to end, title, production, concept, vocals, word play, U-God…everything about this track is pure and utter perfection.
The second to last track, we have another Allah Math production. "Wu Banga 101" is the certified posse cut. It's got everyone and for that, I love the track placement. The Gladys Knight sample loop is incredible and once again stays true to the '70's beat style. What do you get when you pack 5 Wu members on one track? Lyrical gem after gem…take a look:
GZA:

"See the logo? A monument in Hip Hop

Carved out, in the giant landscape, of broken rocks"

Rae:

"Roman numerals, sun splash/ Them n***** like, Tango and Cash"

Cappadonna:

"We the glitch like Y2K

Catch the ball when it drop, guns pop, y'all have a nice day

Doctor Kanabuta, Iron Man, he is invincible

His remarkable armor is supreme!"
Masta Killa:

"Shots to the body that shake like the bass

I'm Ghostfaced up, military style down"

Ghostface:

"Too bright Ghost is coming

Y'all fix the mirrors, relax like pudding

Confidence strangle my man couldn't

Exile, he no longer in the hood"
Just snippets but you get the point. They came, they delivered, they killed it. The most clever lyric is the one I quoted by the GZA. Talking about the Wu logo like that while the creator of it is on production… these guys epitomized a unified Clan and it shows.
Just before the intro, Ghost gives us a "skit" called "Clyde Smith", now this was a shot at 50 Cent. Using heavy voice distortion (Raekwon) touches on a track released by Fifty the year before the release of this album, and of course Fifty claps back with the track "Too Hot". I do think the approach is interesting to say the least, I'm not sure how many other artists have addressed a beef using voice distortion and a 2-minute skit. If anyone could do it, it's definitely Ghost.
We're left with an outro that contains a snare drum accompanied by vocals from the RZA (of all people) and that wraps up this hour long album that put the Wu back on the map after some not so well received sophomore projects.
Although there were a few different producers who provided beats each track was later mastered by both RZA and Ghost, and personally I think that adds to the coherence and unifying features of the entire project while maintaining the variation. Ghostface has always been one of the more lyrical and aggressive members of the Wu. His style, delivery and entire persona was introduced on his debut, but perfected on "Supreme Clientele". With his sophomore project, he showed his ability to create a classic album with an extensive track list, while incorporating a fresh approach to an existing style while maintaining the elements that fans expected. Very few have been able to go "ghost" for 4 years  (pun intended) and come back just as strong as ever with a release that would secure him as an all time greatest MC.
–  Porsha