This album we're about to highlight is one of the most bittersweet albums in Hip Hop history. Twenty years ago, just before the release of this album, the man behind it was tragically (and cowardly) gunned down in Cali in what appeared to be a professional hit. This just six months after his rival, another legendary Hip Hop figure, was gunned down in Vegas in almost the exact same way. These moments forever moulded the landscape of Hip Hop in terms of what true beef was.
The album we salute in this piece was morbid, yet celebratory. Honest, yet also very aggressive. It became one of the greatest albums to exist just because of the fact that it should've caused the full emergence of Hip Hop's next worldwide star. Unfortunately, it became his last studio album and would become a reminder of the haunting realities of bad choices and their consequences. This is the twentieth-anniversary salute to Notorious B.I.G.'s Life After Death.
In '94, the Hip Hop world had been completely staggered off Nas' timeless debut, Illmatic. There wasn't a more formidable Hip Hop release anywhere in the streets at this time, and that's saying a mouthful considering albums such as Enter The Wu-Tang (36 Chambers), Enta Da Stage, The Sun Rises In The East, and Hard To Earn were all serving the streets greatly as well. However, that very summer, a hefty young Brooklynite came across our speakers with a commanding voice and a flow about him that was as raw as anything we had heard in years. The cat's name was Christopher Wallace, but professionally he was known as Biggie Smalls or Notorious B.I.G. from Bedstuy, Brooklyn.
After appearing on cuts with Supercat and with R.A. The Rugged Man (if you have never peeped "Cunt Renaissance", do so now), he shortly afterwards was on the Who's The Man soundtrack with his thumping cut "Party & Bullshit". Clearly, this dude was no joke, and we needed a full length from him. He then dropped his eagerly anticipated debut album, Ready To Die, and it was an immediate, instant classic. One of the rawest and most brutal debuts ever heard in Hip Hop, Ready To Die took some of Illmatic's thunder, in terms of rotation, and Biggie became the new owner of the streets. The album gave birth to the now classic cuts of "Juicy" and "Big Poppa", as well as the underground lyrical tour de force "Unbelievable", the cinematic "Me & My B****", and one of the most alarming closing cuts ever in "Suicidal Thoughts".
While the album was taking off, Biggie was making enemies like Raekwon and Ghostface, Nas, but also 2Pac, with whom he previously had a cool relationship. After Pac's unfortunate Manhattan robbery and shooting, what happened next is what would end up defining both emcees in ways none of us thought would ever happen. The beef took on a life of its own and involved whole coasts getting involved. While all this was going on, Biggie was putting together the pieces for his much-anticipated follow-up to his platinum debut, which ironically and prophetically would be called Life After Death.
In the early morning of March 9th, 1997, the hugely promising artist known as Notorious B.I.G., or Biggie Smalls, died from gunshot wounds. The music world, as a whole, was rattled beyond belief, as it was still trying to recover from the death of 2Pac. Two weeks later, the double album was released posthumously, and what a treat we were in for.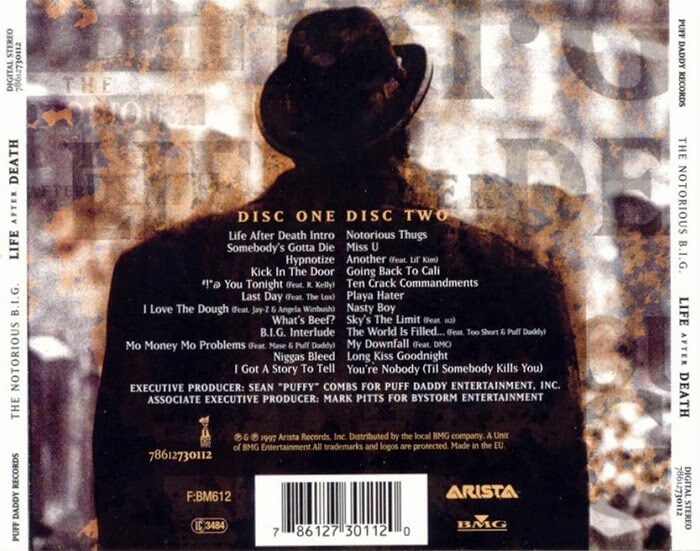 Seemingly picking up where Ready To Die left off at, we go right into the dark "Somebody Gotta Die".  What's pronounced on this album is his ability to be a fantastic storyteller. Easily up there with the likes of Slick Rick, Nas, or Scarface, Biggie had cuts that kept you compelled to listen for what would happen next. Tracks like the aforementioned "Somebody Gotta Die", "I Got A Story To Tell", "What's Beef" and the Lox-assisted "Last Day" are filled with thug narratives that highlight Biggie's knack for bringing you into his world of guns, drugs, and chaos. On the other hand, what he was also known for was being a ladies man, albeit most times crass and lewd. Cuts like the R. Kelly duet "F*****' U Tonight" and "Nasty Boy" take earlier joints on Ready To Die like the album version of "One More Chance" and "Big Poppa" and elevate them to higher levels of obscenity, but in that charming Biggie way, of course. This was also very much an album to get on the dance floor with, with cuts like the the unforgettable first single "Hypnotize", "Goin' Back To Cali", the Lil' Kin-assisted "Another", and the instantly appealing cut with Too $hort "The World Is Filled".
Don't get it twisted though kiddies. Mr. Wallace had to go at some people too. While it's been rumored that he threw some shots at his now deceased rival at this time, what has been made clear is that he went after various emcees at once, including Nas, Ghost, Rae, and even Jeru The Damaja on the Premo-powered "Kick In The Door". Although he never officially put out anything concerning 2Pac as a response to the highly flammable dis "Hit 'Em Up', several have claimed that he was more than ready to go to lyrical war with him, and with cuts like "What's Beef" and "Long Kiss Goodnight", it's obvious conflicts were on his mind. The closer, "You're Nobody Til Somebody Kills You", became every bit as ominous as "Suicidal Thoughts", and more so with the fact that Biggie was actually dead, the song becoming almost eerily prophetic.
This album was that prototypical something-for-everybody album and showed the remarkable all-around talent Biggie possessed. This would've been THE album that made Biggie that star that we all knew he was about to become from Ready To Die. Although the album ultimately sold over ten million units (which marked one of the few times a Hip Hop album was certified diamond), Life After Death became just as much known for being Biggie's final effort.
As to whether or not this album was better than Pac's double album classic of '96, All Eyez On Me still gets argued. What's not argued is that Biggie was one of the most influential and one of the simply greatest emcees to ever touch a microphone. One can only imagine, in this age of mumble raps and uninspired emcees just looking to get on the radio, how Biggie would've fared today. This album became Bad Boy's greatest achievement commercially and critically. For that, as well as the legacy left behind, we salute Life After Death and we'll always love Big Poppa. Salute to the King of NY!