'If you listen to the three EPs, you can hear the style, the lyrical agility getting better… we were still teenagers though.'
This is the tale of three young outsiders who gave it their all and earned a small niche in history alongside other similar early UK rap pioneers. Its narrator, Wayne McDonald, was one-third of Fixed Penalty, a short-lived UK rap trio who went DIY and released three EPs between 1991 and 1996, and didn't do too badly at all.
Whilst it's a cautionary account in places of the dangers of doing it yourselves, it's nevertheless an affirmation of the joys to be found in appreciating – and adding – to the Hip Hop canon.
A congenial McDonald spoke on the phone about his memories of spitting on the mike before a superstar house DJ came on stage and the lure of representing for yourself as well as working with Busta Rhymes and Musiq Soulchild.  Now a family man and busy radio and club, DJ in the North-east of England, Wayne was happy to turn back the clock.
Going back to the days, before Fixed Penalty were formed [Wayne, his twin brother Compton on the mikes and their mate Dean on the decks], the-then school pupils were feeling the attraction of rapping to the beat not least because breaking was a step beyond them.
'The reason why we got into rhyming was because we couldn't break-dance. I was s***!' laughed McDonald down the phone line. 'We met back in the day, in the days of rap battles and stuff…'84, '85, '86, around that era… we were 14, 15, still at school. Me and my twin used to do rapping for, like, uncles who'd ask us then we were writing with a pen and paper at school.'
Home-town heroes were the order for the day for the young MacDonald twins and Dean. Whilst noted UK DJ Tim Westwood is rightly cited by all and sundry south of the Watford Gap for repping UK and US rap, there's only two names which regularly crop up north of the 'border' whenever 80s and 90s black music is discussed: 'Back then the only people we used to listen to regularly were Stu Allen and Mike Shaft. And whenever Stu Allen was in town, we'd try to sneak out of the house, go to some gigs. They were the good old days.'
When it came to rhymes and battles, the twins' Afro-Caribbean background came to the fore as later heard on 'We Luv The Dub'. 'We were more interested in Just Ice and KRS because they brought the reggae influence into it. I used to battle another guy that Dean was working with and then, through mutual friends, after a while it was 'come up to my house' and do some recording. And that was it, we just bonded straight away.'
The lads then started to gig and they worked their way up from performing at school discos to sharing the stage with the original superstar DJ.
'We'd record the music onto reel-to-reel tape; Dean would be doing his scratching over the top and then me and Compton up the front doing our vocals. We played the Guild Hall in Preston [2000-capacity venue]. The headliner for that gig was Sasha [revered UK progressive house DJ], so it was a mixed bag,' Wayne emphasised down the line with some humour in his voice.
'He had long hair tied in a ponytail; yeah, that was a weird gig, all these ravers there. We went down alright…  I think it was the first time Preston people had seen us do our thing. I was a bit worried as everyone who was on after us were house-orientated people, but we went down well. I guess it was a bit like Preston's D.A.I.S.Y. Age… maybe it was sweet enough cos they were all coming up!'
Away from E'd up ravers and the stage, the group were busy exploring how to produce their own releases. Before taking the plunge and decided to record and promote their work themselves, they temporarily relied on sympathetic others… some of whom had more pressing needs. 'There was a local guy called Chris, a Preston DJ, who used to work at a nightclub called Clouds. He had a recording studio and used to say 'oh why don't you come over to my house'? I think he lived in Chorley. We used to drive over, get a bit of recording done and we were just starting to get our stuff together, but then he got arrested… was a bit of a drug dealer unbeknownst to us. So he went away and it was like 's***!"
When they weren't in touch with lawbreakers, the trio were coming up against the challenge of teenage love, as indicated by the credits on the label of the first release. 'Maitre D was me… it's Maitre C on the record as someone messed up with the pen; True C is my brother, Compton. Sky Juice was Dean [DJ] and Nadine was Dean's girlfriend. When we was at Dean's house, it was always during their time when they were meant to be seeing each other so we'd give her a little shout out, that was it. As we finished off recording, she'd be stuck there.
Duties behind the mixing desk were shared by the three lads. 'We all had a go at picking out samples: "I've got this one, have a listen'. Dean sometimes said he had a couple of samples, Compton as well but I was always bringing records over. It was a creative thing between the three of us…. in the sense of Dean'd be getting the beats, the drums. I used to rob records before I started buying them and I'd steal my Dad's records… find a little loop on an Isaac Hayes album or a Chic thing. We recorded [the first EP] on a little Tascam four-track and we used to just twist it till it sounded good.'
That first EP had four tracks. On the A, the spirited and upbeat 'Man of Action' is followed by 'What About Us', a lo-fi but adept and frothy mix of rumbling bass, a little guitar lick and a well-snipped Jesse Jackson sample before some lovely Mancini-esque flute takes over. The B side continues in the same vein and 'Watch That Soul' is equal parts intricate and chaotic. Stand-out track 'We Luv The Dub' showcases Preston patois and low-key but efficient cutting over a brass-decorated roots rhythm. Thirty years later and that first EP is still a head-nodder, even if 'We Luv…' states 'it's a demo / so wait you hear the final mix'.
Having recorded and mastered the EP, the group then had to get to grips with the next phase of distribution and promotion, which was not without its ups and downs.
'We didn't really know how to [shop their releases around]. When it came to that first EP we thought we'll just put it out. We didn't know how the industry worked back then. We pressed up a thousand and said we'd see how it went. That went very quickly and then pressed up another thousand and then we pressed up another five hundred and that went very slow. Very, very slow.' The way Wayne extended the word 'slow' showed he'd not forgotten how testing those times were.
At this point, Wayne realised he had to personally step up to the next level – 'I thought I'll go to college and learn how to do it properly. I came up [to Newcastle] as a student to do a Music Technology course and then I stayed up here. I wanted to know how to use all the buttons. We were still recording stuff – I'd still be going home at the end of term-time as my twin and Dean still lived in Preston so it was going back and forth, still recording and putting out the next one and then the next one, and doing shows whenever and wherever they came. We got so many random gigs – I don't even know how!'
The dust clearing as he thought back to the days before the creation of the net, mobile phones and Twitter DMs, Wayne then remembered they put adverts featuring their phone number in Blues & Soul magazine. The group never had a manager and were effectively winging it.
Asked about traveling to gigs, Wayne admits they never played a gig in London 'because of the cost, that was the only reason. We used to be championed by Max LX and Dave VJ [radio DJs at Kiss and Choice FM in the capital] but I didn't find that out till much later on. Back then we didn't know s*** about anything.'
Considering the group did not have a promotional team working for them and were coming from a small city which was hitherto unknown for producing quality rap releases, it's arguable that selling over two thousand copies of their first EP was a success by any standard.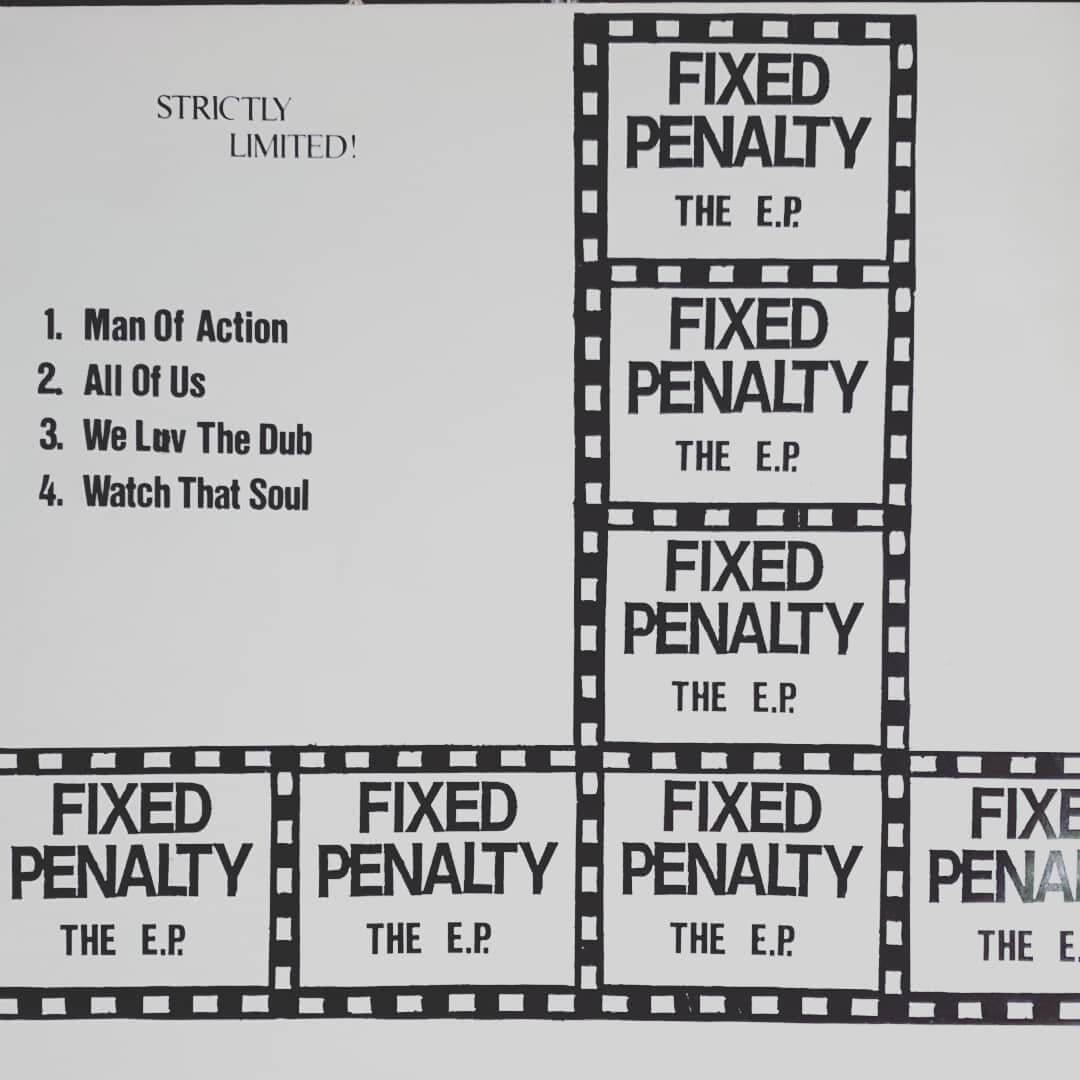 However, being based in Newcastle meant there was a larger pool of contacts for Fixed Penalty to approach when it came to that first EP. 'When it was released, I was up in Newcastle. There was a record shop here called Trax that was fronted by a guy called Alex Lowes who was behind the Southport Dance Weekenders. It became Flying Records later but at that time it was really good for dance and hip hop. As well as us getting in the car and going around the country, he started sending out 25 copies to his friends. We got some exported out to Japan.'
As well as feet on the ground and copies in the air to the East, the lads' talents were recognised by influential radio figures. 'Little by little, we started to branch out through Alex's contacts as well as [BBC Radio Lancashire DJ] Steve Barker. He then got it to John Peel and when Peel played it, it kind of went nuts. That helped to sell it a bit! At the time, for us, it was amazing.'
Without criticising his home town, Wayne is frank about the limitations of growing up in Preston. 'If we'd been based anywhere else, we could have done a lot more. It was just down to location, location.' He believed that  London record labels 'thought Newcastle was in Scotland', but the group did attract some interest from one of the capital's music companies seemingly intent on adding to their rap releases.
'We started getting phone calls from Chrysalis – they were called Cooltempo then. Nothing materialised from that. They were like 'Yeah, we like what you do but we'd like you go a bit like De La Soul, soften it down a little, take off the edges', and at the time we were like 'No! We want to keep it real! You want us to change our sounds? No!' McDonald still sounds unrepentant and a little scornful, thirty years later.
'They wanted us to sell out, that kind of thing. We didn't want it. I think it was naivety on our part plus we didn't want to change.'
'This is what we do, this who we are, plus we didn't want to do the whole rapping with an American accent thing. There wasn't anything quite like that [the first EP] at that time, even with Kold Sweat records and Krispy 3. Hip Hop Connection really championed us and all these little spots really helped build a profile for us.'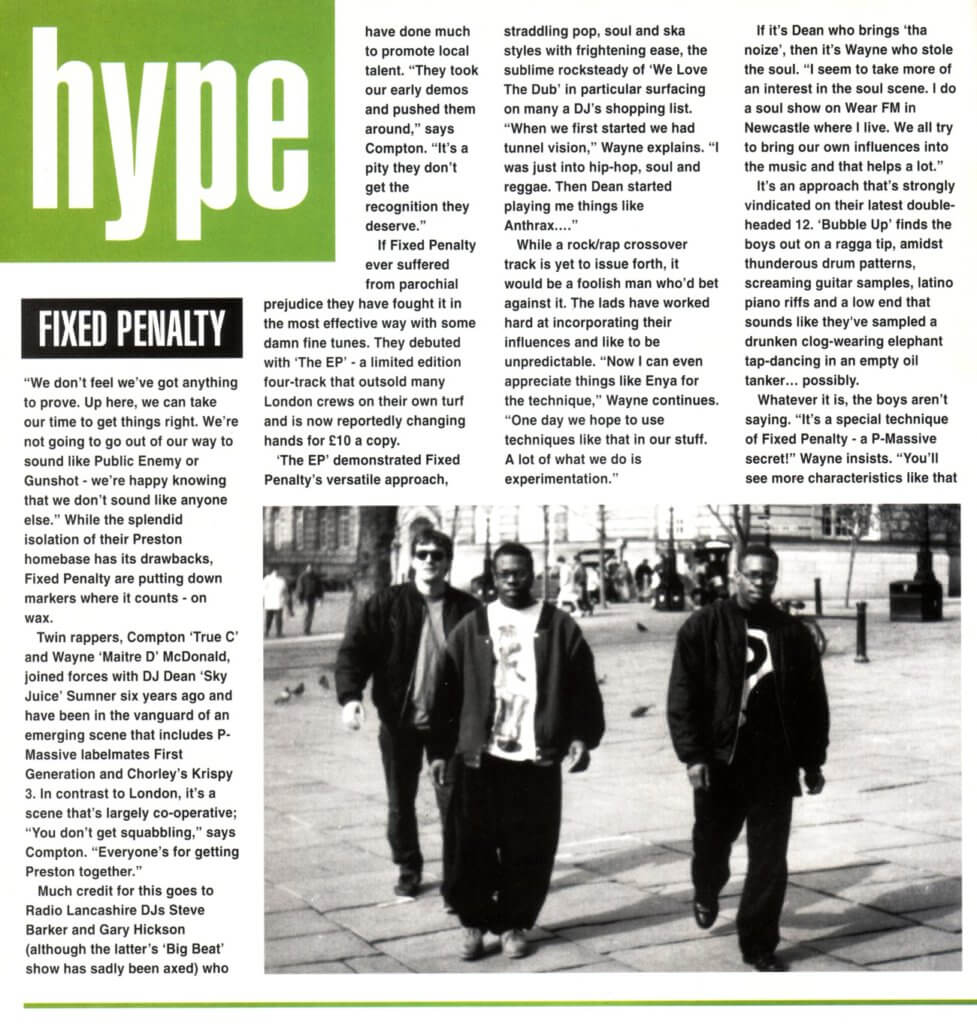 Rather than simply relying on a Lyn Collins break, the group were willing to show they could bring new samples to the table. Wayne couldn't remember a particular track the group had used, but he did remember that a loop from 'Man Of Action' was sampled by The Prodigy ['Wake The F*** Up' which also samples Pharoah Monch's 'Simon Says'].
'I was DJing [in Newcastle] and whenever these people were performing, I'd be one of the support DJs. I met up with [The Prodigy] once in a Newcastle record shop and we exchanged signed records. They were like 'yeah we got it from here… boom-chik-chiki-dat-dat'.
A lot of people would have busied themselves chasing Liam Howlett and company for royalties and/credits but Wayne was sanguine about that, pointing out: 'Our music was full of samples. Back in the day, one of the music papers noticed it at the time so it was noted and those that knew, knew, and that was good enough for us. We didn't really think at the time about chasing someone for taking our sample, especially as we'd taken them from somewhere… it wasn't the done thing.'
For the trio's next EP in 1992, they started to spread their wings a little. 'To You' brought the pace down a little, rubbed off the rough edges of the first EP but almost every bar of music is still chock-full, whether it's piano, a sneaking wah-wah guitar, a deck spin-back, a slice of Hammond organ or a preaching brass line. Over all of that, Wayne and his brother bring their driving doubled-up rhymes not unlike Das EFX.
'Bubble Up' is closer to Gunshot or Hijack, their then-UK rap peers, than on the first EP where they can be filed alongside Ruthless Rap Assassins and Definition of Sound. There's an indication that Bum Rush The Show! and other Bomb Squad productions have been heard and absorbed but then there's the unexpected arrival of a honky-tonk piano amidst the Supercat-like exhortations. These guys were brimming with ideas, clearly.
To read the rest: visit http://patmellow.uk for Part 2.