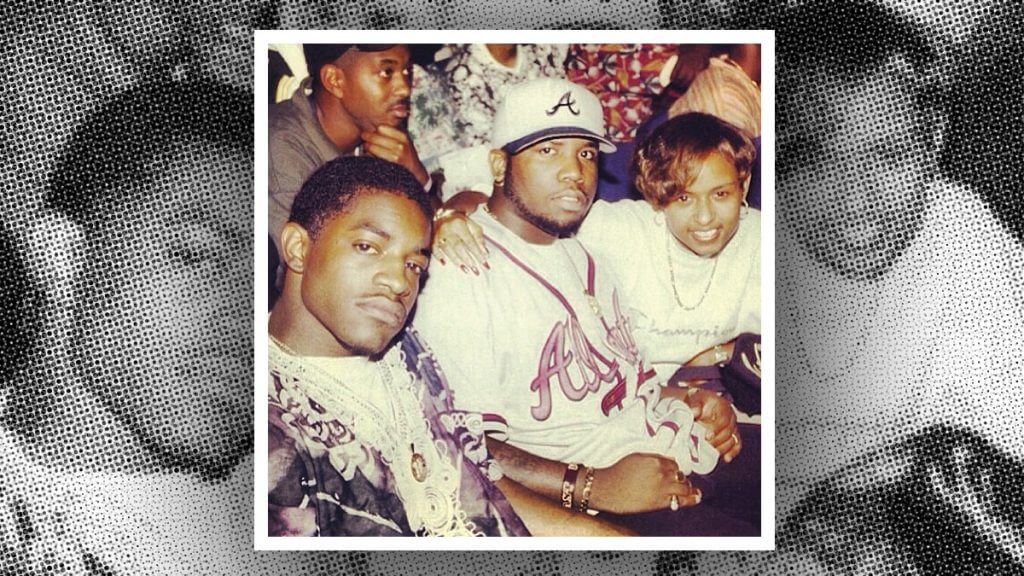 Just over two decades ago, OutKast's Andre 3000 (then just Andre) proclaimed that "The South has got something to say", as he and Big Boi were receiving the award for Best New Artist at The 1995 Source Awards in front of a very hostile New York crowd. At the time, the South really didn't have a lot of respect nor appreciation except for possibly the Geto Boys and crews like UGK and the 2 Live Crew. Outkast was ushering in a whole new era in Hip Hop though, and the game would never be the same again.
In the late eighties to very early nineties, acts like the Geto Boys, UGK, and 2 Live Crew were setting the standard for southern Hip Hop, soon followed by acts such as Eightball & MJG who furthered the South's want to be noticed. The first truly acclaimed album from the South was the Geto Boys' stunningly vicious 1989 sophomore album Grip It! On That Other Level, which was in many aspects similar to N.W.A's seminal Straight Outta Compton, released just a year earlier. Other albums such as Eightball & MJG's Comin' Out Hard, UGK's Too Hard To Swallow were putting the South on people's radars, as of course As Nasty As They Wanna Be by the ever controversial 2 Live Crew had already done earlier. But while the East was being held down by acts like Wu-Tang Clan, Black Moon, Tribe, LL, and Brand Nubian, and the West was owning the game with Dre and Snoop, not to mention Eazy, Cube, and Ice-T,  it was very easy to see how the South could get swallowed up in the mix.
Then came two young cats named Outkast that would become the true trailblazers for the new Southern movement. They released their seminal debut Southernplayalisticadillacmuzik to incredible acclaim. This album was clearly a changing of the guard and it truly signalled a new direction for Southern Hip Hop. It still kept the elements of soul and everything else aforementioned, but just used it in a more contemporary way. Because of that, the album achieved platinum status – and Hip Hop had its new stars, whether the East and West liked it or not.
At the same time the legendary Scarface dropped his third and arguably best album The Diary, a little later the Geto Boys reunited to deliver their fifth album, The Resurrection, UGK dropped the album of their careers with Ridin' Dirty, Goodie Mob had arrived with their magnificent debut Soul Food, and Eightball & MJG were slowly but surely climbing the ladder of success themselves with On Top Of The World. And let's not forget the emergence of Three 6 Mafia, and how Chapter 2: World Domination put their team on the map with the rambunctious "Tear Da Club Up". Gradually people were paying more and more attention to the South, and that made the other coasts uncomfortable.
When Biggie, Jay, Nas, Mobb Deep, and the Wu were dominating the East, and Pac, Dre, Snoop, and Cube were running the West, more eyes were fixing on this new musical revolution going on in the South. Outkast dropped their second album, ATLiens in '96 and it was easily the best album of that year that wasn't The Score, All Eyez On Me, Reasonable Doubt, or Hell On Earth. ATLiens was THE southern album that was holding it down and with UGK's Ridin Dirty proved that the South was becoming a force. Soulful, honest, and unapologetic, these artists were showing the world what living in the South was about, and fans were starting to get it.
When we hit the new millennium a new crop of Southern emcees were looking to elevate the game even further. Artists such as Ludacris, T.I., and later Lil' John would put the South more firmly in demand. Thanks to infectious hit after infectious hit, the South really did have something to say – and it was taking momentum away from both the East and the West. The radio was filled with anthems such as "Rubberband Man", "Back Dat Azz Up", "What's Your Fantasy", "Make 'Em Say Ughh" and many others. Multi-platinum units were being sold and the South was no longer considered the red-headed stepchild of rap. More awards were getting won, and Southern culture was being all over the world.
By around '02-'04, the South was heavily in the Crunk movement, where adrenaline met high energy music and vocals, and we have to thank Lil' John for that period. Artists such as Pastor Troy, Drama, Trillville, and Lil' Scrappy were fully on board the Crunk train, and once again, the South was on top of the charts. Even the West and East were trying to get in on it, evidenced by Nas and his group The Bravehearts who used the Crunk element for their single "Quick To Back Down".
With this newfound success came some detractors. Many felt that the South was unintelligible, Crunk was nothing more than a bunch of screaming and fighting going on which had nothing to do with emceeing or lyricism. Many felt that other artists were the same, no talent, just putting two words together that could rhyme over good infectious beats. Some of that may be true, but the bottom line in the South always was the club. Southern culture is big in dancing and having a good time, and rap in the South was known for doing so since 2 Live Crew. The Crunk movement was not a time to introduce new legends in Hip Hop. It was a brief time period where people would just let loose and dumb out. Once that brief era fizzled, it made way for the Trap genre to fully develop.
The Trap genre was first brought on by T.I. and Young Jeezy, as both delivered some of the most notable Trap albums ever made, and others such as Waka Flocka Flame, Gucci Mane, Yo Gotti, and OJ Da Juiceman would follow and continue the Trap movement. By this time, radio was completely dominated by the South. From New York to Compton and all points in between, the South had officially taken over Hip Hop. The region had basically monopolized the sound of Hip Hop.
Artists such as Outkast, Goodie Mob, UGK, and Eightball & MJG weren't as relevant as they once were (unfortunate circumstances such as Outkast and Goodie Mob's break-up and the tragic death of Pimp C aided in their relative downfalls). In their wake, Lil' Wayne became the biggest Hip Hop artists not named Eminem during this time. Wayne had been a Cash Money Millionaire since the age of thirteen, and as a fully grown man, he basically reinvented himself and delivered some of his best efforts. Regardless of genres or sounds and whatever you think of him, Wayne was always true to himself as he became the cameo king, appearing on more people's cuts than anyone at that time – resulting in a continuous high profile, numerous mixtapes, and Tha Carter III selling a million units its first week. Another Southern star running Hip Hop.
Today, artists such as Young Thug, Lil' Yachty, Denzel Curry, Playboi Carti, 2 Chainz, and Rick Ross are the ones handling business in the South. Although some of their sounds and styles aren't for everybody, there are acts such as EarthGang and J.I.D. that are fresh and show glimpses of mid to late nineties South. Today's southern influence reaches East Coast states that are typically hard-nosed in their tradition of boom bap, but artists such as Lil Uzi Vert from Philly and Fetty Wap from Jersey have incorporated the mumble rap/trap style into their personas. On the other coast, Kendrick Lamar's latest incredible feat, DAMN, has Southern Trap influence in it, with scorching hot southern producer Mike WILL Made It at the helm for four tracks, including his first two singles, "Humble" and "DNA".
If there is one reason as to why the South has been continuously running the game, it could be because the South is unified. There's not a lot of competition within the South. Occasional beefs notwithstanding, the South is together. The East Coast, traditionally, is rooted in competition, and the West can be inconsistent. The South has always been for the dominance of the whole South and everybody within it. There are no Florida vs. Georgia type beefs. The South is together, standing as one, regardless if they're in the mumble rap section like Yachty or more trap like Gucci or more traditional like Luda, chances are, they'll all get together for a track because the South believes in coming together – and that's where they win.
Say what you will about today's South, but the region still holds the majority of today's influence on the game. If you're waiting for the South to fall off, don't waste your time. Not while every section of the country seems to have some sort of Southern sound or influence. People can even talk as much s*** as they want about artists like Lil' Yachty, Playboi Carti, or Future, but the truth is some of your favorite artists actually don't mind bigging them up. Face it, the South's reign over Hip Hop isn't going anywhere.