In 1996, De La Soul released the track "Stakes is High" off the album of the same name. In that song, Pos drops an official proclamation with the following lyrics:
"A meteor has more right than my people/who be wastin' time screaming who they've hated/that's why the Native Tongues has officially been re-inSTATED."
Joyous words for anybody who had followed the sparsely released but always-excellent music from the collective known as the Native Tongues. The reinstatement would, however, be short lived. No new tracks followed Pos' proclamation.
It's more likely, however, that the collective and state of mind died in 1993 when Posdnuos declared on Buhloone Mindstate's In the Woods, "that native s*** is dead."
Prior to those events, however, the Native Tongues embodied a socially conscious, uplifting, black empowerment perspective on a party rocking, celebratory vibe. The music was fun and full of life. It was a collection of some of the dopest rappers doing their thing at the time.
The official list of groups and rappers, according to the members themselves in Michael Rappaport's Beats, Rhymes, and Life – The Travels of a Tribe Called Quest documentary, included:
Jungle  Brothers
De La Soul
A Tribe Called Quest
Chi Ali
Brand Nubian
Beatnuts
Black Sheep
Queen Latifah
Monie Love
Leaders of the New School
The world, however, would never be blessed with a full posse cut, the closest we ever to that was the Buddy remix. The collective, dropped enough songs with various members to hear how those Tongues sounded on track together. Here's a non-complete list in chronological order that exemplifies the promise the Native Tongues showcased and the conscious but fun mind state presented.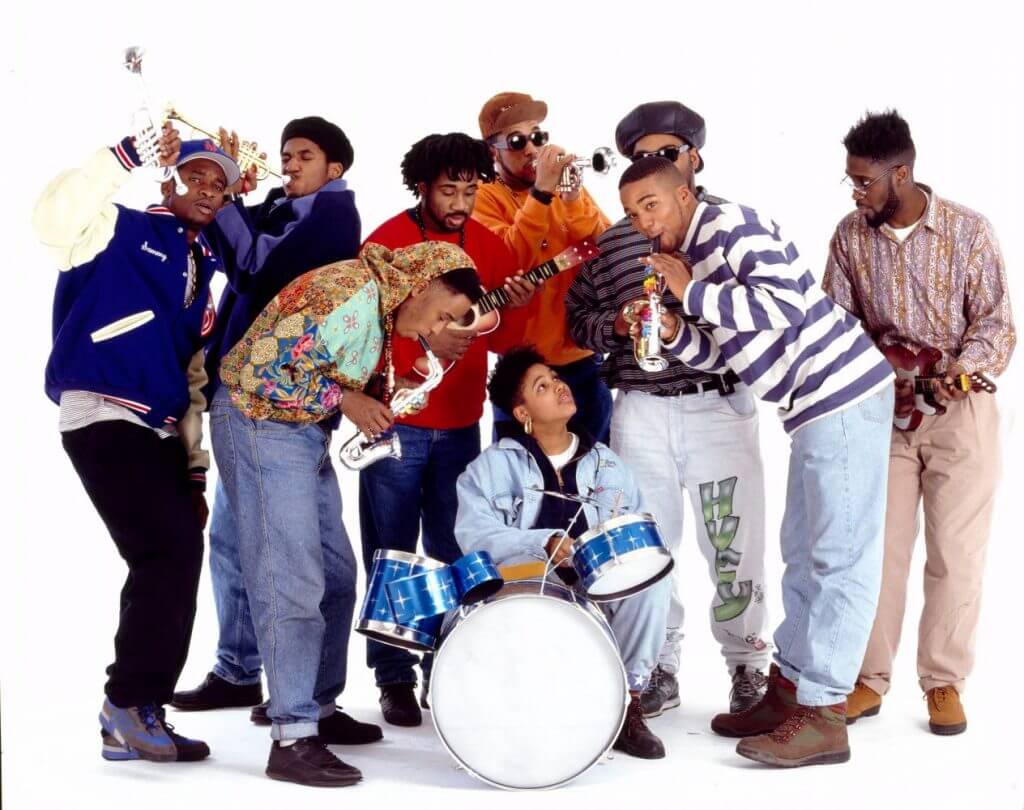 "Black is Black" (1988)
"Black is Black" by Jungle Brothers feat. Q-Tip, from Straight out the Jungle 1988
We know for certain that the recording of Black is Black begins this story. From that session, the Native Tongues name is birthed. Q-Tip was cutting up New Birth's African Cry and specifically the lyrics "Took away our native tongues." Q-Tip kept cutting the record back and forth back and forth and at that moment, the present members joked about how they were the Native Tongues because everyone seemed to speak the same language. And thus, the collective came to light. The track itself embodied the spirit of the Native Tongues. Mike Gee of the Jungle Brother raps, "Daylight shines but still few see/That we must fight for unity/In a picture that's fixed as black and white/Why's it both that have to fight?/Uplift the race, uplift the race/See my soul and not my face."
"Black is Black" presents a positive message in the dark ages of 1988, where street violence in minority neighborhoods is getting worse, N.W.A. is yelling "F**K the Police" on tracks because of police brutality and misconduct, and there's a general fear of the government and the mostly white leaders who run the country.
As Monie Love said on the Beats, Rhymes, and Life documentary, "we don't have to do fuck the police. There's a group for that. We don't have to do fight the power. There's a group for that. We're allowed to be different." And different they would be. "Black is Black" began a quest by the members to present a different narrative – one that calls out to people to lift themselves up and be empowered and for non-blacks to see beyond skin color.
"The Promo" (1988)
"The Promo" by Jungle Brothers feat. Q-Tip, from Straight out the Jungle – 1988
Q-Tip is again featured on a track from the Jungle Brothers first album – which should come as no surprise because Mike Gee, Afrika Baby Bam, Q-Tip, and Tribe deejay Ali Shaheed Muhammed all went to the same high school. Matter of fact, this song serves more as a historical placeholder for the events that were unfolding and the people involved.
On The Promo, Q-Tip introduced Tribe as a group, Ali as his deejay, and basically announced when Tribes album was coming out – "one month after March, and two before June." He also shouted out DJ Red Alert who probably had as much to do with all this coming together. He was a Hip Hop legend in his own right and just so happened to be Mike Gee's uncle.
"Description" (1988)
"Description" De La Soul featuring Q-Tip and Prince Paul, from 3 Feet High and Rising – 1989
Rap in limerick form!? The Tongues did it! This track is simple. There's nothing lyrically stimulating except for the fact that each verse is done in the form of a limerick. Again, to harp on the uniqueness, the Tongues had no ego and were only interested in making music they liked. That's what made them special. Plus, as Pos mentions, they were young. I mean, what the hell are they doing being so unique and confident in their peculiarities young??? Pos raps that he's only 19. I'm not sure what you were doing at 19 but there are only a relative handful of people who were creating their own special cultures that others will soon be trying to replicate and copy. Most of us can't say that. It's not the most pleasing rap song ever made but it stood out as different and different has always been good in rap.
On the Michael Rappaport documentary, Common, Pharrell, and Questlove all spit a similar refrain about the Tongues – basically that other rappers felt empowered and less afraid to be different. The native tongues authorized individuality by being themselves.
"Buddy" (1989)
"Buddy" by De La Soul featuring Jungle Brothers and Q-Tip from Tribe Called Quest, from 3 Feet High and Rising– 1989 & • "Buddy (Native Tongues Decision)" by De La Soul featuring Jungle Brothers, A Tribe Called Quest, Monie Love, and Queen Latifah, from "Buddy" 12-inch single – 1989
After meeting the Jungle Brothers and Tribe at a couple shows, De La invited the two groups to hang out at the studio for a couple sessions. What comes out of that session is "Buddy". As Phife would say on Beats, Rhymes, and Life, the Native Tongues were a "group of people that all enjoyed being around each other and going to parties together. More importantly they could be in the stupid together, all night to the wee hours or four three days straight."
Thus when almost the whole crew got together, they would create "Buddy", which is the quintessential Native Tongues fun vibes tracks. Really though there are two tracks named "Buddy", each with a different beat. The tracks are similar in that they are both extended metaphors about girls and how much the crew loves them some "buddies." Though it's not ever explicitly stated, the emcees drop hints of fornication, orgies, oral sex, and their own D's (referred to as that) and "jimmies" throughout. It's not however done in an obviously dirty or perverted way. The Tongues provide sexual innuendos artistically and gracefully. It's more fun and clever than anything else.
The first "Buddy", off De La Soul's debut album, features the Jungle Brothers, Q-Tip, and the Pos and Dove. It has a smooth, hypnotic beat. Phife is missing but joins everyone on the remix which also features Monie Love dropping a verse and Queen Latifah singing a hook. Most of the lyrics remain the same on the remix but the verses were redone to match the funky, swinging, bouncy beat with a well-placed harmonious vocal sample.
An example of those articulate yet never raunchy sexual lyrics is when Q-Tip raps "And when I quest for the buddy I don't fess/For my jimmy wants nothing but the best (the best)/The best (ooh wee)/ let's stick out jimmy and see what we catch (Stick em up, stick em up jimmy)/Nets won't be needed unless/(Jenny wanna get right to the flesh)." Okay, maybe a little raunchy but still super dope.
"Doin' Our Own Dang" (1989)
"Doin' Our Own Dang" by Jungle Brothers feat. De La Soul, Queen Latifah, Q-Tip and Monie Love, from Done by the Forces of Nature – 1989
At this point, in 1989, the Native Tongues individually and in their respective groups, were experiencing success. Jungle Brothers first album Straight Out the Jungle found critical success grabbing 5 mics from the Source and success on the charts; De La Soul's 3 Feet High and Rising, with it's number 1 track "Me, Myself and I", hit #1 on multiple charts and "Buddy" was a huge record for the tongues and provided a glimpse of what a remix could do for a track. Tribe's People's Instinctive Travels was still months away but Q-Tip was already well known amongst rap's inner circle and from his features. So it's no surprise that on Jungle Brother's second album, almost the entire crew is featured on "Doin' Our Own Dang" and at the time, they were feeling a little confident. This almost certainly comes from the fact that the funky path they blazed was now full of copy cats.
Immediately in the first three bars Dove raps, "Breaking the beat others wished they broke/Bassline so dope that you just might choke/Don't bite off something that you can't chew/And don't trail behind when I'm coming through." And they understood their uniqueness couldn't be copied because it was authentic whereas others were only dressing and sounding like them because of the desire to make money. Afrika raps "Tribes like us always open doors/But what for, so you can get yours?/You ain't into it, all you want is profit/So I ask please stop it." Finally, Dove finishes up them with the following: "Don't follow the path that we're stepping/truth to the soul is what I'm cramming/Reasons for this is that the family's strong/And like Bob Marley said, We're jammin'."
"Mama Gave Birth to the Soul Children" (1989)
"Mama Gave Birth to the Soul Children" by Queen Latifah featuring De La Soul, from All Hail the Queen- 1989
In 1988, an 18 year old Queen Latifah would become label mates with De La Soul on Tommy Boy. The following year, she would release her debut album, All Hail the Queen. This song, featuring Pos, Dave, and Maseo is classic golden era record. Listen to this song in a group and an old school Kid N Play dance battle may break out. Producer Prince Paul drops a gem of a beat. It's head bouncing, swinging sound would be copied often. It's a semi-conceptual song in which Queen Latifah refers to herself as mama and the artists joining her on the track as her children. In her verse, she kicks that confident-humble-braggadocious rhyme pattern – "It's inevitable that this joint venture would be incredible/We never put ourselves on any pedestal/But the rhyme is so good it's practically edible."
"Ladies First" (1989)
"Ladies First" by Queen Latifah featuring Monie Love, from All Hail The Queen – 1989
All Hail the Queen was a massive success for Queen Latifah and "Ladies First" was the biggest record off the album that would be certified Gold in 1990. Here, she enlists English rapper Monie Love and the first ladies of the Tongues did their thing lyrically. Queen Latifah raps "The ladies will kick it, the rhyme that is wicked/Those that don't know how to be pros get evicted/A woman can bear you, break you, take you/Now it's time to rhyme, can you relate to." I mean, come on, is she kidding. That rhyme pattern in the first two lines is pretty intricate and most rappers weren't doing anything like that in 1989. And she plays the gender card brilliantly when she says a woman can bear you, break you, and take you!
Monie Love, no slouch on the mic, sticks with the theme of it definitely being women before men when she says "Not for being one but for being with one/Because when it's time for loving it's the woman that gets some/Strong, stepping, strutting, moving on/Rhyming, cutting, and not forgetting/We are the ones that give birth/To the new generation of prophets because it's Ladies First."
"Scenario" (1991)
"Scenario" by A Tribe Called Quest featuring Leaders of the New School, from The Low End Theory – 1991
The Leaders of the New School, the most notable group from Uniondale, New York, gained rap's attention after opening for Public Enemy. Matter of fact, Chuck D gave Busta Rhymes the rap moniker we would all know him as.  The track, off the classic Tribe album, is probably the Tongues second most well-known song  and it has so many one-liners and quotable lyrics.
First, Phife Dog opens with the Bo Jackson line. At the time, there was a commercial that claimed famed, duel sport star Bo Jackson could essentially do anything. Phife, a huge sports fan, kicks the "bust a nut in ya eye to show you where I come from" line and makes it known here that Bo does not possess the skills of a lyricist. Phife is followed by two members of LONS, who rhymes are impeccably unique  and their word placement memorable. Who can forget when Charlie Brown drops the doo doo brown ad-lib  Finally, Tip and "pre-I got them all in check" Busta Rhymes kicks his trademark wild, attack rhymes, which music critic Rembert Brown called one of the best rap verses ever. Finally, how simple yet hyped was the chorus. It sounds like they recorded each emcee yelling the chorus, which brings so much energy to the track. The video is also mad wild and pretty ahead of its time.
Phife also has gone on record to say that this album marked the beginning of the end for the collective. As he told Vibe magazine in 2007, the switch from Dj Red Alert's management to Russell Simmons' Rush Management, hurt Tribe's relationship with De La Soul and the Jungle Brothers. This is where the personal riffs began to interfere with the music because DJ Red Alert was Mike Gee's Uncle.
"La Menage" (1991)
"La Menage" by Black Sheep featuring Q-Tip, from A Wolf in Sheep's Clothing – 1991
1991 would also see the release of Black Sheep's debut album. Everyone knows "Flavor of the Month" but here the Tongues were back on the sexual tip again as the name implies and the lyrics definitely illustrate. I mean Black Sheep were talking about doggystyle before Snoop ever came around as Dres suggests a little "woof woof" after showing this chick Mr. Lawnge (pronounced looong). Again, the crew wasn't just an enlightened group of peaceful positivity. They were balanced. They partied. They had sex. And they were somewhat cheesy but given the year – 1991 – they could probably be forgiven. "If sexy were a virus/Then you'd have a disease." And yes, the song does end with Tip illustrating a threesome that he and Dres are having.
"A Roller Skating Jam Named "Saturdays"" (1991)
"A Roller Skating Jam Named "Saturdays"" by De La Soul featuring Q-Tip and Vinia Mojica, from De La Soul is Dead – 1991
Considered to be one of the best albums of the 90s, De La Soul is Dead, the group's second album, marked the group aesthetically and lyrically trying to dead the hippie image. It also featured this track which showcased that the Native Tongues collective were not style biters – they skated to their own vibe. As Ali Shaheed Muhammed stated, the Tongues were a "State of being" who were "changing sonically what people were doing in Hip Hop."
This song perfectly exemplifies the Tongues vibe. They were eccentric, wacky, tongue in cheek and best of all plainly themselves. This song is a series of illustrations about the various things that people do, see, and that happen at the roller skating rink on a Saturday. The various vibes include Q-Tip's verse about a dude picking up a chick at a rink, doing her wrong, and then her getting revenge by dissing him back. Pos kicks that drop your briefcase and go dance at the skating rink shit while Dove brings in Mr. Sprinkler talking about Zip-a-de-doo-dah. The Tongues, as a collective, weren't caught up in the external. They were authentically, unadulterated unique in their own individual ways each and every time.
"Fanatic Of The B Word" (1991)
"Fanatic Of The B Word" by De La Soul featuring Dres and Mike G, from De La Soul is Dead – 1991
The uniqueness of the Tongues are followed up on De La Soul is Dead with this track featuring the dudes from Black Sheep. What's the B word, you ask? Well it's baseball, of course! Cause who doesn't love a great song about America's pastime!?!? Just kidding….you know it's a not a song about baseball although Phife Dawg is a notorious baseball fan.
"Fanatic Of the B Word" is only about baseball as a metaphor because these dudes are lyrically swinging for the fences. Here you got Pos, Dove, Dres spitting 8 bars each and Mike G ripping a quick opening. In the end, Prince Paul and rarely heard from Plug 3 – Maseo spit 2 bars each. Pos and Dove are kind of casual whereas Dres of Black Sheep comes in with some hilarious rhymes involving not having a spoon, Chinese food, and a cat. And like they say, "you can't beat that with a baseball bat."
"Let The Horns Blow" (1992)
"Let The Horns Blow" by Chi Ali feat. Dres, Dove, Fashion and Phife Dawg, from The Fabulous Chi-Ali – 1992
In 1992, Chi Ali, the youngest member of the crew, would release his debut album which was produced by Black Sheep's Mr. Lawnge and the Beatnuts. This posse cut from the album had a few unique moments for the crew. First, Dres of Black Sheep shouts out people trying to kill cops. Dres, who spent a year in prison, was intent on leaving the gun-toting persona he represented before behind but here he is rapping about violence. Defintely a different turn for the Native Tongues crew member and the crew itself. This sets off a theme and tone which is much more darker than the crew usually kicked. Fashion, later know as Al Tariq of the Beatnuts, is talking about drugs, blasting guns at point blank rage, and fighting. Dove stays true to the Native Tongues spirit in his bars. He even goes out of his way to separate himself from the others. He spits "Never toke or smoke, I don't even own a lighter/If it's any pipe I'm lighting, it's the pipe that goes inside of her." Other than saying he'd stomp someone, Phife Dawg kicks his braggadocio rhymes where we again get to hear him refer to himself as the 5-foot assassin just like he does on "Buggin' Out".
"Award Tour" (1993)
"Award Tour" by A Tribe Called Quest featuring Trugoy, from Midnight Marauders – 1993
By 1993, the collective's individual members and groups have all experienced success. Every thing the Tongues touched basically turned to gold, if not a very, very shiny silver. If the late 80's and early 90's was the collective's rise to the peak, 1993 begins the decent.
"Award Tour", one of Tribe's most popular songs, features Trugoy on the hook talking about how far and wide the group's influence and sound now travels. The record came about because De La Soul just so happened to be recording in the same studio as Tribe. It's basically a victory lap that would help bring Tribe more success but that ultimately helped doom the Native Tongues. Before the individual members superstardom, the group had time to make records together and needed one another for artistic and promotional purposes. Experiencing commercial success made those needs go away.
"In the Woods" and "I Am I Be" (1993)
"In the Woods" by De La Soul featuring Shortie No Mass and "I Am I Be" from Buhloone Mindstate – 1993
Though these are not Tongues tracks, the death kneel was struck here. Posdnuos raps "that Native shit is dead." On "I Am I Be", Posdnuos criticized "some tongues who lied and said wed be Natives till the end/Nowadays we dont even speak" and Q-Tip took offense. Whether it was the business decisions, success, or personal issues which ultimately doomed the incredible collective, the bell had been rung, loudly and clearly.
"Sh. Fe. MC's" (1994)
"Sh. Fe. MC's" by De La Soul featuring A Tribe Called Quest, from Clear Lake Auditorium EP – 1994
Before they go out however, the crews of De La Soul and A Tribe Called Quest joined like Voltron to produce what is arguably the best collaboration of Native Tongues members. Okay, scratch that – this is by far the best Native Tongues song. A full crew remix of this track would've been incredible. De La and Tribe are almost at their apex lyrically. The boom bap beat hits hard and there's a dope jellowy sample that comes in every 4th bar. Why it's not played more on radio and at Hip Hop nights baffles me; maybe because it's on a lesser known EP or because it wasn't a single in the traditional sense. At this point, professionally, the rappers have done things. They have hits. There is really nothing left for them to prove. Because of that, they can just jump up and rip and each does. There is nobody mailing it in on this track.
Phife sums it up best with his opening verse when he says, "I live for hip hop, so I have no time for fun and games and/So just come and peep the unique styles that we are displaying/the beats are just ridiculous, the lyrics articulate/ feels good, as if a girl just touched her (tits)." The word tits are in parenthesis because each time the emcees go to cuss on this track, they don't do it. It makes for an interesting sound.
De La Soul is on a higher conscious tip than every one else. Pos raps, "I am the earner of the soul and mine/Forget the physical cause physical will die with time." By the time Q-Tip rips 3rd, the track has already been beaten to death…or so you think. He comes out swinging and on his first bar he raps, "When I rhyme the effect just ripples/You sound sick, I hope your cells get sickle. "
"How Ya Want It We Got It (Native Tongues Remix)" (1996)
"How Ya Want It We Got It (Native Tongues Remix)" by Jungle Brothers featuring Q-Tip and De La Soul, from Raw Deluxe – 1996
The world wouldn't hear anything from the combined collective for a few years. The various groups and individual members had reached relatively massive success for rap artists in the 90s. Their swan song would be "How Ya Want It We Got It". The track was released in 1996 and would be featured on Jungle Brothers 1997 release Raw Deluxe. It even was given the tag – the Native Tongues Remix. The most telling rhymes are Dove's bars when he spits, "Your fantasy back in the day was to be native/But now your shit's sedated/I bring the doctor, I'm here for the remedy/But some pretend to be a bit seditty/Your atittude is shitty, I'm getting downright grimy and grity." It seems he could've been talking about Q-Tip but the point here is crystal clear. The writing was now on the wall that the Tongues were over.
Before this moment though, "How Ya Want It We Got It" reminded listeners of the groups influence on rap. How we want it, the Native Tongues got it. They had a chokehold on a subsection of rap and that hold can lay claim to what rap could be – a more conscious, positive, silly (without being overly corny) corner. The music they made allowed for Hip Hop heads to be the same.
The Natives Tongue influence had spread far and wide and helped bring to the forefront other conscious artists like Common, Mos Def, Da Bush Babees, and later groups like Slum Village. Plus, lets not kid ourselves, their music wasn't dangerous like other rappers at the time and the same as the direction in which rap was going. Ultimately, rap was more universally accessible because of the Native Tongues. As Tip said in Beats, Rhymes, and Life, the Native Tongues were about an" awareness and identity coming out of the hood and being able to present ideas that were lofty."
Those ideas lifted the collective's individual groups and members and rap music into a different stratosphere. They were literally speaking their own language, a rap language, that the world caught wind of and to this day, want to speak also.